If you know anything about Elliott waves, it's probably that there are two types of waves: "motive" and "corrective." Motive waves are in 5 waves (trending waves) and corrective waves are in three waves (moving counter to the trend, or "countertrend"). Motive waves advance the trend through having a larger number of waves than corrective waves. Within those five waves are two "corrective waves" (waves 2 and 4). These two subwaves have three subwaves themselves.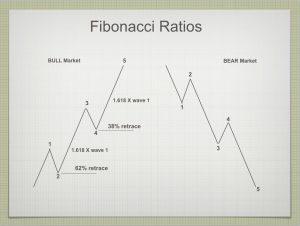 The term "motive waves" is a "catch-all" for waves with five subwaves, and include diagonals. Ending diagonals can be found in both corrective waves and motive waves (ending diagonals only appear in the fifth and final wave in either). However, diagonal waves contain five waves that overlap (they could really be considered as corrective waves, even though they're included within the motive wave definition).
On the left (click to expand) is a diagram of an "impulsive" wave. Impulsive waves are motive waves (contain 5 subwaves) that do not overlap. They must adhere to the following rules:
Wave 4 cannot enter the price area of wave 1 (they do not overlap)
Waves 1, 3, and 5 must contain 5 impulsive subwaves themselves.
Let me add that the second wave of an impulsive sequence must retrace 62% of the first wave. Wave 4 must retrace 38% of the length of the first three waves combined. (These two rules are not found in The Elliott Wave Principle, by Prechter and Frost, but are based upon my extensive time spent in observing Elliott wave structure in the market itself).
If you're been with me for any length of time, you might remember waiting for a large turndown by all the major indices, but having to wait for the NYSE index to retrace exactly 62% in a second wave before all the other indices could complete their turn.
In terms of wavelengths of impulsive waves go, wave 3 is almost always 1.618 or 2.618 times the length of the first wave (we call the latter measurement an extension). Wave 5 is almost always 1.1618 times the length of the first wave. Wave 5 can also extend on occasion.
Summary: So the word "impulsive" and "motive" are often interchangeable, other than the fact that "motive" can include an ending diagonal, because even though the structure of an ending diagonal appears corrective, it is often found at the end of an otherwise motive sequence. Odd, but true.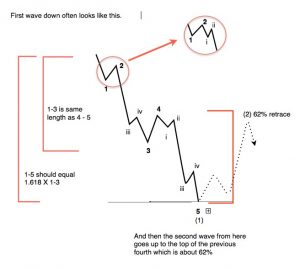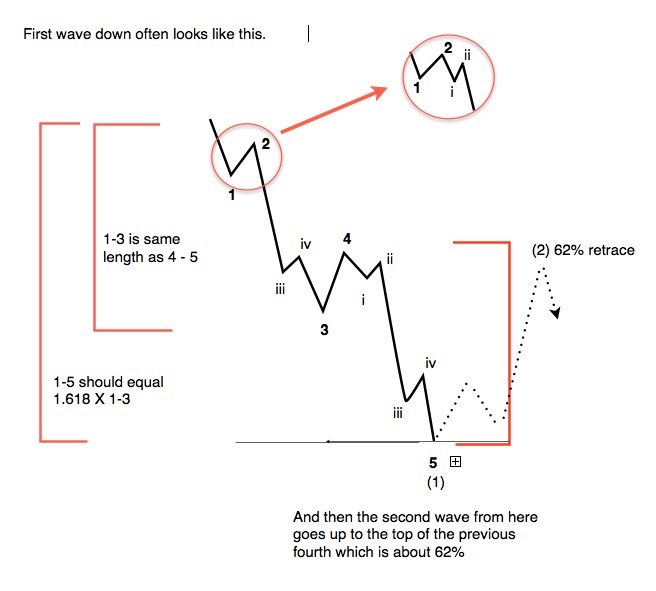 There is one exception to the structure of an impulsive sequence. This is found in a first wave (diagram on the left). Wave 1 of a motive sequence often has a slightly different structure, where there is a large fourth wave that retraces 38% to "test" the previous 4th wave of one lesser degree and leads to a large fifth wave that will trace out the same length again as the length of the first three waves combined.
If wave sequences break the above rules, they're not impulsive waves, but corrective. Corrective waves have their own rules and structures, but we'll save that for another article. In fact, corrective waves can themselves be made up of waves that have 5 subwaves within them, but these waves are not impulsive and do not conform to the rules of an impulsive wave. This is a subtle difference that has been made very confusing to most because it is never explained in The Elliott Wave Principle book.
The Right Look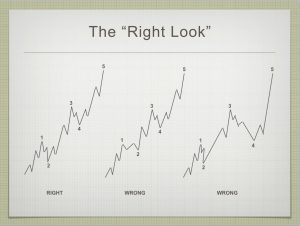 But, let's get back to those impulsive waves. While waves that do look at first glance like an impulsive wave often are not. This is where the "right look" comes in. As you get familiar with these trending waves, being able to discern the difference is the key to being successful in trading (and analysis).
Left-most in the adjacent diagram is a bullish, impulsive wave with the correct structure and "look." You can see the five subwaves within each of the motive waves and the three subwaves within each of the correct waves (waves 2 and 4).
The "wrong view" in the center of the diagram shows a second wave that does not retrace 62%, but otherwise the wave look impulsive. However, this discrepancy makes it a corrective wave and it's likely to trace out another wave at the tail end or end in a double top.
The "wrong view" on the right shows a wave with a very large fourth subwave. The "right look" again is key to proper analysis. If wave 2 or wave 4 is out of proportion to the other elements of the wave structure, then the wave is likely corrective. I would refer this wave as a "3," because when you squint your eyes, all you really see is 3 waves. Waves 1, 2 and 3 together would count as the A wave, wave 4 and the B wave, and wave 5 as the C wave. You have an ABC 3 wave sequence and it should completely retrace.
Application of Motive Wave Rules to the Chart of ES
You can apply the principle above to the daily chart of ES (to waves 1 – 4) and you'll see that it doesn't fit the criteria for an impulsive set of waves. Therefore, it is corrective. The waves form a zigzag. A zigzag is comprised of an A wave in 5 waves (not an impulsive one), a following B wave in 3 waves, and a C wave in 5 waves. The A wave is not shown on the ES chart below (the very top of it is), but the B and C waves are visible. We're in the fourth wave of the C wave, with only the fifth wave to complete.
In the daily chart below, we actually have to complete the fourth wave first, but the after that, the final fifth wave will be "up a bat." The fifth wave will be the final wave of the entire bullish, corrective sequence.
A Note About the Coming Top of the Market
A major wave sequence must start and end in a motive wave sequence (in other words, in five waves). Until you see a five wave sequence down, we will not have seen the top of the market.
A true expert in Elliott Wave FL 2
A true expert in Elliott Wave …

You are a true expert in EW analysis. What you provide is not available anywhere and is priceless. Subscription on your services is the best thing I have ever done. Many thanks for your effort to make me a better investor. I now have more trust in my investment decisions. I hope you will continue the excellent work! —FL
The Market This Week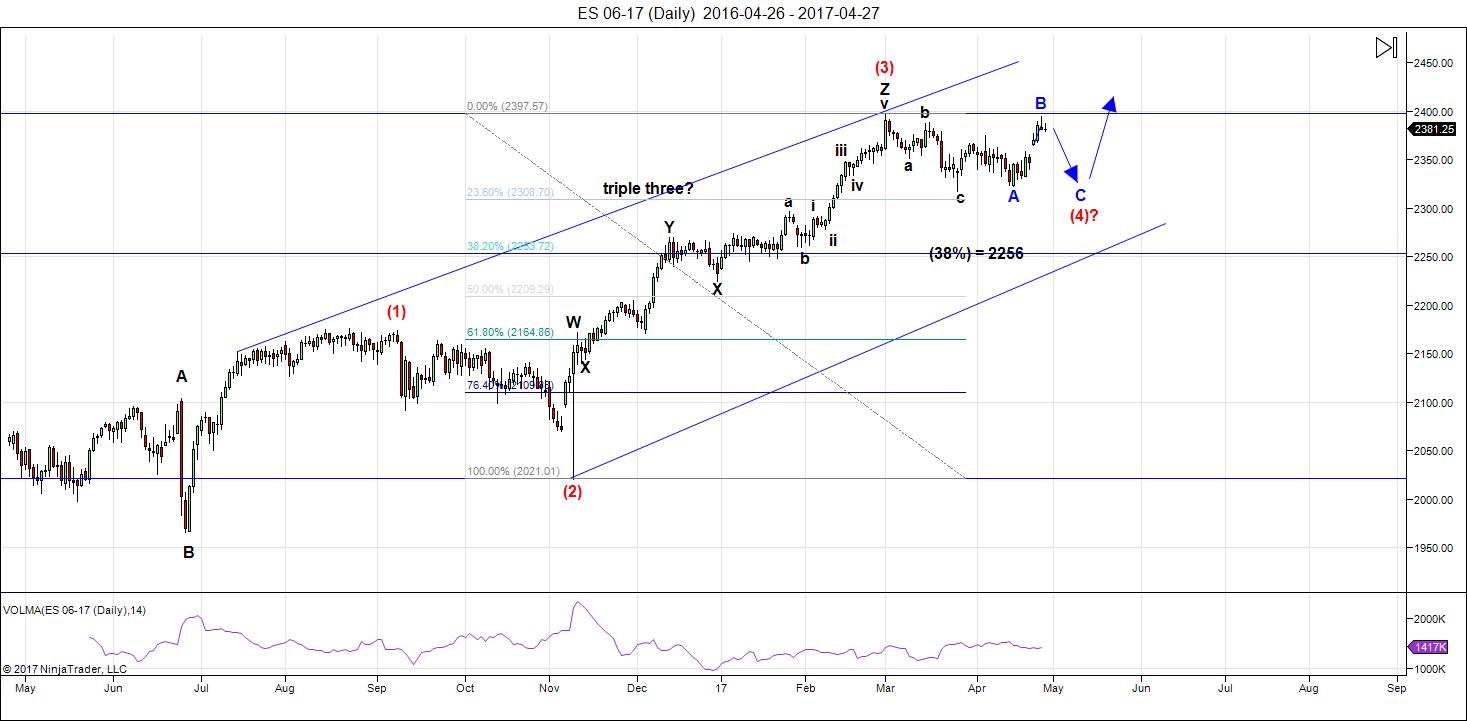 Above is the daily chart of ES (click to enlarge, as with any of my charts). Last week, as soon as I posted a daily chart of ES (on Sunday), the market opened and morphed from triangle to a flat.
We appear to be at the top of a flat. Flats are 3-3-5 configurations. We may take a day to complete this turn, as NQ is finishing a third wave up, but once we do turn, we should head down in 5 waves.
Let's look why a new high is out of the question, imho.
This fourth wave cannot be the fourth of the third wave, because we don't have a second of the third, and that does not fit any kind of known EW structure. So that leaves us in the larger fourth wave, which is how the chart is labelled.
If this larger fourth wave was to top, we'd have an ABC wave up, which cannot be an ending wave. In fact, the structure it would leave below it wouldn't make any sense, unless this is the first wave up of an ending diagonal (the first leg of the fifth wave). However, currencies still have a long way up to go, and in fact several of them haven't turned into their final waves yet.
The only pattern that makes any sense is a final flat of the fourth wave and the most sense going forward would be a new low (as the fourth wave is very shallow for a major fourth wave). We still need to allow, though, for the possibility of a running flat (and C wave that does not seek a new low).
That said (as I explain above), we have two flavours of flat that could materialize. As a result, I don't have a clear target for a bottom. A running flat is very rare, but this is a rather bullish market, so I consider it a possibility A running flat will not drop to a new fourth wave low. An expanding flat, on the other hand, will drop to a new low. This is the higher probability, imho.
After completing the larger fourth wave, we'll have one more wave to go, which could be an ending diagonal as a fifth wave. The long awaited bear market is getting closer.
_____________________________
Sign up for:
 The Chart Show
Thursday, May 4 at 2:00 pm EST (US market time)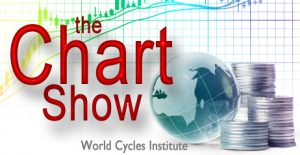 The Chart Show is a one hour webinar in which Peter Temple provides the Elliott Wave analysis in real time for the US market, gold, silver, oil, major USD currency pairs, and more. You won't find a more accurate or comprehensive market prediction anywhere for this price.
Get caught up on the market from an Elliott Wave perspective. You'll also get Andy Pancholi cycle turn dates for the balance of the current month. There'll be a Q&A session during and at the end of the webinar and the possibility (depending on time) of taking requests.
All registrants will receive the video playback of the webinar, so even if you miss it, you'll be sent the full video replay within about an hour of its conclusion. For more information and to sign up, click here.