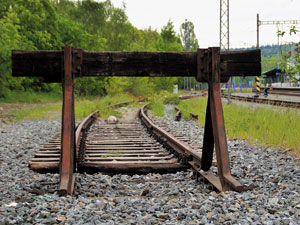 The End of the Line!
We're on the cust of some big events this week. The market is definitely at a top … finally! Futures are in ending patterns (broadening tops), the declassification of government documents is really picking up, and there are lots of predictions of the BIG EVENT happening within the next few days.
We've had lots and lots of high profile "retirements" across the world and tribunals continue with lots of leaks as to who's not with us anymore. However, I don't have proof, so I've going to leave the surprise for the coming couple of weeks.
The 2020 election is in the news, of course, with announcements coming very soon, and we're about to see a domino effect once Arizona audit results come out.
There's also word that something very big is going to happen at the White House on Monday morning. I would expect it's going to do with arrests … but I won't spoil the surprise. I think it's going to be high profile and may be the thing that triggers a turn in the market. But, that remains to be seen, of course.
In any event, it's going to be a very exciting week.
Fauci and Birx: The End of the Bioweapon Road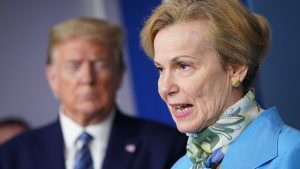 The United States military has arrested Dr. Deborah Birx, also known as "the scarf lady," after authenticating reports that she and her partner in crime, the still at-large Dr. Anthony Fauci, had conspired with the CDC to intentionally deceive the American public into believing that face masks were an effective method to mitigate the spread of Covid-19.
As reported in February, Birx's name was placed on a sealed indictment after President Donald J. Trump obtained a lengthy email chain between her and Deep State Dr. Anthony Fauci. In it, Birx and Fauci discussed whether face masks mitigated the spread of Covid-19, and they admitted to one another that masks were completely ineffective at preventing Covid-19 from entering the human respiratory system. To the contrary, they acknowledged that protracted "masking" had serious side effects on human physiology, especially among the children, the elderly, and immunocompromised people.
Nonetheless, Birx wrote in an email to Fauci that "regardless of POTUS's stance, we must continue to encourage and enforce masking because it will give people a sense of calm and make them feel safe."
That illusion of safety was a major contributing factor in the deaths of 15,000 Americans, according to a military study that evaluated all alleged Covid-19 fatalities in the United States.
For example, a masked 13-year-old boy suddenly dropped dead while playing football in 90-degree heat in Reno, Nevada. It turned out he was asthmatic but had never received a clinical diagnosis. His mother, a mask advocate, had heard Dr. Birx say on television that outdoor activities did not preclude wearing a mask when social distancing was impossible. Since football is a contact sport, she feared her child might contract Covid-19 from another non-masked child, and thus demanded her son mask up anytime he was around other children. Her irrational fear, coupled with Birx's hysteria, resulted in the boy's death. Incidentally, the CDC claimed he died of Covid-19, even though the boy had never received a test.
Another example: A 26-year-old Long Island woman died after a short battle with Methicillin-resistant Staphylococcus aureus, more commonly known as MRSA, a type of flesh-eating bacteria that is highly resistant to most antibiotics. She developed the illness, which attacked her face, days after her employer, citing CDC guidelines, imposed a mask mandate. The bacteria literally ate her face, leaving her unrecognizable. She expired three days later, and the CDC listed her cause of death as Covid-19.
Those are only 2 of 15,000 evaluated cases.
A confidential source involved in Donald J. Trump's Deep State War said: "Along with Fauci, who will soon be apprehended too, the U.S. Navy Judge Advocate General's Corps is holding Birx responsible for all the fatalities. It's mass medical malpractice and mass murder. They acted on the indictment Wednesday morning."
On 26 May, plain-clothed JAG investigators arrived at the multigenerational Pennsylvania home where Birx resides with her husband and the family of their eldest daughter. JAG, our source said, informed Birx she was being placed under arrest by order of the United States military and in accordance with Section 252 of the U.S. Insurrection Act of 1807. Birx reportedly appeared confused, and her husband, a lawyer, protested the "unlawful intrusion" of their home, saying that neither JAG nor Donald Trump had authority over the citizenry.
Birx was handcuffed and escorted from the home, and her family was issued a gag order forbidding them from discussing Birx's arrest with the media. Violating the order, JAG told them, would carry a stiff penalty, including prison.
FauciGate (the leaked emails from Dr. Fauci that condemn him)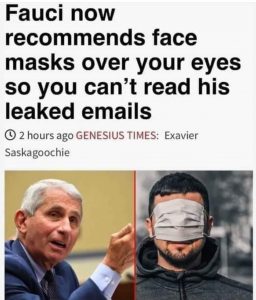 Dr. Fauci's 300 plus emails have been released and they've condemned him, as expected. Here are links to the entire batch, as well as links to more pertinent ones, separated by topic. The ones with "t.me" in the URL are in channels in the application, Telegram. I'm unsure whether you have to have downloaded the app to get the URL to work. If you do, there are instructions on where to get the Telegram app in the Alt Media tab on this site.
This is how the virus was created
Researcher admitting manipulation is thanked
Warning About Communications Under Martial Law
Romana Didulo, Canada's new Commander-in-Chief, posted this warning regarding communication during a period of Martial Law (certainly during the ten days of darkness we're expecting), where they'll be rounding up hundreds of thousands of pedophiles and others who've been complicit in crimes against humanity. I know that major port cities may have communications shut down altogether. You just want to be careful what you're posting because military will be monitoring social media.
Canada is currently martial, as is the US. I'm not sure which other countries are at the current time, but the world will be when we hit the ten days of darkness.
Tʜᴇ ɴᴇᴡ ᴄᴏᴍᴍᴜɴɪᴄᴀᴛɪᴏɴ ʀᴜʟᴇs ғᴏʀ WʜᴀᴛsAᴘᴘ ᴀɴᴅ WʜᴀᴛsAᴘᴘ Cᴀʟʟs (Vᴏɪᴄᴇ ᴀɴᴅ Vɪᴅᴇᴏ Cᴀʟʟs) ᴡɪʟʟ ʙᴇ ɪᴍᴘʟᴇᴍᴇɴᴛᴇᴅ ғʀᴏᴍ ᴛᴏᴍᴏʀʀᴏᴡ: –
01. Aʟʟ ᴄᴀʟʟs ᴡɪʟʟ ʙᴇ ʀᴇᴄᴏʀᴅᴇᴅ.
02. Aʟʟ ᴄᴀʟʟ ʀᴇᴄᴏʀᴅɪɴɢs ᴡɪʟʟ ʙᴇ sᴀᴠᴇᴅ.
03. WʜᴀᴛsAᴘᴘ, FᴀᴄᴇBᴏᴏᴋ, Tᴡɪᴛᴛᴇʀ, Iɴsᴛᴀɢʀᴀᴍ ᴀɴᴅ ᴀʟʟ sᴏᴄɪᴀʟ ᴍᴇᴅɪᴀ ᴡɪʟʟ ʙᴇ ᴍᴏɴɪᴛᴏʀᴇᴅ.
04. Yᴏᴜʀ ᴅᴇᴠɪᴄᴇs ᴡɪʟʟ ᴄᴏɴɴᴇᴄᴛ ᴛᴏ ᴛʜᴇ Mɪɴɪsᴛʀʏ sʏsᴛᴇᴍ.
05. Tᴀᴋᴇ ᴄᴀʀᴇ ɴᴏᴛ ᴛᴏ sᴇɴᴅ ᴛʜᴇ ᴡʀᴏɴɢ ᴍᴇssᴀɢᴇ ᴛᴏ ᴀɴʏᴏɴᴇ.
06. Tᴇʟʟ ʏᴏᴜʀ ᴄʜɪʟᴅʀᴇɴ, sɪʙʟɪɴɢs, ʀᴇʟᴀᴛɪᴠᴇs, ғʀɪᴇɴᴅs, ᴀᴄϙᴜᴀɪɴᴛᴀɴᴄᴇs ᴛʜᴀᴛ ʏᴏᴜ sʜᴏᴜʟᴅ ᴛᴀᴋᴇ ᴄᴀʀᴇ ᴏғ ᴛʜᴇᴍ ᴀɴᴅ ʀᴀʀᴇʟʏ ʀᴜɴ sᴏᴄɪᴀʟ sɪᴛᴇs.
07. Dᴏ ɴᴏᴛ sᴇɴᴅ ᴀɴʏ ʙᴀᴅ ᴘᴏsᴛ ᴏʀ ᴠɪᴅᴇᴏ ᴀɢᴀɪɴsᴛ ᴛʜᴇ ɢᴏᴠᴇʀɴᴍᴇɴᴛ ᴏʀ ᴛʜᴇ Pʀɪᴍᴇ Mɪɴɪsᴛᴇʀ ʀᴇɢᴀʀᴅɪɴɢ ᴘᴏʟɪᴛɪᴄs ᴏʀ ᴛʜᴇ ᴄᴜʀʀᴇɴᴛ sɪᴛᴜᴀᴛɪᴏɴ.
08. Iᴛ ɪs ᴄᴜʀʀᴇɴᴛʟʏ ᴀ ᴄʀɪᴍᴇ ᴛᴏ ᴡʀɪᴛᴇ ᴏʀ sᴇɴᴅ ᴀ ʙᴀᴅ ᴍᴇssᴀɢᴇ ᴏɴ ᴀɴʏ ᴘᴏʟɪᴛɪᴄᴀʟ ᴏʀ ʀᴇʟɪɢɪᴏᴜs ɪssᴜᴇ, ᴅᴏɪɴɢ sᴏ ᴄᴀɴ ʟᴇᴀᴅ ᴛᴏ ᴀʀʀᴇsᴛ ᴡɪᴛʜᴏᴜᴛ ᴀ ᴡᴀʀʀᴀɴᴛ.
09. Tʜᴇ ᴘᴏʟɪᴄᴇ ᴡɪʟʟ ɪssᴜᴇ ᴀ ɴᴏᴛɪғɪᴄᴀᴛɪᴏɴ, ᴛʜᴇɴ ʙᴇ ᴘʀᴏsᴇᴄᴜᴛᴇᴅ ʙʏ Cʏʙᴇʀ Cʀɪᴍᴇ, ᴡʜɪᴄʜ ɪs ᴠᴇʀʏ sᴇʀɪᴏᴜs.
10. Aʟʟ ʏᴏᴜ ɢʀᴏᴜᴘ ᴍᴇᴍʙᴇʀs, ᴍᴏᴅᴇʀᴀᴛᴏʀs ᴘʟᴇᴀsᴇ ᴄᴏɴsɪᴅᴇʀ ᴛʜɪs ɪssᴜᴇ.
11. Bᴇ ᴄᴀʀᴇғᴜʟ ɴᴏᴛ ᴛᴏ sᴇɴᴅ ᴛʜᴇ ᴡʀᴏɴɢ ᴍᴇssᴀɢᴇ ᴀɴᴅ ʟᴇᴛ ᴇᴠᴇʀʏᴏɴᴇ ᴋɴᴏᴡ ᴀɴᴅ ᴛᴀᴋᴇ ᴄᴀʀᴇ ᴏғ ᴛʜᴇ sᴜʙᴊᴇᴄᴛ.
Iᴍᴘᴏʀᴛᴀɴᴛ ɪɴғᴏʀᴍᴀᴛɪᴏɴ ᴀʙᴏᴜᴛ WʜᴀᴛsAᴘᴘ's ɴᴇᴡ ʀᴜʟᴇs ᴛᴏ ɢʀᴏᴜᴘ ᴍᴇᴍʙᴇʀs …
1. ✓ = ᴍᴇssᴀɢᴇ sᴇɴᴛ.
2. ✓✓ = ᴍᴇssᴀɢᴇ ʀᴇᴀᴄʜᴇᴅ.
3. Tᴡᴏ ʙʟᴜᴇ ✓✓= ᴍᴇssᴀɢᴇ ʀᴇᴀᴅ.
Tʜʀᴇᴇ ʙʟᴜᴇ ✓✓✓ = Tʜᴇ ɢᴏᴠᴇʀɴᴍᴇɴᴛ ᴛᴏᴏᴋ ɴᴏᴛᴇ ᴏғ ᴛʜᴇ ᴍᴇssᴀɢᴇ.
5. Tᴡᴏ ʙʟᴜᴇ ✓✓ ᴀɴᴅ ᴏɴᴇ ʀᴇᴅ ✓= ᴛʜᴇ ɢᴏᴠᴇʀɴᴍᴇɴᴛ ᴄᴀɴ ᴛᴀᴋᴇ ᴀᴄᴛɪᴏɴ ᴀɢᴀɪɴsᴛ ʏᴏᴜ.
6. Oɴᴇ ʙʟᴜᴇ✓ ᴀɴᴅ ᴛᴡᴏ ʀᴇᴅ✓✓ = ᴛʜᴇ ɢᴏᴠᴇʀɴᴍᴇɴᴛ ɪs ᴄʜᴇᴄᴋɪɴɢ ʏᴏᴜʀ ɪɴғᴏʀᴍᴀᴛɪᴏɴ.
7. Tʜʀᴇᴇ ʀᴇᴅ ✓✓✓ = Tʜᴇ ɢᴏᴠᴇʀɴᴍᴇɴᴛ ʜᴀs sᴛᴀʀᴛᴇᴅ ᴘʀᴏᴄᴇᴇᴅɪɴɢs ᴀɢᴀɪɴsᴛ ʏᴏᴜ ᴀɴᴅ ʏᴏᴜ ᴡɪʟʟ ɢᴇᴛ ᴀ ᴄᴏᴜʀᴛ sᴜᴍᴍᴏɴs sᴏᴏɴ.
sʜᴀʀᴇ ᴡɪᴛʜ ʏᴏᴜʀ ғʀɪᴇɴᴅs …!!
Who's Coming Back to Visit US?
Here's a complete list (as far as I know) of all the well-known people who escaped the Cabal for the Witness Protection Program. They're supposed to appear after the ten days of darkness (the Great Awakening) is complete.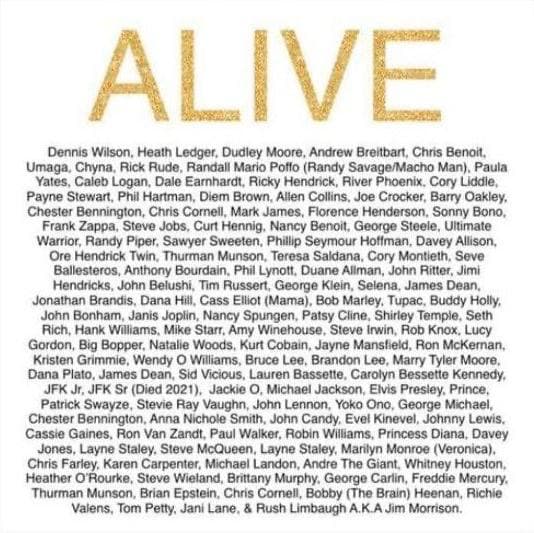 People Outliving Their Welcome
Elon Musk's background is catching up with him.
Know the Past. See the Future
The Movie Plays On ….
No MAJOR changes to the Revolution Movie … so far …
… BUT the signs are definitely there..
There's A LOT going on tonight as I write this post, Saturday, June 5th. In Telegram, from the people as in-the-know as you can be (considering the military would prefer you know NOTHING about their progress or plans, certainly not about timing).
We only have the BIG EVENT left to go and it's expected to happen very rapidly when it triggers. I've been expecting the current turn down to start the "Great Awakening" video playback. We'll see if this is it.
The "Big Event" is up next:
WW3 Scare Event. Nuke Sirens: This appears to be an event that the US military is going to stage at the White House. Israel is in a "staged" war with the Palestinian Authority ("Israel will be last" and the buildings that are "going down" and imploding, meaning they're pre-wired with explosives). Big announcement about Iran coming.
Changing over to Tesla Free Energy (this will require power to go off in the Continental US — not sure if it will affect the rest of the world)
34 satanic buildings & dams bombed  — I think some of these buildings have already been taken out. They appear to be part of an energy grid system that has keep the natural energy of the Earth suppressed — much more on this to come
Breaking of the 3 Gorges Dam in China. This dam sits above Wuhan and the plan is that the water from the break will destroy the Wuhan lab, which has a link to US Big Pharma, and will be the beginning of the end for them. Bitcoin Servers turned off (99.5% of Crypto gone China Coins) — this involves the dismantling of 24 nuclear reactors under the dam that provide the electricity for Bitcoin. There's a Chinese satellite that's supposed to come crashing down to Earth and it's likely this is going to be cover for the breaking of the 3 Gorges Dam.
Martial Law — for the ten days dubbed "ten days of darkness." Actually, it should be called "ten days to the light!" It will be the Great Awakening as we see round the clock video that explains most of what's been going on the last 5 years to overthrow what's been going on for two thousand years! — the Illuminati.
AND, of course …. GESARA
All this remains to be proven, but we're very close to what they are calling "The Big Event). It certainly fits the market scenario that's unfolding.
They've also said, "You're watching a movie, but it's coming to an end."
That's the real life movie. The next movie is "The Great Awakening," when the confessions and tribunals happen. After all, Hollywood, dubbed Pedowood" has been all but decimated. There's so much more to come and so much you're likely not going to believe at face value. I think it's going to take a long time for everyone to cast off the lies we've been living under all our lives.
Exposing "the Movie"
Above is a really well-done video that's also relatively short that shows how the narrative can be changed through the use of prosthetics, which include masks. This kind of make-up for television is part of my background for many years, so it's very real. However, I never had the money to use tools that were this cutting edge. Here's a link to the original in Bitchute, which will allow you to make it full frame, so you can see the subtleties in the masks a bit better
Enjoy the SHOW!
_____________________________
Know the Past. See the Future
_____________________________
Free Webinar Playback:  Elliott Wave Basics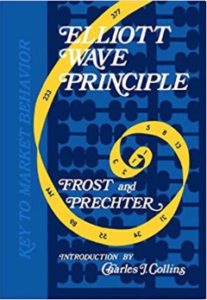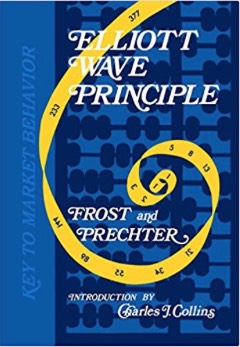 If you're new to the Elliott Wave Principle, or even fairly comfortable with it, this webinar will give you a solid introduction and comprehensive understanding of the difference between trending and counter-trend waves, the various patterns for both types of wave patterns, and a good overview of how fibonacci ratios determine trade targets.
This is link to the YouTube playback video, allowing you to review, stop and start, etc.
____________________________
Want some truth?
My new site now has several extensive newsletters in place. Videos now explain the banking system and deflation, and I've provided lists of what to do and what the start collecting in  preparation for the eventual downturn, which will last for decades. The focus of my new site is now to retain your wealth, plan for deflationary times, and stay healthy in the process. I'm also debunk a lot of the propaganda out there. It's important to know what's REALLY happening in the world today. This has all been predicted and we know how it's going to play out. Getting to the real truth, based on history, is what I do, inside the market and out.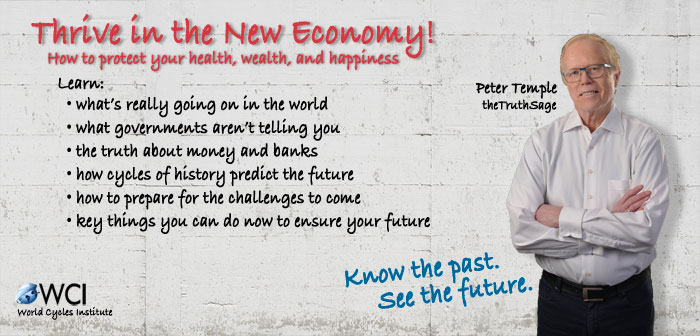 To sign up, visit my new site here.
All the Same Market.
I've been mentioning for months now that the entire market is moving as one entity, the "all the same market" scenario, a phrase that Robert Prechter coined many years ago, when he projected the upcoming crash.
We're in the midst of deleveraging the enormous debt around the world. Central banks are losing the control they had and we're slowly sinking into deflation world-wide, with Europe in the lead.
The US dollar is fully in charge of both the equities and currencies markets. They're all moving in tandem, as I've been saying since September of 2017. Over the past three years, their movements have been moving closer and closer together and one, and now they're in lock-step, with the major turns happening at about the same time.
it's challenging because often times currency pairs are waiting for equities to turn, and other times, it's the opposite. The other frustrating thing is that in between the major turns, there are no major trades; they're all, for the most part day-trades. That's certainly the case in corrections, where you very often have several possible targets for the end of the correction.
We're now close to a turn in the US indices, currency pairs, oil, and even gold. Elliott wave does not have a reliable timing aspect, but it looks like we should see a top very soon.
_________________________________
US Market Snapshot (based on end-of-week wave structure)
This chart is posted to provide a prediction of future market direction. DO NOT trade based upon the information presented here (certainly NOT from a daily chart).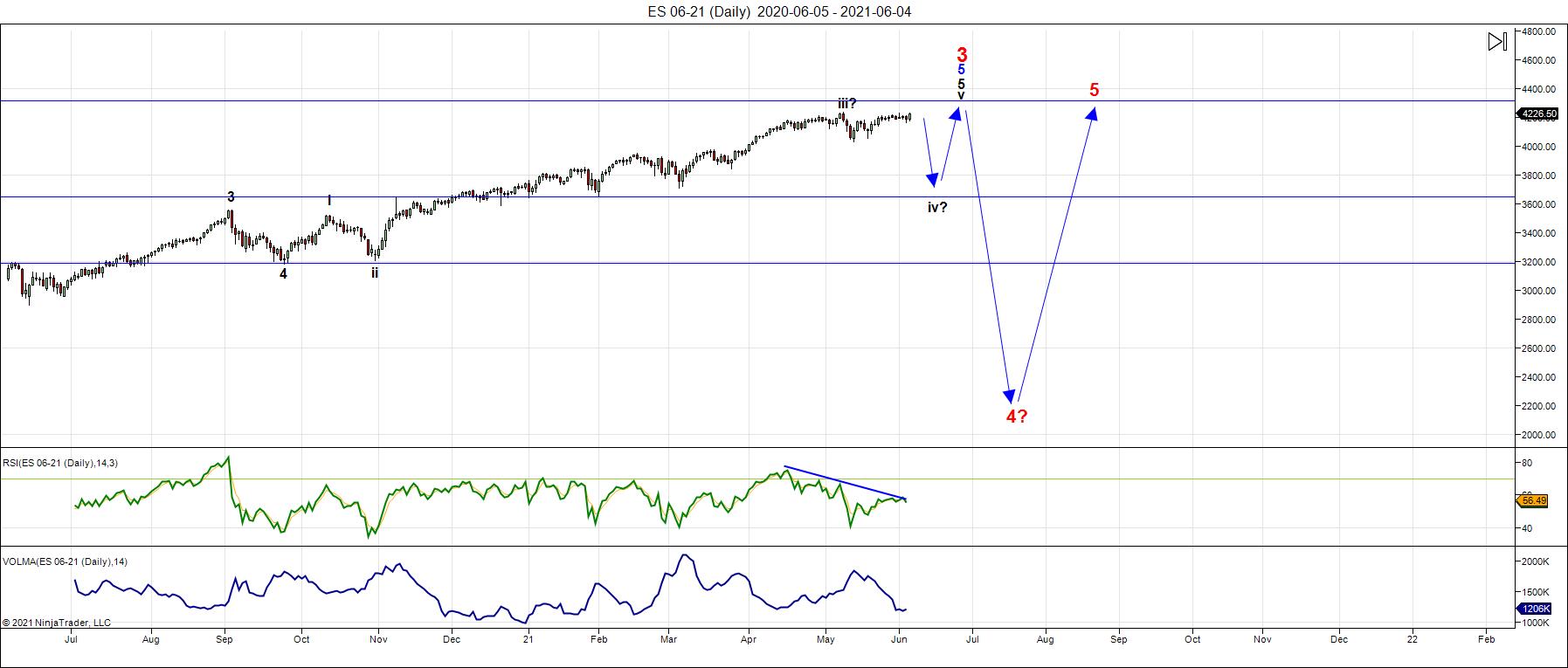 Above is the daily chart of ES (click to enlarge, as with any of my charts).
This week, all the indices began to trace out ending patterns. They began with different patterns in the SP500, ES, and NQ, but by midweek, they all broke their patterns and began to trace out broadening tops (a triangle pattern in EW terms.
On Friday, we had a big rally with the labor report, and futures (ES and NQ) ended the day very close to maximum highs. With broadening tops, which are also ending patterns, the final wave up, which we're in, should not exceed the upper trendline of the pattern, which has an upward slope.
The laggards now are currency pairs, with DXY needing a new low and EURUSD needing a new high. It will be important as to the performance on Sunday as to whether we'll see a turn on Monday. But, we should see a turn in the first half of the week.
We're also very close to the BIG EVENT in terms of what the US Military and Allied forces and doing. They're now positioned in countries around the world. Canada is now a Republic and under martial law, with a new, interim leader in place.
Politicians across the country are being arrested and we're seeing signs that the medical hierarchy is being taken apart. It is now illegal to sell vaccines in Canada, or impose mask mandates. But while Cease and Desist letters have been sent out, the corrupt political establishment is very slow to respond. But, things are moving it's quite obvious.
So, I'm expecting fireworks this week, that will impact the market.
I'm expecting a turn down in the first half of the week, but again, it depends on currency pairs reaching their targets.
The road forward in the real world hasn't changed. The timing is always the issue, because it's not being shared. As well, there is more deception in the news than ever before (perhaps in history). You're watching a movie and you have the overall script that I posted last week. The end is near. Nothing can stop the climax that's coming.
___________________________
Summary: We're expecting a turn down into an expected fourth wave. The wave structure up from March, 2020 is a corrective pattern which appears to be a zigzag. This wav down is also expected to be a zigzag.
After about a 4-500 point drop, we'll have a final 5th wave up to a slight new high to go before we experience a large drop of close to 2000 points, targeting an area under 2100 in SPX.
Once we've completed the larger fourth wave down, we'll have a long climb to a final slight new high in a fifth wave of this 500 year cycle top.
Know the Past. See the Future