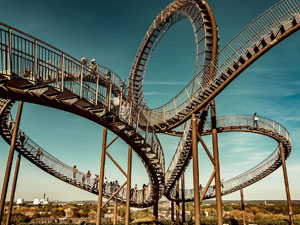 New Lows?
I'd thought last week was going to be a roller-coaster ride, but it looks more like it's this week. I expect a volatile week.
It was for me, as I fought the pain of a kidney stone Thursday and Friday, which has put me behind this weekend. But the drama is over, thank goodness. Now, the drama is going to hit everyone else. It should be quite a week coming up!
The equities market has been grinding higher for almost three weeks now. Currencies, however, turned a couple of days ago, so this market overall is showing signs of sickness again. Futures are particularly out-of-sync, with NQ needing a new high at the previous fourth wave level and ES already there and beyond.
So, as well as the corrective wave structure, we have an equities market that is about to keel over. My preference is a test of the low for futures. Gold and silver need new lows (as they have for some time) and oil is quetionable (I do expect weakness, but I don't know if it will make a new low.
In short, it's a mess. Monday, I think is the day for the turn. I'm looking for a bit more upside for futures on the weekend, perhaps, but this rally looks like it's near an end.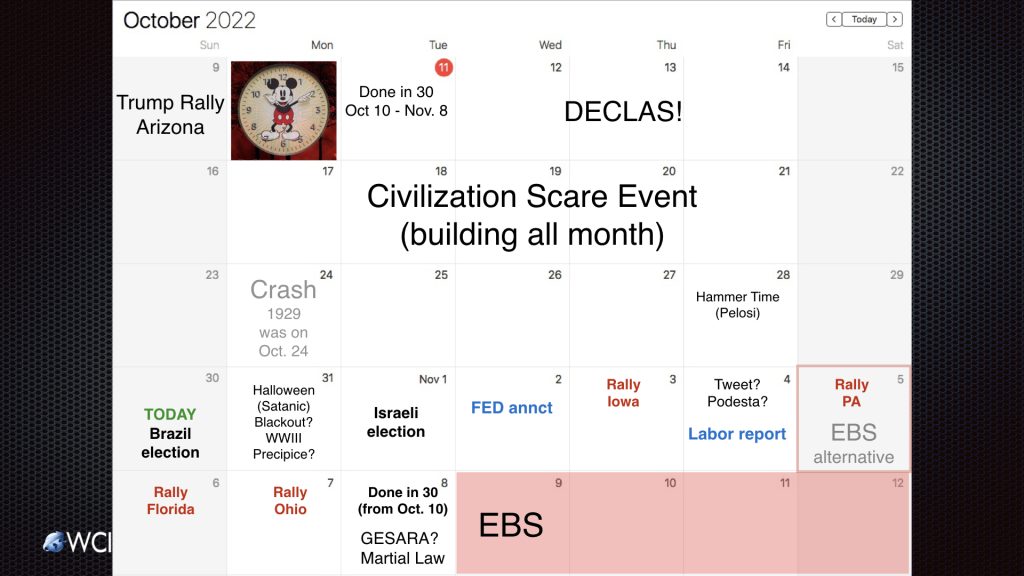 The above calendar shows the events I know have to happen this week. We have four Trump rallies, each in a different state (we've never seen that before) and they lead into what is now promised as the EBS — November 8 (or 9th). November 8 is the date I'd identified as the date of "Done in 30). It was also the date that Trump announced would be when it would be all over. We just didn't know what the "all" referred to (the STORM, or EBS). There are suggestions tonight that EBS could start on the 5th, but because we have scheduled rallies, I suspect not. However, if we have martial law, they would get cancelled.
All this information is very difficult and time-consuming to draw out of all the snippets of information in Telegram and the Situation Report, as well as the multitude of videos put out each week from independent sources, so, as usual, this is by best attempt to put this all together. There's no doubt in my mind that it's all over on November 8, just as Trump said in his rally (in code).
Tonight, the Brazilian national election is in full swing and it looks like it will get stolen in front of the world. I'm hearing that would likely bring in martial law there.
Tomorrow, Monday, Oct. 31 is Halloween, the most revered, satanic ritual day of the entire year. There have been hints that this is the day for the electrical shutdown, but, as usual, there's no way of telling whether the information is accurate, or not. It must happen before the Emergency Broadcast System fires up. My concern is whether they would attempt this with kids roaming the streets, or whether this would get scheduled for next weekend.
Tuesday, November 1 is the Israeli national election with Netanyahu on the ticket. Israel was always going to be last "for reasons not mentioned, so far, anywhere."
Wednesday is the usual announcement from the Federal Reserve, while Friday is the monthly US labor report.
There are still these "left-over items" that I expect to happen this week, or into early next week (before EBS):
the death of "King Charles (sausage-fingers) and the arrest of Andrew, which would likely end with the emergence of "Queen" Diana. There's also an impending announcement of the end of the CROWN (which may come from William)
a nuclear stand-off, which is at a level now that suggests a turning point is nigh. This is not real (it's a "movie"), but will appear real to the world-at-large and could affect the market (this is imminent, I believe)
the announcement of the death of the Pope, although this does not in itself promise a major impact on the market
the removal of Joe Biden and shutdown of the fake government (USA Inc)
the take down of the main stream media, along with social media
public arrests (eg — Obama, Clinton
martial law worldwide, in which you'll see military on the streets in major cities
There are a lot of possible market-moving events on the horizon, including the Federal Reserve announcement on Wednesday and the labor report on Friday.
There's a lot of uncertainty going into the week, so be careful. However.I'm expecting a bit drop in futures and tests of highs and low, perhaps in currencies.
There is a lunar eclipse on November 9, which may also have an effect on the market and could end up being a turning point.
Other News:
Here's some news from the situation update (Restored Republic):
The Global Currency Reset took place on 27 Oct.when the BRICS nations and several others went gold-backed, allowing bond holders to begin to be paid out.

The Chinese Communist Party (CCP) 

was taken out of power over a year ago. This was all pantomime – such as the arrest of CCP leaders last week.

There would be 86 countries under Martial Law within the next three weeks.
They will implement the EBS when we go under Martial Law.
The Alliance was making Mass Arrests and holding Military Tribunals on 450,000 indictments.
The Biden family received $6.8 million from CEFC Energy, the Chinese energy conglomerate that was the figurehead of China's Belt & Road initiative. This was considered an act of Treason by Joe Biden who was VP of the US at the time.
29 Oct. or Sun. 30 Oct. the USN should be announced as gold-backed.
Mon. 31 Oct. or Tues. 1 Nov. Bond Holders should get access to their liquidity

The Vatican 

took the Prophet Mohammad out of the Bible.

Military Tribunals were being held at GITMO, Washington DC, Buckingham Palace and other places (Putin was holding them in Ukraine).
Naval Militaryall around the world were getting into position for a Martial Law takeover of all major countries.
The need for Martial Law was because they needed everyone off the streets for a final arrest of Deep State Players.
The Military would be in charge, and would help people get to essential services such as hospitals.
Make sure you have food and water for ten days.
________________________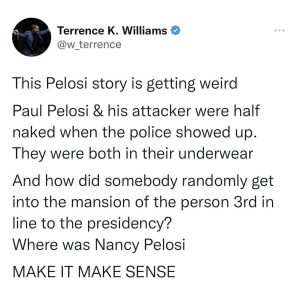 The Paul Pelosi story coudn't get much weirder than it already is, and is obviously a false flag.
NBC News: David DePape 'was able to het into the Pelosi bedroom where Paul Pelosi was'; A third person was in home (nobody seem to know who that was). In a recorded police conversation, Pelosi said the intruder was "a friend."
NBC News reporter Tom Winter reported that San Francisco District Attorney Brooke Jenkins said in an interview that accused attacker David DePape, 42, 'was able to get into the Pelosi bedroom where Paul Pelosi was.' Jenkins said investigators have been able to talk with DePape. Screen image from overhead video shows shattered glass spilling to the outside rather than inside.
Winter also confirmed that a third person was in the Pelosi home at the time of the attack on the 82-year-old husband of Speaker of the House Nancy Pelosi (D-). Nancy Pelosi was reportedly in Washington, D.C. at the time of the attack early Friday morning. S.F. police said late Friday an "unknown person" answered the door when police arrived in response to a mysterious 911 call by Paul Pelosi. Police said Pelosi was able to excuse himself from DePape and go into a bathroom where is cellphone was charging to initiate the 911 call where Pelosi allegedly spoke in code and described the intruder as "David" who advised he is a "friend."
Now, this story centred around a hammer attack, but the hammer apparently belonged to Pelosi. Was this all about "the hammer?" The hammer is a signal that we're heading into the final stage of the storm. There's obviously much more the come on this!
Remember, we're watching a movie. Nothing is necessarily real. My understanding is that Paul Pelosi had already had his trip to GITMO. We'll see…..
______________________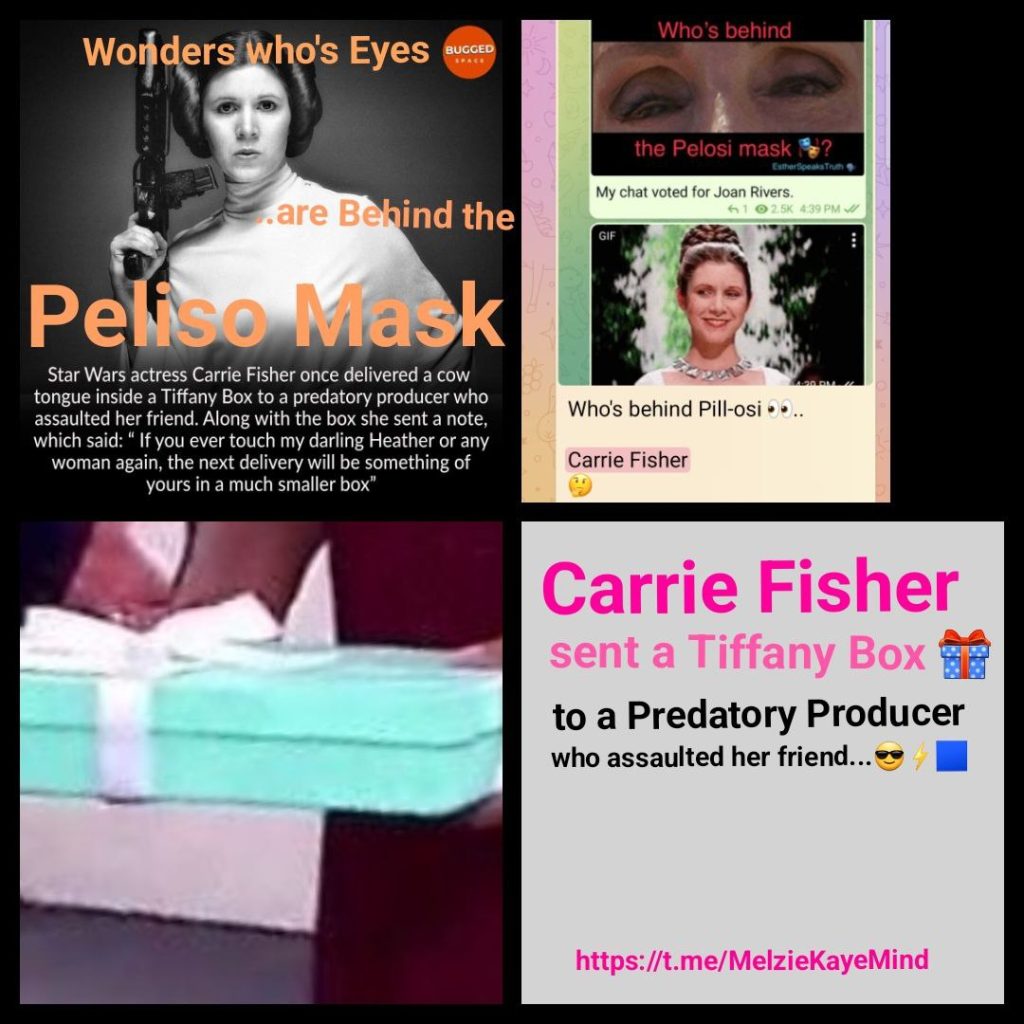 ____________________________
Looking at THE STORM and Upcoming Events
We still have these major events still to go. I don't know what the timing will be, but it will start to get obvious in the coming days, I think.
We're now in the GREAT AWAKENING phase, but THE STORM is still underway. Some of the expected events below have happened (GREEN CHECK MARK) and some are in progress:
(in progress)

WW3 Scare Event. Nuke Sirens: This is the Russia/Ukraine false flag war. The real end target it Israel. It's the rathole where the Zionists live (they own main stream media), the Mossad hangs out and the last of the Kharzarian mafia (the Rothschilds, and friends).  As the Q Team has always said, "Israel will be last" and the buildings that are "going down" and imploding, meaning they're pre-wired with explosives). Pending.
Changing over to Tesla Free Energy (this will require power to go off around the world, but it will be a short blackout)
(

partially complete, but don't know the count

) 34 satanic buildings & dams bombed  — I think some of these buildings have already been taken out, but the major ones still have to be dismantled, probably with Rods of God. The major buildings appear to be part of an energy grid system that has keep the natural energy of the Earth suppressed — much more on this to come. The White House is going to be imploded; it has already been wired up with explosives. The Georgia Guidestones were destroyed weeks ago, along with an obelisk and nearby buildings close to the Vatican, in Italy.
(

Reports now CONFIRM that this happened on August 29.)

Breaking of the 3 Gorges Dam in China. There's major flooding in China this past week and this week. This dam sits above Wuhan and the plan is that the water from the break will destroy the Wuhan lab, which has a link to US Big Pharma, and will be the beginning of the end for them. Bitcoin Servers turned off (99.5% of Crypto gone China Coins) — this involves the dismantling of 24 nuclear reactors under the dam that provide the electricity for Bitcoin. This is going to be cover for the breaking of the 3 Gorges Dam.
(

now in Ukraine, Canada, US and possibly some other countries

) Martial Law — for the ten days dubbed "ten days of darkness," and beyond. It will likely stay in place much longer as the cleanup continues. Actually, it should be called "ten days to the light!" It will be the Great Awakening as we see round the clock video that explains most of what's been going on the last 5 years to overthrow what's been going on for two thousand years! — the Illuminati.
AND, of course …. GESARA (which semi-officially Queen Romana declared on Feb, 22, 2022 in Canada). GESARA has been signed off by 209 countries, so it is, in fact, law.
This is THE STORM/GREAT AWAKENING. They want you to stay at  home during the EBS period. We're likely to see more visible signs of military. Keep stocked up for two to three weeks. Arrests will continue during the EBS playback.
__________________________
Enjoy the Awakening!
Know the Past. See the Future
_____________________________
Webinar Playback:

 Elliott Wave Basics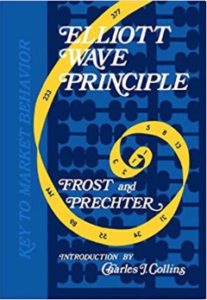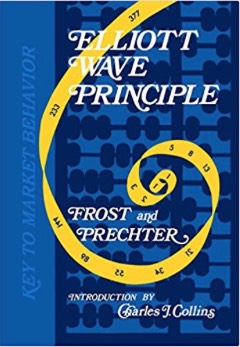 If you're new to the Elliott Wave Principle, or even fairly comfortable with it, this webinar will give you a solid introduction and comprehensive understanding of the difference between trending and counter-trend waves, the various patterns for both types of wave patterns, and a good overview of how fibonacci ratios determine trade targets.
This is link to the YouTube playback video, allowing you to review, stop and start, etc.
____________________________
Want some truth?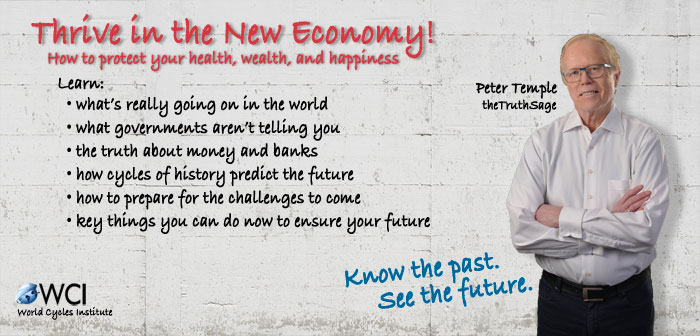 To sign up, visit my new site here.
All the Same Market.
I've been mentioning for months now that the entire market is moving as one entity, the "all the same market" scenario, a phrase that Robert Prechter coined many years ago, when he projected the upcoming crash.
We're in the midst of deleveraging the enormous debt around the world. Central banks are losing the control they had and we're slowly sinking into deflation world-wide, with Europe in the lead.
The US dollar is fully in charge of both the equities and currencies markets. They're all moving in tandem, as I've been saying since September of 2017. Over the past three years, their movements have been moving closer and closer together and one, and now they're in lock-step, with the major turns happening at about the same time.
it's challenging because often times currency pairs are waiting for equities to turn, and other times, it's the opposite. The other frustrating thing is that in between the major turns, there are no major trades; they're all, for the most part day-trades. That's certainly the case in corrections, where you very often have several possible targets for the end of the correction.
We're now close to a turn in the US indices, currency pairs, oil, and even gold. Elliott wave does not have a reliable timing aspect, but it looks like we should see a top very soon.
_________________________________
Tops in your field DZ 2
Tops in your field …

You are tops in your field.  Tried to follow Elliot Wave international for years.  They were always behind the market.  After discovering you, I perceive that you are an expert in reading the waves, which puts you way ahead of the rest of your peers. And you can read the Waves like you are reading tomorrow's financial section.  I pray you stay healthy.  —DZ
US Market Snapshot (based on end-of-week wave structure)
This chart is posted to provide a prediction of future market direction. DO NOT trade based upon the information presented here (certainly NOT from a daily chart).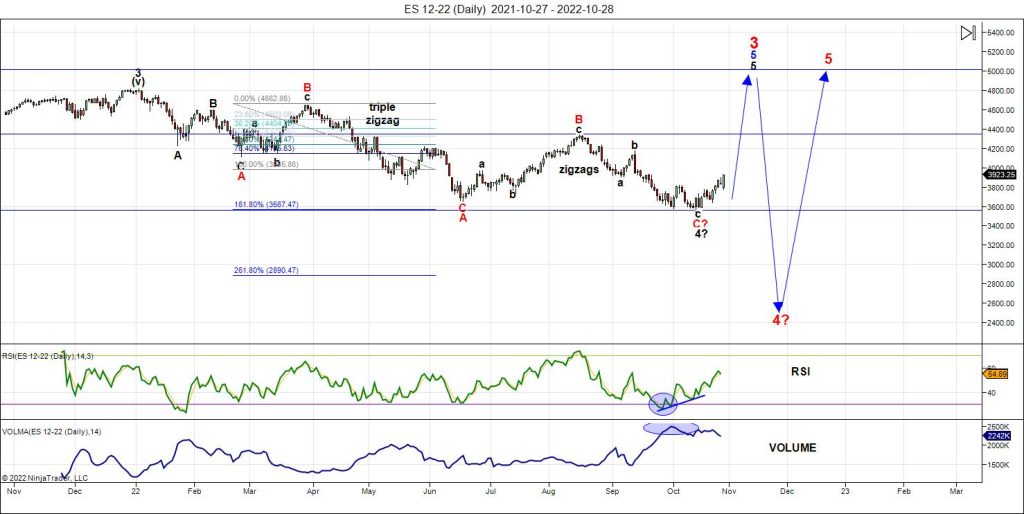 Above is the daily chart of ES (click to enlarge, as with any of my charts).
The past week has pretty much been a waiting game. Not much has changed, I see weakness ahead and probably at least a test of the lows (for ES, that's in the 3500 area).
This weekend, we're still sitting near the bottom of the large B wave down from early January, 2022. It's been three weeks since the SP500 bottomed at about the 3500 level and we've been struggling to rally above the previous fourth wave of one lesser degree, which sits at about 3820 for ES. ES this week finally broke through that level to the upside, while NQ has only just tested it.
The wave structure up is corrective and RSI is WAY over-bought, so we're going to see some weakness; I just don't know how much, but a new low is probable. I see this dilemma right across the market, in every asset class. For some, like gold and silver, it's clear we haven't bottomed. For oil, we rose this week, but the recent waves up are in three waves up, which are also corrective.
The key to continuing the rally is getting above the previous fourth wave of one lesser degree. We've made it there in futures, but with what appear to be corrective waves, and sitting with RSI pinned right at the top, we're set up for weakness.
It suggests we may see an impactful event, perhaps early in the coming week, that will bring the market back down. There are hints of other events lining up this week that may also have a major impacts on the market.
The bigger picture for futures is that we still require a rally up to a new high because the B wave down from early January is corrective. Once we get going and confirm a bottom in place, I expect that with this being the most positive time of year (US Thanksgiving, Christmas), we're likely to rally right through until January. January is almost always a weak month and one that can spark a crash, which is what I'm ultimately expecting.
We could see a top earlier than January, but we have potentially 2500 ES points to go to my measured top (1500, at least to a new high, which is required).
There are two potential market-movers this week:
a Fed announcement is scheduled for Wednesday, Nov. 2, 2 pm ET
a labor report is scheduled for Friday, Nov. 4, 8:30 am ET.
Outside the market, we're sitting at a nuclear standoff (part of "the movie") and it seems to be reaching a climax. Trump is apparently NOT going to be arrested, so it's likely a large blast would trigger a the near extinction event, which may culminate in the lights going out worldwide, the electrical switchover, which would immediately bring in martial law. So, we're very close to the end for the Cabal, and we're on the verge of seeing GESARA declared.
It sounds like this week is the BIG WEEK. Last week was certainly eventful. The truth continues to surface in main stream media, bit by bit, but the bits are getting bigger!
_______________________
The announcement of GESARA will shut down governments, courts, and police worldwide and bring in natural law throughout. It's a major milestone.
I don't know how all this will affect trading, but be aware that we could face some internet disruptions. Military intel has, in fact, told us so.
I've said for months that once we reach a low, or at the very least, start heading for a low, the Emergency Broadcast System won't be very far away, and that's still my thinking.
___________________________
Summary: ES and NQ are at pending bottoms with a trend change on track but not confirmed. A confirmed bottom would complete the 9 month-long B wave down from early January, 2022. 
I'm now expecting a turn back up to a new all time high in the final fifth wave, perhaps targeting the 6000 level for ES.
Once we see a final fifth wave top, I'm projecting another major trend change — a dramatic drop to a new low under 2100.
_______________________
Know the Past. See the Future