Out of Sync Again!
This weekend, the fragmented market sent me mentally back to the music of the 60s …
"Set me free why don't cha babe
Get out my life why don't cha babe
'Cause you don't really love me
You just keep me hangin' on"
That's the chorus from "You Keep Me Hanging On," a big hit for both the Supremes (1966), pictured to the left) and Vanilla Fudge (1967).
This market from a big picture perspective just keeps "hanging on" — this weekend, it seems to be everything other than the US indices that are doing the "hanging." While the US indices appear to have topped, other asset classes have not.
I've spent a lot of time this weekend pouring over the charts, doing a lot of measuring, and arriving finally at a medium to high level of confidence in short-term direction across everything I cover.
The question is in timing.
I have a high level of confidence that SPX has completed the A wave of a zigzag and that we'll see a B wave bounce this weekend. That suggests a turn on Monday to the downside again.
Currency pairs have not turned. Expect tests of highs and lows across the USD pairs that I cover (EUR, AUD, CAD, and JPY). I'm unsure of the timing because DXY still has some work to do (it appears to be in an ending diagonal).
On a larger scale, DXY has dropped to a level now that can only put it in a second wave category, and I'd expect the turn in the 94.00 area.
Oil requires a new high, as it appears to be near the fourth wave of an ending expanding diagonal. It needs about a $2 rise to the 43.50 area and I don't think we'll accomplish it this weekend.
Gold and silver appear to be very close to turning points, but my sense is that we still have a fourth and fifth wave to do, but I want to see if gold and silver move with my expectations for DXY (the US Dollar). If they move in unison, then we can expect gold and silver to top when DXY bottoms. As DXY appears to be in an ending diagonal, that's likely a week or so from now. There's lots of time to contemplate an entry as these assets have multi-year bear markets ahead of them.
The Federal Reserve has an announcement scheduled for Wednesday, the last one until September, but I don't expect anything dramatic to come out of this one.
If we indeed see a turn down from a three wave correction on Monday, you can expect a very bearish week in the US indices.
The big question is timing of the turns for the other asset classes. It makes the most sense to me that they turn at the top of a second wave, but I can't see how it can be this weekend. My sense is that we might not see a turn until next week, after we've finished the first zigzag down, probably to the ES2920 area.
Know the Past. See the Future
_______________________
Want some truth?
My new site and discount for monthly articles and video on how to stay healthy and wealthy over the next five years is now live. Getting to the real truth, based on history, is what I do, inside the market and out.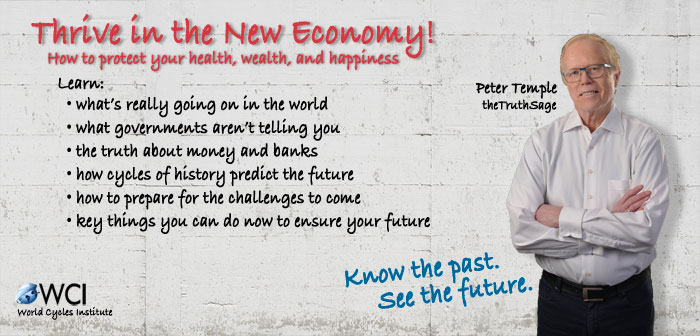 To sign up, visit my new site here.
All the Same Market.
I've been mentioning for months now that the entire market is moving as one entity, the "all the same market" scenario, a phrase that Robert Prechter coined many years ago, when he projected the upcoming crash.
We're in the midst of deleveraging the enormous debt around the world. Central banks are losing the control they had and we're slowly sinking into deflation world-wide, with Europe in the lead.
The US dollar is fully in charge of both the equities and currencies markets. They're all moving in tandem, as I've been saying since September of 2017. Over the past three years, their movements have been moving closer and closer together and one, and now they're in lock-step, with the major turns happening at about the same time.
it's challenging because often times currency pairs are waiting for equities to turn, and other times, it's the opposite. The other frustrating thing is that in between the major turns, there are no major trades; they're all, for the most part day-trades. That's certainly the case in corrections, where you very often have several possible targets for the end of the correction.
We're now close to a turn in the US indices, currency pairs, oil, and even gold. Elliott wave does not have a reliable timing aspect, but it looks like we should see a top very soon.
_________________________________
Elliott Wave Basics
Here is a page dedicated to a relatively basic description of the Elliott Wave Principle. You'll also find a link to the book by Bob Prechter and A. J. Frost.
______________________________
US Market Snapshot (based on end-of-week wave structure)
This chart is posted to provide a prediction of future market direction. DO NOT trade based upon the information presented here (certainly NOT from a daily chart).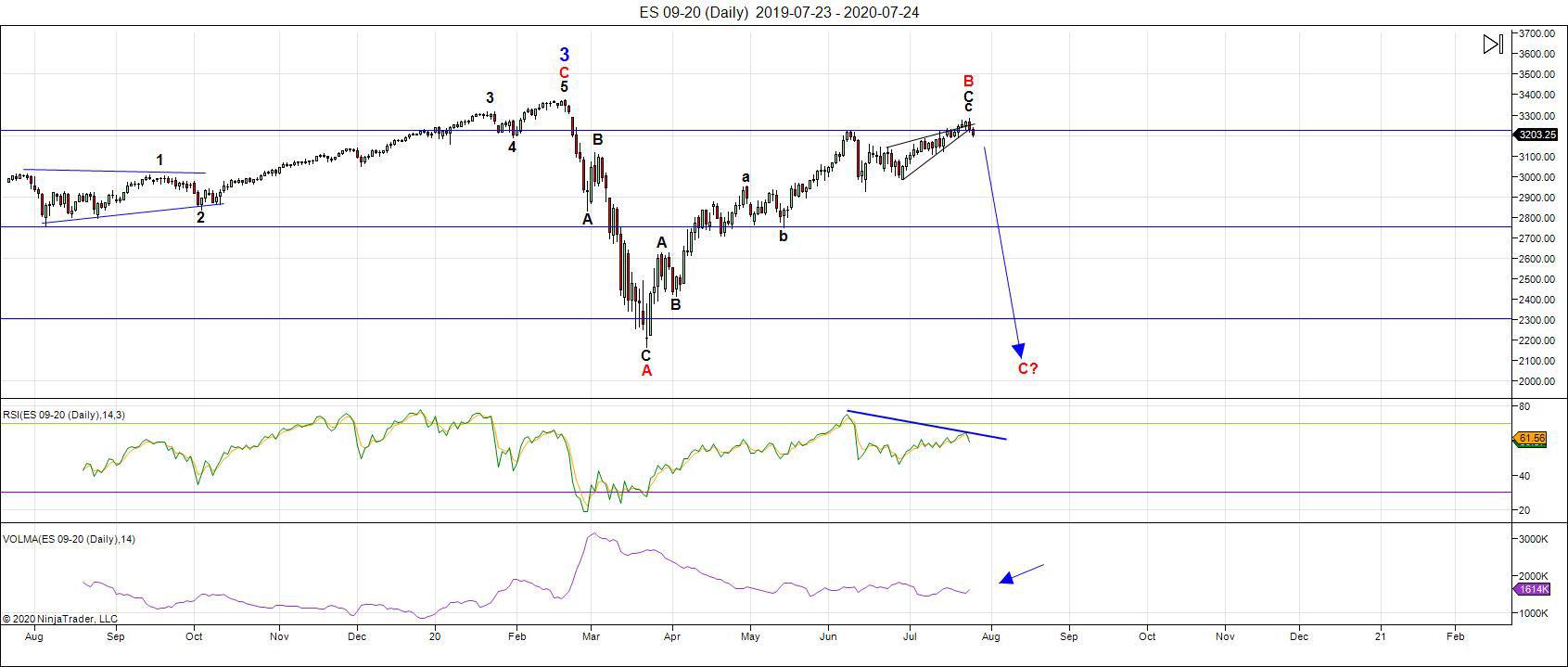 Above is the daily chart of ES (click to enlarge, as with any of my charts).
After about 21 days (a month) in an ending diagonal, on Thursday this week, we finally broke to the downside, as predicted earlier in the week. Initial indications are that we're beginning a series of zigzags down, but it's still too early to be certain. The other option is the C wave of a flat.
It's still early to call a top with absolute certainty. The Elliottwave methodology calls for a first wave down in five waves followed by a second wave retrace and turn to the downside after. In the case of zigzags (which are corrective waves), the second wave may be muted and only reach a 38% retrace level, or slightly above.
There's an additional challenge in that none of the other asset classes I cover have, in fact, turned. They all appear close, however.
The only potential trend change is in the US indices, so far;  they appear much weaker (and have appeared so for over a week) than currencies, oil, gold, or silver. However, all these other assets classes are very near trend changes and I expect we'll see them all join the party before with the next week to ten days.
DAX and other international indices, appear to have also turned with the US indices, as expected.
I've updated the US Dollar Index (DXY) this weekend to suggest a turn up is imminent and that we are near the bottom of a second wave. This means that as the US indices head down, we're headed for a deflationary environment over the next couple of months, as DXY rises. It may be heading into another impulsive set of five waves to the upside.
___________________________
Summary: We appear to be in a "combination" fourth wave down from the 3400 area. We have an A wave down in place from 3400, a B wave up almost to that same level, and now we're completing the C leg down to a new low below 2100. There are several possible measured objectives below that point. 
The balance of the drop from February should be a combination pattern and, as such, may contain zigzags, flats, and possibly a triangle or ending diagonal at the bottom.
Once we've completed the fourth wave down, we'll have a long climb to a final slight new high in a fifth wave of this 500 year cycle top.
______________________________
Trader's Gold Subscribers get a comprehensive view of the market, including hourly (and even smaller timeframes, when appropriate) on a daily basis. They also receive updates through the comments area. I provide only the daily timeframe for the free blog, as a "snapshot" of where the market currently trades and the next move on a weekly basis.
I do a nightly video on the US indices, USD Index (and related currency pairs), gold, silver, and oil) right down to hourly charts (and even 5 minutes, when required).
______________________________________
Know the Past. See the Future