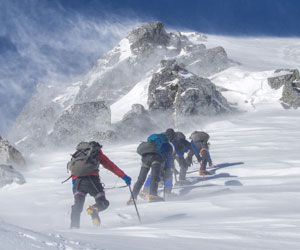 Topping Out
This weekend, the key asset classes I cover seem to be back in sync (it may even include gold and silver — but that remains to be seen).
The latter part of this past week saw fourth waves materialize in US indices, oil, the US Dollar Index, and related currency pairs. Everything I cover (even the DAX exchange) is set up with one more wave to go … a fifth of a fifth. It's the final wave before the mini-crash we've been expecting.
Monday is too early for the turn, but it may well happen later in the week.
As I've said for a very long time, there's no such thing as an Elliott Wave truncation. Wave structures play out until the very last subwave is traced out. What makes this situation more frustrating, though, is that this top is happening at the same time across multiple asset classes all at the same time … on an international level.
Turns take much longer to play out, as all assets have to get to the turn point before the entire market turns over. But even with that in mind, it's clear that this is the final wave and we're at a top … with only days to go.
The other thing that's important in this turn is the change in sentiment — another word is the mood of the masses. With all the propaganda out there, the mood has been elevated, but the cracks are starting to show. Just look at some of the events unfolding around the world:
Julian Assange might as well be on death row, but there's a concerted effort being raised to mount a campaign to embarrass the US and UK governments. At these cycles tops, freedom of speech is curtailed or under attack where it's not. Examples include Chelsea Manning and Edward Snowden, along with electronic surveillance of citizens, which is growing in intensity all over the world.
Knifings and other atrocities are ramping up and becoming more common. It's a sign of people losing hope. Suicides are on the rise all over the world. This is the tip of the iceberg; it's going to get much, much worse.
We've got the uncovering of the Deep State going on in the US, with political parties are each others' throats. The impeachment circus is going nowhere and on the other hand, indictments for the "soft coup" that seems to have been in the works are weeks away, likely after the Inspector General report on December 9. All these events point to a pending civil war on the horizon, something I've been predicting for several years (and you can see them cropping up all over the world).
There are uprisings or demonstrations in many countries now: France, Hong Kong, Iran, Iraq, Georgia, Ecuador, Spain, Chile, Bolivia, Saudi Arabia, Kenya, Ukraine, United Kingdom, Brazil, Columbia, and more unrest surfaces just about every week.
China and Lebanon are experiencing bank runs. Expect these to continue and increase as this mini-crash takes hold.
Real estate is turning down worldwide. Major corporations are struggling with profits, layoffs continue across many sectors.
We have the climate cult now mounting violent demonstrations as a colder winter explodes across the US and other countries in that same northern band closest to the Sun. More evidence is coming out weekly of the falsifying of documents and data — climate warming propaganda — but it's still being ignored by the main stream media, who nobody trusts anymore.
The China/US Trade Deal, which had little hope of actually happening is just about dead, or if it comes to fruition, it won't be anywhere near what was promoted.
Auto sales are crumbling, while sub-prime mortgages are growing. We'll see a tsunami of retail bankruptcies in the New Year, once the true Christmas sales numbers "hit the fan."
We have Scotland, Texas, and Alberta (in Canada) threatening to secede, which is a typical occurrence at both 172 and 516 cycle tops.
Future food supplies in many countries have been compromised with the recent spate of floods and early winter storms.
People are "waking up" and getting scared. Corruption is coming to the surface in countries around the world; much of it involving the leadership.
This isn't all the bad news that's out there … there's much more. But the point is, the tide is turning. When the market starts coming down, the fear will be palpable.
That's the situation we're in as this market finds its top. What's really concerning is that we're at this point and the larger market will still have a new high to put in once this fourth wave is complete in the US equities market (similar to DAX).
Beware the Chinese Curse: "May you live in interesting times."
Know the Past. See the Future
____________________________
Elliott Wave Basics
Here is a page dedicated to a relatively basic description of the Elliott Wave Principle. You'll also find a link to the book by Bob Prechter and A. J. Frost.
______________________________
US Market Snapshot (based on end-of-week wave structure)
This chart is posted to provide a prediction of future market direction. DO NOT trade based upon the information presented here (certainly NOT from a daily chart).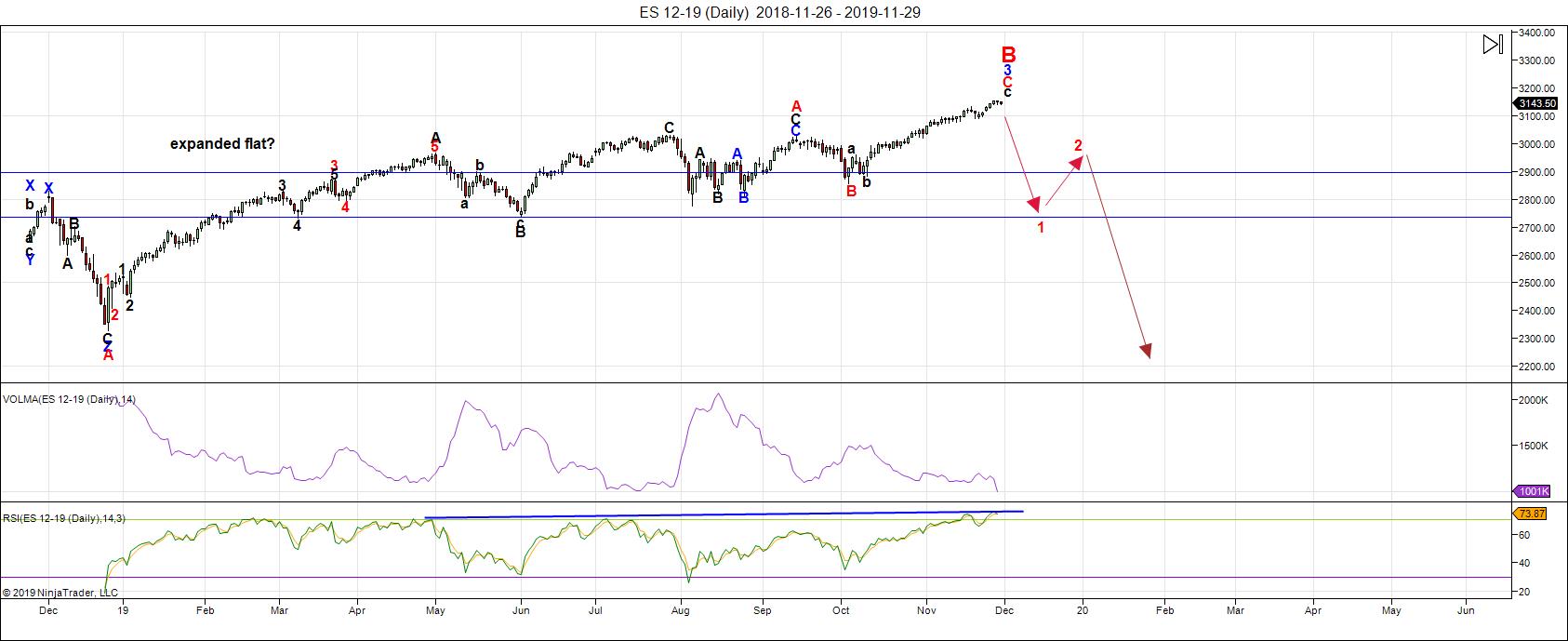 Above is the daily chart of ES (click to enlarge, as with any of my charts).
Last weekend, I called for a bullish week, with a top to this large B wave around US Thanksgiving. We got all of that, except that we haven't seen a turn yet in the US indices, but I wasn't expecting that turn until this coming Monday, at the earliest.
Currency pairs, however, are telling me we may still have a few more days to wait.
This weekend we're at the very top of an ending expanding diagonal. In fact, the SP500 and SPY charts are right up at the upper trendline of that pattern. Final waves in these patterns don't usually extend beyond the upper trendline, but they're so rare that I don't think anyone knows for sure. Even if we get above the trendline, it should only be a few points at most before a dramatic reversal.
While we're topping in the US indices, USD currencies have one more wave to trace out to get to their targets. The US Dollar Index, which is in a running triangle, has to drop to the E apex of the pattern (at the lower trendline) and then it should be complete.
For many months now, I've been calling for the top of the US Indices when the US Dollar has reached that point. So, we're now talking days away, at the most. Oil requires a new high before it drops close to twenty points.
Around the world mood is turning more negative. There are knifings, horrific rapes, the crazy impeachment zoo, more crypto CEOs "disappearing," and even crazier climate marches, falsifying of scientific records coming to light, bonds defaulting, more police brutality, and lots and lots of lives being lost due to dwindling hope.
The level of corruption coming out is stunning, but we probably haven't seen the worst of it yet. This is what happens at the top of the 500 year cycles.
We are very close to the stock market internationally changing trend. It's purely a waiting game now that will likely have a catalyst appear that pundits can blame for everything.
The larger pattern across the indices appears to be an expanded flat (a regular flat in the NYSE exchange). That projects a large wave down in 5 waves to an area under 2100 in ES.
_______________________
There is an option of a set of zigzags down to the same level, but it's much less probable because there are so many flats set up across multiple stocks and indices. If a zigzag is the pattern that traces out, the retraces up will not be as strong as they would be with the C wave of a flat. We'll get a lot of information about the probable path from the first wave down.
___________________________
Summary: The current B wave up is most probably the B wave of an expanded flat. The A wave ended on Jan. 26, 2018. The B wave up will end in a set of corrective subwaves. A trend change is imminent.
We're sitting at the top of an ending expanding diagonal, which is an ending pattern, which will resolve itself with a dramatic turn to the downside once its completed the final subwave.
I expect the ultimate bottom will be somewhere under 2100.
Once we've completed the fourth wave down, we'll have a long climb to a final slight new high in a fifth wave of this 500 year cycle top.
___________________________
Trader's Gold Subscribers get a comprehensive view of the market, including hourly (and even smaller timeframes, when appropriate) on a daily basis. They also receive updates through the comments area. I provide only the daily timeframe for the free blog, as a "snapshot" of where the market currently trades and the next move on a weekly basis.
I do a nightly video on the US indices, USD Index (and related currency pairs), gold, silver, and oil).
______________________________________
Sign up for: The Chart Show
Next Date: 

Wednesday, December 4 at 5:00 pm EST (US market time)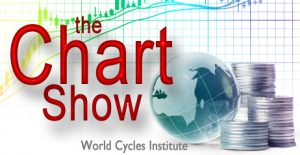 The Chart Show is a one hour webinar in which Peter Temple provides the Elliott Wave analysis in real time for the US market, gold, silver, oil, major USD currency pairs, and more. You won't find a more accurate or comprehensive market prediction anywhere for this price.
Get caught up on the market from an Elliott Wave perspective. There'll be a Q&A session during and at the end of the webinar and the possibility (depending on time) of taking requests.
"I think you are the only Elliot Wave technician on the planet who knows what he's doing."
m.d. (professional trader)
All registrants will receive the video playback of the webinar, so even if you miss it, you'll be sent the full video replay within about an hour of its conclusion.