The Daily Sentiment Indicator on Friday was up to 87%, which isn't quite a record, but close. That forewarns that all the money is in the market and the players are feeling pretty good about their progress to date. It is not a forecaster of more good times to come. Quite the opposite. It means we're exceptionally close to the end of this rally.
We're had a countertrend market for over eight years now, a product of the central banks and their policies. However, those policies just aren't working, anymore.
Deflation is taking hold and credit is starting to freeze up. I know of situations in which the very safe Canadian banks are starting to call in loans. Italian banks are about to implode, and Spain and Portugal should follow. Deutsche Bank has a capital level of less that 3% (similar to Lehman when it went under) and reportedly has derivatives exposure of more than $70 trillion (roughly the size of the world GDP). This is the private banking system at its worst.
My video on the Canadian banking dilemma is here.
So, while the US markets have gone to a new high, they won't be there for very long. Only about 15% of stocks are reaching new highs. Breadth is tanking fast.
You're also seeing the negative sentiment starting to dominate society in general. This is a trait of a market topping, climate turning colder, and authoritarianism taking hold. All these cycle traits have happened over and over again throughout history at regular intervals.
I'll be posted more videos later this week on how these cycles affect the economy, climate, and social mood.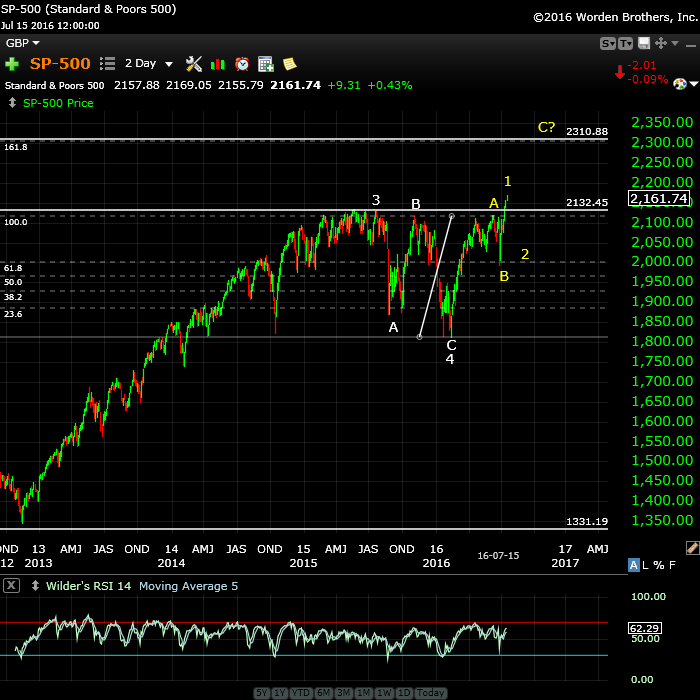 Above is the 2 day chart of the SP500. My count of a second wave has now changed (one thing Elliott Wave is excellent at is telling you very quickly when you're wrong, and keeps you safe). It also tells me that while we have a spiky new high, the wave sequence is not quite complete. When it is, though, we'll see a dramatic turn down. These are dangerous times to be in the market, so if you're new to trading, it's best to sit on the sidelines and wait for the big turn.
It's also the middle of summer, so volume is exceedingly thin.
The NYSE should rise to a new high and that may be the indicator for the turn. Once one index hits a new high, they all do, typically.
I should be able to predict the turn here when we get close. My best guess now is that it won't come until September, as I've been saying for some time. It could also extend into October. Those are historically the months for major tops. However, in the meantime, we'll have some volatility.