Update Friday, July 15, After the Close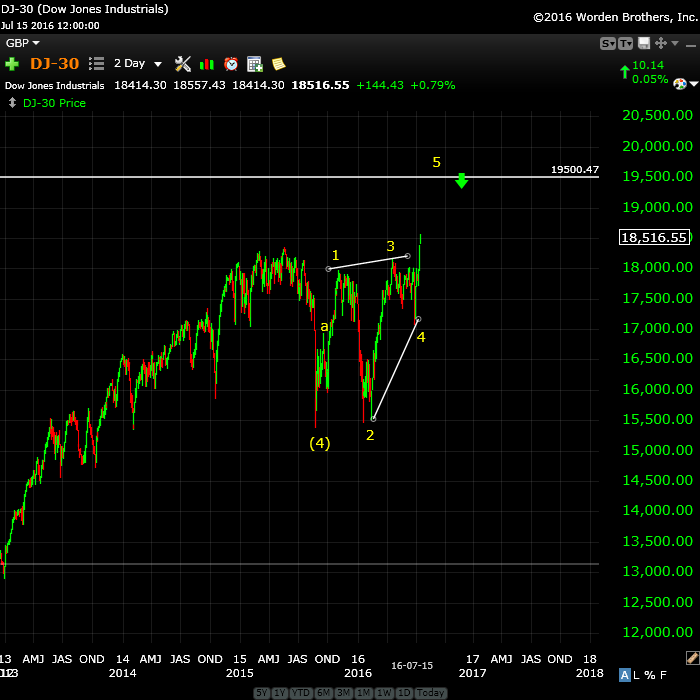 I'm getting a chance tonight to review all the charts on a high level and thought I'd post the DOW chart, which is looking fairly representative of all the indices. I'll do a complete review in the service.
Above in the 2 day chart of the DOW. With the surge to a new high, my "second wave theory" has fallen by the wayside. I was ultimately wrong, but it was the best count at the time and it kept us safe throughout this hard to decipher market. The difficulty all along has been the fact that all these waves are in 3's, so they're corrective. The most probable pattern now comes to a very large ending diagonal (back to this pattern, but on a grander scale). Not a conventional one, but a diagonal none the less. Nothing else in terms of EW patterns fits a jumble of three waves.
I now expect the NYSE go eventually go to a new high. Everything should. Once one goes, they all go. I've put a target here of 19,500 for the DOW, an extension off the first wave up marked "a," but with an ending diagonal, there is no rule, so that's a guess, at best.
Expect a B wave down this week but not to a new low (below yellow 4). It will require another wave up, (which we already knew) and that should be the final wave. So not much has changed in terms of the short term picture,  except that the wave down this coming week will not be as robust as it would have been in an expanding triangle (I've discounted the expanding triangle and the wave up has carried to about 140% and guidelines suggest 125% should be tops).
__________________________
Update Friday, July 15, Before the Open
It has been raining non-stop here in Calgary for the past 24 hours. We've had a week of on and off rain during the Calgary Stampede, which is historically the sunniest period of the year. And we're in a desert. Dr. Wheeler said that the first climate of a cold period is wet. Dry and cold comes later.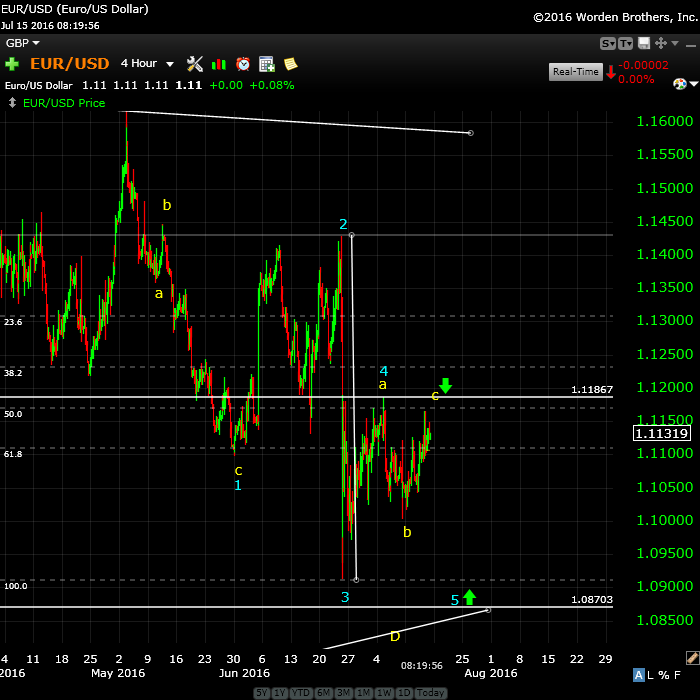 There's not much sense posting a chart of the SPX or ES, as they haven't really changed all that much overnight. But let's look at the 4 hour chart of the EURUSD. Above is a closer shot of the triangle unfolding (you'll find a large view chart below). You can see the large ABC configuration (everything is overlapping and one large wave is bigger than everything else).
However, as is so often the case, there are actually five waves in this mess (in blue). However, because of the overlapping and the large, most prominent wave, if you squint your eyes, there are only three major waves here. This is one of the keys to Elliott wave—knowing when you have a well-formed motive wave and when you don't.
This tells us that this wave needs to drop to the lower trendline of the triangle and then completely retrace, as has been my call for a very long time. The euro is moving like a snail. It may move up to tag the previous blue 4 level today or this may be a smaller "2nd wave," which means is will head down now to complete "wave 5"  over the next couple of weeks. Either way, we're heading down to the 1.087 area.
Finally, we should have a move up to the upper trendline, which  would complete the triangle and lead to a large 5th wave decline (September for that?).
The moves of these currency pairs are aligned with the movement in the US indices and we're slowly playing out the final waves before the crash, imho.
_____________________________
Update Thursday, July 14, Before the Open


Above is the 60 minute chart of ES (emini SPX futures). It's certainly one of the most impressive rallies I've seen. However, the wave appears to be in 3 waves. The SP500 is less defined, but with currency pairs set up to turn down, it makes sense to me that we're still in this expanding triangle. I've drawn the fibonacci relationship on the chart showing the wave A and C extension. It sits at 2182, a common relationship. So we could have a little more upside today before we find a top, either tonight or tomorrow morning would be my best estimate. We could also turn here, as it's "fork" area. We're now up about 140% of the previous wave, which is above EW guidelines for an expanding triangle wave. The turn date is July 14/15 so sometime in this next 24 hours, we should see a turn.
As we get closer to a top, the waves tend to get more and more motive-looking, something I've noticed at other tops and bottoms, so while I believe we have one more likely even more impressive up/down move to go, we'll be watching for the structure of the wave down.
Wait for a lower high (a small second wave retracing at least 62% before wading in anywhere)—that's my caution.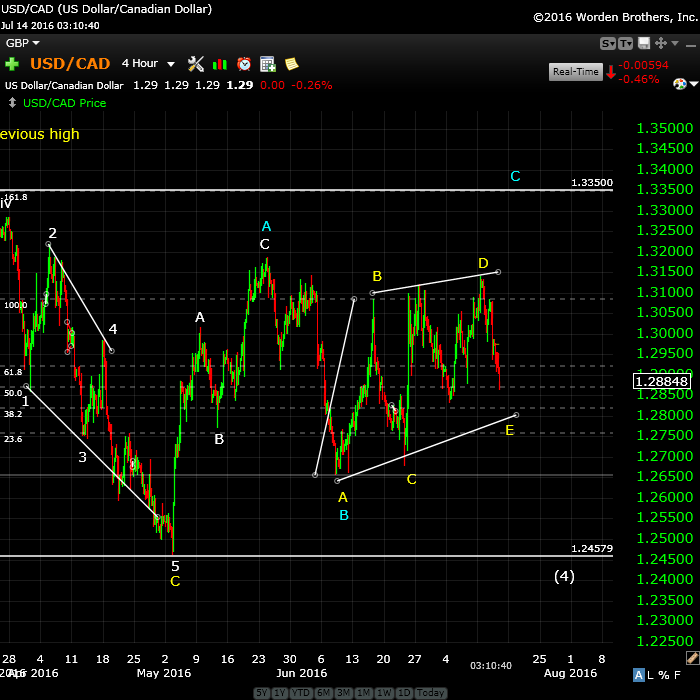 Above is the 2 hour chart for USDCAD. It looks like we are indeed going to drop to complete the larger triangle and then we should turn up. I would put the turn at sometime tomorrow (morning?).
Longer term, I expect move up to about 1.334 before a turn down to a new low at about 1.245. This has been the forecast for a while now, but we've simply been consolidating all this time. Other US dollar currency pairs are in similar positions. I also expect a turn down in EURUSD but after a slight move up to ~1.1186.
___________________________
Update Wednesday, July 13, Before the Open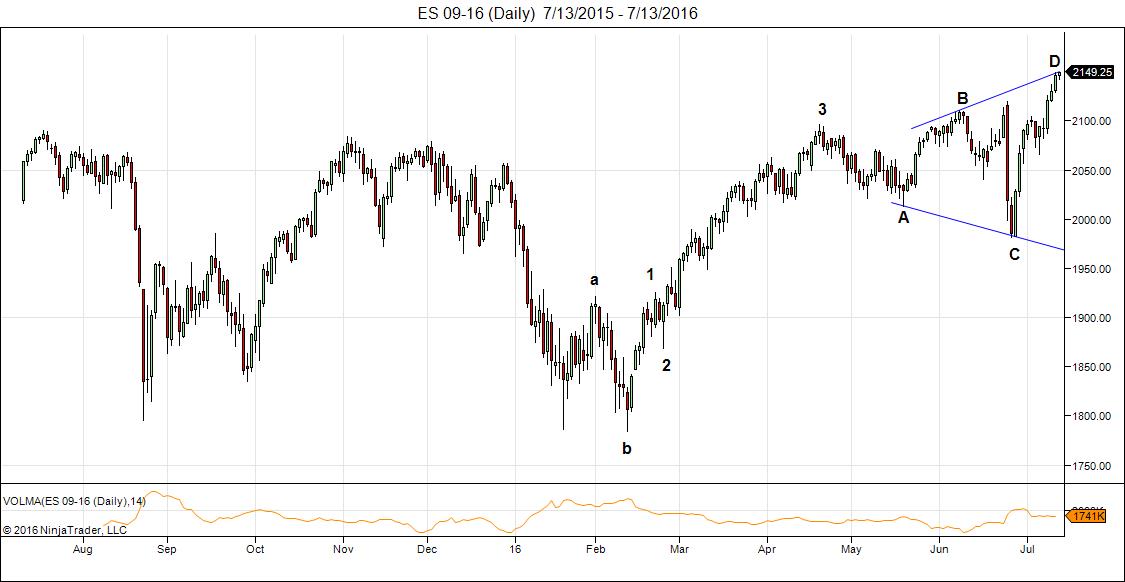 Above is the daily chart of ES (emini SPX futures). We're still defining the upper trendline, but the lower one is set. The bottom indicator is volume and you can see how it's been dropping off ever since the Feb 11 low. It's dropping off again at the high here. I'm not expecting a lot out of today. The 5 waves of the C wave appear to be in place and indicators are showing divergence. The cycle turn date is 14/15 so a little more patience should do it.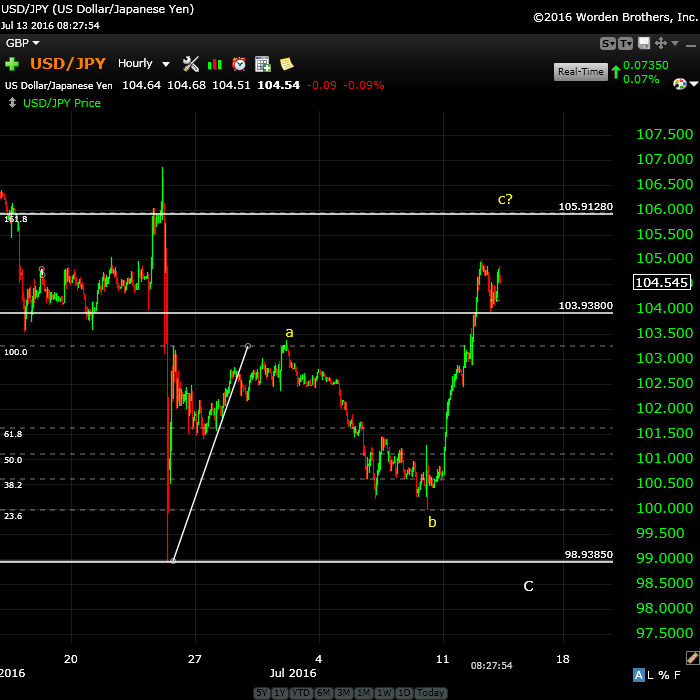 Above is the hourly chart of USDJPY, which can move on its own (not in sync with other currency pairs, because of the yen component). It hit my target of ~104. My fib extension tells me it has a bit more to go … likely to about 106. Then I would expect a turn down. USDJPY is at the end of a 4th wave move and will eventually reach down to 99.00. However, it's likely to be a bit volatile until then.
___________________________
Update: Tuesday, July 12, 1PM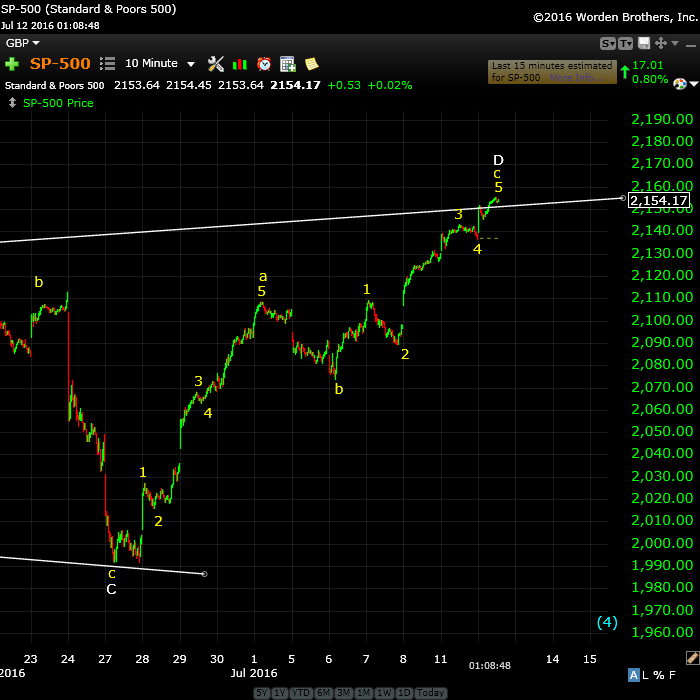 Above is the 10 minute chart of the SP500 showing the wave up that's coming to an end. I was looking for a wave 4/5 combination as we didn't have a 4th wave. A zigzag wave (a wave in 3) as part of an expanding triangle is a 5-3-5 pattern. The a wave will be in 5 waves, the b wave in 3 waves, and the c wave in 5 waves. It looks like we have them all and we're slightly above the guidance level of 125% of the previous wave, so I would expect this wave to be all but over.
RSI, although not shown here, is also indicating the wave should be ending soon, if not now.
____________________________
Update:  Tuesday, July 12, Before the Open
Above is the 60 minute chart for ES (emini futures of SP500). I suspect today we'll drop into a fourth wave of the C wave since we really don't have one. The SP500 should do the same thing. Then one more up on Wednesday likely before we start to head down Thursday/Friday. The target on the downside should be around 1960 (the lower trendline) but we'll be able to target that a little closer as we move down.
Currencies have rebounded slightly, so they're set to turn over as well, in tandem with the indices. The cycle turn date is July 14/15.
___________________________
Original Post (Sunday) July 10:  Periodicity, in terms of cycles and patterns, in terms of Elliott waves, work together in a very powerful, very predictive manner. Periodicity (the tendency to recur at intervals) is a requirement of  a cycle. Predicting the directional movement of the market and resulting price levels is the core of Elliott's discovery in the 1930s. Used together, they're highly accurate predictors of where the market will be tomorrow.
Cycles don't in themselves determine direction. However, if a market is trending up and we are coming up to a major cycle turn, the probability is that it will turn in the opposite direction. The key is to know if the cycle you're focused on is a major or minor cycle.
Elliott waves forecast the direction of the market and the probable turn in terms of price levels, but are not that accurate in terms of timing. Hence the power of meshing the two natural phenomena.
The key to predicting using Elliott waves is determining what pattern you're currently in, as the patterns unfold in virtually the same manner each time. This is often an operation of determining probabilities in what patterns are viable based upon the price level you're currently at, keeping in mind the preceding pattern. To be more specific, it's more often an exercise of discounting less probable patterns to end up with the most probable pattern. Fibonacci ratios play a very large role in that exercise.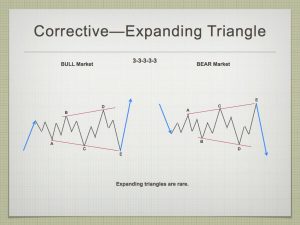 The pattern we're in now in the major US indices is an expanding triangle (in a bull market). I had projected an ending diagonal very early in the game, but it has proven not to be the most probable operative pattern, and, in fact is the far more rare of the two patterns. There's an interesting discussion of the reasons why this pattern has come to the probable "top of the heap" is here: https://worldcyclesinstitute.com/forum/todays-market/expanding-diagonal/
(You need to be logged into the forum to be able to add to comments on it).
In short, the reasons an expanding triangle is the most probable pattern over an ending expanding diagonal are the following:
The wave up from ~2025 on May 19 cannot be a final fifth wave, because it's clearly in 3 waves, so it must be a leg of a triangle. If that's the case, it's the B wave.
Because Friday's leg up went to a new high, the triangle is

expanding

. That leaves two options: an expanding triangle, or an ending expanding diagonal.
An  expanding ending diagonal is a fifth wave pattern, but we're clearly in a fourth wave at this time, plus there's absolutely no supporting evidence that they even exist. Bob Prechter cited one instance of one in the DJIA, which upon further analysis doesn't hold water, and Ralph Elliott never identified that pattern in any of his work.

I'm convinced it does not exist

, based on the work I've done on post-analysis of example charts.
Finally, ending diagonals are "diagonals" (Elliott was very clear about that); they are not horizontal patterns, which this triangle clearly is.
This leaves us with no alternative but an expanding triangle. If that's the case, we have one more leg down (the E wave) and one more leg up (wave 5). These will take some time to unfold.
There's also the history of the market to contend with. This is very important: Markets, to my knowledge,have never topped in summer months (the volume and participation just isn't there). That's why I'm targeting September for a market turn.
Bottom line:  The next cycle turn date (Andy Pancholi) is July 15. The market should hold up until then, resulting in a turn down into the E wave (in 3 waves). The target for this wave up is somewhere between 2126 and 2152 in the SP500 (2116 – 2142 in ES).
Currencies are finishing up their final patterns slowly as we wend our way to the final top (preferably wave 2 in the US indices).
Gold and Oil:  Special video report in the forum here.
Trader's Gold Service
I'm almost finished the technical aspects and I've developed a lot of supporting content so that this is also a learning experience for anyone wanting to understand Elliott wave and how it applies to the movement of the market. You may not immediately be able to use it to perfection on your own, but you should be able to understand the basis concepts and use it to forecast the overall pattern and market direction.
Wave Three Down
Here's a link to a projection for wave three down in the SP500.
______________________________
Here's a video overview of the market for Tuesday, July 11, 2016:
Market Report for July 11, 2016
| | |
| --- | --- |
| | Make sure you zoom the video to full size with frame expander (arrows) in the bottom right hand corner and also set the quality to as high as your web connection allows. This is an HD quality video so the best viewing is at that level. |
_______________________________
The Charts Going into Monday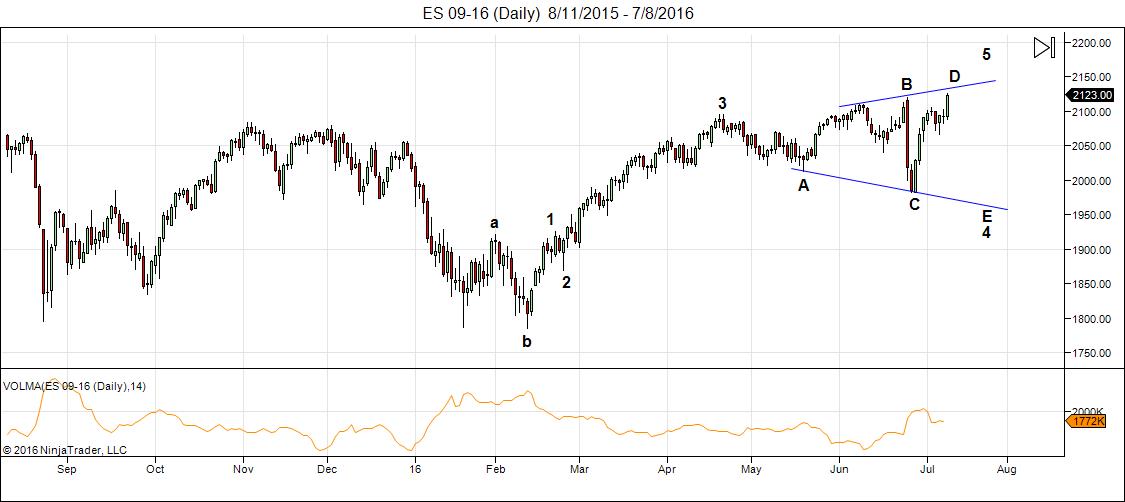 Here's the daily chart for ES (emini futures) with the count to now. This shows the expanding triangle pattern I've identified up top. In this case, we have one more wave down and one more wave up. The wave down should be in 3 waves (a zigzag, which is a 5-3-5 configuration), followed by three waves up to a top.
In an expanding triangle, each wave is typically 105-125% longer than the previous wave. Therefore, I'm expecting to see a top on Thursday/Friday at between 2116 and 2142.
Above is the daily chart of NYSE (the largest cap index in the world) and the one we really need to pay attention to for the US market. This is the big picture and shows the double pronged second wave that we're in the process of finishing. We're not at a new high here, so this index could be tracing out a simpler path to a double top, having missed it by $10.00 a little over a week ago.
The bigger picture is that we're setting up for a very large third wave down.



Above is the an hourly chart of the SP500.  This shows the expanding triangle about to top. I would wait until later in the week to get short, however. The cycle turn date is July 14/15 and we still haven't established the top of the present wave. The typical top for a D wave here would be between 2126 and 2152. The previous high is ~2134, which I don't expect us to achieve (I can alway be wrong!).
The high for this wave should be between 2126 and 2152.
We will then turn down in an E wave with a final wave 5 up to come at a later date.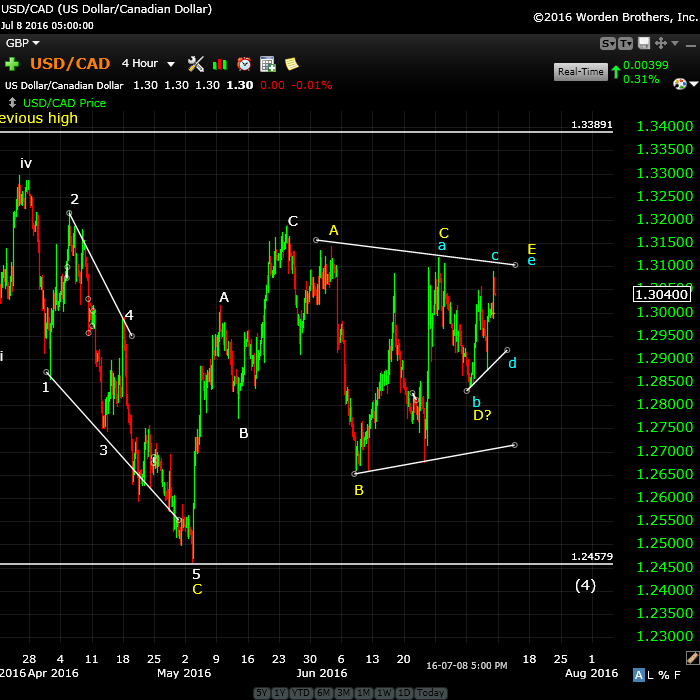 Above is the 4 hour chart of USDCAD. EURUSD, USDJPY and CAD here are all in the process of finishing up countertrend (corrective patterns). As such, it's likely to be very volatile. USDCAD has followed through on my expectations, but stalled again on Friday and seems to be forming another smaller triangle,  which triangles can do in either the C, D, or E wave. This is the D wave.
We will eventually reach 1.245, but how we get there is a bit of a question right now. My higher probability projection now is to complete this triangle and (with a turn up in the euro chart) to turn down to complete the final fifth wave of the pattern.
After that, we'll turn up in a very large fifth wave in the opposite direction, which will eventually take up to a new high for USDCAD.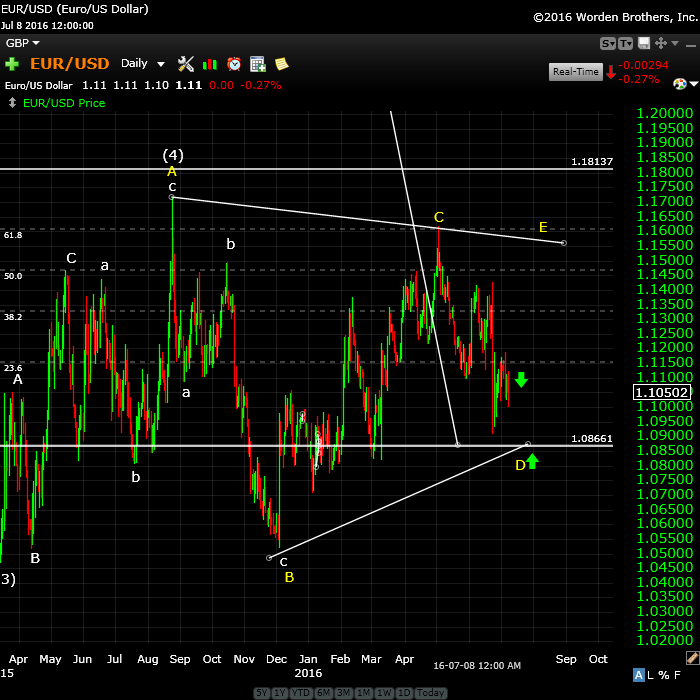 Here's the four hour chart of EURUSD showing the ongoing triangle—the major (combination—a flat and a triangle) corrective pattern we've been in since March, 2014. We're in the final stages of a bearish triangle formation, with one more leg up to go to finish the E wave. I've widened the triangle here to leave a distance between yellow D and E of .618 X the distance between waves A and B (not shown here), which is the typical wave E length. (I show more in the video)
This means that we should continue to drop to the 1.0870 level and then I suspect when we finish wave E of the expanding triangle in the US indices, we'll turn up in the final E wave of the triangle.
EURUSD should turn down after finishing the E wave in tandem with the US equities.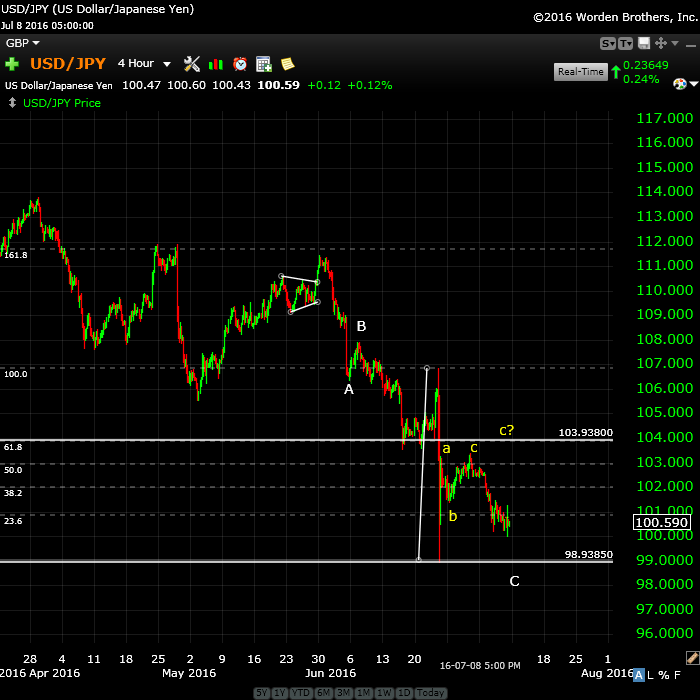 Above is the four hour chart of the USDJPY. I continue to predict volatility here, as well. We need to get to a double bottom, but how we get there is questionable. We headed down last week, but I'm expecting one more leg up at some point. I've drawn a horizontal line at the 62% level which with a little more travelling down would be 1 X the A wave. So we may get a leg up to 103.94 and then another leg down to finish off the pattern.
Once complete, we should get a turn up in a very large 5th wave to a new high. Give this until September to fully play out.
________________________
First Wave Down – What to Watch For
What we're looking for (likely in September) to confirm a turn is a motive wave down in 5 waves at small degree. After that, we should get a second wave that will retrace up in 3 waves about 62%. That's the preferred EW entry point. So don't feel you have to rush in. There'll be a much better opportunity at the second wave level than at the top and the risk is substantially reduced.
You'll find a diagram in the forum here.
__________________________
History: The 1929 crash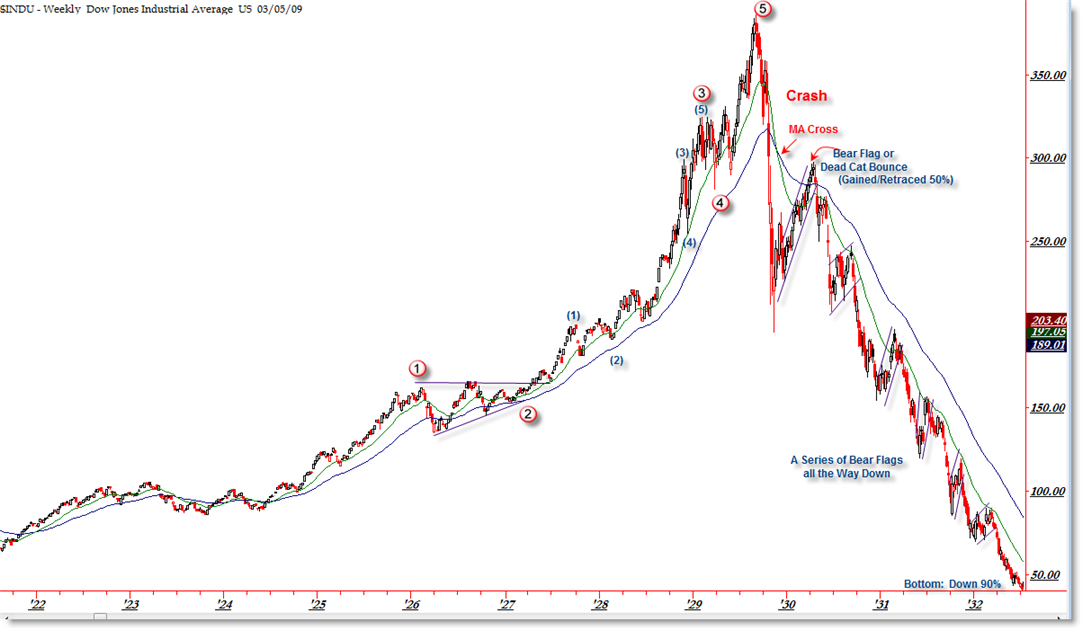 I think it's important to look at 1929 and the wave structure (above and below), which was the same as 2007—to a point. I will show the 2007 crash below in the "What If" section.
The wave structure of the 1929 crash was in 3 waves overall. There were 5 waves down from the top (the A wave) and then a very large B wave retrace. The final C wave down was a stair-step affair and lasted over 2 years.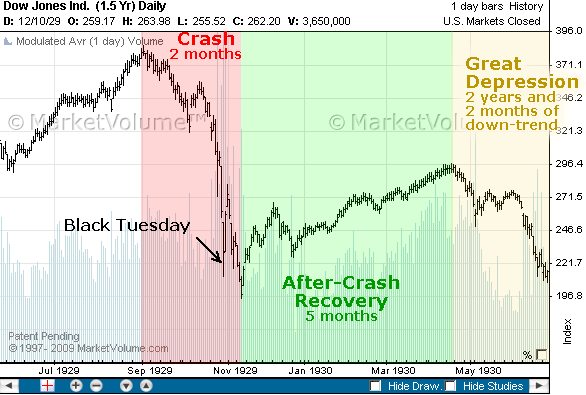 Let's look  a little close at the timing of the 1929 crash because the similarities to today are uncanny.
The market peaked on September 3, 1929 and then it took 2 months for the crash to actually happen (to reach the bottom of wave 5 of the A wave). The larger crash  which we always hear about began on October 23, 1929. Then there was that large B wave, which lasted 5 and a half months and finally (which I explain a little further in the cycles section below), the C wave which went on for more than 2 years. This might be the scenario we're looking at going forward.