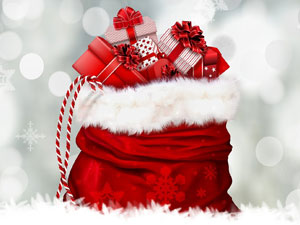 I'm Expecting A Santa No-Show
I'm referring to the normal Santa rally, which happens over the Christmas holidays and into early January. I think it's going to be a no-show. Nothing would make me happier to see a top on Monday. And then there's the 26th, which is a solar eclipse. We're that close.
This is the craziest top I've ever seen! It's not a normal top by any stretch of the imagination and that's why it's so difficult to call it. It's a "rogue" pattern, but fits well into the larger pattern, which has to be an expanded flat.
In any case, we're either at a top this weekend, or only a few days away.
Here's the latest market sentiment level from the CNN fear and greed index: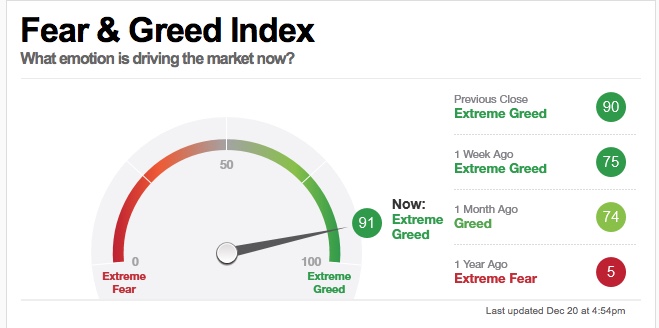 Sentiment mid-day on Friday actually hit 92, which is the highest level I've ever seen on this index. That signifies that everyone's pretty much "in" the market and feeling very good about they money they've made — an excellent foreshadowing of a top.
This weekend, I spent a lot of time measuring and attempting to determine if the turn is on Monday or not. This is such a strange top that I found it impossible to be sure. But we're days away, at the most.
____________________________
NYSE – At a Measured Top
| | |
| --- | --- |
| | Make sure you zoom the video to full size with frame expander (arrows) in the bottom right hand corner and also set the quality to as high as your web connection allows. This is a high definition (HD) quality video so the best viewing is at that level. |
_______________________________
Know the Past. See the Future
____________________________
Elliott Wave Basics
Here is a page dedicated to a relatively basic description of the Elliott Wave Principle. You'll also find a link to the book by Bob Prechter and A. J. Frost.
______________________________
Have not had a losing week RW 2
US Market Snapshot (based on end-of-week wave structure)
This chart is posted to provide a prediction of future market direction. DO NOT trade based upon the information presented here (certainly NOT from a daily chart).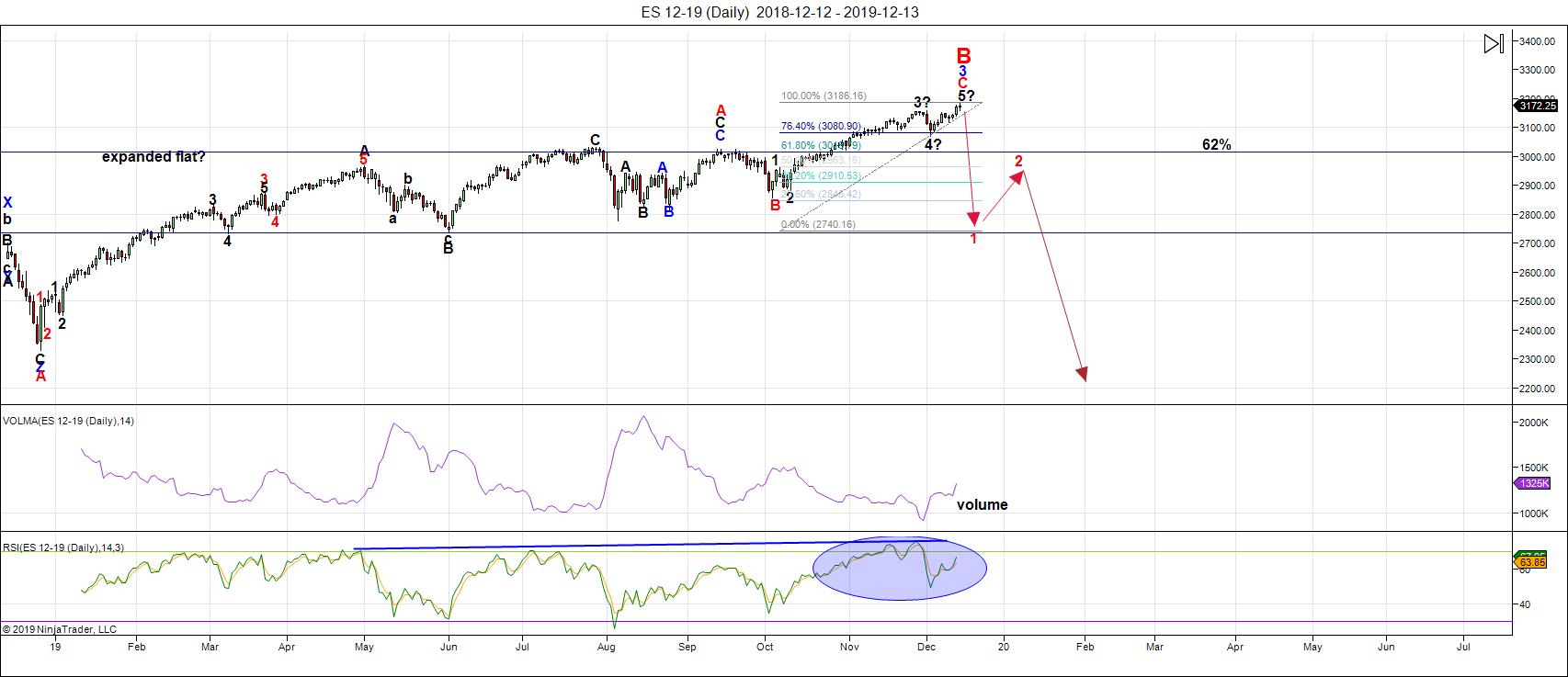 Above is the daily chart of ES (click to enlarge, as with any of my charts).
The count is still up until we get a turn and five waves down at small degree (eg - a 5 min. chart). A trend change is imminent, but we have to wait for the market to give the turn signal.
The subwaves up on a daily chart are not a recognizable Elliott Wave pattern; however, expanding the chart to show the top in January, 2018, strongly suggests we're at the top of the B wave of an expanding diagonal, as I've been saying for months now.
In the case of an expanded flat, I'm expecting 5 waves down in a very large C wave to at least the 2100 area. This would be a fourth wave with one more high to come in a year, or so.
The entire wave up from 2009 is corrective, so it makes determining a top based on measurements quite problematic. Corrective waves always have a number of possible turn points based upon measurements. They also have wave structures that very difficult to decipher (there are very few guidelines for corrective waves and no rules, unless it's a typical corrective pattern (ending diagonal, flat, triangle, or zigzag), and even those can differ wildly from what you might expect.
That said, the final waves up in the major US indices have a full count. The NYSE (in the blog post above) shows where we are now and the multiple measurements that are pointing to a turn nearby.
Sentiment is as high as I've even seen it (bullish) and that also suggests a turn.
In terms of natural "triggers," solstice is this weekend and there's a solar eclipse on January 26. Both are likely triggers. My preference is for a turn this coming Monday, but currency pairs still have work to do, so unless they've decoupled from equities, we may have a little longer wait. That would bring the 26th into focus.
_______________________
There is an option of a set of zigzags down to the same level, but it's much less probable because there are so many flats set up across multiple stocks and indices. If a zigzag is the pattern that traces out, the retraces up will not be as strong as they would be with the C wave of a flat. We'll get a lot of information about the probable path from the first wave down.
___________________________
Summary: The current B wave up is most probably the B wave of an expanded flat. The A wave ended on Jan. 26, 2018. The B wave up will end in a set of corrective subwaves. A trend change is imminent.
We're at the top this weekend of a final fifth  of fifth subwave. I'm focused on Monday for a possible turn due to solstice, measurements, and wave structure. There's an alternate date of December 26. There are large liquidity issues for the US Dollar which should increase as we move into the New Year.
Look for the ultimate bottom to be somewhere under 2100 in ES.
Once we've completed the fourth wave down, we'll have a long climb to a final slight new high in a fifth wave of this 500 year cycle top.
___________________________
Trader's Gold Subscribers get a comprehensive view of the market, including hourly (and even smaller timeframes, when appropriate) on a daily basis. They also receive updates through the comments area. I provide only the daily timeframe for the free blog, as a "snapshot" of where the market currently trades and the next move on a weekly basis.
I do a nightly video on the US indices, USD Index (and related currency pairs), gold, silver, and oil).
______________________________________
Sign up for: The Chart Show
CANCELLED FOR CHRISTMAS AND NEW YEAR'S DAY
Next Date: 

Wednesday, January 5 at 5:00 pm EST (US market time)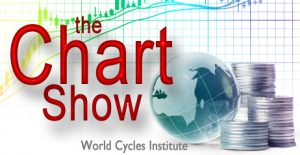 The Chart Show is a one hour webinar in which Peter Temple provides the Elliott Wave analysis in real time for the US market, gold, silver, oil, major USD currency pairs, and more. You won't find a more accurate or comprehensive market prediction anywhere for this price.
Get caught up on the market from an Elliott Wave perspective. There'll be a Q&A session during and at the end of the webinar and the possibility (depending on time) of taking requests.
"I think you are the only Elliot Wave technician on the planet who knows what he's doing."
m.d. (professional trader)
All registrants will receive the video playback of the webinar, so even if you miss it, you'll be sent the full video replay within about an hour of its conclusion.