Update Friday, June 3:  Before the Open
Above is the 60 minute chart of ES (emini futures) this morning after the labor report.
We dropped as I'd expected and this is the pattern I was seeing yesterday, and if it holds, a possible ending diagonal shaping up.
USDJPY has technical damage so we'll wait see what happens here. Other currencies suffered but not technically. Let's give them some time after the open to see what the next move is.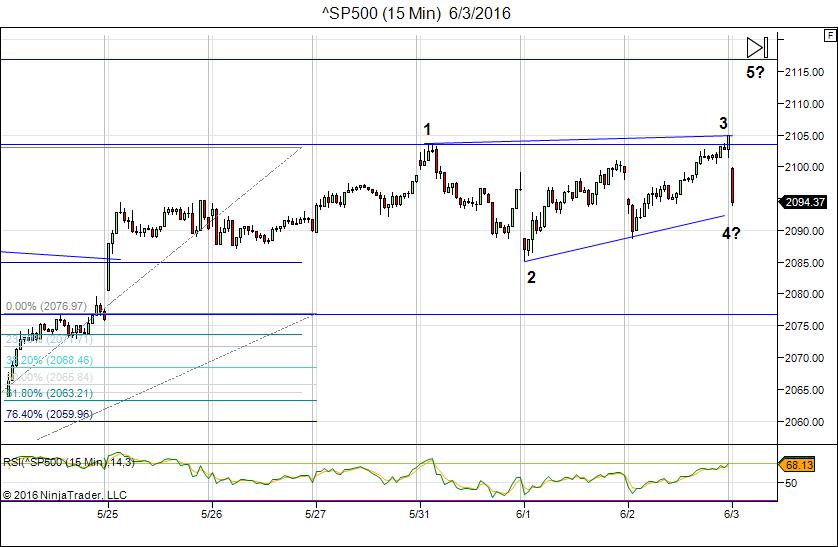 Above is the 15 minute chart of SPX showing the same pattern shaping up this morning.
________________________
Update Wednesdy, June 1:  After the Close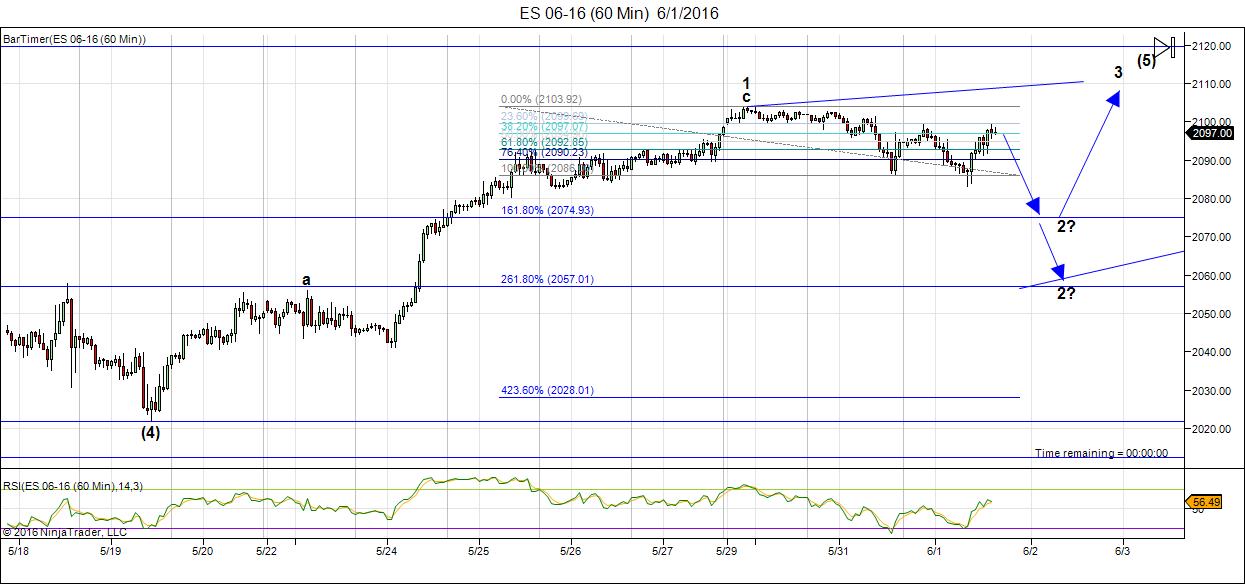 Above is the 60 minute chart for ES (SPX emini futures). We had a first wave up (a corrective wave in 3). Now we're heading down in what should be the second wave of an ending diagonal.
There's not a lot to go on regarding a downside stopping point. We've completed the A and B waves (not marked). The C wave is next. Extending the A wave to 1.618 takes us to ~2075. A drop of 2.618 takes us to ~2067. The third wave up should be about .618 X the length of the 1st wave up and it should stop slightly above the first wave up.
For SPX, the same wave ratio of 1.618 would take us to ~2075 before a turn up. That's about as close as I can come to a projection.
Currencies are supporting the drop in the indices, but taking forever to get there. Then currencies need to rally to their final destination, which supports another wave up in the indices. Look to the next Fed meeting on June 15 for a possible resolution.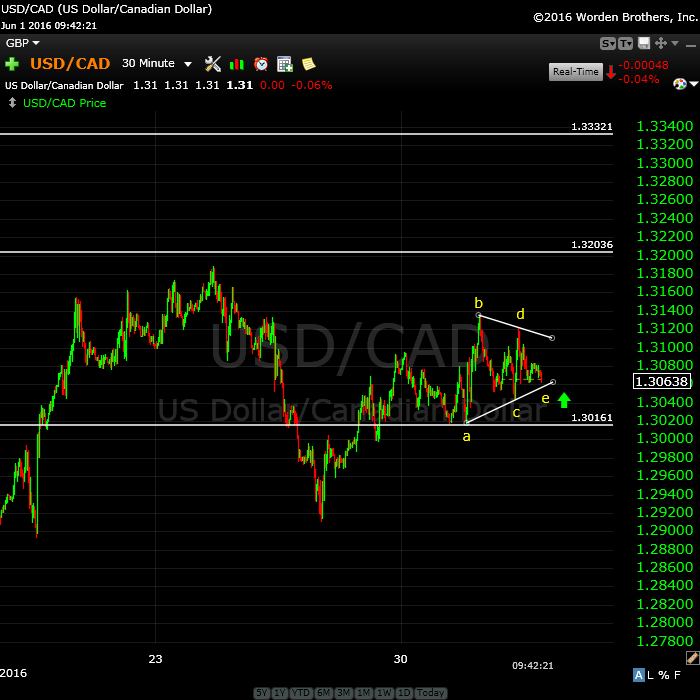 Above is the 30 minute chart of the currency pair USDCAD. I've posted this to those interested in it and because it's been making me "crazy!" It's in a bullish triangle and should finally take off to its intended target: ~1.3333.
It's been hanging around this general area for days now.
_______________________
Original Post (Saturday, May 28):  
The long predicted top in the US market is at hand. We're not quite there yet, but we can certainly see it from here!
Actually, the all time top was at about  May 20th of 2014. The series of corrective waves following it has certainly been difficult to navigate, and I've seen A LOT of really crazy projections of where the market is ultimately going. Some of them are from EW practitioners who should know a lot better, but let "what they think" is going to happen get in the way of objectively analyzing the wave count. To them, I say,
"Trade what you see, not what you think."
It makes me furious to a great extent, because it undermines the work of Ralph Nelson Elliott (1871-1948), who discovered how the markets move. It simply leads to skepticism that his principle works. I've never seen it fail, but I've seen a lot of technical analysts fail. I don't profess to be perfect, for sure, but if you're careful, objective, and diligent in applying his rules, you'll seldom go too far wrong.
Objectivity is the key to predicting the future of the market based on Elliott waves.
Here we are near the top of the market. The unfolding pattern and my projection this week owes a lot to the All the Same Market scenario we're seeing at the moment (currencies and equities are more of less moving in tandem).
Having determined that we're mostly likely in an ending diagonal, the path forward to a large extent is helped by what currency pairs are doing. I explain more in this week's video.
Bottom line in the SP500 (and other US indices): We look to be in a final fifth wave, which I expect will trace out an ending diagonal. The chart of ES below provides my prediction of what the ending wave might look like. This wave should top close to the previous high on November 3 last year, producing a very large, double-pronged second wave, leading to a dramatic third wave down.
Longer term, the dollar will turn up and the euro will turn down at the same time the US equities market tops in this second wave.
______________________________
Here's a video overview of the market for Tuesday, May 31, 2016:
Market Report for May 31, 2016
| | |
| --- | --- |
| | Make sure you zoom the video to full size with frame expander (arrows) in the bottom right hand corner and also set the quality to as high as your web connection allows. This is an HD quality video so the best viewing is at that level. |
_______________________________
The Charts Going into Monday
The US indices appear to be tracing out an ending diagonal. I expect us to head down on Tuesday.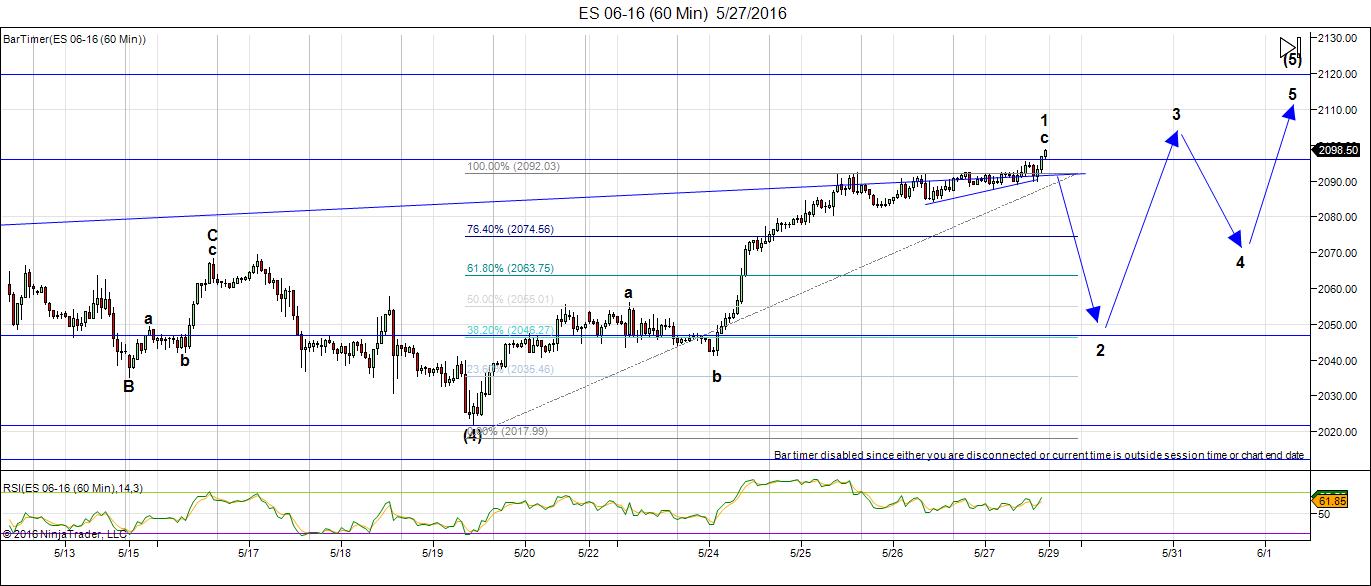 Above is the 60 minute chart of ES now showing the large wave up from this week. Right from the start, this week's wave up did not look right. Now, based on the entire look of it, I've changed my projection slightly and labelled this wave the first wave of an ending diagonal.
Because of the non-existent second wave of this C wave up, it cannot be a motive wave. Therefore the corrective wave down will likely overlap the a wave. (Technically it doesn't have to, but I'm expecting this to happen due to the fact that currency pairs still have a large drop to do, and they will likely move in tandem up while the US indices move up in the 3rd, 4th, and 5th waves of the ending diagonal). I think at this point, the final wave up in the US indices will need the support of the dollar.
Equities and currencies have more or less been moving in tandem for months. Expect a drop starting Tuesday, which will likely last move than a day and then a turn up in a third wave when currencies also turn in their final waves.
The much larger third wave down in equities will be next after this ending diagonal pattern plays out. Give the ending diagonal a couple of weeks to reach the top (likely in conjunction with the Fed meeting mid-month.
Above is a one hour chart of SPX. The wave up from ~2025 was as projected, but the underlying waves tell me it's corrective and very likely the start of an ending diagonal. I'm projecting a fairly large drop to close to 62%, as currencies also move towards their targets (see video).
Look for a move down starting Tuesday morning, May 31.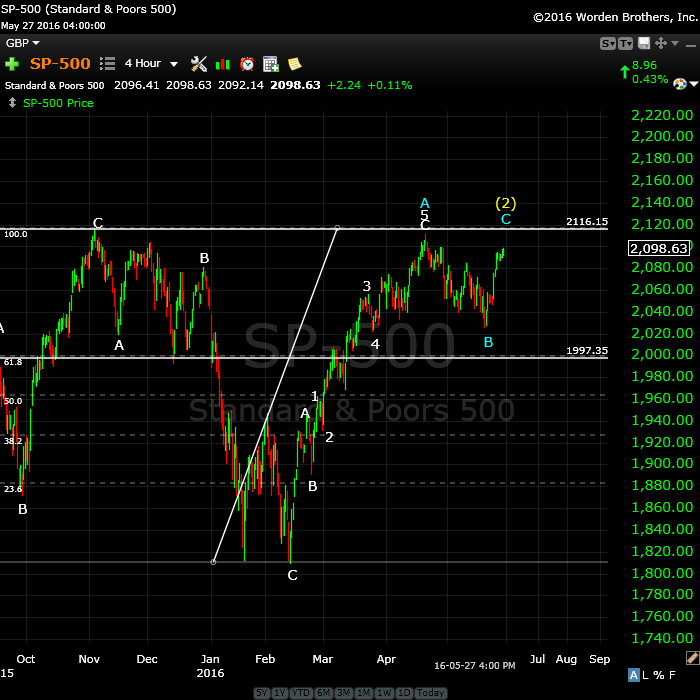 Above is the 4 hour chart of the SP500, showing the double 2nd wave top waiting to finish tracing out. This would negate the possible "truncation" from November of last year and create a spectacular EW textbook set up for a huge third wave down.
It's typical in a bear market for second waves to trace out a double prong (an ABC wave down in this case from early November and a corrective structure up to where we are today). The wave up shows a C wave with 5 waves up (for simplicity in this chart. The entire wave, however, is not motive, and has traced out a very clear ABC pattern overall. I have therefore labelled this wave more correctly, showing that it is indeed a 3 wave corrective wave, with the (blue) C wave up expected to produce a final ending wave of 5 waves.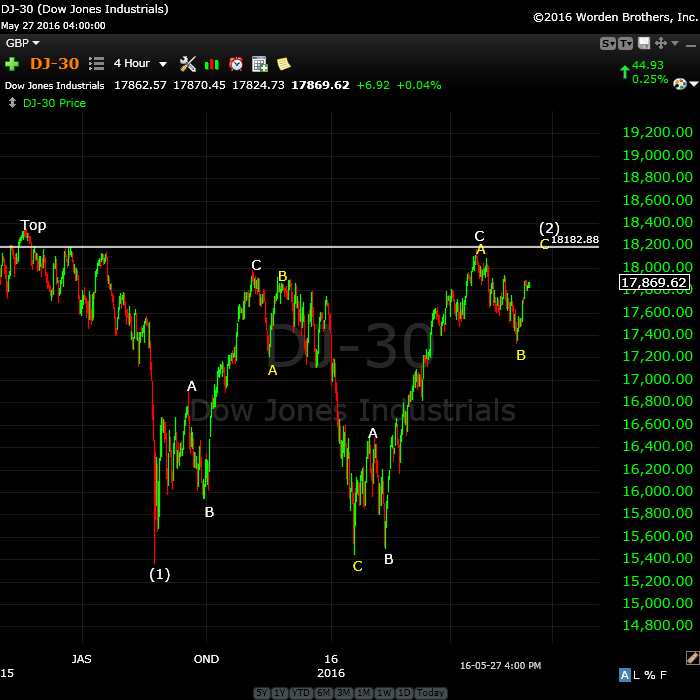 Above is the 4 hour chart of the DOW. It's similar to all the other indices, as it should be. I predicted we'd reach the previous 2nd wave high and that in fact is what we've done. Look for a double top with the most recent high before a turn down. The reason I show this index is that I'm always looking to other indexes for confirmation of a move. You'll note that the DOW did not come down to a new low in February, so this puts it clearly in a corrective abc wave up. As all the indices move in tandem, this supports the fact that SPX is also in a corrective wave.
The DOW should top just short of an all time new high. That's because if one major index goes to a new high, they'll all have to, and the NYSE is nowhere close.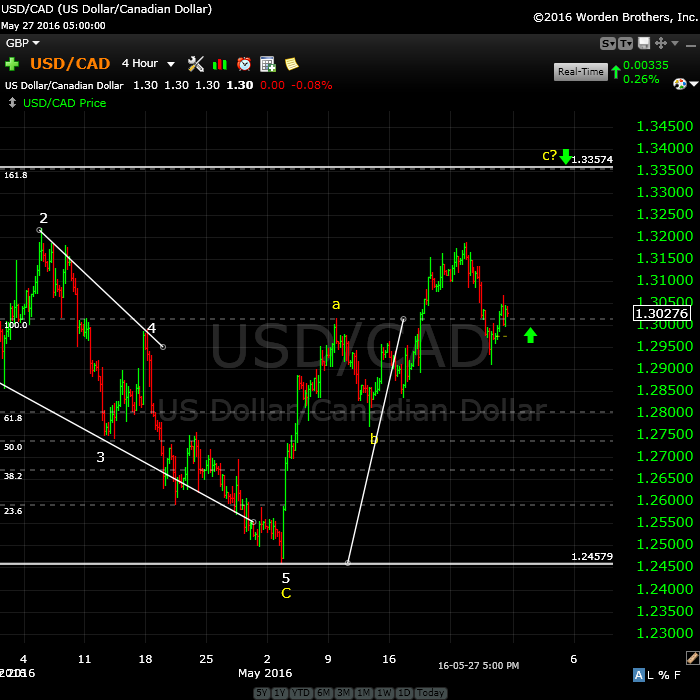 Above is the 2 hour chart of USDCAD. I have been stalking this for some time, waiting for it to top and we're getting close. I'm presently long, but have only been able to take advantage of the C leg of this wave.
The larger pattern down is an ABC corrective wave. It traced out an ending diagonal, which is complete at ~1.24579. However, I expect the current wave up in 3 waves to reach ~1.33574 before turning down to trace out a double bottom (to ~1.246). It could also drop to a lower level. Then it will turn back up into a very large 5th wave.
The euro, Australian dollar, dollar, and Canadian dollar are all at similar major inflection points.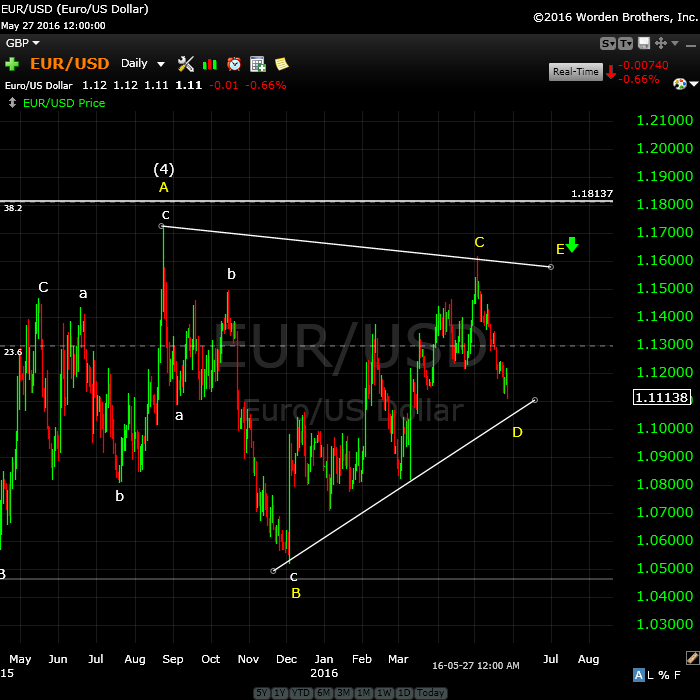 Here's the daily hour chart of EURUSD showing the "4th wave" of the major corrective pattern we've been in since March, 2014. We're in the final stages of a bearish triangle formation, with one more leg up after we finish this leg down.
We have a little more of a drop to complete in the D wave before heading up in an E wave.
EURUSD should turn down after finishing the E wave in tandem with the US equities.
Above is the daily chart of XGLD (gold). We started to move during the last week. The bottom line is that we should continue down here.
The target on the low side is the 62% retracement level, somewhere close to 1142.
________________________
First Wave Down – What to Watch For
This weekend we're dangerously close to a top of a second wave (in the fifth of the fifth, with an ending diagonal pattern).
What we're looking for to confirm a turn is a motive wave down in 5 waves at small degree. After that, we should get a second wave that will retrace up in 3 waves about 62%. That's the preferred EW entry point. So don't feel you have to rush in. There'll be a much better opportunity at the second wave level than at the top and the risk is substantially reduced.
__________________________
History: The 1929 crash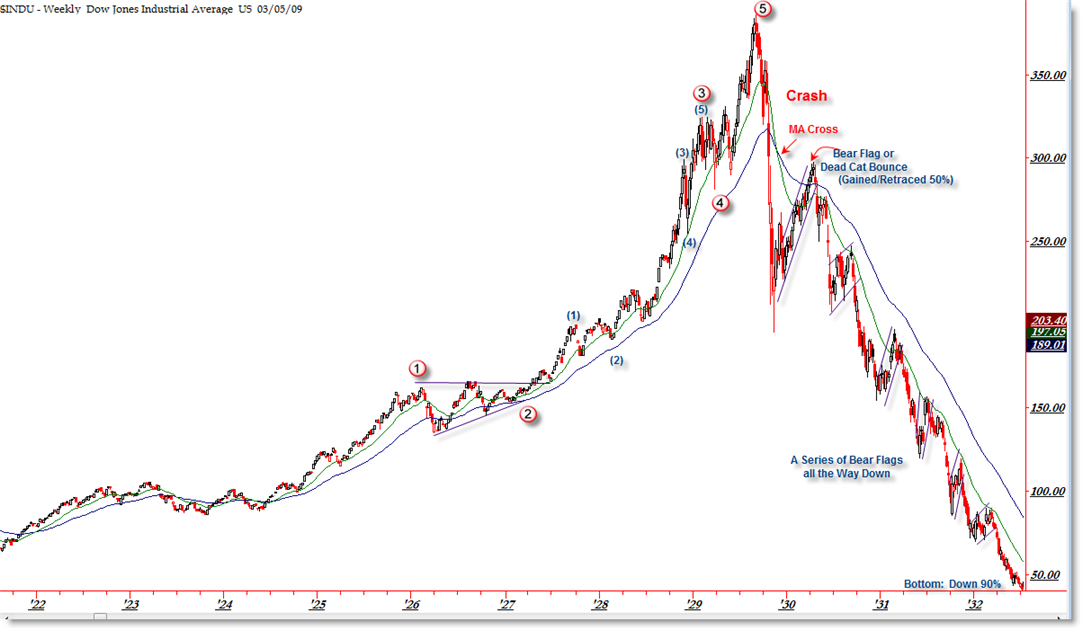 I think it's important to look at 1929 and the wave structure (above and below), which was the same as 2007—to a point. I will show the 2007 crash below in the "What If" section.
The wave structure of the 1929 crash was in 3 waves overall. There were 5 waves down from the top (the A wave) and then a very large B wave retrace. The final C wave down was a stair-step affair and lasted over 2 years.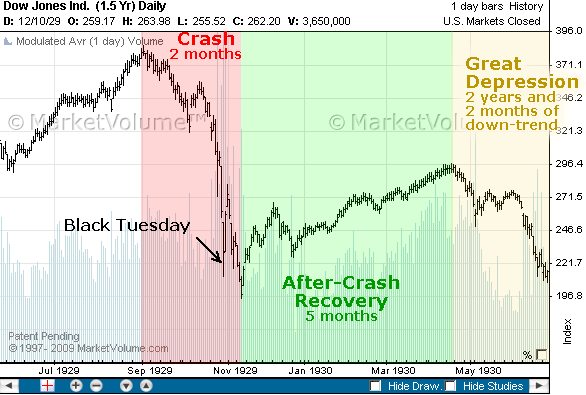 Let's look  a little close at the timing of the 1929 crash because the similarities to today are uncanny.
The market peaked on September 3, 1929 and then it took 2 months for the crash to actually happen (to reach the bottom of wave 5 of the A wave). The larger crash  which we always hear about began on October 23, 1929. Then there was that large B wave, which lasted 5 and a half months and finally (which I explain a little further in the cycles section below), the C wave which went on for more than 2 years. This might be the scenario we're looking at going forward.