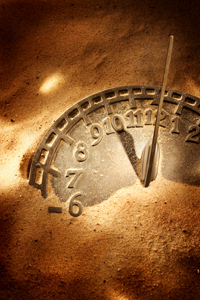 We're on borrowed time. The Great Financial Revolution is underway and only months sit between us and a major financial collapse.
One of the major cycles that I've talked about often is the 172 year cycle. This cycle is a "financial collapse cycle." There are larger and smaller cycles. The larger ones are even more devastating than the 172 cycle. The 516 cycle top, which we passed in 2007, has been delayed thanks to central bankers, but the cracks are already starting to show. It won't be long now until we see the end of the decadence, immense wealth, and power centred in the elite. Their world is going to come crashing down, as it will for anyone unaware of the gigantic changes taking place.
I'm in the midst of a much longer work on the following subject, but what follows is a brief summary of a 172 cycle from a financial perspective.
Dr. Raymond Wheeler, PhD spent a good portion of this life (along with 200 employees) documenting the cycles of history going back to the year 600 B.C. Dr. Wheeler created the Drought Clock, which showed the periodicity of these recurring cycles in a manner that shows their predictability, verifiable through observation, and supported by data from a variety of independent sources.
I've been working over the past ten years to understand in more detail the patterns of the longer worldwide cycles of 172 and 516 years as identified by Dr. Raymond H. Wheeler and Stephen Puetz. Dr. Wheeler identified the cycle lengths for climate of 25, 100, 170, and 500 years, while Stephen Puetz has done the work to prove their veracity, shifting the 170 cycle, for example, to a more accurate 172 years.
In 2009, Stephen Puetz published The Unified Cycle Theory, which identified these cycles more precisely. In fact, he found that using Wheeler's vast amount of data, along with the work Edward Dewey and others, he was able to shift cycle dates slightly to end up with a harmonic relationship between the major cycles, which gave him an probability of or more than 98% when matching major financial collapses with major theoretical cycle turns.
Note that the conjunction of Uranus and Neptune averages to a 172.4 time span. Other conjunctions of other planets seem to support many of the other cycles lengths. There is more work to be done here to bring all this together, but the implications are obvious, and the supporting data continues to mount up.

The above diagram (click to expand) comes from the work of Dr. Raymond Wheeler. It shows the climate (temperature is the solid line and tree ring growth, which is primarily rainfall) from 1200 through 1720. The variations in temperature are Wheeler's, but this information has been matched almost exactly from the GISP data from the Greenland Ice Sheet Project in the 1990s. I am one of the only people with access to Dr. Wheeler's diagrams.
Dr. Wheeler recorded major events worldwide and aligned them with climate cycles to show recurring patterns. There is a deep well of data that is fodder for a much longer book, putting all this information into perspective. I'm showing two 172 cycles overlaid on the diagram (the first from 1320 through 1492, and the second from 1491 through 1664). Each of the years mentioned marked a period of financial collapse, which happens towards the end of each of these cycles.
Leading up to the first cycle date in the diagram (1320), there was a huge financial collapse just after the year 1298, and ending with the bankruptcy of Gran Tavola, the most powerful bank at the time, and led to a state of financial ruin which was to last decades.
In 1315, Europe suffered 3 solid years of torrential rain, which ruined crops, and caused a worldwide famine. Climate is almost always a factor at the cycles turns, as extreme weather appears usually just before a major downturn. We saw the same thing in Rome just before the year AD 100, when Rome was at its height. We're also seeing extreme weather all through the United States and Europe. This has come just before the theoretical cycle top of 2007, both 172 and 516 year cycle top. These extreme climate pattern tend to last 25 years (Dr. Wheeler) but can vary in length.
The bottom line is that these cycles are real, they have a proven periodicity, and the patterns within them follow a common pattern. We're at the top of the latest cycle now, expecting a turn colder in climate, a financial collapse, and major bank failures around the world. We are not in control of the ups and downs of the economy. Central bankers think they are, but they're about to be taught a lesson once again, that they conveniently forget. As Mark Twain said, "History doesn't repeat itself but it often rhymes."
In 1996, David Hackett Fischer published a book entitled, The Great Wave, Price Revolutions and the Rhythm of History. In minute detail, he chronicles the financial, political, and social events of the Medieval ages up through the 1800s. Without knowing about either Puetz's or Wheeler's work, he's put together a detailed description of the recurring pattern that meticulously supports their work, the cycle turn dates they both established, and has provided yet another source that proves the existence of these recurring patterns.
He identified four stages (I'll summarize stages 1 through 3 and then elaborate (from The Great Wave) on stage four, as that's the stage we're currently in):
Stage One: Prices rise slowly. led by food and fuel. Manufactured good and services lagged behind. Population began to grow. The standard of living began to grow, as well. Optimism in the future returned once more.
Stage Two: Prices broke through the barrier of the previous cycle high and tended to happen when wars began to break out. You can think of the world wars of the early 1900s, as an example (in our latest cycle). Prices surged up and down as a result. Cultural anxiety began to build.
Stage Three: Price inflation became a long-term trend. Governments and individuals expanded the supply of money. Price inflation became more elaborately institutionalized.
Stage Four:  "A fourth stage began as this new institutionalized inflation took hold. Prices went higher, and became highly unstable. They began to surge and decline in movements of increasing volatility. Severe price shocks were felt in commodity movements. The money supply was alternately expanded and contracted. Financial markets became unstable. Government spending grew faster than revenue, and public debt increased at a rapid rate. In every price revolution, the strongest nation-states suffered severely from fiscal stresses: Spain in the 16th century, France in the 18th Century, and United States in the 20th Century.
Other imbalances were even more dangerous. Wages, which at first kept up with prices, now lagged behind. Returns to labor declined while returns to land and capital increased. The rich grew richer. People of middling estates lost ground. The poor suffered terribly. inequalities of wealth and income increased. So also did hunger, homelessness, crime, violence, drink, drugs, and family disruption.
These material events had cultural consequences. In literature and the arts, the penultimate stage of every price revolution was an air of dark visions and restless dreams. This was a time of lost faith in institutions. It was also a period of desperate search for spiritual values. Sects and cults, often very angry and irrational, multiplied rapidly. Intellectuals turned furiously against their environing societies. Young people, uncertain of both the future and the past, gave way to alienation and cultural anomie.
Finally, the great wave crested and broke with shattering force, in a cultural crisis that included demographic contraction, economic collapse, political revolution, international war, and social violence. Long-term inflation ceased. Prices stabilized, then declined further, and stabilized once more. Real wages begin to rise, but returns to capital and land fell." — The Great Wave, Price Revolutions and the Rhythm of History, David Hackett Fischer
_____________________________
This pattern has played out in the past four 172 year cycles. The specifics are always exactly the same, but the pattern holds each and every time. We're about to experience a series of world-changing events that those in power will be powerless to stop. The downtrodden will eventually come back on top, but as is always the case, there's going to be a lot of pain and stupidity along the way.
Do you recognize in our current situation any of the traits described?
______________________________
Tops in your field DZ 2
Tops in your field …

You are tops in your field.  Tried to follow Elliot Wave international for years.  They were always behind the market.  After discovering you, I perceive that you are an expert in reading the waves, which puts you way ahead of the rest of your peers. And you can read the Waves like you are reading tomorrow's financial section.  I pray you stay healthy.  —DZ
The Market This Week
Here's the latest daily chart of ES (emini futures)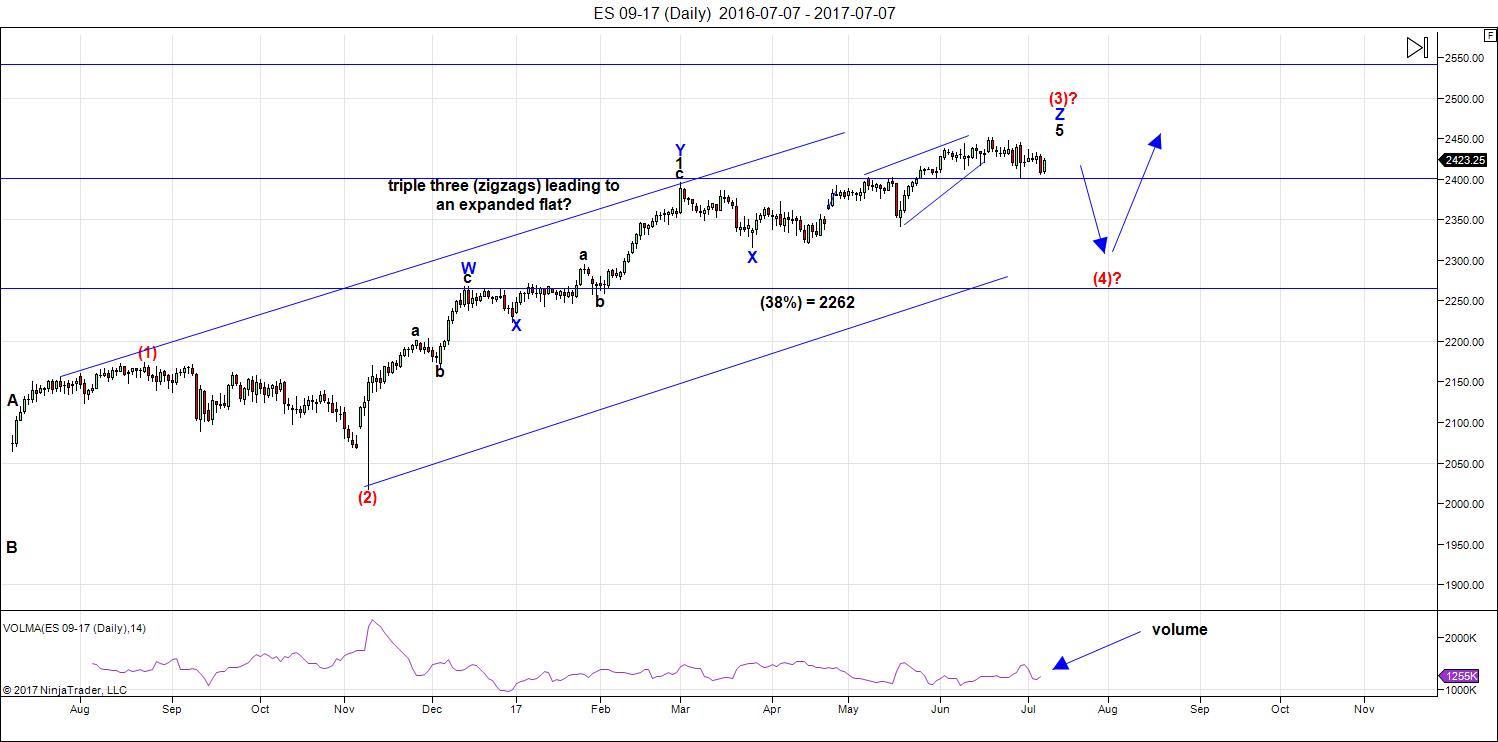 Above is the daily chart of ES (click to enlarge, as with any of my charts). For the past couple of weekends, the waves seemed to indicate we've finished the third wave and we're in the fourth wave. Well, we're in a fourth wave, but as it turns out, one degree lower than the fourth wave I was expecting. It's become obvious the US indices have one more wave up to go to complete the third wave.
In the chart above, nothing much has changed, except that I've moved the final topping labels a little bit to the right in expectation of another brief top before heading down into the long awaited fourth wave. In the past three weeks, we've dropped about 50 points in the SP500 but we were unable to break the support of the previous wave four.
As of Friday, we've started heading up in what looks like a rally that will reach new highs. The DOW appears to be in a small ending diagonal with one more wave up to complete it.
The USD currency pairs are all moving in tandem with the US indices and are in various "stages of turn." EURUSD appears to be the most advanced in the "topping process," with USDCAD a close second.
Summary: We have one more rally to a new high to go before we drop into the higher degree fourth wave, which will be a major correction. This current pattern we're in is the fourth wave of the fifth wave of primary degree wave three.
After completing the larger fourth wave, we'll have one more wave to go, which could be an ending diagonal as a fifth wave. The long awaited bear market is getting closer.
______________________________________
Sign up for: 

The Chart Show
Wednesday, July 19 at 1:00 pm EST (US market time)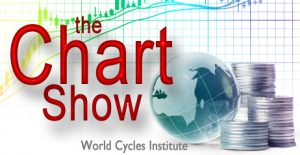 The Chart Show is a one hour webinar in which Peter Temple provides the Elliott Wave analysis in real time for the US market, gold, silver, oil, major USD currency pairs, and more. You won't find a more accurate or comprehensive market prediction anywhere for this price.
Get caught up on the market from an Elliott Wave perspective. You'll also get Andy Pancholi cycle turn dates for the balance of the current month. There'll be a Q&A session during and at the end of the webinar and the possibility (depending on time) of taking requests.
All registrants will receive the video playback of the webinar, so even if you miss it, you'll be sent the full video replay within about an hour of its conclusion. For more information and to sign up, click here.