Setting Up for a Lucrative Trade
Last week, I talked about the "right look" of motive waves. These are waves comprised of five subwaves. At the end of five waves, they have to retrace either 62% (corrective second wave) or 38% (corrective fourth wave) and then start another motive wave of 5 in the same direction as the first one. Motive waves have very strict rules about length and structure.
Even more important to a trader is the ability to identify corrective waves (because they're more common). Corrective waves have few rules and therefore it's more important to rely on wavelengths, although the reliability is not always there, so it takes much more care to predict turns accurately.
The best way to determine an end point is the extend from the A wave. Usually the C wave will have a fibonacci relationship to the A wave (equal to or 1.618 X the A wave). Corrective waves come in threes and when they retrace, depending upon the situation, they retrace completely. A case in point is gold.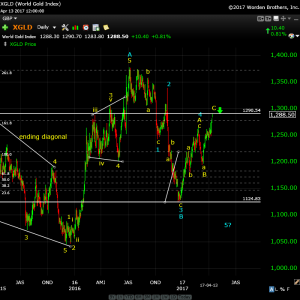 On the left is the daily chart of gold that I displayed on April 16, and noted that a turn was imminent (click to enlarge). The reason for the call was that the waves up from ~1124 were in 3's. It could not have been more evident to me, although there were many analysts and pundits called for gold to keep on going and going and going.
In fact, there were two sets of three waves. The lower case yellow abc up from 1124 and the uppercase yellow "three." Measuring the length of the a wave and extending the fibonacci extension to 1.618 foreshadowed a turn in the near future.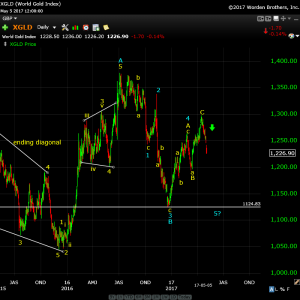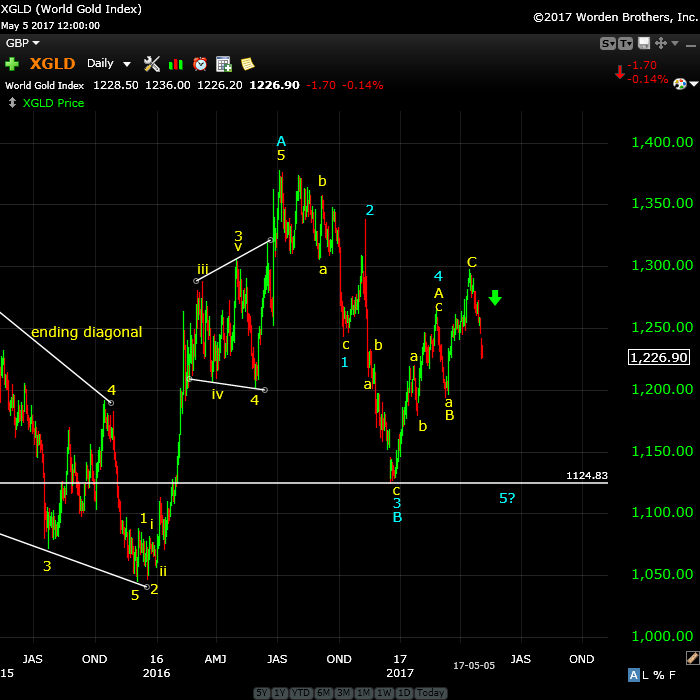 On the left is today's daily chart (May 7) of gold showing the top of the bullish ABC wave on April 17. Gold turned and then moved down tentatively at first (it displayed what looked like three waves down). So, for the first week or so, it was difficult to tell whether we would retrace to a double top, or continue down. A waves are very difficult to predict the length of until you have enough information. That was the case here.
However, it eventually dropped (silver was a good indicator that it would, since silver has dropped like a stone relative to gold) and the prognosis is for a continued drop, likely to about 1200 before a bounce. Gold should retrace the entire three wave bullish move up from 1124. It will do this in either three waves or five.
Silver is moving parallel to gold, but silver is much weaker and I'm projecting an eventual drop to the 15.60 area.
The real key to Elliott waves is being able to recognize patterns, but more importantly, the ability to decipher a three wave move as opposed to five waves and understanding the rules and guidelines around them. It provides much more confidence in predicting market moves and I have yet to find it break a rule.
Good trading.
A true expert in Elliott Wave FL 2
A true expert in Elliott Wave …

You are a true expert in EW analysis. What you provide is not available anywhere and is priceless. Subscription on your services is the best thing I have ever done. Many thanks for your effort to make me a better investor. I now have more trust in my investment decisions. I hope you will continue the excellent work! —FL
The Market This Week
A most difficult market to decipher. This is not a normal structure for an ending 5th wave; it's a corrective structure, which we've never seen before in an ending set of waves. There are really no first, second, third, fourth, or fifth waves of this large third wave—they're all zigzags (a lot tougher to decipher), but there can only be three at most.
I've relabelled the charts to show a third zigzag of a combination wave in progress for ES (this meant I had to change the count of the first zigzag to include what I initially thought was the second zigzag—my educated guess). So we have a third wave of three zigzags and I put us in the final one now.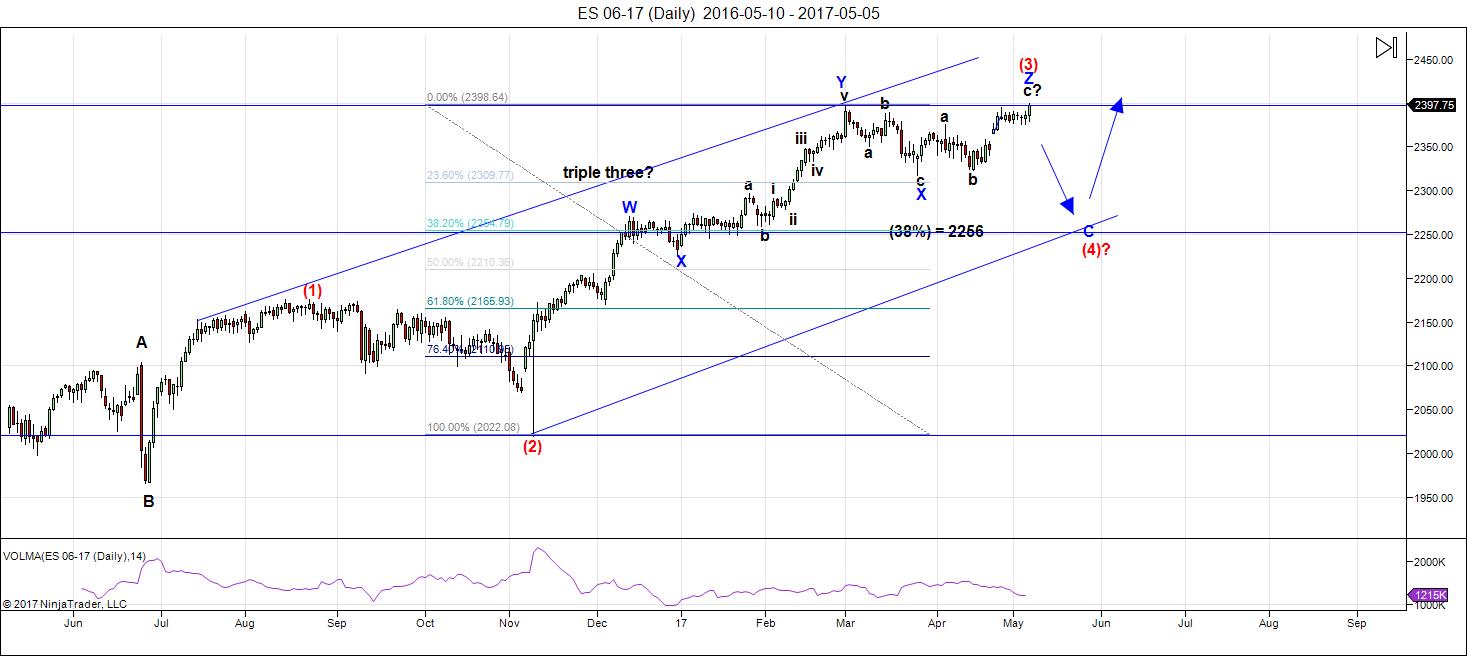 Above is the daily chart of ES (click to enlarge, as with any of my charts). On Friday, ES went to a slight new high. It was not confirmed by the SP500, nor by any of the other USD indices (NYSE, DOW, IWM, IWV, DOW Transports). So cash indices are still in a "fourth wave" (as of Friday). ES, however has gone to a new high in a zigzag and this can only be a continuation of the third wave. I think we still have a little ways to go before a turn down. I'm projecting a probable top of ES at 2410-15.
Since ES went to a new high on Friday at the end of the day, I suspect the cash indices will do the same (not necessarily all of them). However, the bullishness will likely be short-lived. Although I'm projecting a slight rise, overall the market looks extremely bearish.
Now, I could be surprised by an immediate downturn, but that's a lower probability outcome in my opinion, due to the new high by ES. It would be odd to have futures and cash in the same index with different counts. However, other indices sporting non-confirming counts is very bearish and suggests a top is near.
The projection for a top (numbers above) comes from measuring the a wave of the abc move up for 2322: If I measure the a wave, the C wave is 1.618 times the a wave at about 2415, A=C at about 2410. In a similar vein, the top for NQ should be about 5663 (we'll see how close we get).
Let's look at why the medium term looks so bearish:
We still have not had a large enough fourth wave correction in price.
In the chart above, you can see that volume has dropped off quite considerably. There are divergences in the RSI readings, as well.
This final wave up in ES and SPX is in 3 waves (another zigzag). This is a corrective wave.
NQ is finishing the fifth wave of the third wave. It requires a good-sized fourth wave once it reaches the top. ES and SPX will certainly correct when NQ correct. I project a top for NQ of about 5663.
After completing the larger fourth wave, we'll have one more wave to go, which could be an ending diagonal as a fifth wave. The long awaited bear market is getting closer.
______________________________________
Sign up for:
 The Chart Show
Thursday, May 11 at 2:00 pm EST (US market time)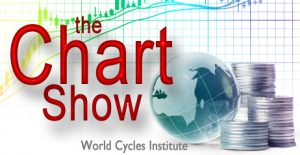 The Chart Show is a one hour webinar in which Peter Temple provides the Elliott Wave analysis in real time for the US market, gold, silver, oil, major USD currency pairs, and more. You won't find a more accurate or comprehensive market prediction anywhere for this price.
Get caught up on the market from an Elliott Wave perspective. You'll also get Andy Pancholi cycle turn dates for the balance of the current month. There'll be a Q&A session during and at the end of the webinar and the possibility (depending on time) of taking requests.
All registrants will receive the video playback of the webinar, so even if you miss it, you'll be sent the full video replay within about an hour of its conclusion. For more information and to sign up, click here.