Monday is a holiday (Martin Luther King day)
The US indices are closed on Monday so I don't expect to see much action here until Tuesday morning.
The big story this weekend is the number of apparent non-confirmations we have. These  very often occur at tops, are often difficult to catch (to trade), and in this case, it's even tougher than normal due to low volume, which is wreaking havoc with wave structures (making them more difficult to analyze).
However, the signs of a top go right across the market, even internationally.
While the US dollar index appears to have bottomed, we still need tops and bottoms in the USD currency pairs. The resolution may take place on the weekend and finish up early in the coming week putting even more pressure on the US equities market.
US Indices have not technically topped, although they're tracing out very small ending diagonals and I expect a turn early in the coming week.
Gold appears to have topped and is in the middle of a first wave down. This needs confirmation with a further decline (silver is a little more difficult to be certain about, but it usually follows gold).
Oil appears to have topped, although the structure of the recent drop is impossible to decipher, so I'm relying on similar oil assets to get the current count. It appears that we're also in a first wave down, similar to gold.
DAX, the German exchange, also appears to have topped.
Know the Past. See the Future
____________________________
Telsa Update (TSLA)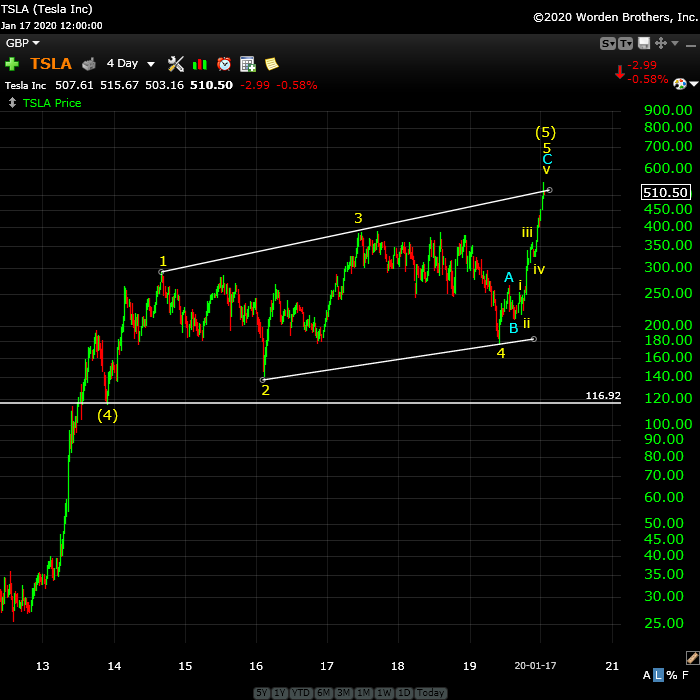 Above is the 4 day chart of the TSLA (Tesla). Last weekend, I posted this chart and we still very slightly below the upper trendline. Now, we've exceeded it are ready for a turn.
This past week, we turned down (on a 5 minute chart) in what appears to be a small fourth wave. As such, it's corrective and I'm expecting one more high. That high will be shortable.
The pattern appears to be an ending expanding diagonal. They're very rare so I'm always a little leery when I "call" one. However, with everything else about to top, this gives me more confidence that this is the correct pattern.
If true, these patterns don't usually exceed the upper trendline. They either touch it or get extremely close. In this case, we're slightly above it, but we're at the top of third wave in blow-off mode, so this is where you'd expect to see norms exceeded.
This may be the end for Tesla — we'll know for sure once we see the waves to the downside. In either case, the target for a wave down after a diagonal is the previous fourth wave of one lesser degree, which is at about 117.
This top is either the final top for Tesla, or the top of the third wave. If it's a third wave only, we'll see a corrective fourth wave down after the top. If it's a first wave down, we'll see impulsive waves, which will mean that the top is in.
__________________________________
Here's the latest market sentiment level from the CNN fear and greed index: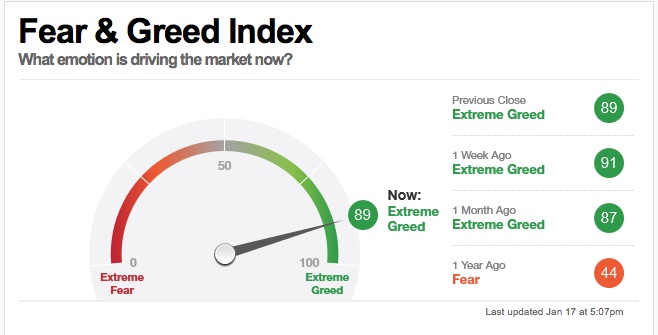 Sentiment two weeks ago actually hit 97, which is the highest level I've ever seen on this index. That signifies that everyone's pretty much "in" the market and feeling very good about they money they've made — an excellent foreshadowing of a top. It's back down to 91 this weekend, but I think we're going to see it spike up before this monster rally is over!
Several asset classes I cover have already turned but their new trends haven't been confirmed yet. It takes a full first and second wave combination before I can call a trend change. The count in the US indices has shown that we've been in the final wave for the past few weeks and it's now fully played out. A turn here early this week will add to the coming "party," or perhaps "parade" is a more apt term.
Everything should more or less drop in tandem and that can only mean it will be a spectacular show. It should rival the impeachment trial in the US (many of "the herd" will be surprised at the ending). Stock up on popcorn!
Corruption in the US and around the world is at a historic 500 year cycle high. The upheaval coming is going to lead to a civil war, which should be no surprise, since revolutions have already began in many countries around the world.
Know the Past. See the Future
____________________________
Elliott Wave Basics
Here is a page dedicated to a relatively basic description of the Elliott Wave Principle. You'll also find a link to the book by Bob Prechter and A. J. Frost.
______________________________
Get an upper hand … JC 2
Get an upper hand in trading …

Seeing all the different currency pairs and the wave structures and hearing you explain why this has to do that on a nightly bases gives one a upper hand when trading. Elliott Wave applies to all stock and indices and can be applied to any candlestick chart.

If someone ask what you want for Christmas – Tell them a membership to Peter's "Traders Gold!"—JC
US Market Snapshot (based on end-of-week wave structure)
This chart is posted to provide a prediction of future market direction. DO NOT trade based upon the information presented here (certainly NOT from a daily chart).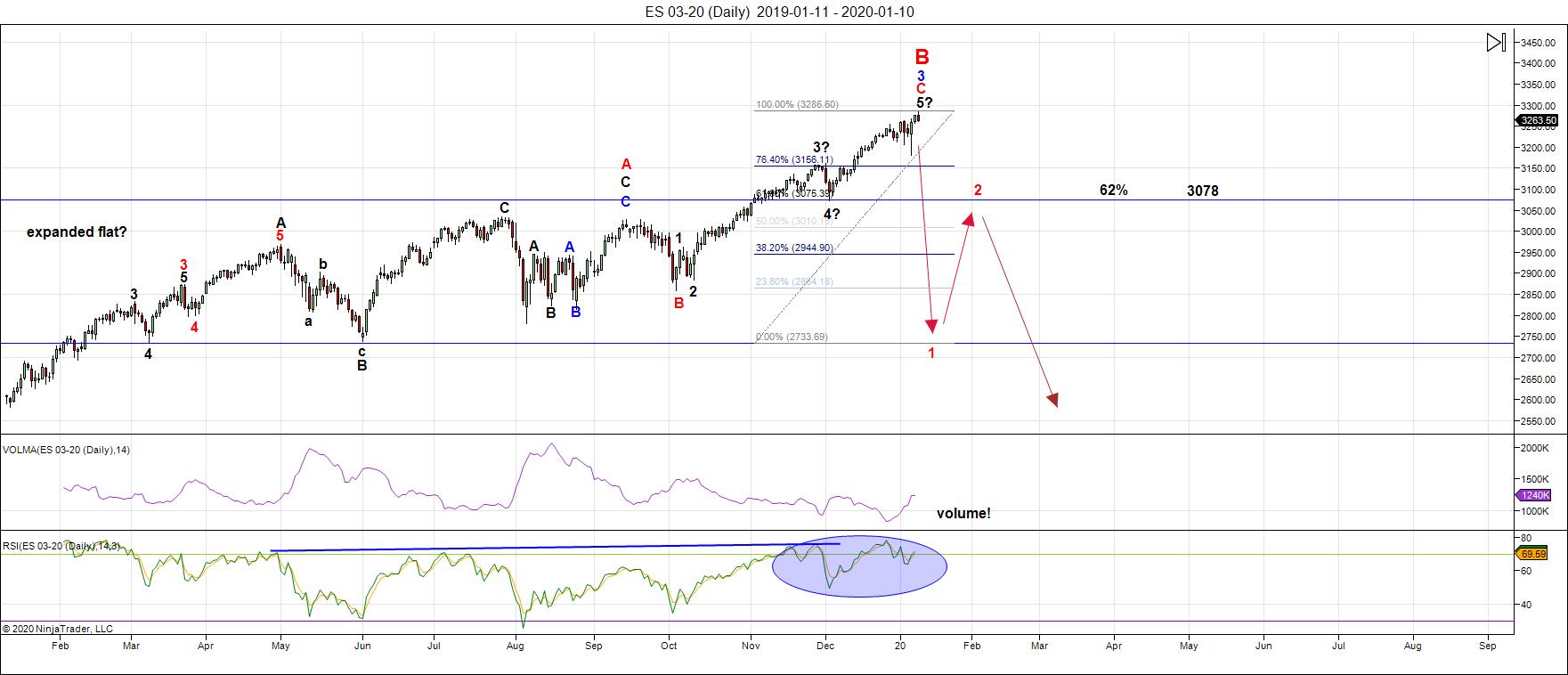 Above is the daily chart of ES (click to enlarge, as with any of my charts).
We've now come to the end of the road for this corrective rally. It will now completely retrace, which I stated a year ago when it started (and got mercilessly attacked for it). So that ended up being a big nail in the coffin for the free blog). A good decision (to end it), as it turned out.
The rally up from Dec. 26, 2020 is very obviously in three waves, which is corrective. The pattern could not be more bearish.
The US market is closed Monday, so look for a turn to the downside after that. Gold, silver, and oil appear to have already turned, as has the US Dollar Index (in the other direction). The US indices are the last ones to go. An ending diagonal is in progress in both ES and the SP500 (and several other US indices).
The DAX also appears to have turned. This drop will affect markets worldwide, as I've been saying for a very long time.
The larger, overall pattern across all US indices appears to be an expanded flat. That strongly suggests we're going to see a 5 wave pattern to the downside under the 2100 level in ES, as I've been predicting.
_______________________
There is an option of a set of zigzags down to the same level, but it's much less probable because there are so many flats set up across multiple stocks and indices. If a zigzag is the pattern that traces out, the retraces up will not be as strong as they would be with the C wave of a flat. We'll get a lot of information about the probable path from the first wave down.
___________________________
Summary: The current B wave up is most probably the B wave of an expanded flat. The A wave ended on Jan. 26, 2018. The B wave rally has all but ended, as other asset classes I cover have already turned.
This weekend, we're on the cusp of turning down, leading to a major trend change. We're going to drop from here into a large fourth wave. Look for the ultimate bottom to be somewhere under 2100 in ES.
Once we've completed the fourth wave down, we'll have a long climb to a final slight new high in a fifth wave of this 500 year cycle top.
___________________________
Trader's Gold Subscribers get a comprehensive view of the market, including hourly (and even smaller timeframes, when appropriate) on a daily basis. They also receive updates through the comments area. I provide only the daily timeframe for the free blog, as a "snapshot" of where the market currently trades and the next move on a weekly basis.
I do a nightly video on the US indices, USD Index (and related currency pairs), gold, silver, and oil).
______________________________________
Sign up for: The Chart Show
Next Date: 

Wednesday, January 22 at 5:00 pm EST (US market time)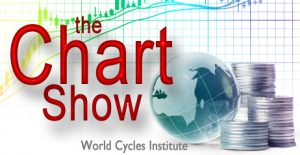 The Chart Show is a one hour webinar in which Peter Temple provides the Elliott Wave analysis in real time for the US market, gold, silver, oil, major USD currency pairs, and more. You won't find a more accurate or comprehensive market prediction anywhere for this price.
Get caught up on the market from an Elliott Wave perspective. There'll be a Q&A session during and at the end of the webinar and the possibility (depending on time) of taking requests.
"I think you are the only Elliot Wave technician on the planet who knows what he's doing."
m.d. (professional trader)
All registrants will receive the video playback of the webinar, so even if you miss it, you'll be sent the full video replay within about an hour of its conclusion.