"To begin with, diagonal triangles are very rare." Robert Prechter, The Elliott Wave Theorist, August 5, 2009
Perhaps not as rare as he made out. Certainly not in the past year or so. Ending diagonals been appearing with some frequency. We had one at the bottom of the A wave in gold, although not with a throw-over (which incidentally, isn't absolutely required).
But now, I see them appearing everywhere. Case in point:
Above is the daily chart of NDX (the Nasdaq 100 index). I've labelled the potential ending diagonal, which would now be in its 3rd wave. One of the stipulations of ending diagonals is that the third wave can't be the shortest, but it also can't be longer than the first wave. So, this third wave in progress in NDX cannot move above the ~4838.84 level (horizontal line on the chart above).
All the waves so far are in 3's. The fourth wave down will be next and it will have to trace out a wave is a subset of 3 waves. The location of "4" on the chart is approximate. A fifth wave up to a new high would follow.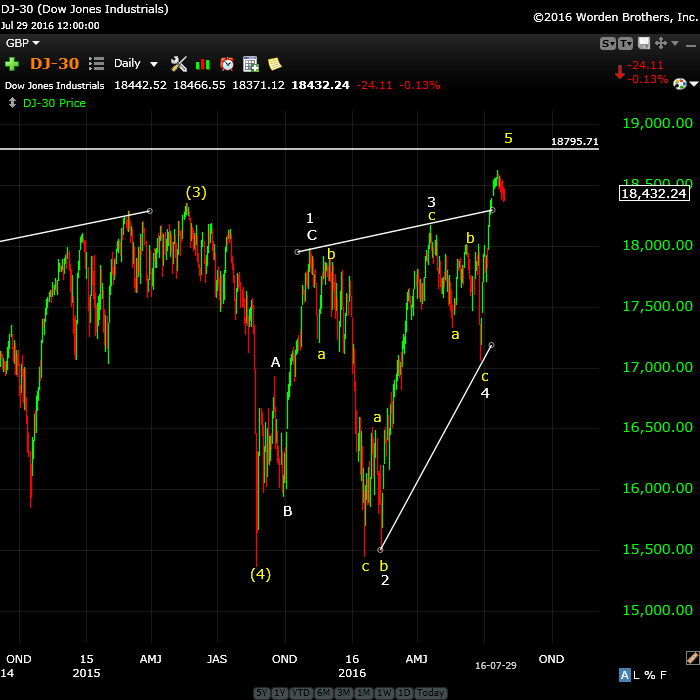 Above is the daily chart of the DOW. I put the DOW in a more advanced version of an ending diagonal. You can see that it's finishing off a fifth wave. All the subwaves are in 3's. However, it's not at a new high (the horizontal line) and I would expect it to get there. There is also the potential that it could trace out a smaller triangle (diagonal?) within that fifth wave.
We're not done, by any means, but I see clues as to how we may finish up. This is one of those ending diagonal ducks that's starting to quack like one.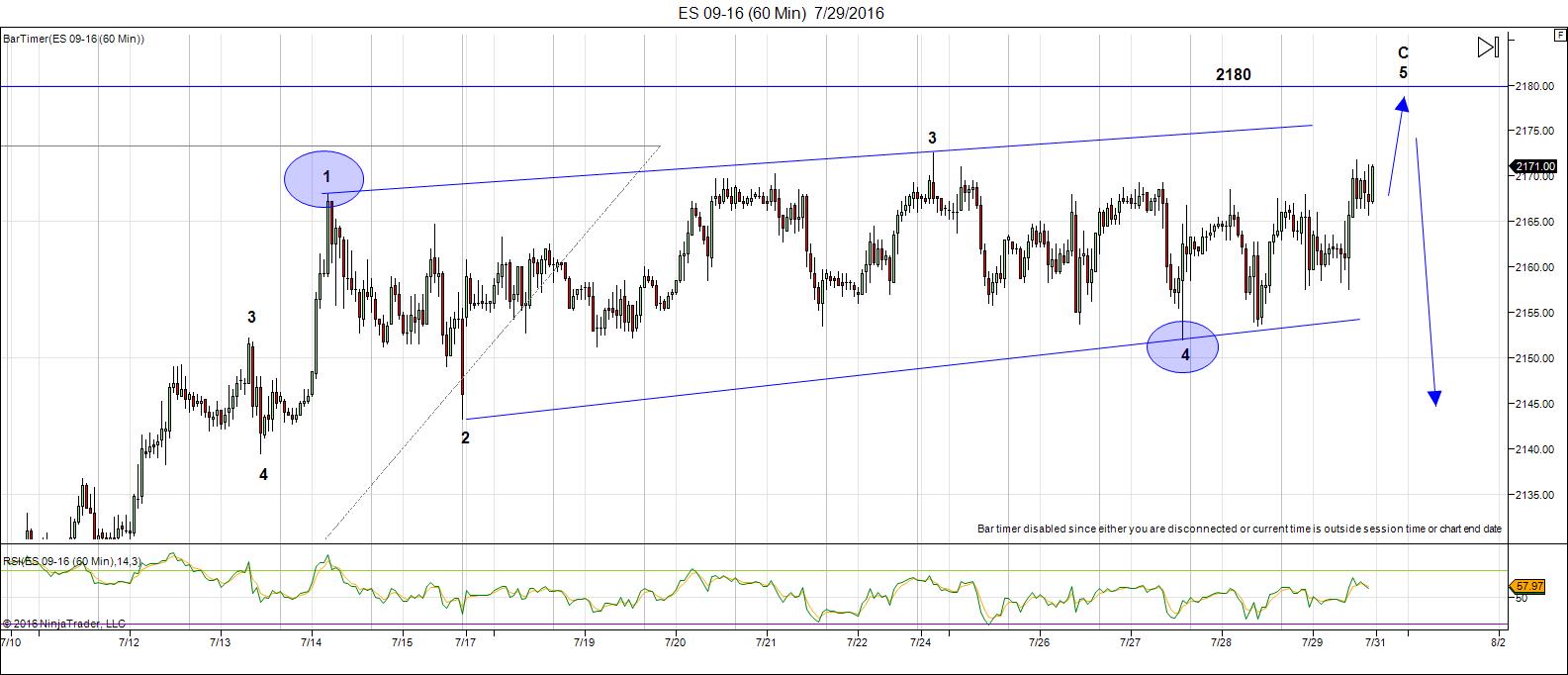 Above is the 60 minute chart of ES (SP500 emini futures). Since July 15, when we had an Andy Pancholi cycle turn, the C wave of this three wave move up from June 27 has been tracing out an ending diagonal. Incidentally, the other blue circle on the screen denotes the next Andy Pancholi cycle turn.
We are in the final wave of the pattern. While I have labelled the chart with a potential target of 2180 (a secondary measurement gives a target of 2182), ending diagonals by their very nature, don't have reliable targets for the final wave up. It generally completes a throw-over (a wave extending above the trendline (in a bull market) and all waves are in 3's. The pattern should be a 3-3-3-3-3 pattern upon completion.
And ending diagonal is just that. However, the SP500 (and be extension ES) does not have a valid ending wave, suggesting there is more to come. I'm personally envisioning an ending diagonal within the final wave on all these indices. We'll have to see what happens.
That would fall in line with my prognosis for a September top.