Update Dec 18 1PM EST
My argument for a truncation
This is the 3 minute chart of the SP500. (updated as at 1:30PM EST)
Truncations are extremely rare but I'm leaning more to that possibility after looking at the cash indices today. It's a major turn date and we have a very motive wave up yesterday (a full five waves). This could be the ending wave and it's short of the target.
Today we are looking at a motive wave down. I count five waves in a typical first wave pattern. If this is correct, we would now have to rally to the 62% mark and then turn over into a third wave. Right now (as per this chart, the fifth wave down is 1.618 X the first three waves, which is a typical relationship.
Caution here as the futures are not necessarily as motive-looking as cash at the moment.
We watch carefully.
________________________
Update Dec 16, After the Bell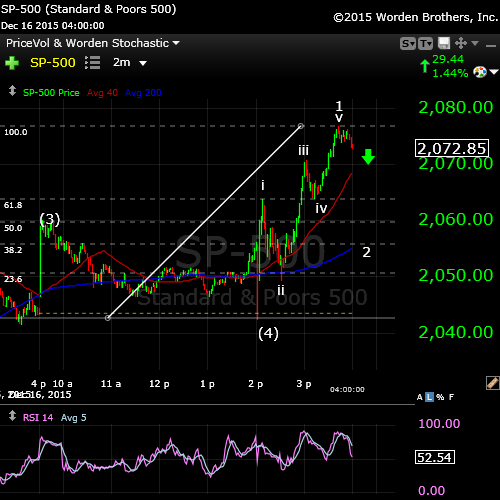 Here's my count at the end of  the day in the SP500 (2 min chart). Looks to me like we've done one motive wave up of the fifth. I would expect a retrace in a second and then a larger 3rd wave before the final 4th/5th.
___________________________
Update:  Dec. 15, 2015 After the Bell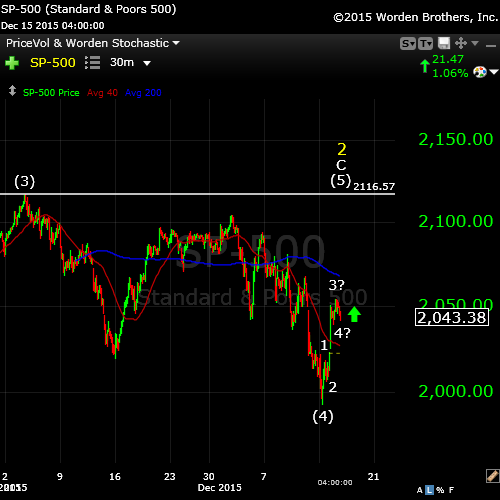 Above is the 3o minute chart of the SP500. We have the start of the fifth wave up, a motive-looking wave which has likely finished the first three waves up. I would expect a fifth of fifth wave up from here to a new high (a fifth wave requires at least one tick above the previous wave 3 high to complete). Once five waves are done (and they are! … almost, anyway), the trend will change to down.
The top is actually 2116.48 (not the amount shown).
The Fed announcement should be on Wednesday at 2:00 EST. It's likely to be volatile (not the statement, the market … haha). Janet Yellen herself is scheduled to speak at 2:30PM.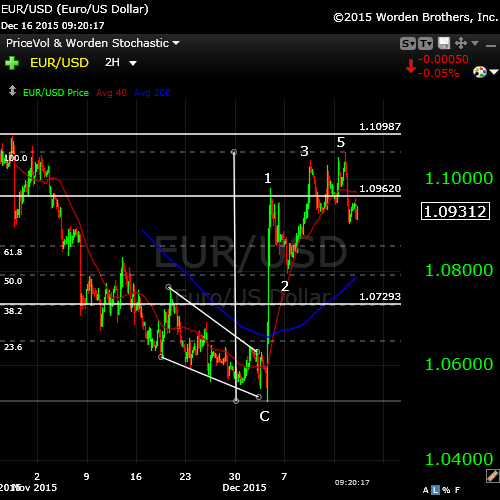 Above is the 2 hour chart of eur/usd. We have now created a 5 wave motive sequence and I would not expect the retrace to get below the 62% level (marked with a horizontal line that reads the reciprocal of 38.2 on the left – approx. 1.07293) before heading back up again.
GLD. I may be wrong on the wave up from the end of the leading diagonal. The problem in reading the wave is that it's got a great big gap right where the fourth wave might be. It looks like 3 waves up, but it might be 5. It keeps bouncing off 101.41, suggesting that it might be done with its downward motion.
_________________________
Original post from Dec 13:
Bottom line: The fourth wave of the C wave of a regular flat should be complete, which now leaves us with the final wave up (in five waves) to go. Target date for the turn: Dec 17/18. The next turn will be a major turn down into an extreme bear market. I've posted a longer term chart for the DOW showing the expected wave structure for the drop.
The turn will depend upon us finishing off 5 waves up. It is likely to be very volatile around the Fed announcement on Wednesday, the 16th.
Changes Coming
When I began this blog in April of this year, I had projected a Sunday blog post only. That's because I'm a swing trader rather than a day trader. I wait for the big moves that I can stay in for days or weeks, rather than spending all my time watching moving charts.
However, due to an underlying personality flaw (I like to help people 🙂 ), I've been pulled into the community and ended up posting much more often. The time involved in developing each post can sometimes run to 6 hours, or more. Obviously, I can't sustain that kind of time commitment for a free blog. Although fun to participate, I find the intraday comments distracting to my other work, which includes speaking and writing a book on how to profit from deflation, (among other tasks). I simply cannot be around during the day to field comments.
On top of that, my objective is so have a site that provides a wealth of information in a wide range of areas having to do with cycles (how the Universe and in particular, electromagnetic waves affect all of us and "make us crazy"). Trading by cycles and Elliottwaves is only a small part of a very much bigger picture.
For example, we're heading into what will likely be a 500 year drought and mini-ice age. Concerns about food and water, income, investments, health, and life in general will be much more of a concern than ever before. It's that bigger picture that I want to play a part in, due to over 35 years in communication and television, and over 8 years in cycles research and a big long in mastering Elliott wave analysis. (Politicians running around the world spending our money trying to change the temperature simply makes me crazy! The population needs to have their egos taken down a notch; we need to educate people about not only finance, but how the world really works.)
As a result, I'm launching a forum this month that will allow comments, and pictures, etc that will allow for a repository of information from not just me, but all of you, on self preservation and opportunities (as well as trading) over the coming years. You will likely need to be logged in to participate. My hope is a for a site based on truth and reality that can help people make sense of a world gone mad.
I will continue these posts for the remainder of the month (they'll start to morph into video posts) and provide details of my upcoming newsletter, trading service, and general site subscription, as they become available. I'll need to gauge the interest in a four times a week, video-based trading service to see it it's a viable option. I'll be posting a survey within the next week or so.
I want to thank you all for being a part of the start of this site and hope you'll stick around to become even more involved in the site as it evolves.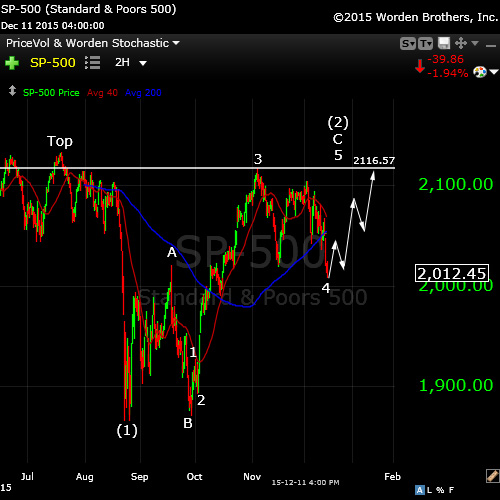 Here is a 2  hour chart of the entire corrective wave in the SP500 from Aug. 24 of this year. It's been very apparent for a very long time that we're completing the C wave of a regular flat (also the larger wave 2 of a bear market trending wave sequence). A flat is a 3-3-5 combination. This final C wave up then must be a wave in 5. As a result, we should expect five waves up to complete the pattern. I've drawn my expectation for the pattern on the chart.
I have maintained right from the start (in August) that we completed one wave down from the May 21 top and that this ABC wave up from Aug. 24 is a corrective wave that is not slated for a new high. I still maintain that position. That's because the A wave is very definitely in 3 waves. To be an ending wave (to make a new high), the A wave would have to be 5 waves (Elliott motive waves are fractal – all subwaves must be in 5 waves. Otherwise, it's a corrective wave).
It will be important to take a measurement of the first wave up when it's complete to be able to extend that measurement for a confirmation of the final C wave top at 2116.48 SPX. I will post the result here during the coming week.
Record so Far (since April, 2015):
Here's a short list of how I've done so far in accuracy with what has been an extremely difficult wave pattern to navigate and predict (I'll refer to the SP500 chart above in these points). You can find all these points in the post archives.
Called the top of the market on May 21, primarily using the NYSE top.
Successfully predicted all the twists and turns of the first wave down (although I missed trading the third wave of the first – to Aug 24 – due to being out of town with a crashed hard drive … argh!)
Successfully predicted the twists and turns of the A wave right through to calling the top on Sept 18 (in an ending diagonal), which corresponded with a Fed announcement.
Successfully called the B wave when all around me questioned that call (some will remember the missing second wave and my insistence that it much be there for that wave to be motive). This was a three wave move down.
Successfully called the turn right at the end of September (Sept 29) that led to the C wave up. Called the entire countertrend move as a second wave, rather than a 4th wave at about that time.
Successfully called wave 2 of the C wave intraday.
Successfully called the top of wave 3 on November 4. The wave down from there was a challenge, due to Prechter's write-up of a leading diagonal pattern in his book. I no longer believe a leading diagonal pattern actually exists (!)
Called the bottom of that first wave down intraday (the original 4th wave).
We'll see how my present call works out, which is a wave up starting on Monday, December 14 to test the previous high of 2116.48 (SP500).
So … a pretty good record all around, I think.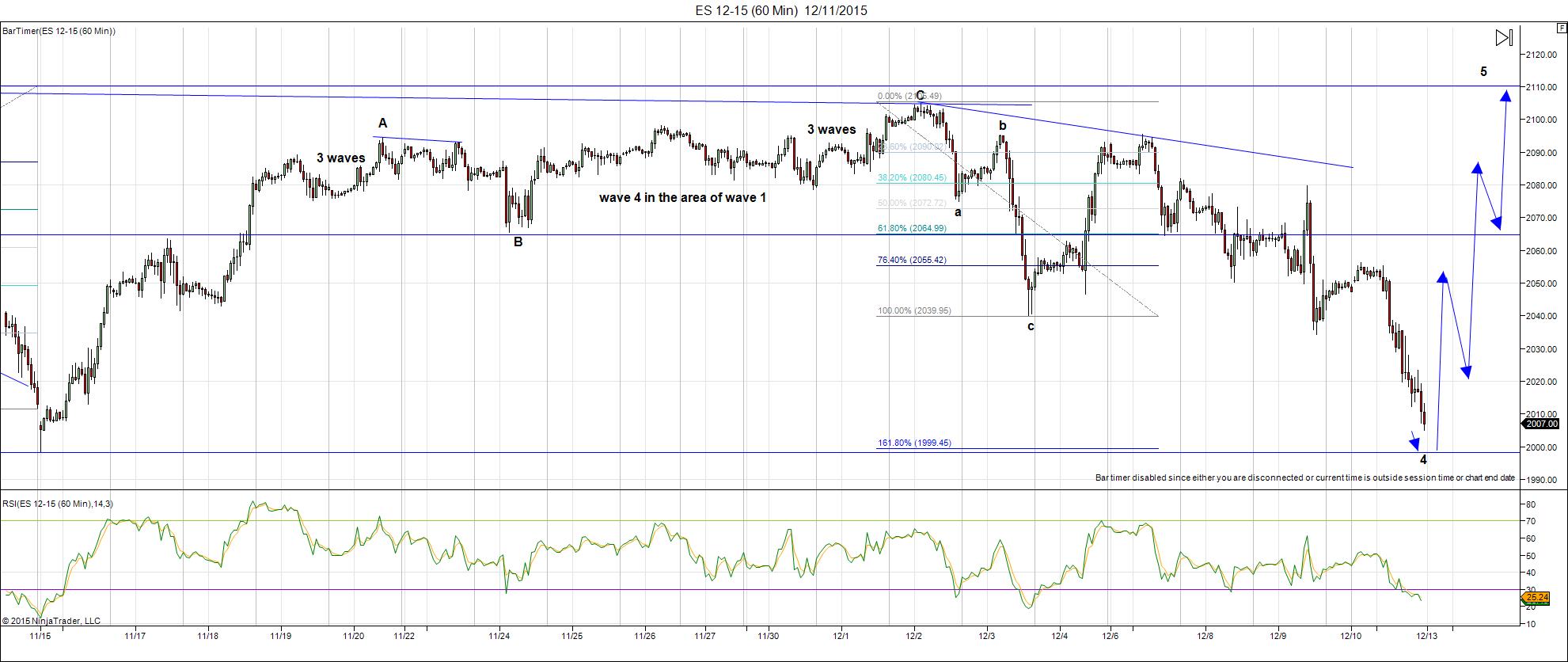 Here's an hourly chart of ES (emini futures – SPX). I'm expecting the current wave down to bottom at about 2000, which would complete the (double) 4th wave of the larger C wave up. The next step is for a turn up into a 5 wave ending wave to 2110 (I've shown the projected path up on the chart).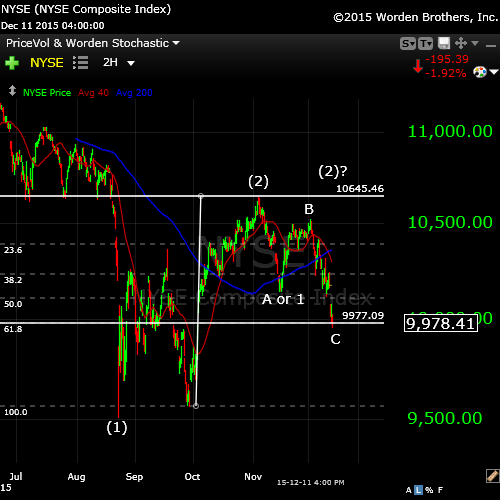 Here's the 2 hour chart of the NYSE. It's completed 3 waves down, which means they must completely retrace. Now, here's where the question arises:
It's difficult to tell whether the first wave down is motive or not (in 5 waves or 3). So, the next wave up will either retrace to the top of the B wave to create a second wave, or it will retrace back to the previous high (approx. 10,645), for a double top to complete wave 2. In either case, the wave down after the top will be a protracted third wave (see the DOW chart below next).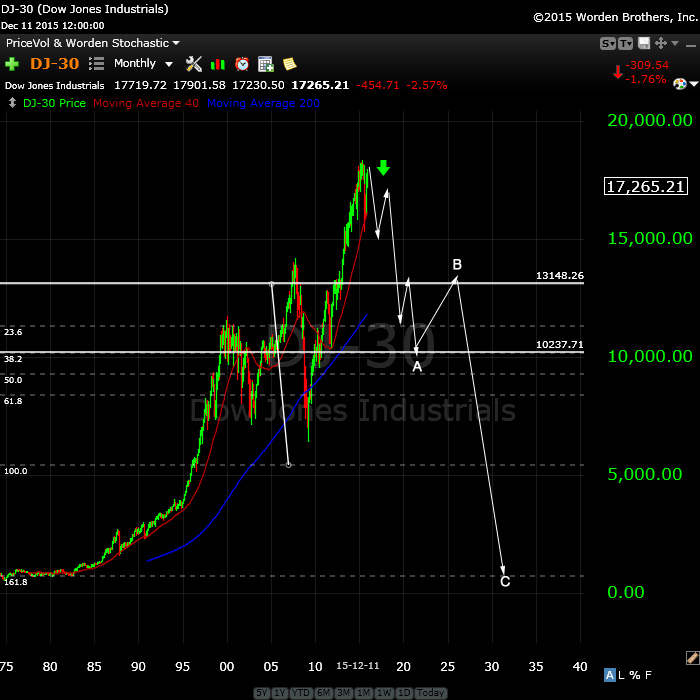 Here's a look at my longer-term projection for the DOW (monthly chart). This is where I find Elliott wave amazing, equally with how fibonacci ratios act as guides to the future.
The longer-term prognosis is for a corrective wave (an ABC, 3 wave sequence) down to the previous fourth wave. The previous fourth wave was in 1974 at approximately $570.00. When you do the appropriate EW fibonacci measurements, you find that it leads us right to that spot.
Let's take a look at what I mean: The A wave down (starting hopefully later this week) should take us in 5 waves to approx. 10,240. this length it 2.618 X the length the first wave down (not marked) from May 21. This measured move stops right at the previous 4th wave up, coincidently enough. Then we should have a B wave retrace of 38% at least, which should last over 6 months (at least the length of the second wave we've just completed) before a  final C wave down of 1.618 X the length of the A wave. Again, that takes us right to the previous 4th wave from 1974 (a life changing move, no matter whether you're trading or not!).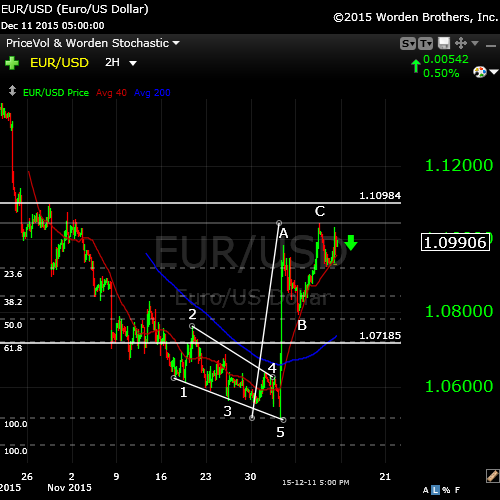 US currencies are moving countertrend to the US equities. Here's a 2 hour chart of the EUR/USD. I've referred to this phenomenon as "All the same market," which Bob Prechter coined a long time ago.
Now, last week, I thought that the huge move up from the ending diagonal was a first wave and that we'd complete the fifth wave up, but we didn't. The first wave should have terminated at the previous fourth wave, but it came up short and the final wave was in three waves.
So, what we have here is a three wave move (ABC on the chart). If correct, it should completely retrace. Although I've drawn in the 62% retrace line, I'm expecting the euro to retrace right back down to the bottom to complete a double bottom (probably in line with the US equities C wave top) before turning up in a first wave of a very large countertrend, longer-term move.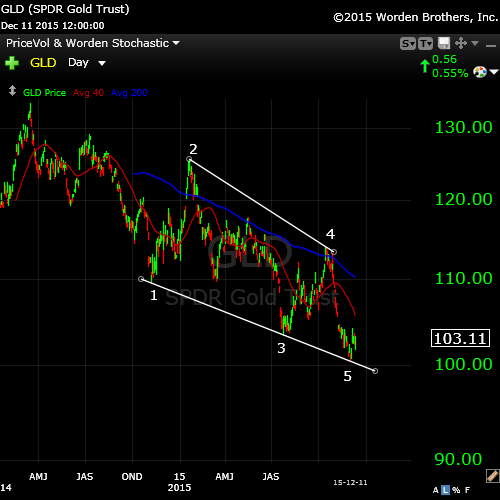 Let's look at GLD, which mirrors gold. Here's a daily chart of GLD showing the ending diagonal and a move up. A closer look at the move up shows it to be in three wave, so I'm expecting one more drop before we turn and head up in a much larger counter-trend rise which should be a counter move that aligns with the expected drop in US equities.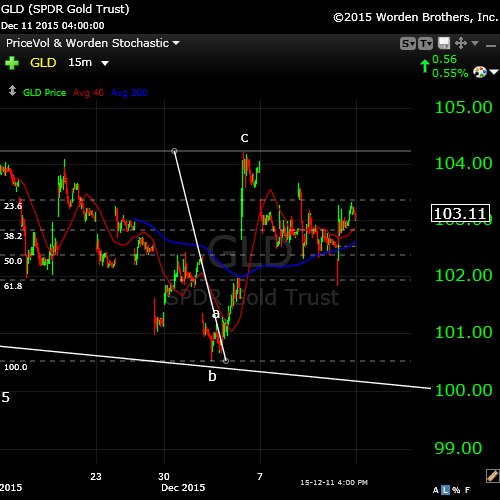 Here's a closer look at GLD (the 15 minute chart). I've labelled the abc move up on the chart. I would expect either a double bottom (in tandem with the top in US equities) or a throw over – a move below the line in a final ending diagonal capitulation move.
Cycles

I haven't run a cycles analysis with the TechSignal software as I've been finding it unreliable. I've run it again this weekend, but have slid the phase of the resulting analysis to more properly align with where we are now. This has a projected bottom of the third (or fifth) wave of this next major move down at the beginning of February which, considering the timing of the first wave down from May 21 (3 months), might be a bit short.
Wave 3 should come down faster, but I wouldn't expect it to drop in one month as opposed the three for the first wave.
I will be relying heavily on the turn dates of Andy Pancholi going forward for the upcoming paid service, as he's hit almost every key cycle turn throughout the year. Information about his monthly newsletter is here. I will be updating the charts on his sales page this month so show the accuracy of his service. Andy's been forcasting cycles turns his entire life (and he's not a young guy!). I know him personally and can attest to the accuracy of his projections – best I've even come across!
The Question of Seasonal Bias
The Decennial Cycle (chart below) that's tossed around without a lot of thought is not a "cycle" in the true sense of the word. It a short-term phenomenon, or pattern, perhaps. It's interesting that most charts only go back a few decades to make the case for a continuing pattern.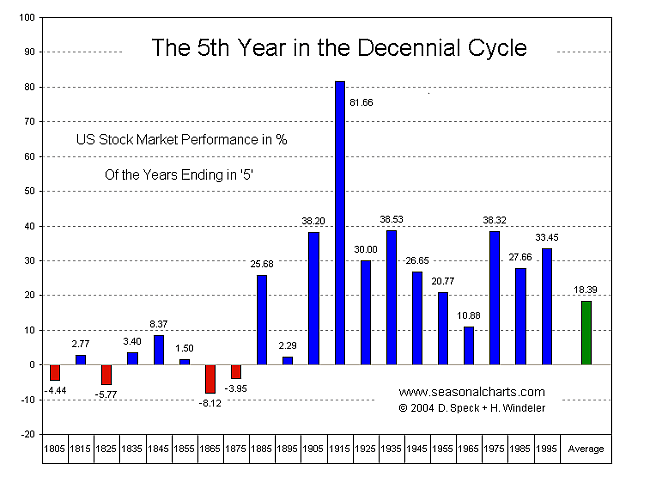 The chart above goes right back to 1805 so you can see the issue I have with this phenomenon being anything other than a short-term pattern. 2005, in fact was 'flat' or negative, depending on who you listen to. So far this year, the NYSE is down one percent. I find the reference to the "decennial cycle" lacking in any kind of credibility.
You'll find the article to this chart here.
In terms of seasonal bias, Santa Claus and end of year seasonal rallies show even a spottier performance. On the other hand, as a contrarian, I would much rather see rabid optimism in the market, as we have now. In my way of thinking, it sets up the perfect scenario.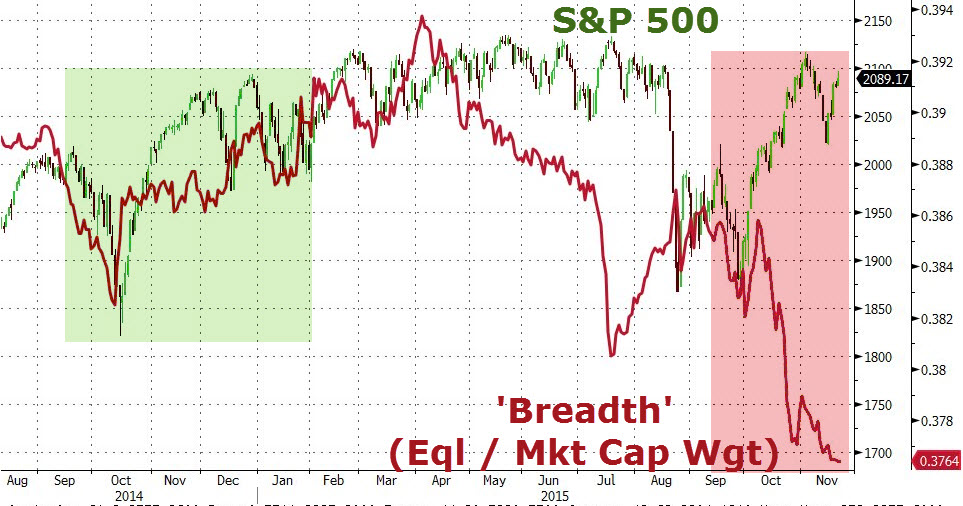 Above you'll find a snapshot of market breadth, which continues to implode. This is from a zerohedge blog post.
Now on to cycles: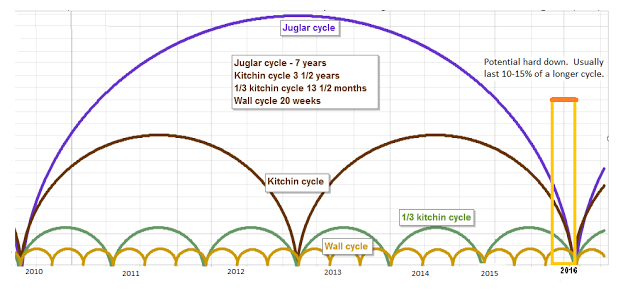 Here's a chart of the Juglar, Kitchin, and Wall cycles which are harmonic. They're forecasting a turn near the end of 2015 or very early 2016. More specifically, they point to the January/February time period as a bottom.
You can find this chart and a full explanation at http://swingcycles.blogspot.ca.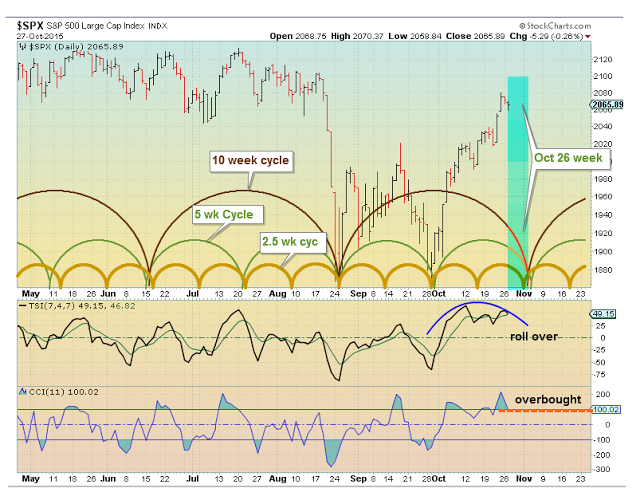 This is a similar chart of the recent past. You'll see the end October/beginning of November forecasting a major top. In fact, we topped in wave 3 of C on November 4—a direct hit.
Andy Pancholi's "Market Timing Report" forecasts December 18 as a major turn point for the month. I highly recommend it for its accuracy. You can find it here.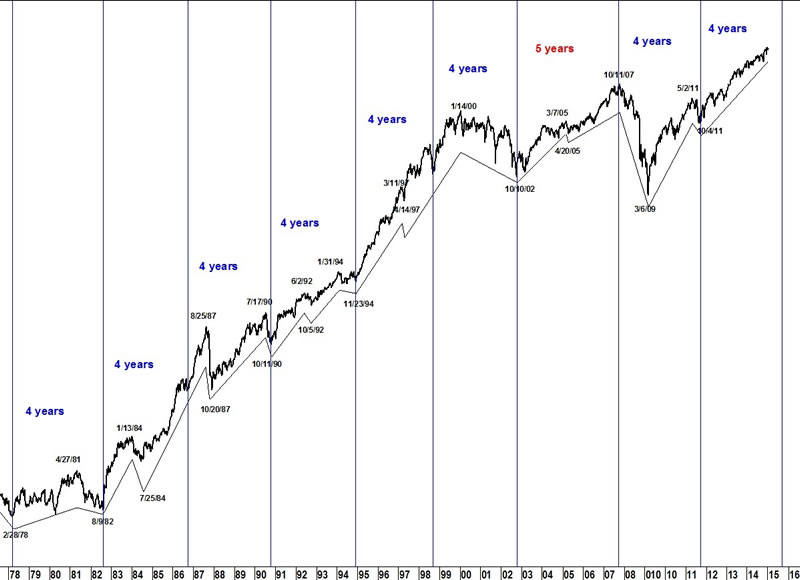 On a longer-term basis, here's a look (above) at the 4 year cycle on the DOW. This cycles forecast looks to the end of 2015 for the turn. You can see how long-term and persistent this cycle is.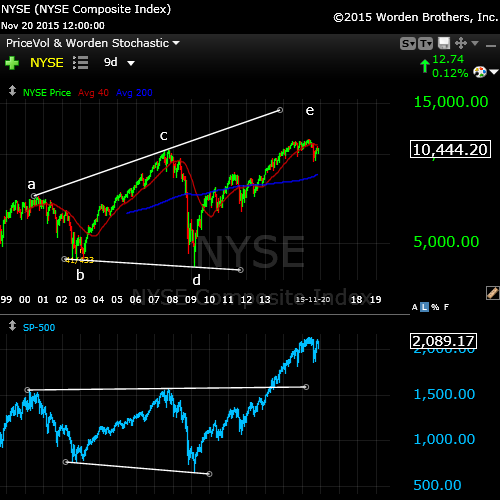 I was asked a couple of weeks ago about the broadening market topping pattern (well-known market topping pattern—not Elliott Wave related), so decided to include it here.
Above is the larger broadening top of the NYSE in a 9 day chart going back to 1999. This would be called an "ending expanding diagonal" in EW terms. It's an extremely bearish pattern and seem to be failing in the final stages.
It's interesting to me to note the difference in the NYSE as opposed to the SPX (lower blue chart). It speaks to the breadth of the market. It tells me the buying is concentrated in the big cap stocks.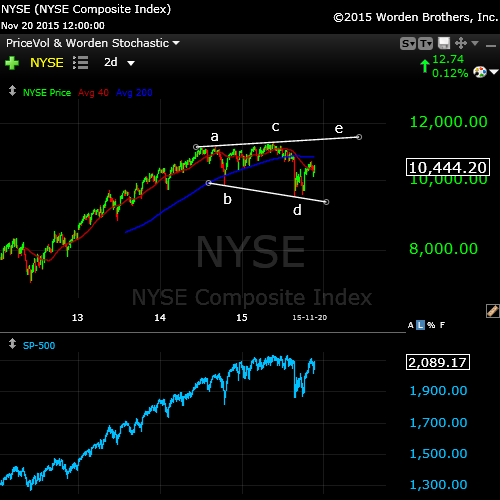 Above, we can see this same pattern on a short term scale in the final wave of the larger topping pattern. We have what appears to be a failing e wave in the NYSE 2 day chart.  
There's also a non-confirmation here, as well. with the SPX chart. This suggests the rally is narrow on even a short term-basis, with most of the buying in the big cap stocks.
DOW Theory (Transports and Industrials Non-Confirmation)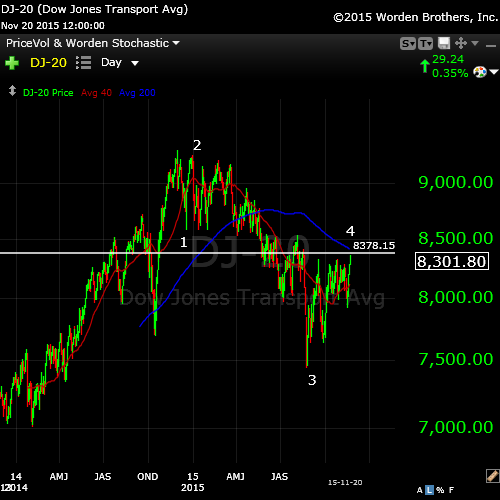 I haven't brought up the Dow Transports non- confirmation for a while, but it's been busy at work setting up for the next drop. The Transports Index (DJ-20) is tracing out a typical fourth wave (above), with the Industrial Index finishing off the 2nd wave (below). Both are setting up for a turn down in tandem. You can find background on the DOW Theory here.
For more confirmation, you can visit this article on the Baltic Dry Freight Index. Scary stuff!
Good trading!