Update Wednesday Noon, EST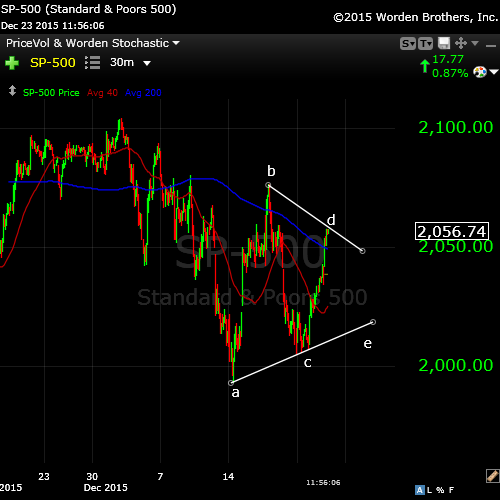 I've brought the triangle to the of the options (there aren't many left).
Above is the one hour chart of the SP500. I've updated the potential triangle from yesterday. It's a guess at this point and will require another day (at least) to confirm.
It's relatively common to a have a triangle formation as a continuation of a countertrend pattern.
It's certainly a sick market. And with the volume so low, we may just drive into the holiday
____________________________________
Original Post
Bottom Line: The equities market appears to have created a wave truncation, which means the trend has changed to down. If correct, after this first wave finishes (Monday morning?), we should see a retrace of more than 38% and then a turnover into a third wave down.
Here's a video of where we're at and what to expect over the short term. I'm still working out how to transfer the best quality to the web, which is a painstaking process. Make sure you set the quality as high as possible as per the note below the video. Let's see how Monday and Tuesday go before I develop a more comprehensive prognosis.
| | |
| --- | --- |
| | Make sure you zoom the video to full size with frame expander (arrows) in the bottom right hand corner and also set the quality to as high as your web connection allows. This is an HD quality video so the best viewing is at that level. |
Holidays Market Schedule:
US Equities close at 1pm EST, Thursday, Dec 24, open Monday, Dec 29 at 9:30am EST
Globex Futures close at 1:45pm EST on Thursday, Dec 24, open Monday, Dec 29 at regular time
UK Markets close at 12:30 PM London time, Thursday, Dec 24 and open on Tuesday, the 30th
French markets close at 2pm Paris time on Thursday, will reopen for a regular day Monday
German markets closed all day Thursday, Dec 24 but will be open on Monday
Summary of SP from Friday end of day:
Above is the 3 minute chart of the SP500. (updated as at 1:30PM EST, Friday, December 18.)
Truncations are extremely rare but I'm leaning more to that possibility after looking at the cash indices today. It's a major turn date and we have a very motive wave up yesterday (a full five waves). This could be the ending wave and it's short of the target.
Today we are looking at a motive wave down. I count five waves in a typical first wave pattern. If this is correct, we would now have to rally to the 62% mark and then turn over into a third wave. I expect this wave down to terminate at about 1997 or a little bit below.
We watch carefully.
________________________
The Longer Term Outlook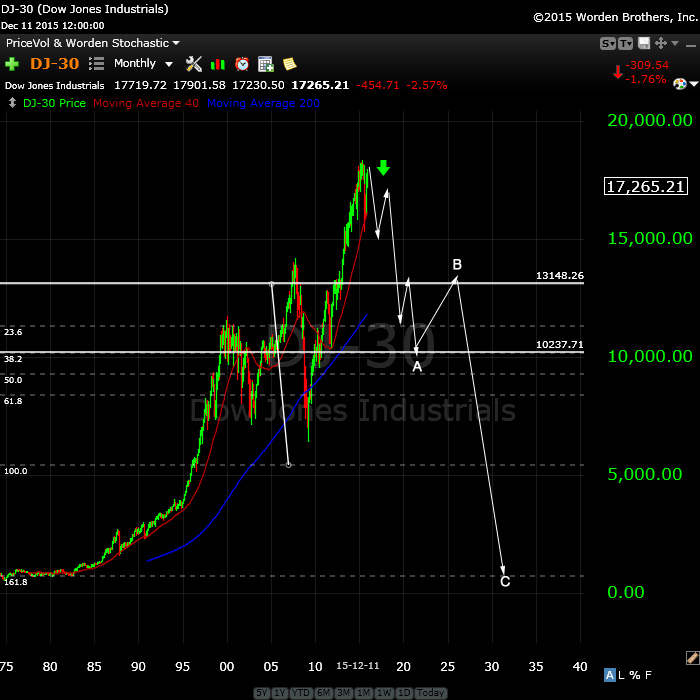 Here's a look at my longer-term projection for the DOW (monthly chart). This is where I find Elliott wave amazing, equally with how fibonacci ratios act as guides to the future.
The longer-term prognosis is for a corrective wave (an ABC, 3 wave sequence) down to the previous fourth wave. The previous fourth wave was in 1974 at approximately $570.00. When you do the appropriate EW fibonacci measurements, you find that it leads us right to that spot.
Let's take a look at what I mean: The A wave down (starting hopefully later this week) should take us in 5 waves to approx. 10,240. this length it 2.618 X the length the first wave down (not marked) from May 21. This measured move stops right at the previous 4th wave up, coincidently enough. Then we should have a B wave retrace of 38% at least, which should last over 6 months (at least the length of the second wave we've just completed) before a  final C wave down of 1.618 X the length of the A wave. Again, that takes us right to the previous 4th wave from 1974 (a life changing move, no matter whether you're trading or not!).
The Question of Seasonal Bias
The Decennial Cycle (chart below) that's tossed around without a lot of thought is not a "cycle" in the true sense of the word. It a short-term phenomenon, or pattern, perhaps. It's interesting that most charts only go back a few decades to make the case for a continuing pattern.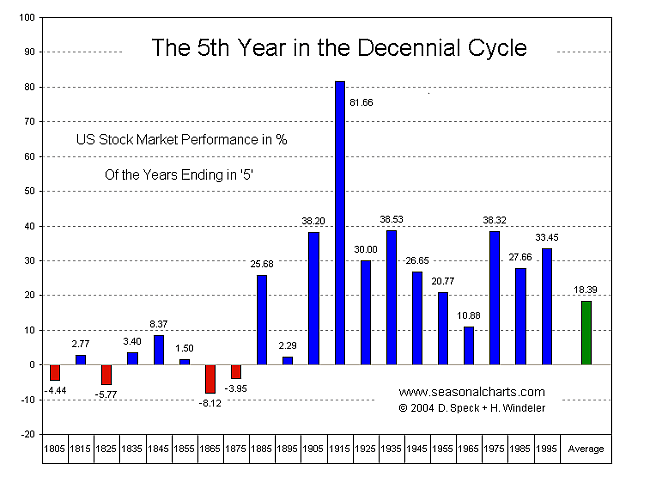 The chart above goes right back to 1805 so you can see the issue I have with this phenomenon being anything other than a short-term pattern. 2005, in fact was 'flat' or negative, depending on who you listen to. So far this year, the NYSE is down one percent. I find the reference to the "decennial cycle" lacking in any kind of credibility.
You'll find the article to this chart here.
In terms of seasonal bias, Santa Claus and end of year seasonal rallies show even a spottier performance. On the other hand, as a contrarian, I would much rather see rabid optimism in the market, as we have now. In my way of thinking, it sets up the perfect scenario.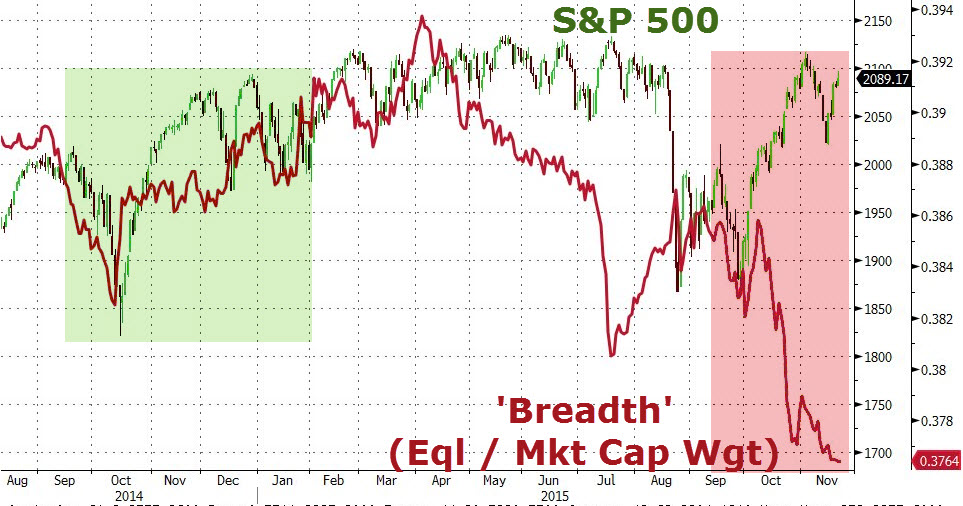 Above you'll find a snapshot of market breadth, which continues to implode. This is from a zerohedge blog post.
Now on to cycles: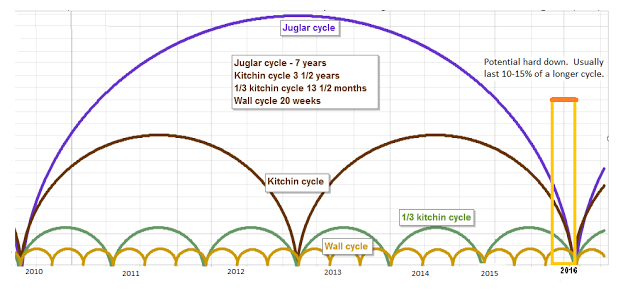 Here's a chart of the Juglar, Kitchin, and Wall cycles which are harmonic. They're forecasting a turn near the end of 2015 or very early 2016. More specifically, they point to the January/February time period as a bottom.
You can find this chart and a full explanation at http://swingcycles.blogspot.ca.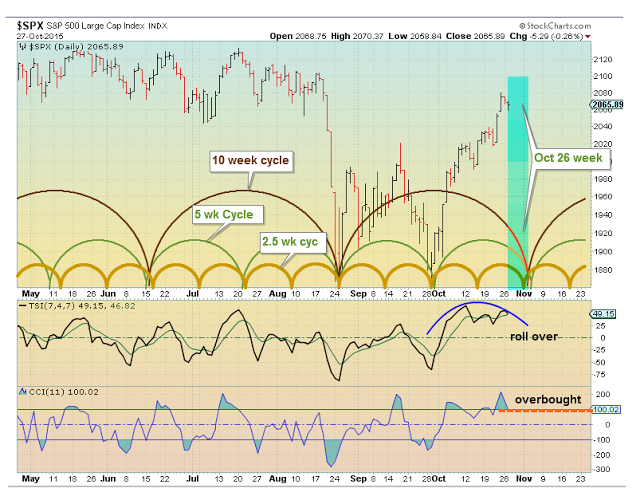 This is a similar chart of the recent past. You'll see the end October/beginning of November forecasting a major top. In fact, we topped in wave 3 of C on November 4—a direct hit.
Andy Pancholi's "Market Timing Report" forecasts December 18 as a major turn point for the month. I highly recommend it for its accuracy. You can find it here.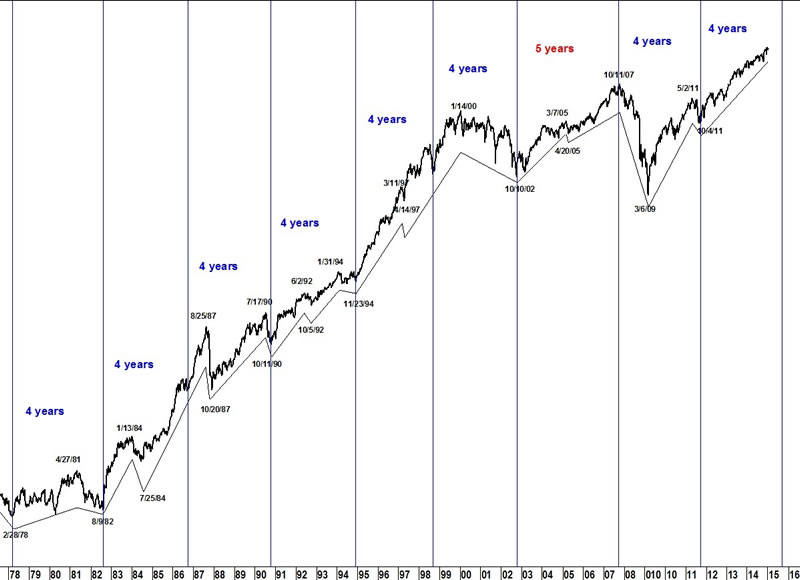 On a longer-term basis, here's a look (above) at the 4 year cycle on the DOW. This cycles forecast looks to the end of 2015 for the turn. You can see how long-term and persistent this cycle is.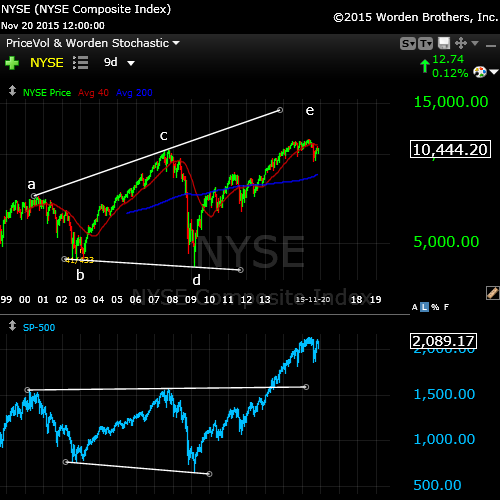 I was asked a couple of weeks ago about the broadening market topping pattern (well-known market topping pattern—not Elliott Wave related), so decided to include it here.
Above is the larger broadening top of the NYSE in a 9 day chart going back to 1999. This would be called an "ending expanding diagonal" in EW terms. It's an extremely bearish pattern and seem to be failing in the final stages.
It's interesting to me to note the difference in the NYSE as opposed to the SPX (lower blue chart). It speaks to the breadth of the market. It tells me the buying is concentrated in the big cap stocks.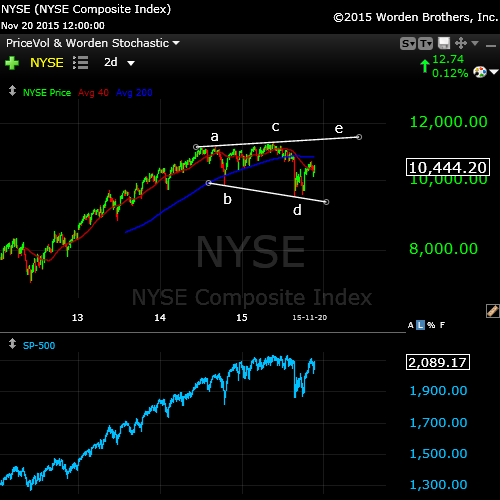 Above, we can see this same pattern on a short term scale in the final wave of the larger topping pattern. We have what appears to be a failing e wave in the NYSE 2 day chart.  
There's also a non-confirmation here, as well. with the SPX chart. This suggests the rally is narrow on even a short term-basis, with most of the buying in the big cap stocks.
DOW Theory (Transports and Industrials Non-Confirmation)
The Transports Index (DJ-20) is has traced out a short fifth wave (above). I expect a retrace either as a second wave of the fifth or to the previous fourth, before a longer fifth wave down. You can find background on the DOW Theory here.
For more confirmation, you can visit this article on the Baltic Dry Freight Index. Scary stuff!
Good trading!