The waves are starting to get active again. Volatility is picking up. You might be asking yourself, "Is it time to get back in the water yet?"
This week should prove that it is in the US indices. It's already proven so in oil. As I forecast, oil has started dropping to the $36.00 level.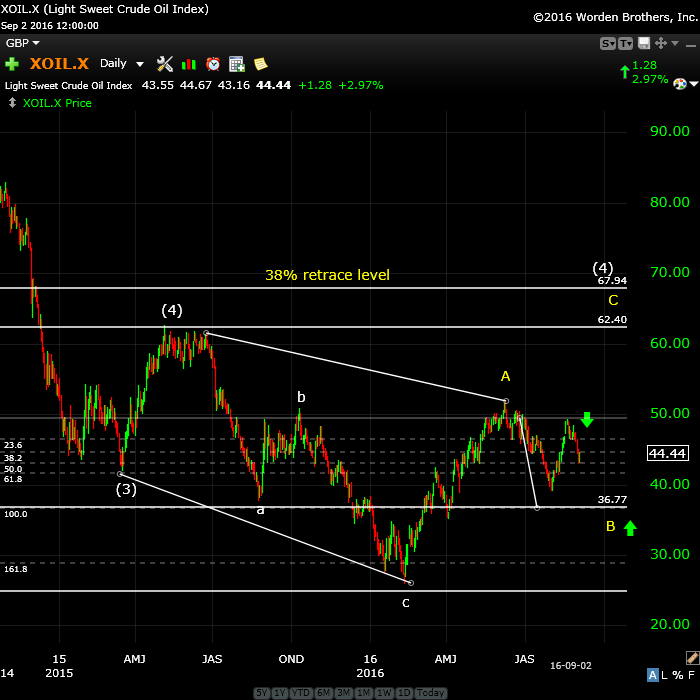 Above is the daily chart of US Oil showing the Elliott wave count so far. We've completed a large wave (3) down and then bounced into wave (4). The next wave down, which would have been (5), came down in 3 waves (abc), so it has to retrace the full length of the three wave drop and will likely do that to either the $62.40 level (the previous fourth) or the 38% retrace level from the very top, which is at about $68.00.
First, however, it has to finish this zigzag wave that we're in the middle of now. I projected the turn down from approximately $50.00 last week and we look to have completed the first part of this drop. But we still have a ways to go to get to the target of $36-37.00. Once we reach that level, we should head back up again to the wave (4) level and one of the two targets I mentioned.
The US Indices
Expect volatility in the US indices this week.
I've been projecting a turn down from this third wave in this ending diagonal we have, and to that end, I'm posting a video I created for my Trader's Gold members on August 26, which took a look at all the indices in terms of the current wave formation.
The ending diagonal formation is the only formation possible at these levels based up the wave configuration that's unfolded from February 11, 2016. Here is a video that explains my current thinking in terms of the wave we should see ahead of us now.
| | |
| --- | --- |
| | Make sure you zoom the video to full size with frame expander (arrows) in the bottom right hand corner and also set the quality to as high as your web connection allows. This is an HD quality video so the best viewing is at that level. |
_______________________________
 Deflation is Ramping Up
I watched the news tonight (can't remember which US channel) and saw a story on the price of food. It's dropping quite nicely. Of course, they made several excuses for this, but the main one is deflation—the phenomenon nobody is talking about. It's just another sign of the depression we're in the early stages of.
I just finished a video tonight on deflation and will be posting it live on the site within the next two days. Here's the YouTube version. It's short.
In the 1930's food prices dropped dramatically and stayed low for years. It ruined the farming industry as it drove a lot of farmers into bankruptcy. The problem is demand, along with trade barriers, which are starting to crop up all over the place, just as they did in the Great Depression. We've also had the seventh largest shipping company in the world go into bankruptcy this past week.
Currencies are also going to come to bear as all the major currencies drop compared to the dollar. This will make imports less expensive that local food, in many cases. The US dollar is poised to head up quite high, while all the others that are pegged to the US dollar are going to head much lower.
It's time to start taking deflation seriously. If you haven't thought about some of the ramifications of spiralling deflation, here's a short list of things to think about:
Food may be less expensivev, but as supply lines get interrupted, and business go into bankruptcy, many items will become scarce. There will be runs on supermarkets. I'm stocking up with a 6 month supply of freeze dried food from Mountain House, who through my research are the best tasting in the emergency freeze-dried food area. Many of their meals are absolutely delicious! Just add hot water. Here's my local supplier, but you can search online for a supplier near you. Or simply start to stock up on items you know you'll need.
If you can't walk to fresh water where you live, then you should stock up on a supply, or develop a source for drinkable water should there be challenges with supplies. There is also the probability of pandemics that may limit you ability (or desire) to travel long distances. If you're living in a large city, it's particularly important to start thinking about worst case situations.
There are sites that focus on emergency preparations for difficult times. You can google "preppers" and you'll find lots of them. There's a book that's been getting great reviews on Amazon that might be a great addition to your library: The Prepper's Blueprint.
Sell what you don't need now. If you have items that you've been thinking of getting rid of because you simply don't use them anymore, hold a garage sale this fall, before the crash begins. Once we get into the middle of the crash, it will be difficult to sell many of these items, unless they're in the category of what people need to survive.
Make sure you're part of a tight-knit community. You're going to need your friends to help get you through the next 5-10 years. There will likely be shortages of medicines, food, and a whole lot of other necessities. There'll be a shortage of jobs, as well, and the barter system will likely come back into widespread use. If you have talents in building, creating, or otherwise supporting a community in times of need, you'll do very well.
Credit will dry up. Banks will go bankrupt. Make sure you have some cash on hand and keep a watchful eye on the banking system. We have a public bank in my province: Alberta Treasury Branches. There's one public bank in the US, in North Dakota. These were the banks that thrived during "The Great Recession of 2008." They will likely do so again, as they're backed by the population, and not private "banksters." A wonderful book that tells the whole story about private and public banks is, The Public Book Solution, by Ellen Brown. I highly recommend it.
Rent rather than buy. This extends from housing right through to just about everything. However, at the bottom of the market (in 5 years, or so), the cost of everything will be at rock bottom and it will be time to purchase the home of your dreams for pennies on the current dollar.
Power may also be an issue. A portable generator is a great idea and can be had for under $1,000.00. I'll be posting my favorites in the forum shortly. Since I've now finished all the videos I had recorded weeks ago, my attention is now turning to finishing my book and populating the forum with some lasting information that will become more and more important in planning for the coming years.
Finally, you want to start thinking about putting away some silver or gold coins. Both these commodities will become less expensive over the coming month or two. They should dip briefly and then head up as the US market crashes. However, over the next few years, as deflation takes hold, they will become even less expensive than they are now. If you have any concerns about the government making it more difficult to acquire these commodities, it might be a good idea to begin to put a little bit away over the next couple of months and accumulate more at a later date. When we get to the hyperinflation stage, which is speculative, for sure, you'll want to make sure you have some with a lot more "strength" than cash.
Stick around. I'll let you know when I think the opportunities are the best to acquire either gold of silver coins.