Best of the season to all of you!
I hope you have a chance to connect and relax with family and friends over the holidays. Enjoy the relative peace we're having over this year-end stretch, as my fear is that the New Year is going to be anything but peaceful, socially and economically.
If you've been following my posts, both related to the market and what history tells us is in our future, then you're well aware of some of the challenges ahead of us. In next week's blog post (year end), I'll list some of my predictions for the coming few years.
Today's "free" blogpost is a copy of my Trader's Gold Premium Service blog, to give you an idea of what goes on there. Next week, I'll be unveiling a two week trial for anyone interested in trying it out (this will be an ongoing offer, but I'll formally announce it next weekend).
All the Same Market
The big picture to keep in mind is that the pending top of this market on an international scale is based upon the deleveraging of debt. You can look at the DAX, the DOW, the GDOW, or currencies and you'll find they're moving more or less together as they prepare to top at much the same time. That's one of the reasons I expect the drop, when it comes, to be so dramatic. Virtually every asset class will start to implode. It's not that far away: It's a matter of weeks rather than months, in my estimation.
There are some minor anomalies, which often happen at major tops and bottoms. For example, not all the US currency pairs have been in sync over the past week or so (ever since the Yellen interest rate announcement of Dec. 14). You'll see from my report today that the EURUSD pair is out-of-sync with GBP, CAD, and AUD. However, I'm expecting them to get back into sync for the final move to their corrective targets.
As I've been saying for the past few weeks, this is a very dangerous market. If there are surprises, they will be to the downside, as we're so close to a top. Even so, I don't expect an Elliott wave "truncation"; I expect all the patterns to play out and reach their final conclusions as per the wave principle, before the final turn.
Based upon the current patterns evolving in the markets, we should get adequate warning of the turn. However, the trading "herd" will be focused on a continuation of what they currently believe is the start of a secular bull market. It definitely is not.
"Thank you!" to all of my followers.
Today's sharing of the Trader's Gold Blog Post on the market is a "Thank you" to all of you who've been following along since I started regularly blogging and sharing my market analysis (about a year and a half ago), whether you've offered a comment or not. My overall goal is to help pass along the information I have on where the economy is headed and why, so that as many as possible can benefit from this knowledge not only in the short term, but for many years to come.
The Current Ending Diagonal in the US Indices
This particular ending diagonal is extremely rare. In fact, nobody to my knowledge has ever seen one at cycle degree or higher at the end of a corrective wave (at least, in a bull market).
Ending Diagonals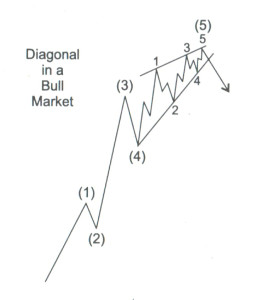 We continue to work our way through the ending diagonal.
Ending diagonals are rare at cycle degree. Wherever they trace out, they suggest a market that is extremely weak and barely able to achieve a new high. Although ending diagonals usually fall under the banner of a motive wave, they have properties more aligned with corrective waves. Ralph Elliott described an ending diagonal as occupying the fifth wave position of a motive wave when the preceding move has gone "too far too fast." He maintained that it indicates "exhaustion of the larger movement."
This particular version of an ending diagonal is extremely rare. That's because it's at the end of a corrective wave. And that, I believe, is primarily due to the fact that the rise from 2009 has a large central banker component—an "unnatural" element to it. It has fuelled the bullishness of the herd, but not in a sufficient way to effect a truly "motive" market. We're barely making it to the top.
You can see in the diagram above that the first wave of the ending diagonal (wave 1) starting from  (4) is in three waves. This is the usual structure of a motive wave—all waves must be zigzags, starting from the fourth wave of one degree higher. Usually, they begin after the fourth wave of a motive five wave pattern.
However, in the chart below, you can see that from the red (4) to the red wave 1 of the ending diagonal, there are only three waves (blue ABC). In fact, the three waves are a zigzag and actually make up the whole of the first wave of the ending diagonal. That's because the wave from blue B to red wave 1 is in five waves (it is NOT a zigzag; it's just a "zag"). This gets down really deep into the intricacies of Elliott waves—and supports it as a science.
Projection for a Top
Based on the ending diagonal we're currently in (which is the pattern playing out in all the major US indices), I'm still projecting a final top to our five hundred year set of Supercycle waves sometime in January. However, the market has such small volume that it's moving very slowly to its conclusion, so my timing projections have continued to slide. Ultimately, Mr. Elliott's waves will forecast the end and give us adequate warning of the turn.
______________________________
Here's the latest daily chart of ES (emini futures):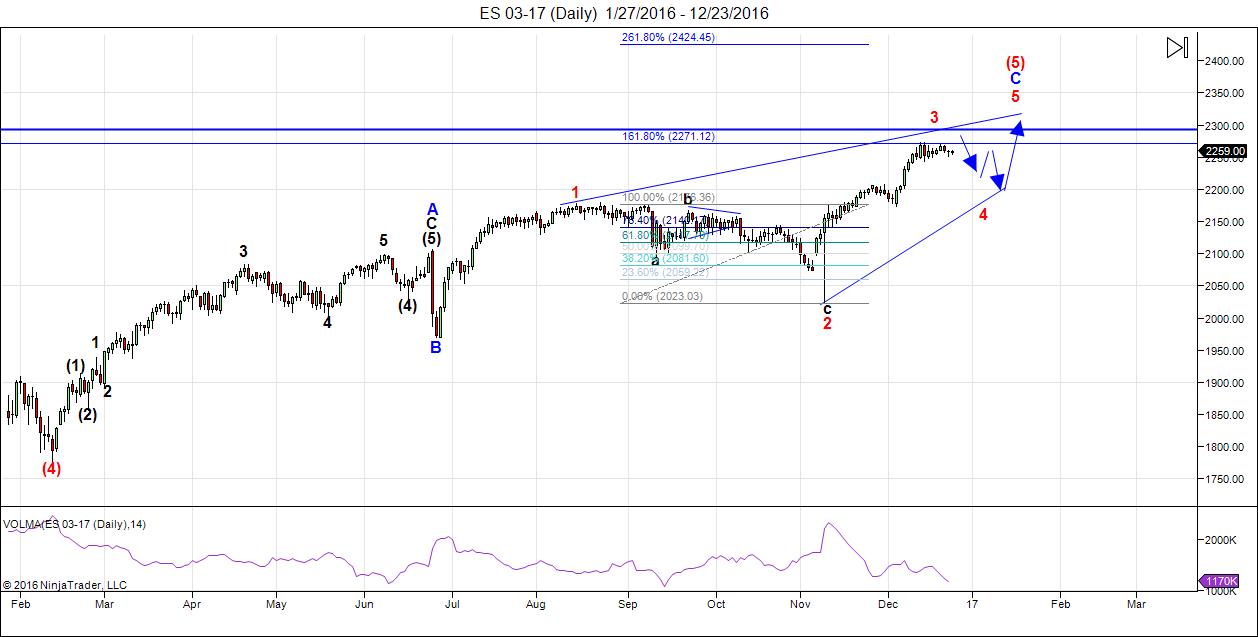 Through fibonacci ratios, I'm projecting a possible top for the third wave of the ending diagonal for ES of 2292-2294. By extension, it projects a top for the third wave for the SP500 of about 2294.

Here are the rules going forward:
Wave 3 must be shorter than wave 1 and reach a new high.
Wave 5 must be shorter than wave 3 and reach a new high (usually it does a "throw-over"—extends above the upper trendline defined by the tops of wave 1 and 3, but it is not necessary.
Wave 4 must be shorter than wave 2 and must drop into the area of wave 1.
All waves must be in 3's (zigzags).
The trendlines of the ending diagonal must converge.
Summary: We are completing the third wave of the ending diagonal before zigzagging to the top of the largest bubble in history. The long awaited bear market is getting closer.
_______________________
Here's the latest HOURLY chart of ES (emini futures):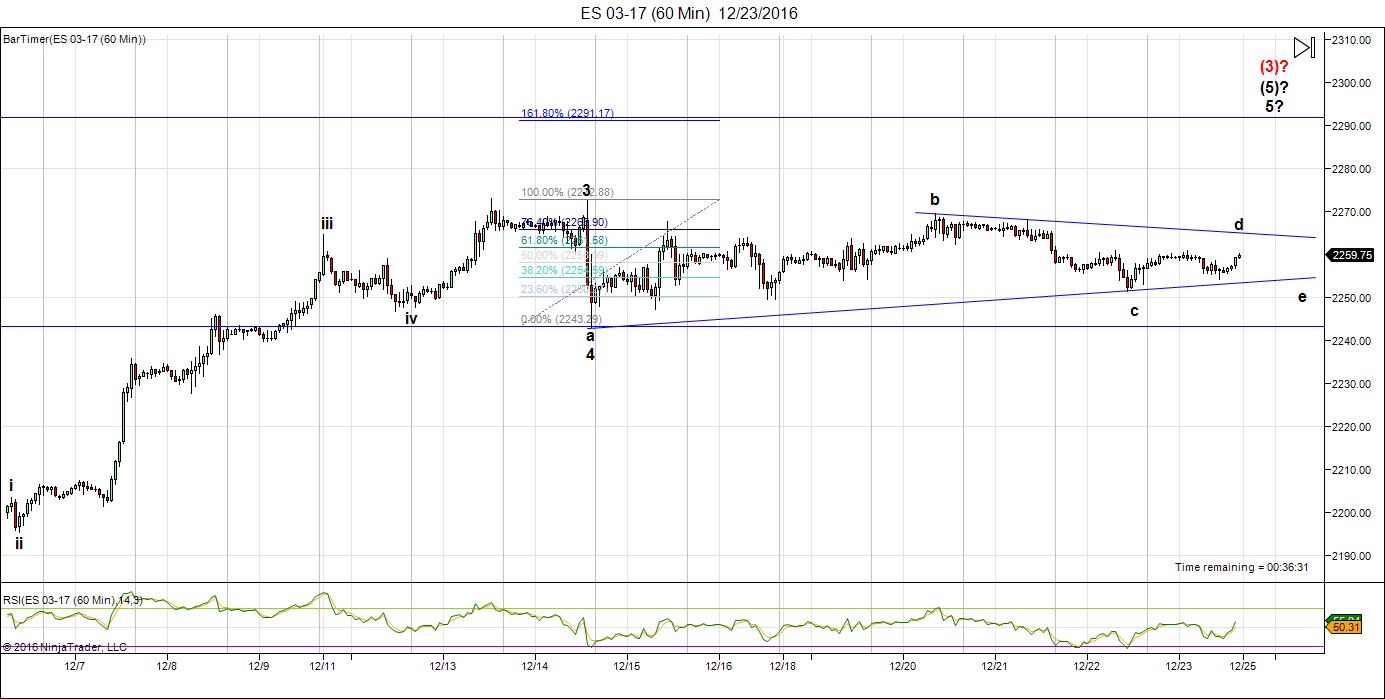 Above is the 60 minute chart of ES showing our progress to the end of the day on Friday.
We're in a tightly wound fourth wave triangle of the C wave of the third wave of the ending diagonal. We need to complete the d and e legs before continuing up in a final wave to the target. My target is about 2292.
That should lead to a turn down into the 4th wave and then a final 5th wave of the ending diagonal up to a new and final high.
_____________________________
Some housekeeping:
Andy Pancholi Turn Dates (remaining – December)
SP500: 28
EURUSD: none left
* Denotes major turn date
The free blog post has a copy of this post this weekend.
The Chart Show sign up is live for December 29. You can sign up now in the usual spot: Webinars
________________________
Here's a video overview of the market for Tuesday, December 27, 2016:
| | |
| --- | --- |
| | Make sure you zoom the video to full size with frame expander (arrows) in the bottom right hand corner and also set the quality to as high as your web connection allows. This is an HD quality video so the best viewing is at that level. |
_______________________________
The Charts Going into Monday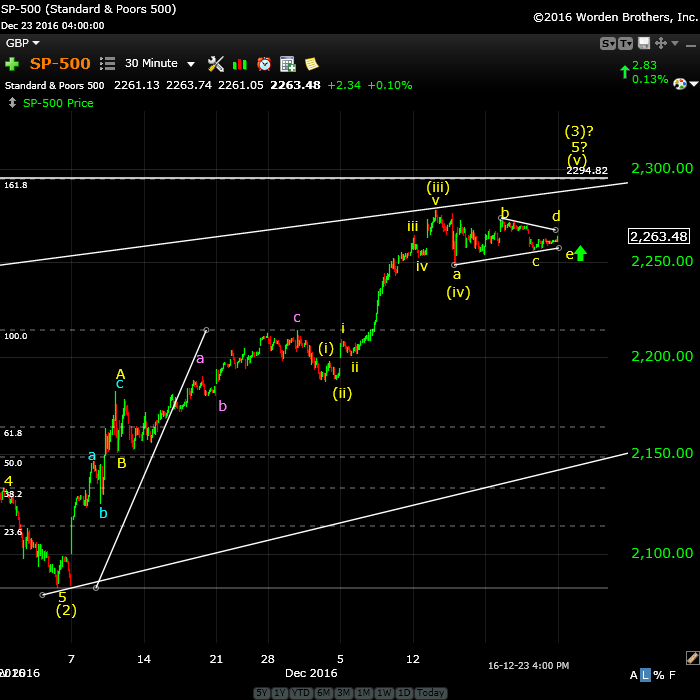 Above is the 30 minute chart of SP500 showing the same ending diagonal we're seeing in ES futures. My prognosis mirrors ES almost exactly because there's little difference in the levels between the two (2 points now). I put us in the fourth wave of the C wave of wave 3 of the ending diagonal (same as ES). Look for a turn down into the larger fourth wave (may be a sharp drop) sometime this coming week.
The most likely target for me for the top of wave 3 is about 2294-2296. That's due to treating the wave up to about 2214 as the A wave and then targeting the 1.618 extension of that wave.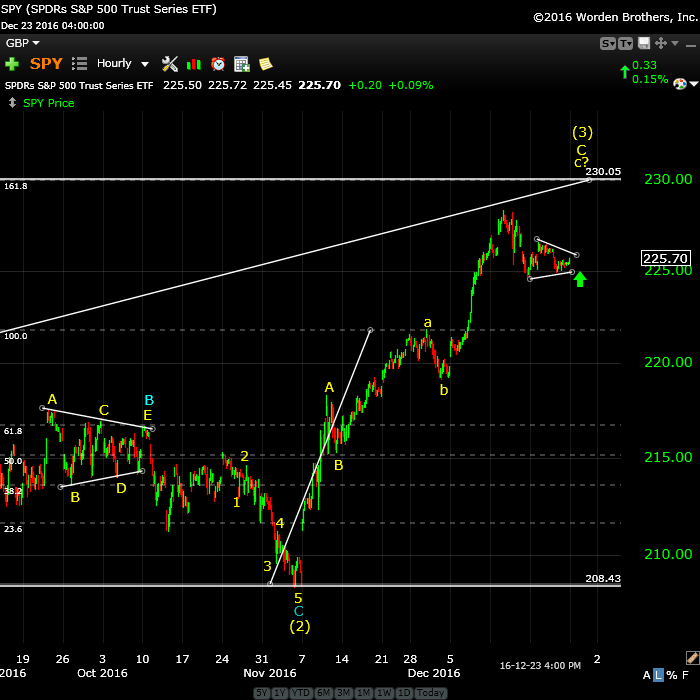 Above is the hourly chart of SPY showing the same ending diagonal configuration as in ES futures, and the NYSE (chart below).
The extension of wave a (as shown) would give a target of ~230.00. There are other possible fibonacci ratios which could give slightly different targets.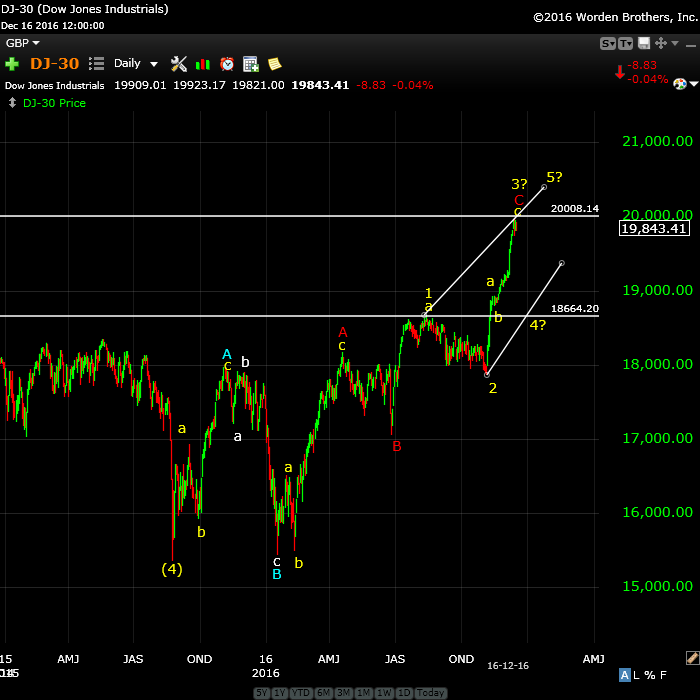 Above is the daily chart of the DOW. Wave three of the ending diagonal has gone straight up for this index.
I'm taking a measurement off the first 'a' wave here for the entire wave. I don't know if this will be the third wave top or the fifth wave top, but I think 20,000 more than likely for one of them (I suspect the latter the better bet), as it's a nice round number, which is usually a target in these situations.
Wave 4/5 will possibly be quite rapid compared to the rest of the wave so far. A sharp drop here to below about 18664 (the previous 4th wave could still make this ending diagonal work as shown. The diagonal trendlines have to converge. If they don't then some other pattern is tracing out here.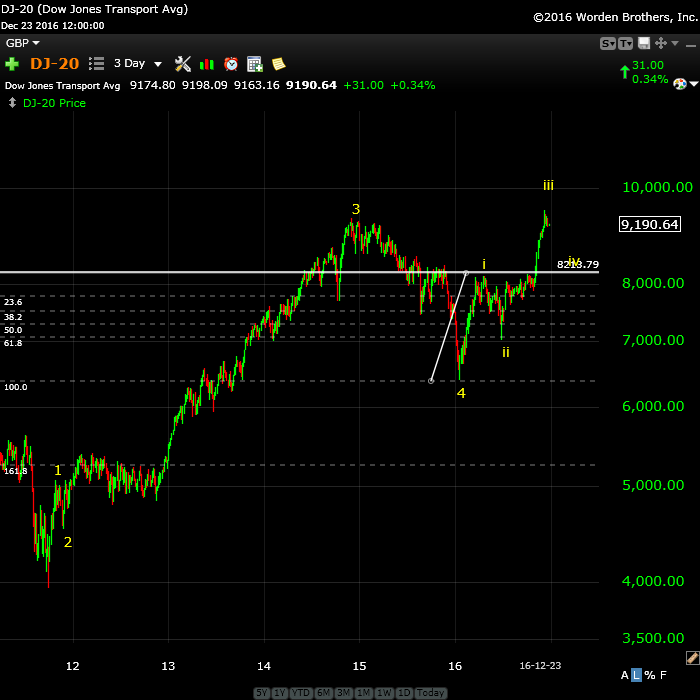 Above is 3 day chart of the DOW Transports (DJ20) showing the impulsive wave structure heading to a final top. In 2007, the transports also traced out a new high. The index is completing an implusive ending wave in 5 waves.
Expect another small leg up to complete wave 3, then a retrace in wave 4, before a final ending wave 5 to a final high.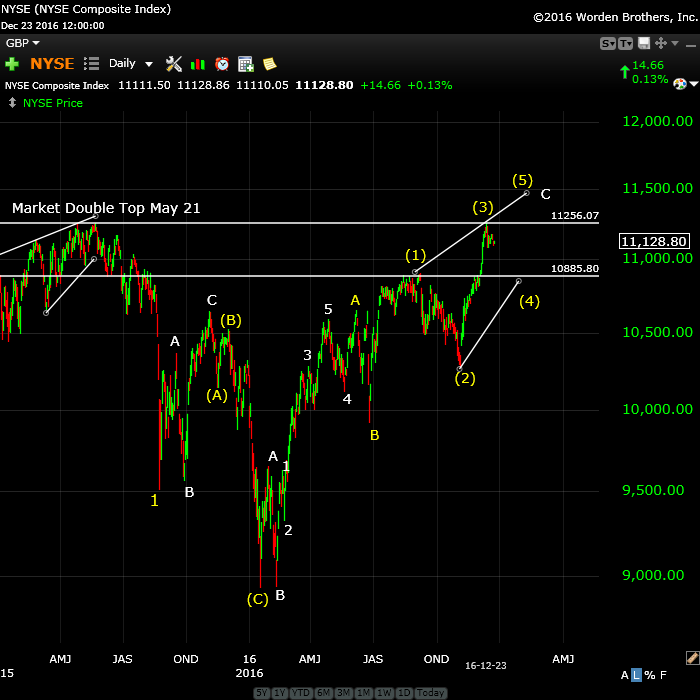 Above is the daily chart of NYSE. As I've been saying for some time, because all the other US indices have reached new all time highs, it  will be important for this index to also reach that same level before before ending the final wave up. Based up the configuration shown above it appears to be lining up to do exactly that. The previous high is at about 11,253. I'm looking at this level (at least) in this index as being a final target for a top.
On a near term timeline, wave 3 has shot up, which along with the other indices, makes the wave 4/5 combination (still to come) look like it will be relatively short time-wise.
As I've said many times before, if one US index reaches a an all time new high, all the remaining US indices must also reach a new high.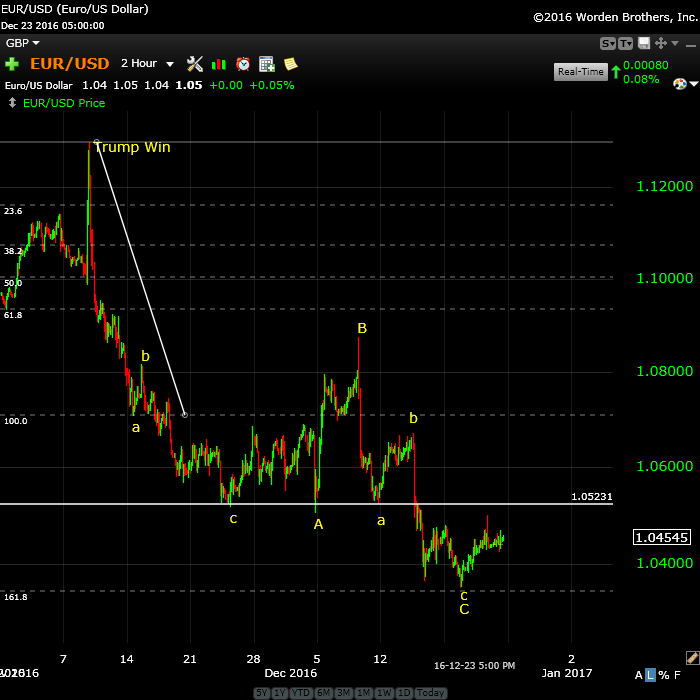 Above is the two hour chart of EURUSD. This wave down has been a difficult one to call the bottom of, due to the fact that the to of the wave came down so quickly that there simply aren't any waves at high levels from measure from (or even count). However, I think we have bottomed now. I've actually re-labelled the chart slightly to create at yellow a wave down from the top that is a fibonacci ratio to the bottom of the wave. Keep tight stops as there is still a possibility of a drop a double bottom here.
As this entire wave down from 1.13 (approx.) is in three waves, I'm expecting a full retracement back to the top. When it reaches the top, it will be a very lucrative short as it will drop like a stone.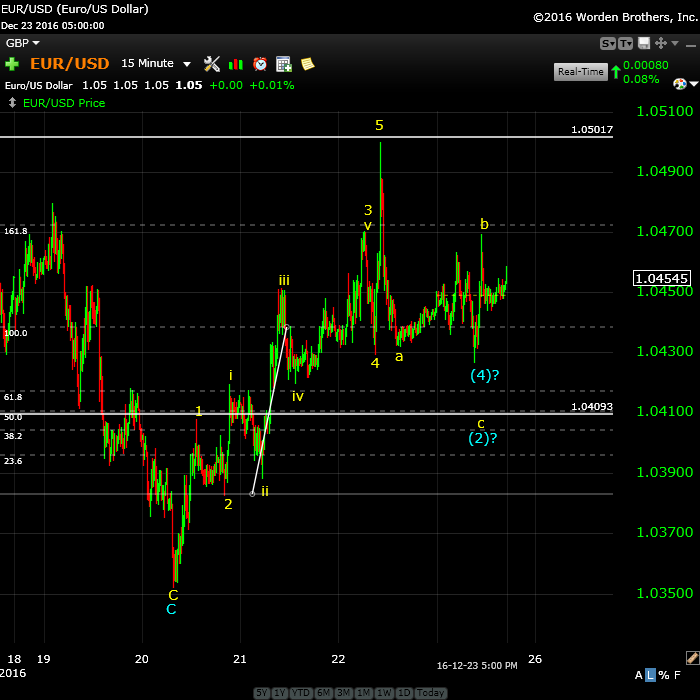 Above is the 15 minute chart of EURUSD. I had expected a double bottom on this wave but we didn't get one. It's also out-of-sync with the other USD currency pairs, which has made confirming counts between the four pairs (EUR, GBP, AUD, and CAD), problematic. I urge caution if you're going to attempt to trade any of these currency pairs.
I can offer two counts on this wave, but the one I've posted is what I feel is the most probable. That's because wave 3 in this count is exactly 1.618 X wave 1 (shown by the fibonacci measurement on the screen). I'm expecting a blue wave (2) retrace to  the 62% level, or about 1.041.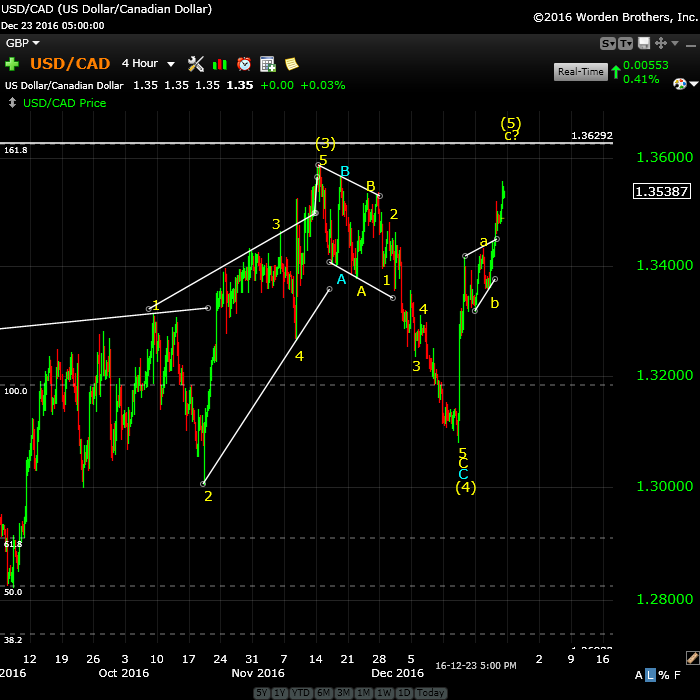 Above is the 4 hour chart of USDCAD. It's clean now that the current wave will retrace to the top or slightly above (possibly to 1.363) to complete a 5th wave of a corrective pattern, with when done will be a larger B wave and signal a turn down to a very large C wave.
This parallels probable moves in EURUSD (2nd wave), AUDUSD, GBPUSD, and USDCAD.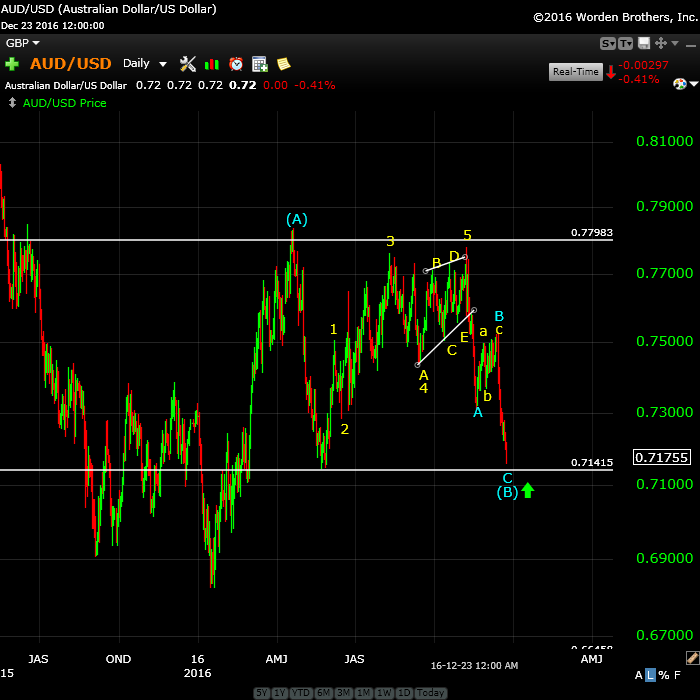 Above is the daily chart of the AUDUSD. We came down to a new low at the end of the week, but I still expect a turn up to the target. We haven't quite bottomed and a possible turn now is at the low of ~.71415. However, be careful, as I can find fibonacci ratios that suggest we might have a bit further down to go. The safest route is to wait for a turn, then 5 waves up and three waves down 62%. That would be the least risky entry point.
I've an eventual target of .8435 for this pair, which is the 38% retracement level of the entire larger wave down (from the year 2011), which would make this wave 4.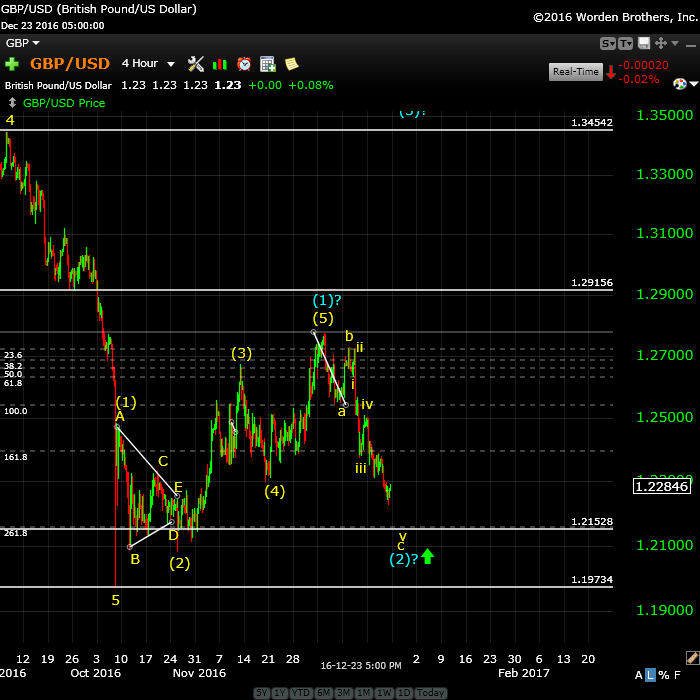 Above is the 4 hour chart of the GPBUSD. Wave 3 just can't seem to get going. I'm expecting a bit further downside to a double bottom at about 1.215 before a turn up into the third wave. The target for this A wave is still ~1.34542. I would wait to see a strong turn up with 5 waves up and then 3 waves down. All these USD currency pairs are very week, and as I've said, surprises will be to the downside and they can be sharp.
It will not be a straight trip to that higher target, so don't get too aggressive. Once we reach it, I expect to see a large B wave.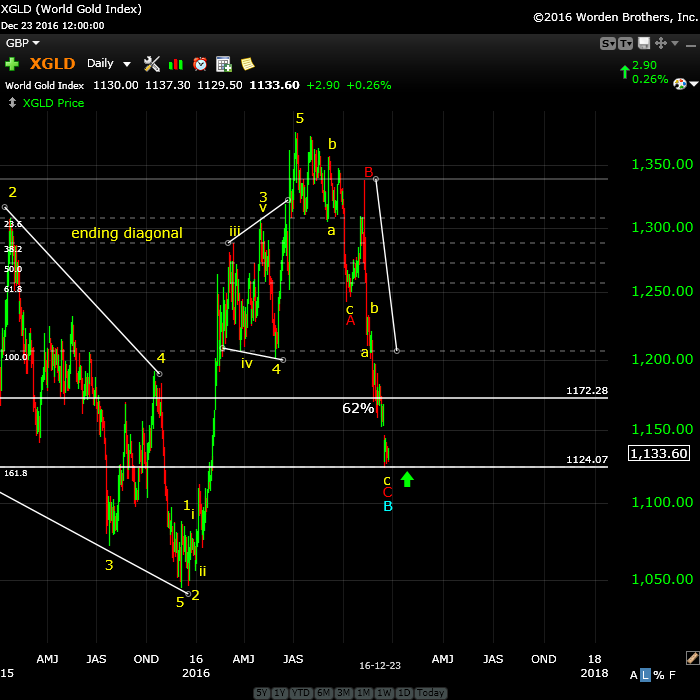 Above is the daily chart of gold. The challenge is trying to find an entry point. I talk about this in the video.We look to be forming a bottom finally. My preference for an entry would be to watch for 5 waves up to about 1198 and then a 62% retrace down from there, with a turn to the upside. That would be the entry point.
The final upside target is around 1585.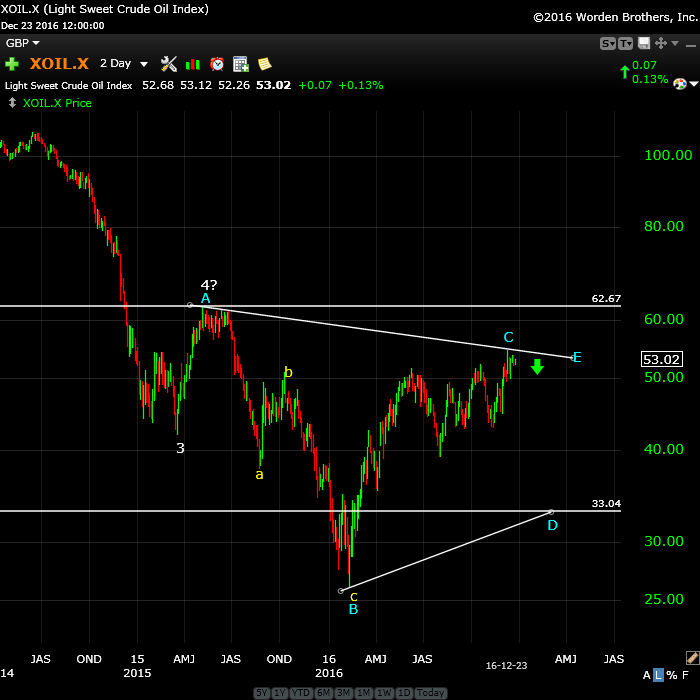 Above is the daily chart of oil. We look to be completing a topping process. I talk about this in today's video.
The subwaves on Friday are suggesting we've seen 5 waves down and have retraced back to somewhere around 62% (about 53.70). My projection has not changed. We should head down in 3 waves to about 33.00. Once we have a larger A wave down in place, I'll be able to project a more accurate target (or perhaps a more firm target, based on two different measurements).
Finally, we should get an E wave up to the upper trendline to complete the larger pattern. That would be followed by a final 5th wave down to a new all time low.
Good trading!
___________________________
Sign up for:

 The Chart Show
Thursday, December 29 at 2:00 pm EST (US market time)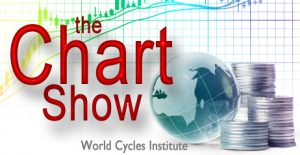 The Chart Show is a one hour webinar in which Peter Temple provides the Elliott Wave analysis in real time for the US market, gold, silver, oil, and major USD currency pairs.
Get caught up on the market from an Elliott Wave perspective. You'll also get Andy Pancholi turn dates for the balance of the current month. There'll be a Q&A session during and at the end of the webinar and the possibility (depending on time) of taking requests.
All registrants will receive the video playback of the webinar, so even if you miss it, you'll be sent the full video replay within about an hour of its conclusion. For more information and to sign up, click here.