Andy Pancholi's Market Report Video
Here's a link to Andy's new market report video. In it, he takes you through the June report and shows you how to use it. http://cyclesanalysis.evsuite.com/mtr-20-june-2016/
___________________________
Update Wednesday, June 22, 6:30PM EST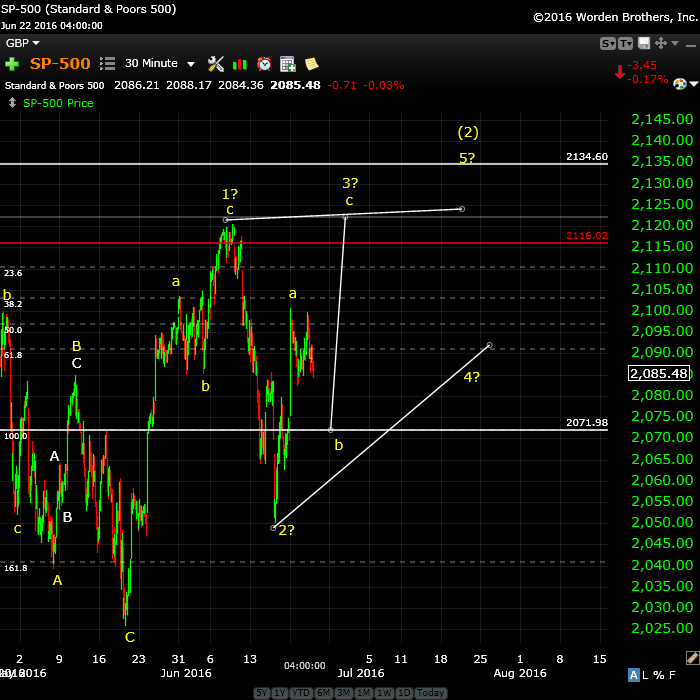 Above we have the 30 minute chart for the SP500. We still appear to be working through this ending diagonal. I'm expecting the next few days to be volatile.
Tonight, we should head down (futures) to complete a b wave (~2072 SPX), and then rise to about 2120 or so to complete the c wave. After that, we'll have a fourth and fifth left. If this is the ending diagonal I think it is, the path should be very much like the one I traced out in the original blog post below.
Gold is heading south and should complete an abc corrective wave. Oil is heading up still and I'm expecting it to hit ~62.00 before it's done. Currencies are volatile but seem to be heading gradually towards their intended targets.
I'm back home Thursday night, so I'll be able to get a better look at the full picture before the vote results become known. Events don't determine markets, so I'm not expecting anything other than volatility on the vote results. We know where the euro's supposed to be going, and I'm expecting it to get there.
We're very close to topping out.
_________________________
Update Tuesday, June21, 7:15 PM
There's nothing like take-out food in Manhattan!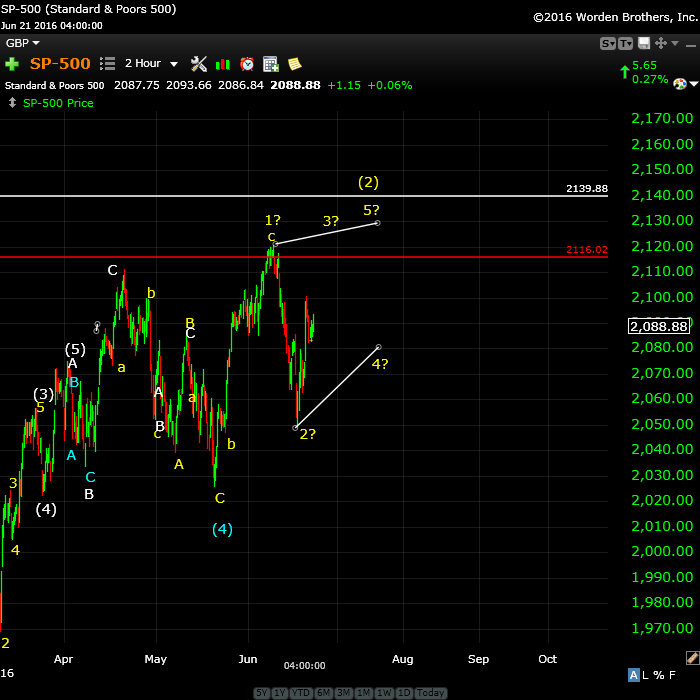 Above is the 2 hour chart of the SP500 as at tonight. So far, so good.
It's really difficult for me to do my usual analysis, working with a tiny screen on a MacBook Air compared with the PC-based 6 screens I usually have to work with.
The wave up we have as of tonight doesn't look like its corrected down enough. In fact, this may be all of wave A up with the second part of B still to come. We're so close to a top now, that you'll want to make sure you adhere to your stops. When this market turns over, it's not likely to fool around much at the top. I project a dramatic drop.
If you're trading options, it's a really good time to think about being short.
I'm back in my hometown on Thursday evening, but have an event that evening, so the first full analysis will be for Friday morning.
__________________________
Update: Monday, June 20 6:10AM EST
Overnight, everything I cover seems to be moving as expected, except USDCAD, which at the moment, is moving against EURUSD.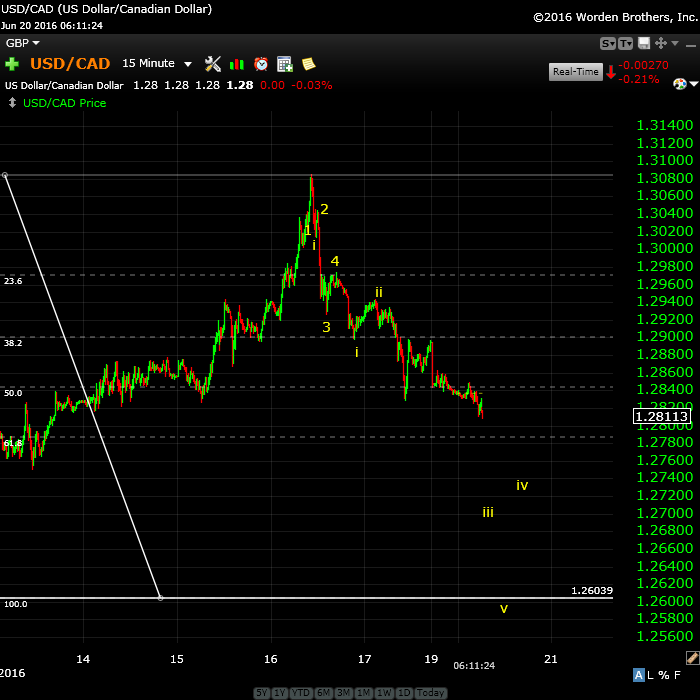 Above is the 15 minute chart of USDCAD, which continues to confound me. I expected a larger retrace before now, but it appears the first wave it extending and the likelihood is that we won't get a retrace now until ~1.26, when I expect the US indices will reach the upper trendline of the ending diagonal. So the direction continues to be down for USDCAD.
ES has moved up in what appears to be a C wave and I have an upside target now of 2128, which would make the C wave 1.618 X the A wave. We appear to be rapidly trying to move to a conclusion in this market. However, we still have a few more up and down waves in the US market's ending diagonal and the end is at least a week away, and likely a bit further.
In the short term the direction is up for ES and SP
I'm heading for a plane, so I won't be around for the open.
________________________
Original Post: Saturday, June 18:
Last week, my post was all about being at the top of wave two. I was counting on a quicker resolution due to the fact that the ending diagonal I've been expecting looked like a smaller one (an expanding ending diagonal) than it's turned out to be. It would have finished the pattern with a final wave up.
However, it was not to be. The lower trendline got damaged and we've had to revert back to the original converging ending diagonal I'd been expecting for two weeks now. So really … nothing much has changed. You're going to find this week that the charts of all the indices, currencies, gold, and oil are pretty much what they have been for a couple of weeks now.
We're into summer doldrums. The volume is very light being the top of the market. Add to that the lower volume of the summer doldrums and you've got a slowly moving, choppy market. Tough to trade. Add to that an ending diagonal, which will show volume dropping even further as it winds its way to the end, and you've got a hellish market to try to trade. Be careful. Options are about the safest thing to be in, but then again, I don't expect much more than sideways action over the next few weeks.
In terms of the pattern being an ending diagonal, I continue to maintain that it can't be anything else. Ending waves have to be in fives (a motive wave) or they have to be a triangle (in 3 waves). The wave up from May 19 is clearly in 3 waves, so we're stuck with a triangle and that triangle can only be an ending diagonal. It's simply the process of elimination, which is what Elliott waving is really all about: If you can determine the pattern you're in (most often by elimination), you can successfully trade it, because you know what it's going to do.
Andy's Cycles: In case you missed it, last week Andy Pancholi provided a short little video looking ahead into July, which you can watch here:  Andy Pancholi Special Report.
To purchase Andy's high-end cycles report, click here. Andy is 99.9% accurate on major cycles turns and using his turn dates with my Elliottwave projections is really the holy grail in trading. You won't often go wrong in timing the market.
All the Same Market: As I've mentioned here over and over again, the currencies and US market are becoming more and more tightly aligned. They're all moving together as debt is being deleveraged. If you're good at seeing patterns and mentally manipulating them, you can easily see them aligning and this helps you (me) forecast the market moves.
It certainly won't always be this way forever, but they've been moving closer and closer into alignment for the past couple of years. Now the moves are almost identical, from a technical analysis perspective. All the US currencies are in the final wave. We'll all reach the party together. And it will be quite a party! I was going to mount the 3rd wave path, but it's pointless really until we find the end of this second wave up.
Bottom line: The final high for the SP500 should be at or slightly above 2116. (Andew's Forkers are pointing to 2134 for a top. It looks to me to be quite probable we'll reach it, but I would suggest that we're not going to hit a new all time high, likely by ticks).  We have five relatively small waves to go, but with the way the market's are moving (slowly), the top may well be a month away, or longer.
Wave Three Down
Here's a link to a projection for wave three down in the SP500.
We have Brexit on June 23, but quite honestly, events don't change the trend. Events happen as the trend changes. So I'm not expending a major change in trend on June 23, unless we somehow work our way through this pattern quickly (or I'm totally wrong on the pattern and something else happens).
New York:  I'll be in New York all this coming week researching the work of Dr. Raymond Wheeler through his Big Book, which I talk about in many of my videos on the site. I won't be around during the day, but will be able to comment on the market nightly, as usual.
I've recorded six new videos and they'll be hitting the site over the next couple of weeks, hopefully. Then it's on to finishing the book.
There will be some other announcements coming during the next few weeks, so it won't all be dull and boring.
______________________________
Here's a video overview of the market for Tuesday, June 20, 2016:
Market Report for June 20, 2016
| | |
| --- | --- |
| | Make sure you zoom the video to full size with frame expander (arrows) in the bottom right hand corner and also set the quality to as high as your web connection allows. This is an HD quality video so the best viewing is at that level. |
_______________________________
The Charts Going into Monday
The US indices appear to be tracing out an ending diagonal. The cash and futures markets seem to be more or less in sync.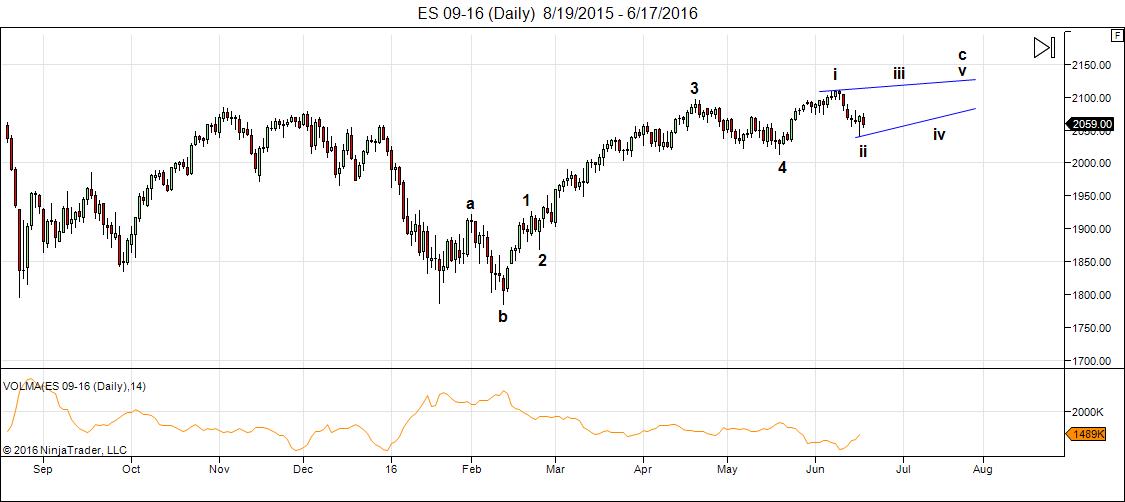 Above is the daily chart of ES (SPX emini futures) showing the large wave up (from Feb 11) and the projection for the ending diagonal. Because the wave up is an abc corrective wave (clearly shown on this chart), and the final wave up is in 3 waves (wave i), it must end in a triangle (in this case, an ending diagonal). I can't project an ending date, but you can bet we'll see it end on one of Andy Pancholi's cycle turns.
Ending diagonals end in a throw-over (they exceed the upper trendline), but they don't project a final target.
Look at the volume indicator at the bottom of the chart. This indicator is an EMA (exponential moving average of volume). You can see how volume in this wave up is getting thinner and thinner. It will get thinner still as this ending diagonal unfolds.

Above is the 60 minute chart of ES (SPX emini futures) showing most of the large wave up (from May 19) and the projection for the ending diagonal. Wave two on Friday dropped to exactly 62% of the distance from the top (an expectation from my original ending diagonal prediction of a couple of weeks ago) and we'll label this bottom wave two. I would expect a move up on Monday. I've projected a possible top for this wave at ~2130, but there are options. However, wave 3 needs to get to a slight new high. After that, we'll have a drop to wave 4 and a final wave 5 up to a top.
NQ (Nasdaq emini futures) has dropped to a double bottom (still needs to finish up this weekend) and I expect ES will drop to do the same at ~2041 (the 62% level I mentioned above) before turning up.
Ending diagonals end in a throw-over (they exceed the upper trendline), but they don't project a final target.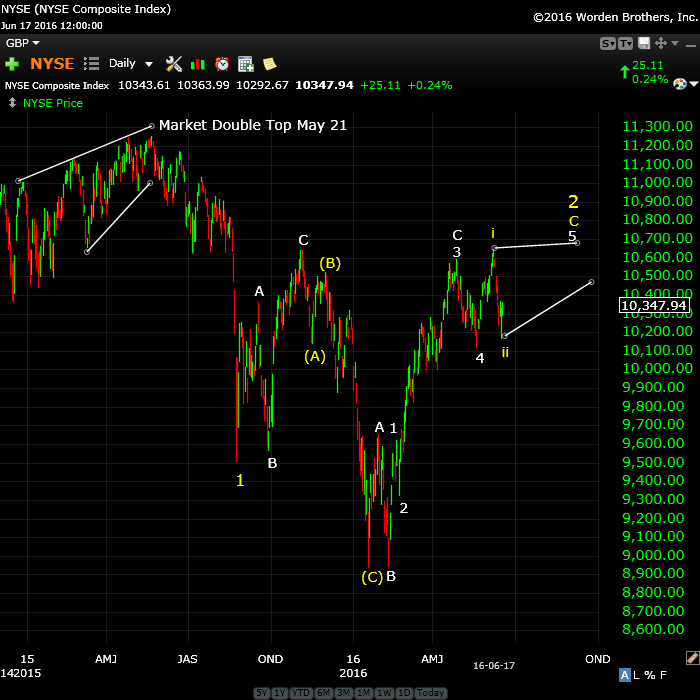 Above is the daily chart of NYSE (the largest cap index in the world) and the one we really need to pay attention to for the US market. It's showing a very obvious 2nd wave pattern, with the most recent wave up being clearly corrective. We reached the previous high at ~10648, as projected but the ending pattern is not quite complete. I've drawn in what I think is going to happen here—an ending diagonal.
The wave structure here is a little different than the SP500 because we didn't go to a new low on Feb 11. It's an overall ABC corrective wave up, with 5 waves traced out within it.
The next major move down is a very large 3rd wave. All we need to do now is finish up the final pattern (an ending diagonal expected here, too.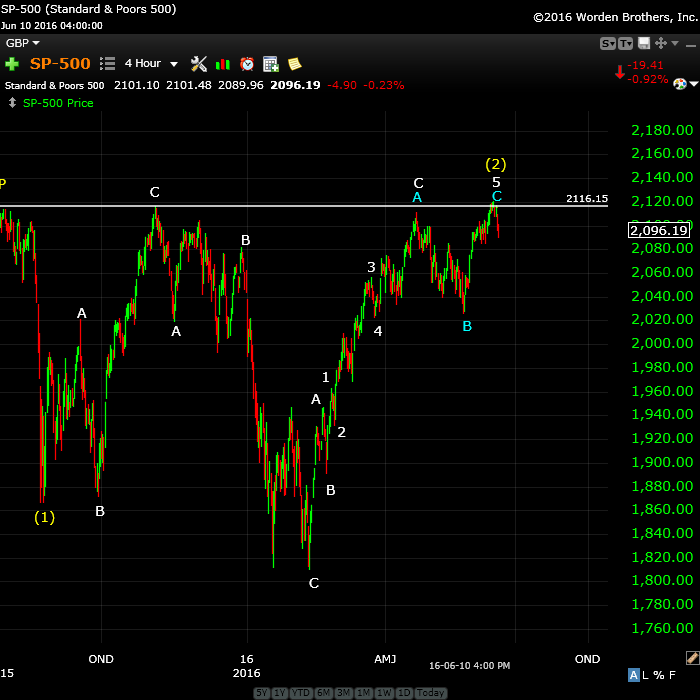 Above is a 4 hour chart of SPX showing the bigger picture. This has a similar look to the NYSE, although more elevated in price. I'm expecting to see a top to this second wave somewhere above 2116 (looking more like 2134 may be closer to the final high). A zoomed in chart is just below.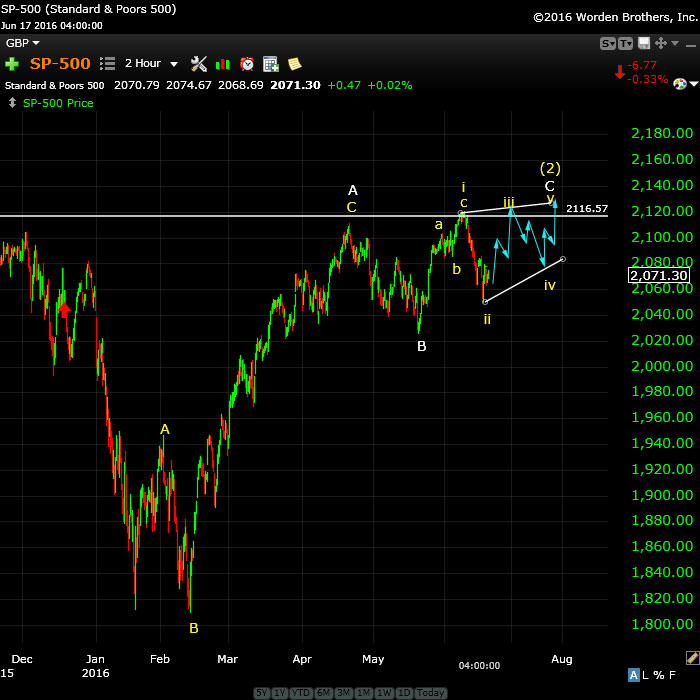 Above is the 2 hour chart of the SP500, showing a projected ending diagonal similar to ES. This isn't much more to say about this chart, since is should more or less follow the path and timing of ES. I've added a projected path for an converging ending diagonal, which is what I believe is starting to trace out. It's early yet, but I'll update the chart as the weeks progress.
I don't expect the SPX to reach up to a new all time high. However, it may get very close.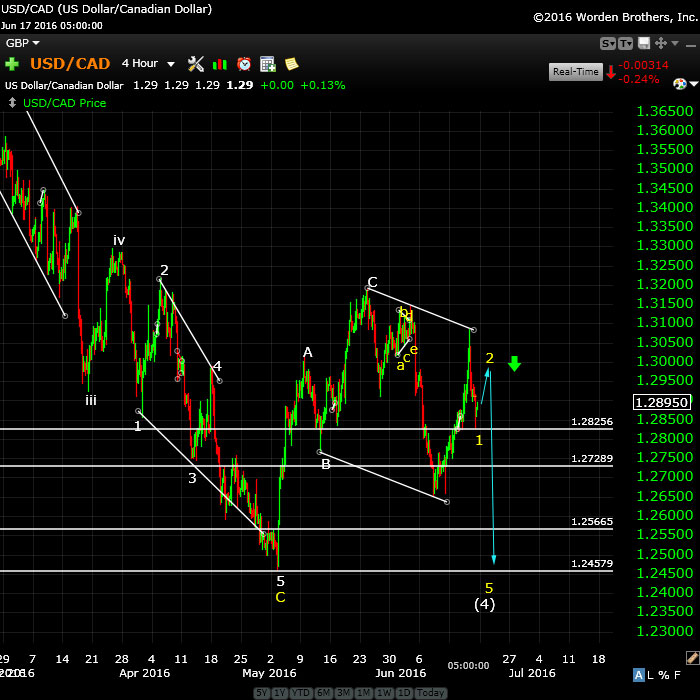 Above is the 4 hour chart of USDCAD.
This has been the most frustrating pattern to try to predict. It's traced out some sort of channel (not a complete triangle). The wave up from the bottom yesterday was motive, so this suggests we're finally going to get a motive wave down to finish off this larger fourth wave. There is a chance this wave might drop further than 1.24579 as we're not far from the previous fourth wave and this could be the continuation of the larger ending diagonal.
The next chart below zooms in tighter on what's happening.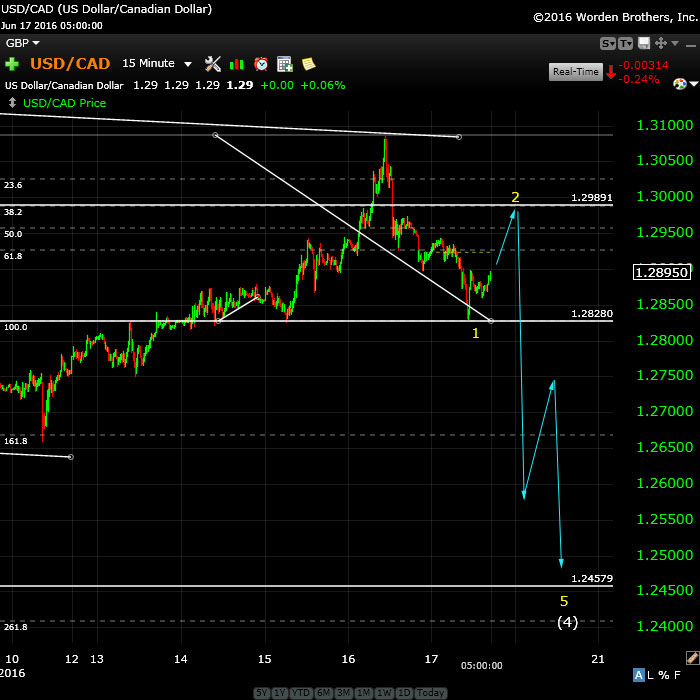 Above is a close up look at what I'm expecting in USDCAD with a 15 minute chart. Yesterday morning, we turned down (a major Andy Pancholi cycle date) and traced out 5 motive waves down for wave 1. We're retracing out a second wave this weekend to ~1.2989, where I expect a turn down in a very long wave sequence (5 waves) to finish off the larger fourth wave with a double bottom at ~1.24579.
After that, we'll turn up in a very large fifth wave, which will eventually take up to a new high for USDCAD.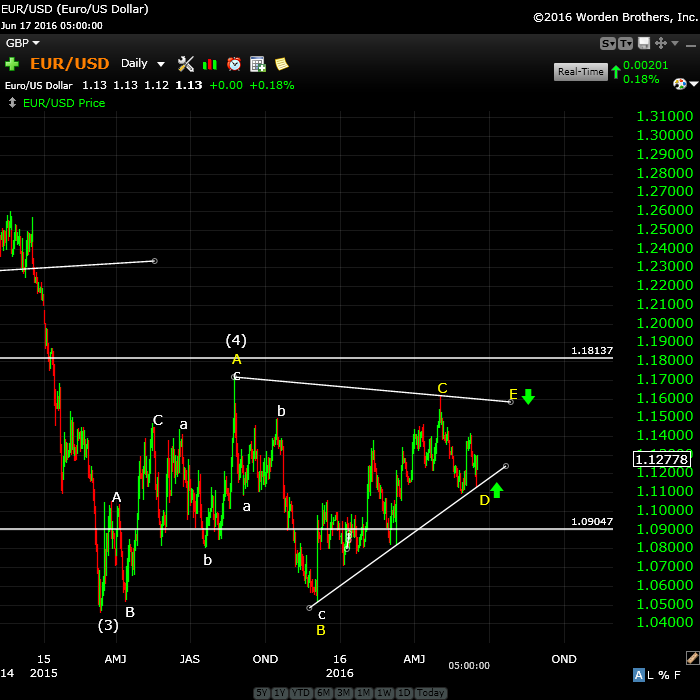 Here's the daily hour chart of EURUSD showing the "4th wave" of the major corrective pattern we've been in since March, 2014. We're in the final stages of a bearish triangle formation, with one more leg up to go to finish the E wave.
The EURUSD, as well as other USD currency pairs, completely changed direction with the most recent labor report On Friday, June 3. As I explain in the video, we had a failed triangle the day before and this led to a "truncation," or  shortened pattern from what I was expecting. As a result, I shortened the width of the triangle. I expect we  continue up here slowly to complete this final wave.
EURUSD should turn down after finishing the E wave in tandem with the US equities.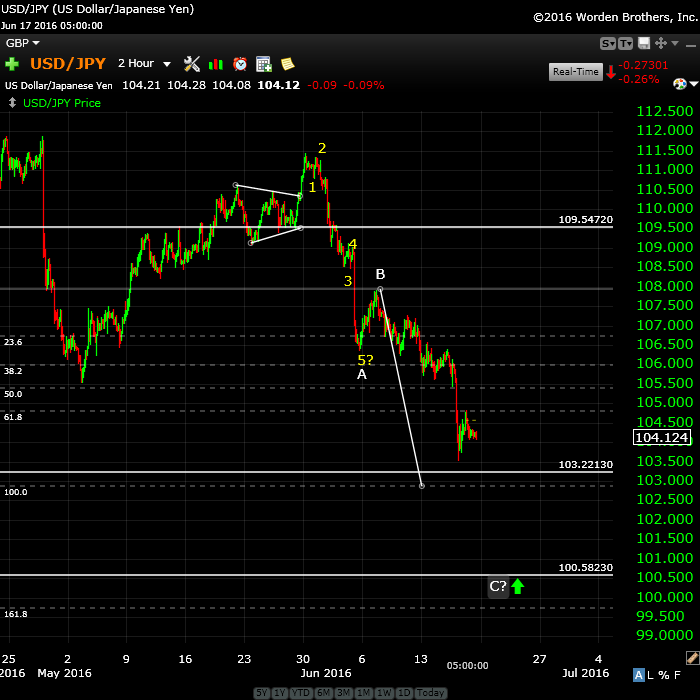 Above is the hourly chart of the USDJPY, which I've been stalking for the past while. I forecast the drop we're in now to 103.22130, but it looks like we're going to extend down to at least 100.5823 and perhaps lower. We're reaching down for the previous fourth wave. We may start to move a little slower now as the ending diagonal in the US indices unfolds. The direction remains down.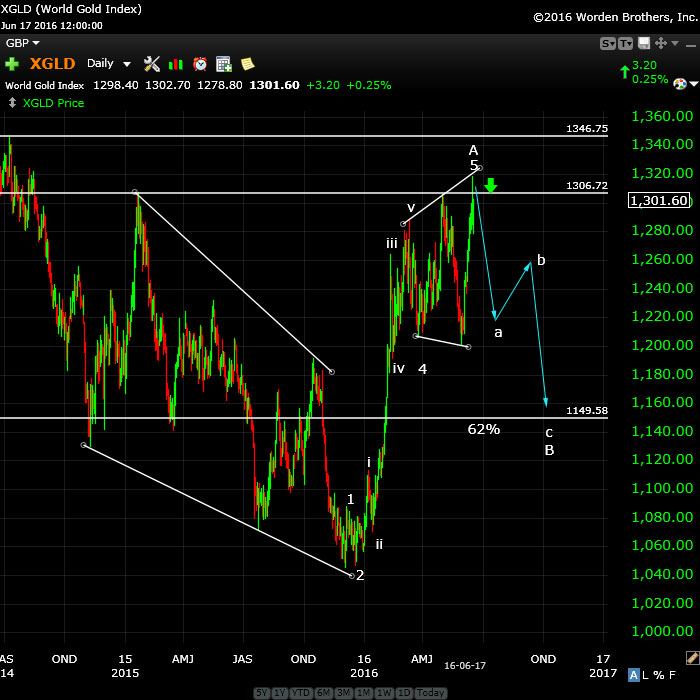 Above is the daily chart of XGLD (gold). We had a bit of a surprise the last week or so as we've completed an expanded ending diagonal now. I see so many of these three wave spikes at the end of waves. Well, here's another one. They're frustrating and usual.
We should turn down here to complete the ABC correction I've been waiting for, taking us close to 1149, before turning back up for a larger C wave to about 1600.
________________________
First Wave Down – What to Watch For
This weekend we're dangerously close to a top of a second wave (in the fifth of the fifth, with an ending diagonal pattern).
What we're looking for to confirm a turn is a motive wave down in 5 waves at small degree. After that, we should get a second wave that will retrace up in 3 waves about 62%. That's the preferred EW entry point. So don't feel you have to rush in. There'll be a much better opportunity at the second wave level than at the top and the risk is substantially reduced.
__________________________
History: The 1929 crash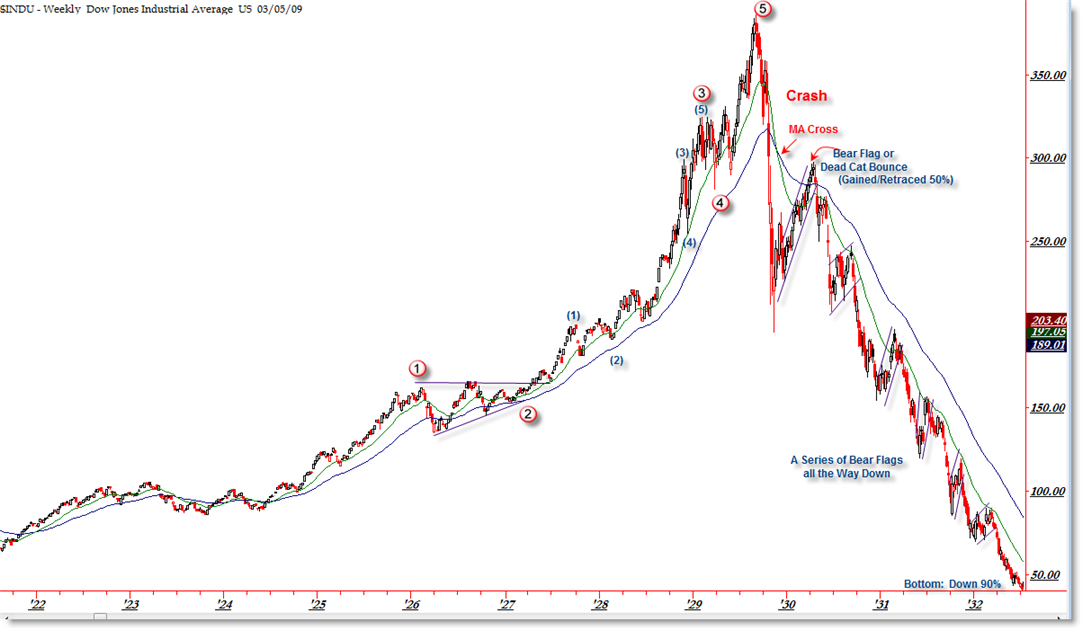 I think it's important to look at 1929 and the wave structure (above and below), which was the same as 2007—to a point. I will show the 2007 crash below in the "What If" section.
The wave structure of the 1929 crash was in 3 waves overall. There were 5 waves down from the top (the A wave) and then a very large B wave retrace. The final C wave down was a stair-step affair and lasted over 2 years.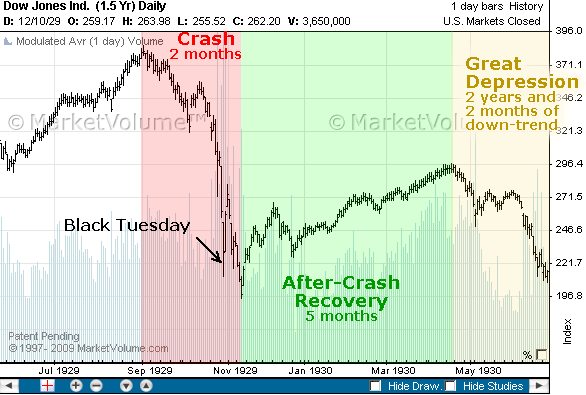 Let's look  a little close at the timing of the 1929 crash because the similarities to today are uncanny.
The market peaked on September 3, 1929 and then it took 2 months for the crash to actually happen (to reach the bottom of wave 5 of the A wave). The larger crash  which we always hear about began on October 23, 1929. Then there was that large B wave, which lasted 5 and a half months and finally (which I explain a little further in the cycles section below), the C wave which went on for more than 2 years. This might be the scenario we're looking at going forward.