Probability and Elliott Wave
At the risk of beating a dead horse to within an inch of its life, let me once again touch on the core of the Elliott Wave Principle.
"Without Elliott, there appear to be an infinite number of possibilities for market action. What the Wave Principle provides is a means of first limiting the possibilities and then ordering the relative probabilities of possible future market paths. Elliott's highly specific rules reduce the number of valid alternatives to a minimum. Among those, the best interpretation, sometimes called the "preferred count," is the one that satisfies the largest number of guidelines." — Elliott Wave Principle, Frost and Prechter
My philosophy on providing guidance on the market is not to provide several possible counts, but to provide the most probable count, with an indication, where possible, of when (or where price-wise) the count would be incorrect. Because, as a trader, how can you possibly trade multiple counts? If I were to tell you that either the market is "going up or down," or that there are several possible outcomes for the current situation, without taking a stand as to what is the most probable, this would be worthless information to a trader. I am a trader, contrary to many analysts out there who pretend to know EW.
I analyse over ten assets five days a week (ES, NQ, SPX, NDX, US Dollar, TLT, gold, WTI oil, EURUSD, AUDUSD, GBPUSD, USDCAD, USDJPY). You cannot make an accurate prediction in this market without looking at all these assets every day.
Let's look at the most recent case that I got "blasted" for: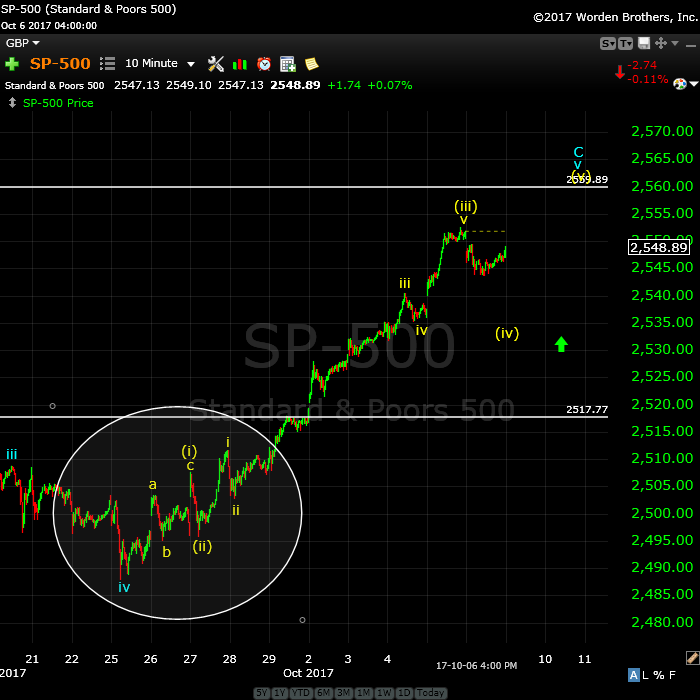 Above is the 10 minute chart of the SP500, showing the most recent wave up.
The circle on the above chart contains the set of corrective waves that identified the entire wave up as corrective, right off the bat. Wave (i) can only be classified as part of a corrective wave (it's in three waves). It looks like a zigzag; it is certainly not a motive wave (I've labelled it as an abc wave, but also as the first wave of the larger sequence). What follows is a wave in 5 waves (not complete yet) that ends where we are today. This would suggest that this entire sequence is corrective, in fact, a zigzag.
At the point at which I had a "preferred count" of an ending diagonal, after seeing the first set of corrective waves, there would be two options going forward (know that we're in a fifth wave):
We're forming an ending diagonal, as all waves in an ending diagonal have to be zigzags (and NQ has been in an ending diagonal for the past two months)
The wave up would become an ABC corrective wave and remain so right to the top. Because my larger count identifies this final wave up from about 2485 as being an ending fifth of fifth wave, this would be an anomaly (as we've never seen this structure as a final wave of a cycle plus degree wave sequence). On the other hand, the entire pattern up from 2009 is corrective.
I chose what I considered the higher probability outcome, which was the ending diagonal. However, I cautioned that if the price action exceeded 2517, then the ending diagonal would "break" and another option would be most likely. At the point that we slightly exceeded that level, I called the ending diagonal pattern dead (the horizontal line shows what would have been top of wave 3 of the ending diagonal, which is where I negated it). I believe that was the prudent, responsible thing to do, and certainly follows the core principle behind Elliott Wave.
The Elliott Wave Principle is exceptional in its ability to tell you when you're wrong. However, opinions seemed to be that I erred somehow. Perhaps it's because I'm not spineless and will take a position on a most probable wave count. Others won't. However, I'll put my success ratio up against anybody out there. Anybody.
I have little respect for those who offer opinions on my counts with absolutely no logic, evidence, or a chart to explain their position. These opinions are, as far as I'm concerned, completely worthless. Keep them to yourself. However, if you want to dispute a call and have a valid EW explanation as to why it's in dispute, this I will entertain. The rest is noise.
NB: I am not good at suffering fools.
_____________________
The entire wave up from Feb, 11, 2016  is a corrective wave. In fact, the entire wave up from the 2009 low is a corrective wave … a B wave. Here's the "personality" of the B wave from the Elliott Wave Principle":
"B waves are phonies. They are sucker plays, bull traps, speculators' paradise, orgies of add-lotter mentality or expressions of dumb institutional complacency (or both). They often involve a focus on a narrow list of stocks, are often "unconfirmed" by other averages, are rarely technically strong, and are virtually always doomed to complete retracement by wave C. If the analyst can easily say to himself, "There is something wrong with this market," chances are it's a B wave."
A "B" wave has to be a corrective wave, by definition. A "C" wave will follow the top of this "B" wave, and it's projected that the DOW will end under 3K. Based upon cycles and history (and even present economic fundamentals), this shouldn't be any great surprise.
"Those who do not remember the past are condemned to repeat it." — George Santayana
Gold Mining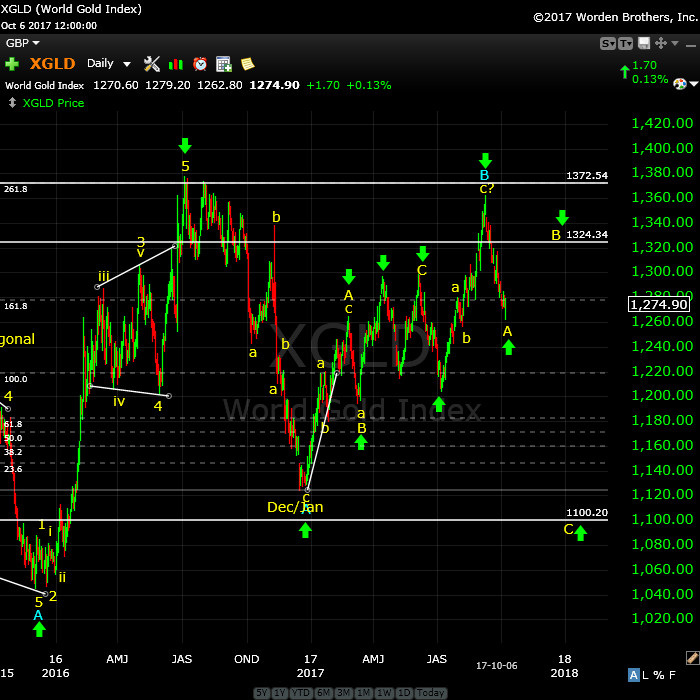 Above is the daily chart of gold, with green arrows to show my successful calls. The final two calls have yet to play out. This shows how the Elliott Wave Principle provides a highly predictable tool (in the right hands) to help you make money in a difficult market. These are the calls I make for gold in my Trader's Gold service.
All of the waves after January, 2016 are corrective. Yet there have been analysts calling for a rise into infinity. That's simply impossible without "clearing the deck" by going to a new low. Analysts make errors because they don't stay objective, simply don't understand EW, or can't recognize patterns (even the simple difference between a wave in '5' and one in '3.'
If we're going to get a wave up to the high 1500s, then we'll need to bottom and begin again, and that's exactly what the wave structure is telling us is going to happen. Look for the 1100 area as the top in the US market. It is likely to become a volatile market as this plays out.
Trade what you see, not what you think.
_______________________
Couldn't be happier … KK 2
Couldn't be happier …

The analysis and insight you provide is simply amazing!  I've been trading the futures and equity markets for well over thirty years and usually average around 5% monthly.  Since joining your Traders Gold Service two months ago, that number has better than doubled.  I couldn't be happier.—KK
The Market This Week
Here's the latest daily chart of ES (emini futures)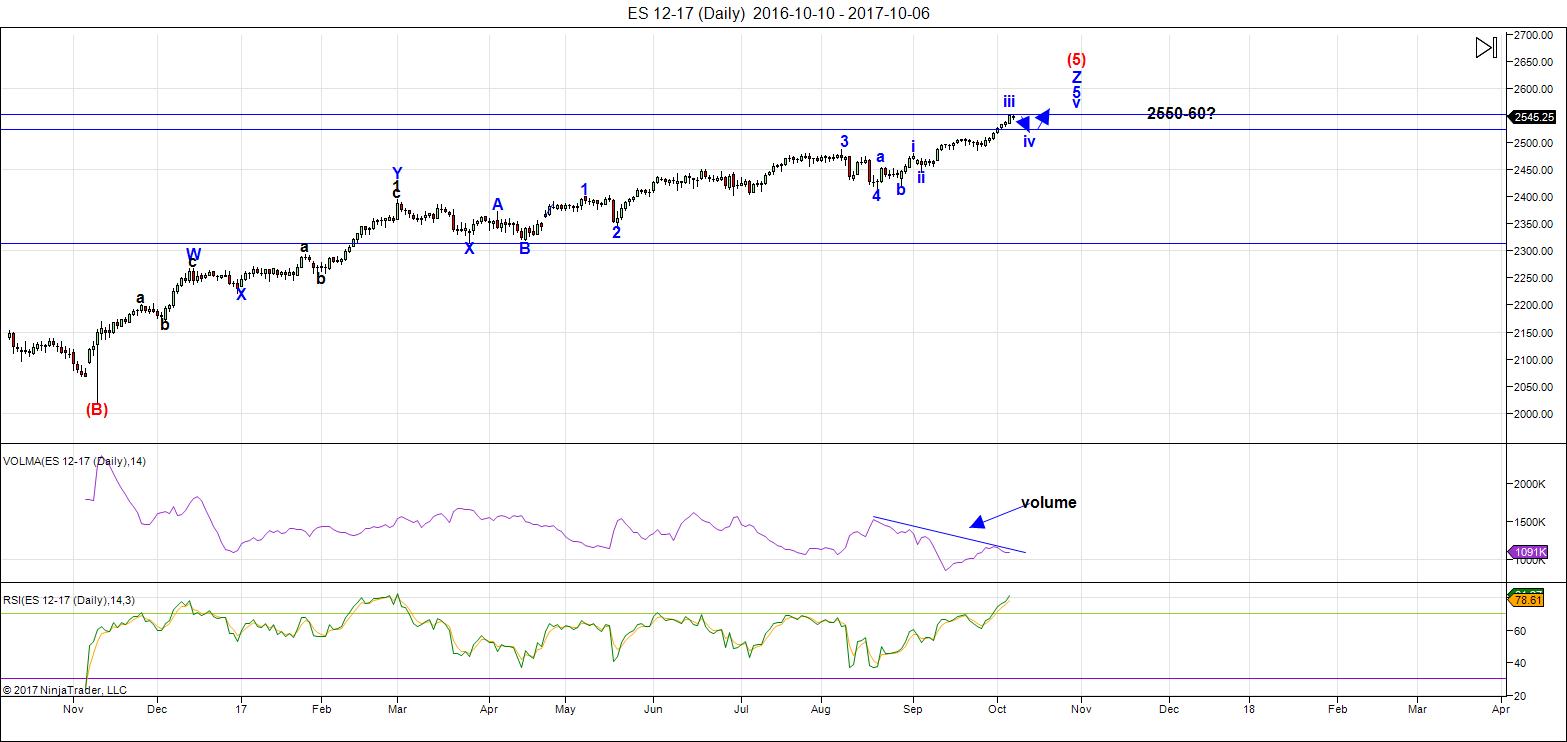 Above is the daily chart of ES (click to enlarge, as with any of my charts).
This past week ended up with a "blow-off-type" wave up in ES/SPX to new highs, while virtually everything else "sat."
The wave up appears to be yet another corrective wave (a zigzag) and it that's a case, there are at least a couple of ways to label it. However, the prognosis is the same. A final fourth wave is in progress, with the final fifth wave on deck. Look for gold, oil, the currency pairs, and a lot of other assets to follow.
The projection for the fourth wave low is approx. 2530. The level it settles at will go a long way in determining the final high. It will be limited by the fact that NQNDX is in an ending diagonal. The fifth wave of an ending diagonal cannot be longer than the third wave, so the Nasdaq side of the equation could be considered a "marker" for the top.
Volume: Note that for some time now, volume has been expanding with selling, and drops considerably when the market heads back up. This is yet another signal of the larger, impending top. Volume should increase during this fourth wave down. It will drop off suddenly towards the top of the final fifth wave top.
Summary: The final wave five in ES, NQ, and SPX is in progress. The subwaves are calling for a continuation of final smaller fourth wave down to the 2530 area and then a final rally to the top (to at least 2550). The top will be limited by the ending diagonal in NQ.
___________________________
Trader's Gold Subscribers get a comprehensive view of the market, including hourly (and even smaller timeframes, when appropriate) on a daily basis. They also receive updates through the comments area. I provide only the daily timeframe for the free blog, as a "snapshot" of where the market currently trades and the next move on a weekly basis.
______________________________________
Sign up for: 

The Chart Show
Wednesday, October 18 at 1:00 pm EST (US market time)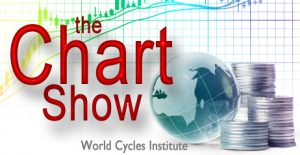 The Chart Show is a one hour webinar in which Peter Temple provides the Elliott Wave analysis in real time for the US market, gold, silver, oil, major USD currency pairs, and more. You won't find a more accurate or comprehensive market prediction anywhere for this price.
Get caught up on the market from an Elliott Wave perspective. You'll also get Andy Pancholi cycle turn dates for the SP500 for the balance of the current month. There'll be a Q&A session during and at the end of the webinar and the possibility (depending on time) of taking requests.
All registrants will receive the video playback of the webinar, so even if you miss it, you'll be sent the full video replay within about an hour of its conclusion. For more information and to sign up, click here.