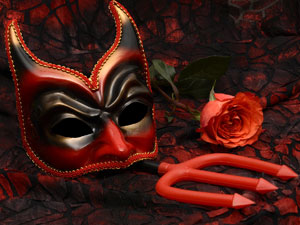 Down We Go to a New Low
The top of the third wave (a corrective B wave of an expanded flat, apparently) on the daily chart is in. I'm taking a leap when I say this, because technically, in EW Theory, you don't call a trend change until the second wave is in place and you have a turn to the downside (the direction is reversed in a bullish market).
But, in this situation, since we have 5 waves up in the final wave of the previous rally, it's clear we have a trend change. Elliott Wave methodology requires ignoring the first wave and trading the second wave. It is a risk averse way to trade a new trend. It lowers risk dramatically and increases your profit-to-trade ratio.
News flash: My job is to reduce risk in the market.
Let me say it again: Don't pick tops. It hurts too much!
But I get unsolicited emails telling me I'm stupid and I missed the top. No, technically the top is not yet in. Sorry, that's the methodology. If you don't understand it, or haven't read the Elliott Wave Principle book, I honestly don't need an email telling my how ignorant you are.
Some people berate me because my timing is wrong for forecasting the top. So what? It makes no difference. You should not trade tops. You trade the second wave once a top is in place.
I have lost more more money trying to trade first waves that any other other pattern, so I don't do it.
Let them run. If you happen to catch them, it's an added bonus, but remember to get out at the right time, because there will always be a second wave that will retrace two thirds of the initial move.
But a lot of people simply don't "get it." They like trading tops. It's the old FOMO (fear of missing out) phenomenon at play. It's a every strong psychological negative influence and a major reason most traders lose money. "Don't pick tops," I say, but those words get lost in the wind.
I would certainly be incompetent if I promoted picking tops, but in a situation like this, sure enough, I get unsolicited emails from readers of the free blog attempting to make sure I know how ignorant they are of Elliott Wave Theory. It's been a week to remember.
So, here are some reasons for NOT trading the first wave:
You cannot know whether you have a first wave until it fully traces out, so the risk factor of trading it is extremely high
In this present case, the wave count is questionable and the wave measurement is, too. I have lost more money trying to pick tops or trade first waves than any other type of trade.
There is always a second wave and it retraces 62% (in three waves). You end up missing the 38% from the top to the 62% second wave level … so  what? When you have 5 waves down and a bottom in place, you can trade the second wave and make the 62% up to the top of that wave, which is twice the 38% that you missed.
Since three waves up in a second wave is corrective and you know that you've going to get a huge third wave down from there, you can be much more confident in your trade and wager more, as a result.
It is WAY less stressful.
In any case, we have a top in place. We're looking for a bearish pattern to target the previous fourth wave of one lesser degree, down around 1800, as I've been saying for about a year now.
We're doing just fine here. I don't need your emails telling what you don't know. You can find the link to the Elliott Wave Principle and other pertinent books on my recommended books page.
Good trading.
____________________________
Elliott Wave Basics
Here is a page dedicated to a relatively basic description of the Elliott Wave Principle. You'll also find a link to the book by Bob Prechter and A. J. Frost.
______________________________
US Market Snapshot (based on end-of-week wave structure)
This chart is posted to provide a prediction of future market direction. DO NOT trade based upon the information presented here (certainly NOT from a daily chart).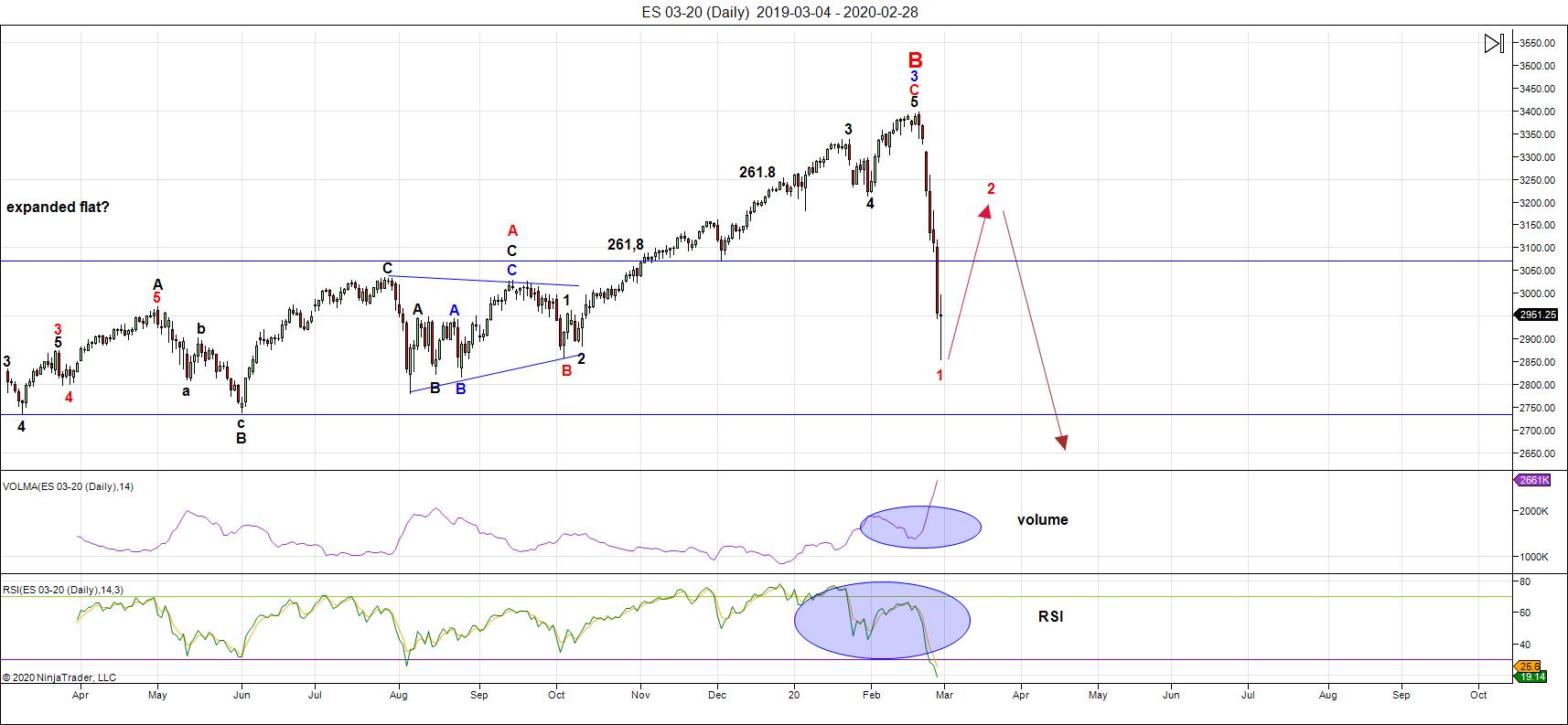 Above is the daily chart of ES (click to enlarge, as with any of my charts).
The intermediate top is in (meaning we'll eventually have one more market high after the current fourth wave drop). As of this weekend, we've completed the first wave of a 5 wave bearish sequence.
If you want to know the path with projected wave ends, sign up for the Chart Show on Wednesday (details at the bottom of the page).
In the Elliott Wave system, you tend to ignore the first wave in a sequence from a trading perspective, because other than attempting to count waves, you often aren't sure of the length of the wave. So, you wait for the second wave retrace to 62% of the first wave and enter there. It lowers risk, provides much more confidence in the outcome, and sets you up for the third wave, which will be 2.618 times the first. Bombs away!
But you have to put the FOMO (fear of missing out) syndrome on hold!
The current situation is a one-of-a-kind, because we're set up as an expanded flat, but the B wave of this flat is way longer than typical, at over 170%  of the length of the A wave (the norm would be about 138% max). So, you have to throw out some of the usual guidelines for length (relating to the flat pattern).
Flat pattern guidelines aside, a fourth wave retraces to the area of the previous fourth wave of one lesser degree. This is the 1800 area in SPX.
The message here is that (again, as I've been saying for many months), all asset classes (even international exchanges, like TSE, ASX, DAX, etc.) I cover are going to turn at the same time. They must all end up at their individual pre-identified downside targets at roughly the same time.
This is the fourth wave playing out, which signifies that there will be one more wave up to a minimal new high after we bottom. Expect central bankers to react and flood the market with more debt in a feeble attempt to halt the inevitable. They will ultimately fail.
___________________________
Summary: The B wave of the flat has topped and dropped in a first wave of a five wave sequence. I expect many major exchanges around the world to complete the same bearish pattern over the next 2-3 months.
We're going to drop from here into a large fourth wave. Look for the ultimate bottom to be somewhere around the area of 1800 in SPX.
Once we've completed the fourth wave down, we'll have a long climb to a final slight new high in a fifth wave of this 500 year cycle top.
_________________________________
Trader's Gold Subscribers get a comprehensive view of the market, including hourly (and even smaller timeframes, when appropriate) on a daily basis. They also receive updates through the comments area. I provide only the daily timeframe for the free blog, as a "snapshot" of where the market currently trades and the next move on a weekly basis.
I do a nightly video on the US indices, USD Index (and related currency pairs), gold, silver, and oil) right down to hourly charts (and even 5 minutes, when required).
______________________________________
Sign up for: The Chart Show
Next Date: 

Wednesday, March 11 at 5:00 pm EST (US market time)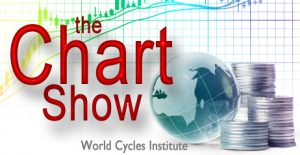 The Chart Show is a one hour webinar in which Peter Temple provides the Elliott Wave analysis in real time for the US market, gold, silver, oil, major USD currency pairs, and more. You won't find a more accurate or comprehensive market prediction anywhere for this price.
Get caught up on the market from an Elliott Wave perspective. There'll be a Q&A session during and at the end of the webinar and the possibility (depending on time) of taking requests.
For more information and to sign up, click here.
"I think you are the only Elliot Wave technician on the planet who knows what he's doing."
m.d. (professional trader)
All registrants will receive the video playback of the webinar, so even if you miss it, you'll be sent the full video replay within about an hour of its conclusion.