The Road Ahead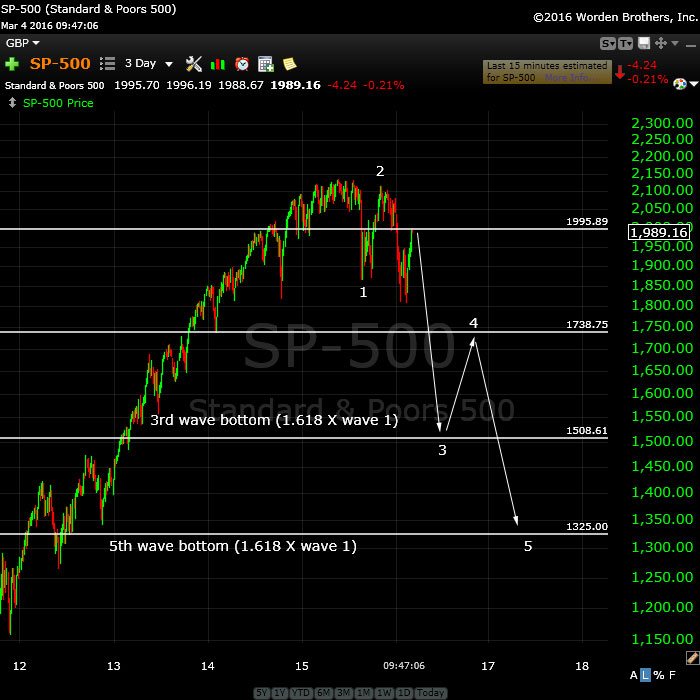 Above is a 3 day chart of the SP500 showing the road ahead. This would be the third wave of the first (of the third) down. You can can see the first and second wave marked. We're beginning the third wave down.
_____________________
Update Friday, March 4, 9 AM EST (before open)
This is exactly what I was expecting. Eur/usd turned yesterday. It has now done one motive wave up in 5 waves and with the labor report, retraced 62%  in  2nd wave. It's poised to head up in a third wave.
Futures popped to a new high. For "pioneers," I would wait for futures to either do a 62% retrace or a double top (more likely). Cash has to now get to the target and I'd expect that to happen shortly after the open. Then it should be down, down, down in both cash and futures.
USD/CAD should also head up from here.
_______________________
First Wave Down – What to Watch For
Tonight we're dangerously close to a top of a second wave (in some cases, a 4th wave).
Let's look at the SP500. When we turn over, we should drop like a stone. A good index to look at in terms of what motive looks like is IWM – perfectly formed motive waves.
The first wave down will be in 5 waves and will likely drop to about 1890 SPX (previous 4th wave). After that, we should get a second wave that will retrace in 3 waves to about 1958 (62%). That's the preferred EW entry point. So don't feel you have to rush in. There'll be a much better opportunity at the second wave level than at the top and the risk is substantially reduced.
______________________________
Targets
Here are the targets for the major indices as I see them. We're on our way in SP to a second wave (62% retrace) while NDX seems to be focused on a 4th wave. Both turnovers lead to dramatic drops.
Keep in mind that they all have to get to their targets. The more bullish assets may exceed them, but the stragglers are the ones to watch. I'm projecting Friday morning as a most probable turn date. There's a labor report due out an hour before market open.
ES: 1988
NQ: ~4367 (revised as it's a fourth wave)
SPX: 2000
DOW: 17,005
SPY: 200
IWM: 110.19 (IWM tonight is at the 38% retrace level of the entire wave down). I'm not sure why that is, but it could be the turnover level for this index—we'll figure out the numbering later.
NYSE: 10,000
GDOW: 2244
This is a corrective wave we're in. There is nowhere else to go but down (after it gets this rally out of its system). As they might say in some US election campaigns … there's is no path to a new high.
____________________________
Update Wednesday, March 2, 730 am EST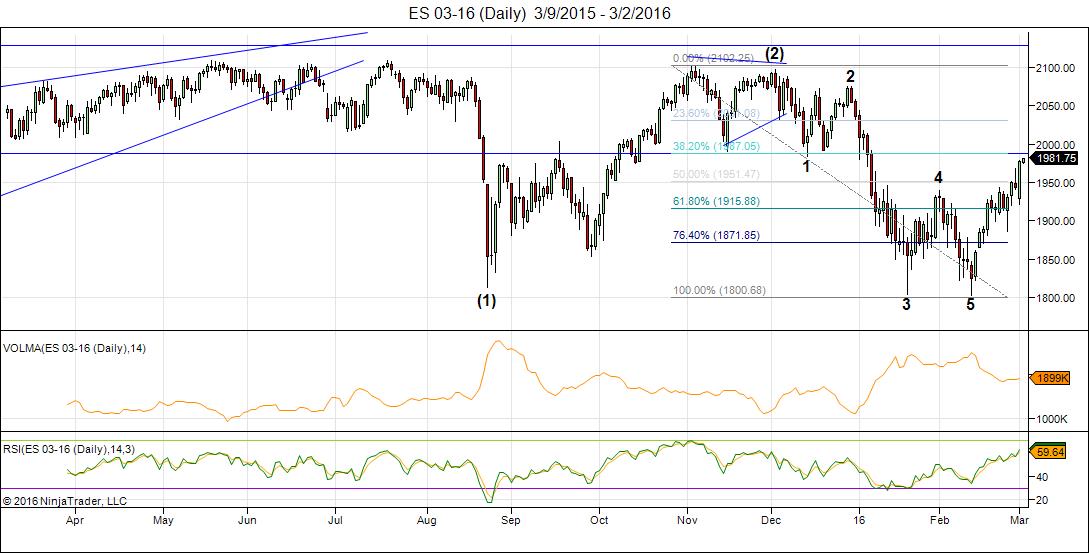 Here's the daily chart of ES (SPX futures) I happened to "back out" the ES chart to a daily and found that it's the best daily chart of all of them because it has a really clear picture of where we are. We've completed a full motive wave down (again the 5th wave is short and overlapping—could be an ending diagonal, but in any case, suggests this is a fourth wave). The large retrace we're at the top of has now retraced almost 62% to 1984. However, the 62% market is at 1988, so this is not technically a second wave although exceptionally close.
The other thing that happened is that there was a bit of a "rejection" at 1984 and I'm sure this has to do with the fact that the bottom of the first wave is at 1983.50. So we've retraced into the area of the first wave but only by 50%.
This is important because if we retrace into the first wave, this wave up can no longer be a 4th wave; it has to be a second wave and that would mean a third is to come. So it still makes it questionable as to what wave we're in. Perhaps we'll get a better idea this morning.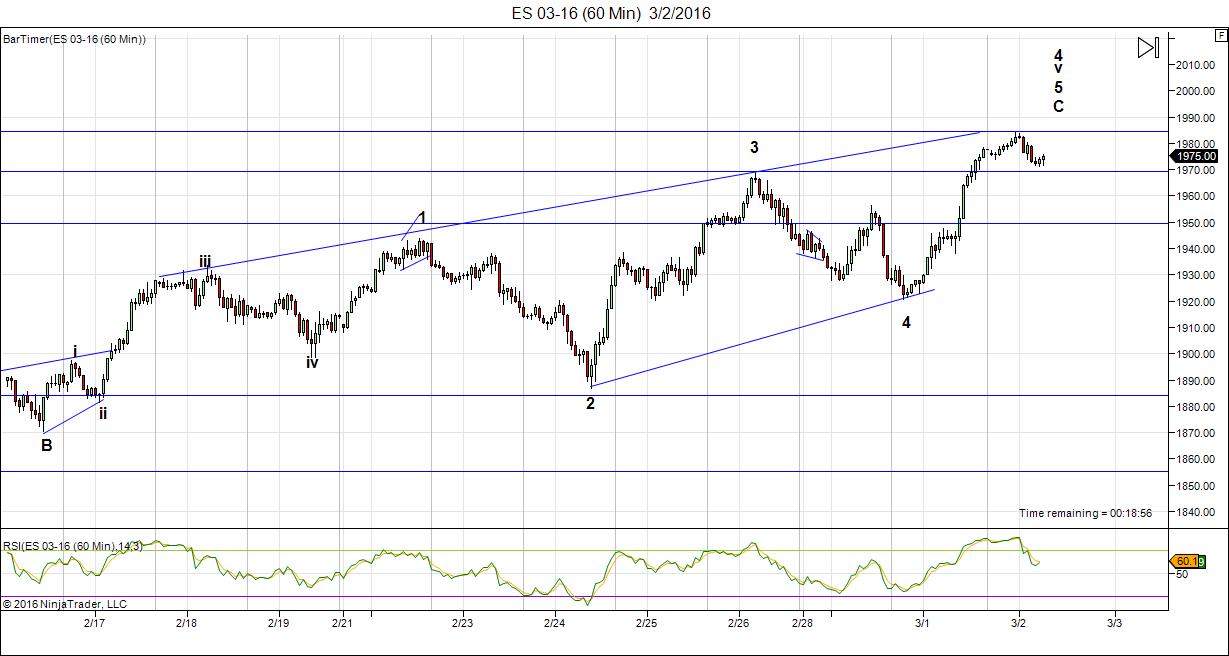 Above is the 60 minute chart of ES showing what we accomplished overnight. You can see the large ending diagonal. We appear to have done a small 4th wave in the last few hours and are poised to do the fifth wave up. Because of the nature of ending diagonals, I have no firm upside target. We should at least meet the upper trendline and usually we'd exceed it.
The DOW appears to have another small leg to go to hit the upper trendline. I also note that eur/usd may have bottomed (it still could spike down one last time while equities spike up, but it's close to a bottom, nonetheless). USDCAD looks like it has one more spike down to go.
Note that I had a cycle turn date yesterday and there's a stronger one of March 5, which is Friday. So there are a few options in terms of what happens next short term and I'm afraid I can't offer much more insight than this.
If you're looking for a stop entry, it would be just below the fourth wave, slightly below the previous high, at about 1967 ES.
Good luck!
__________________________
Update Tuesday, March 1, 12:15, EST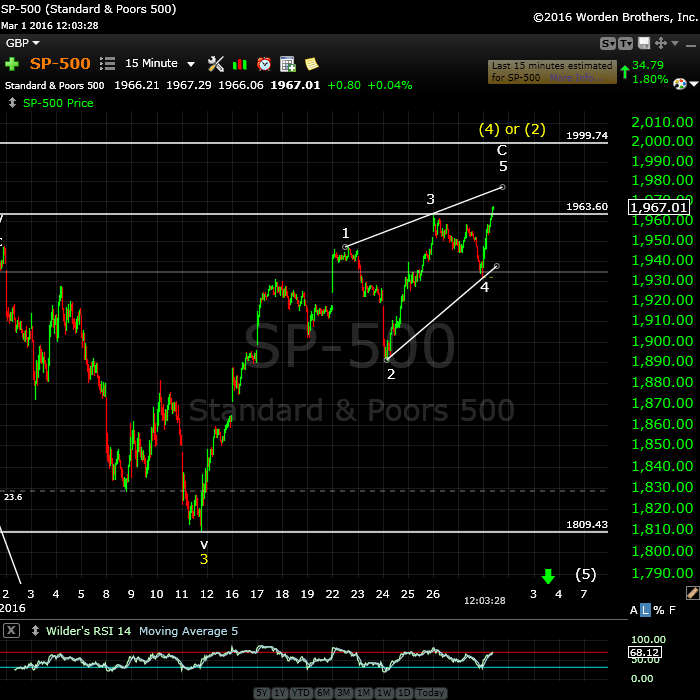 The 15 minute chart of the SP500. Now I'm seeing ending diagonals forming on all the cash indices (as well as futures). I don't have upside targets for these as they generally exceed the upper trendline (they do a "throw-over) and end sharply. They can immediately retrace to the bottom of the pattern (in this case 1890 or so).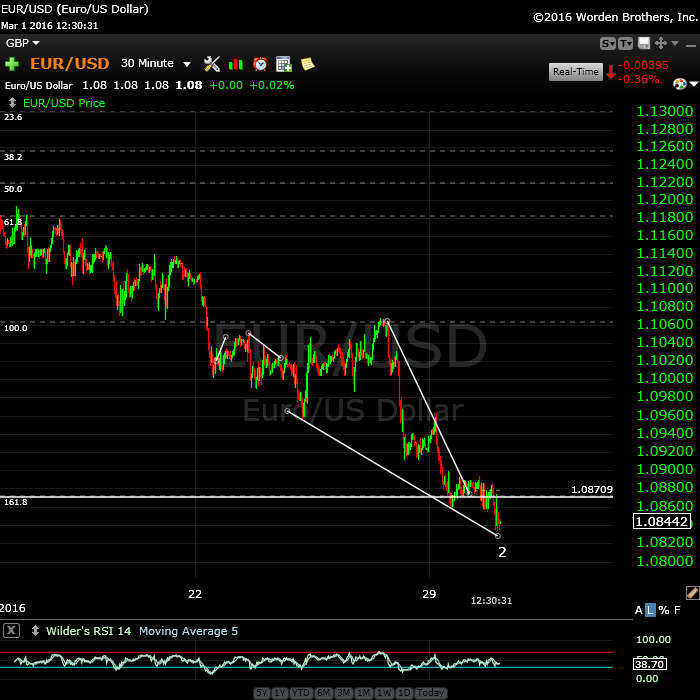 And here's a chart of the euro (3o min) with it's incredibly sharp ending diagonal that's virtually at an end and just over the measure target (horizontal line).
_______________________
Update Tuesday, March 1, 10:15, EST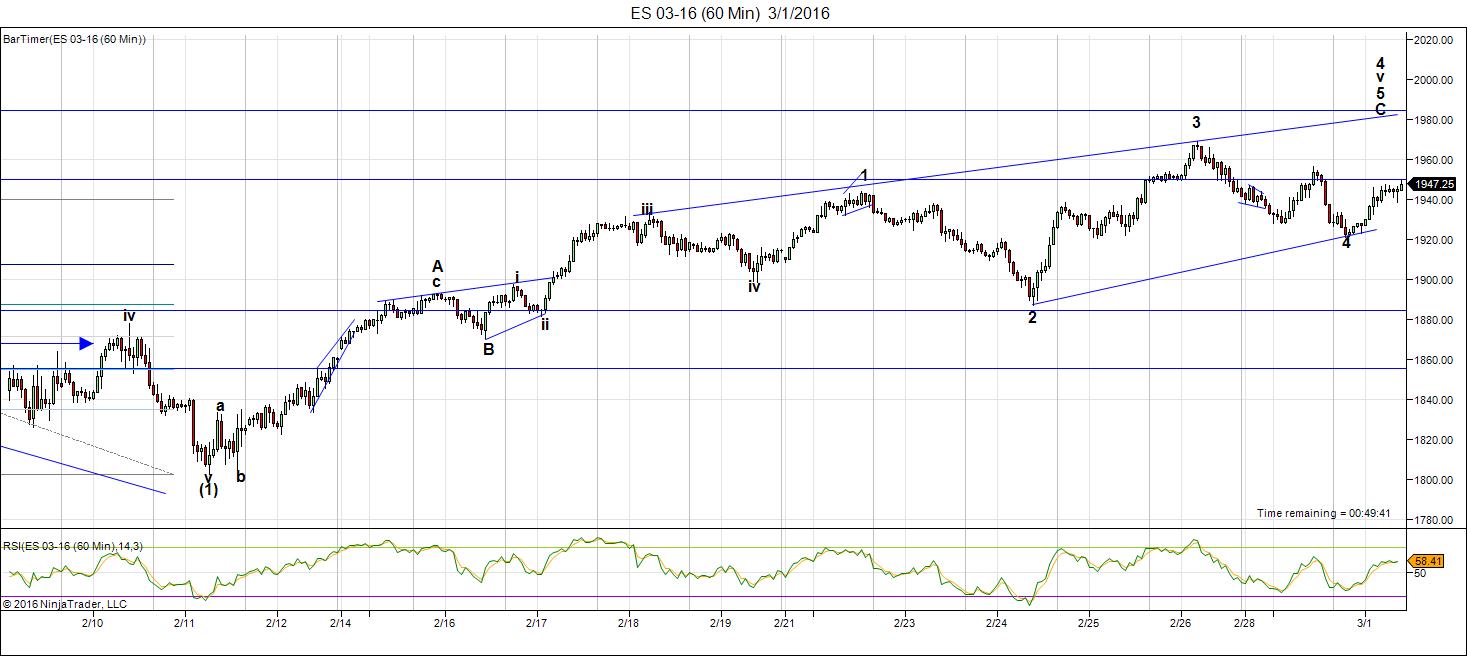 Above is the 60 minute chart of the final leg of ES. I am still counting one more leg up to go in an ending diagonal. The first wave down from 3 looks motive (the closer you get to a top, the more motive waves tend to look), but has a B and C leg down after it, which makes it a 3. There is an outside possibility, that we could just correct to the top of the B wave and create a double pronged wave 2 and head down. I think that a much smaller possibility as I don't see another obvious option for the ending diagonal.
Currencies appear to be bottoming.
____________________________
Update Monday After the Close, Feb 29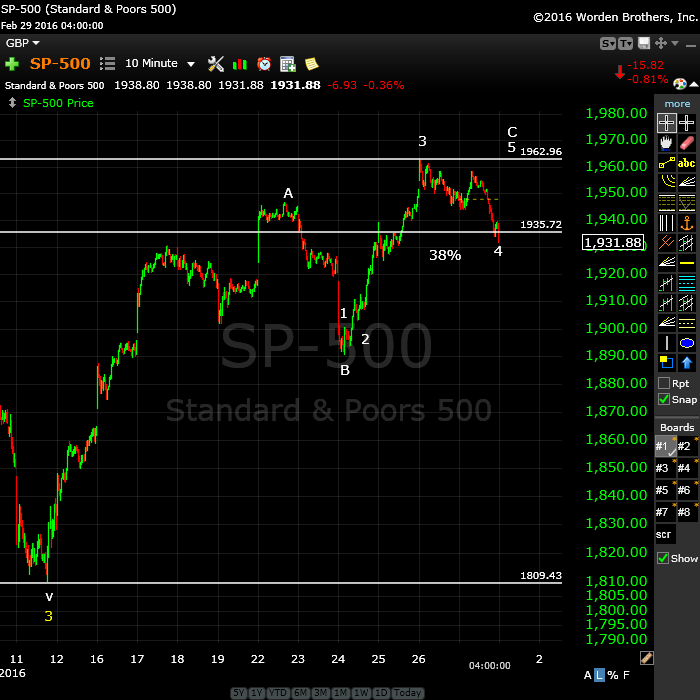 Above is the 10 minute chart of the SP500. We have a corrective (ABC) wave up in 3 waves. The C wave shows 5 waves almost complete. The horizontal line at 1935.72 is at the 38% level, which is a common retrace level for a 4th wave retrace. We've come down in a very clear 3 waves. Watch for a turnover if we reach a new high first thing tomorrow.
I now have a cycle turn date for both March 1 and March 4 for equities.
_____________________________
Update Monday at the Open, Feb 29
This continues to be the most brutal market I've ever seen (mostly in futures and currencies, like the euro).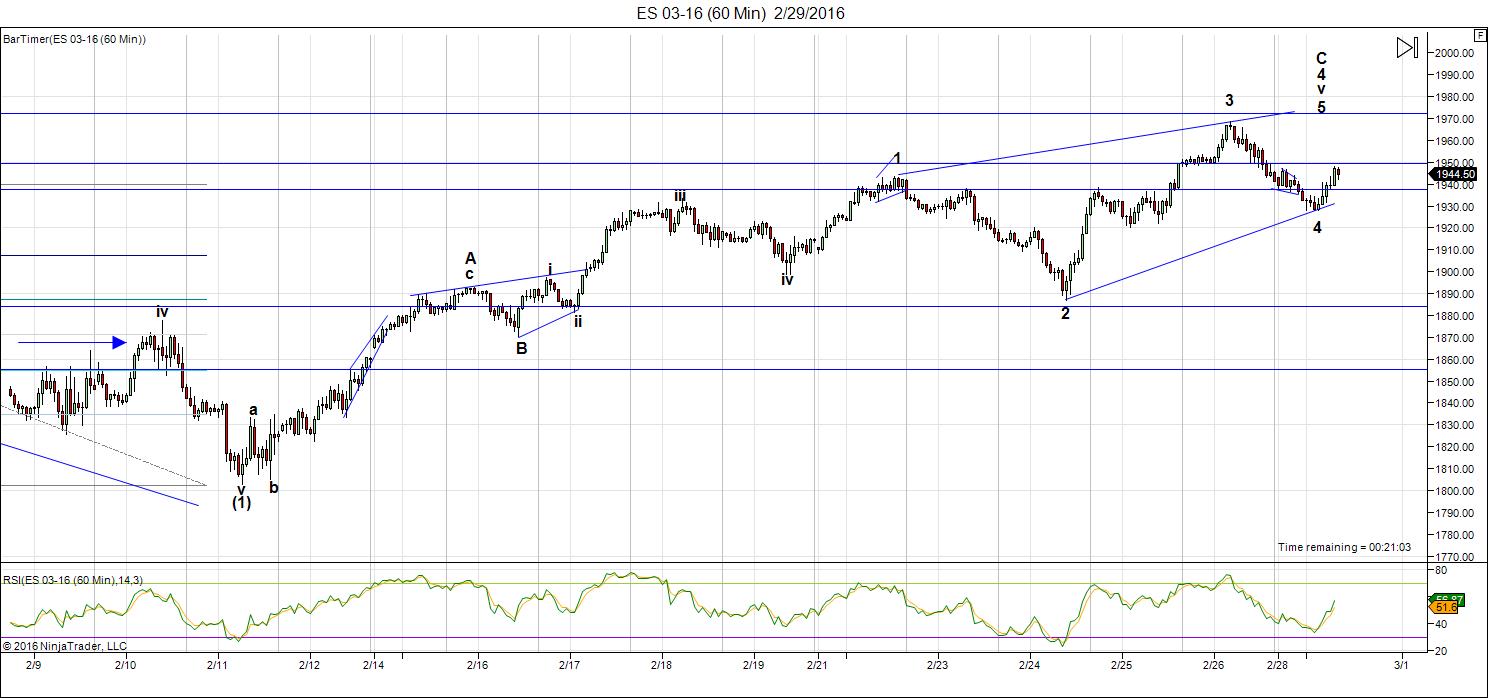 Futures overnight completed an ending diagonal to the  downside (as part of a wave 4 leg down) and now are completing what appears to be an ongoing ending diagonal to the upside. Above is the 60 minute chart of ES (emini SPX futures) showing the large ending diagonal. These things keep appearing at just about every wave end and it makes this market extremely difficult to call and trade. Be really careful. I expect a new top here but I don't have an upside target, as ending diagonals stop when they want to and do a dramatic reversal. You just have to look at the euro from last night at about 3am EST to see the sharp reversal (below).
This last wave up should be in three waves. We are close to a major top.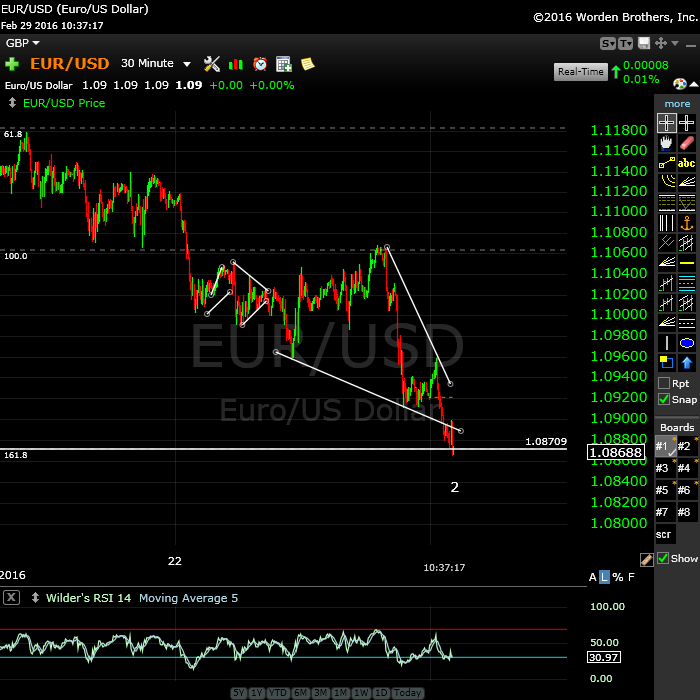 Above is the 30 minute chart of the eurusd. It's at the projected target I noted in my the video on the weekend.and putting in yet another ending diagonal. It also finished a smaller ending diagonal to the upside overnight and you can see the sharp reversal just above 1.096. I think we'll see one more small spike up within the trendlines before a final leg down to a new low. Then everything should reverse.
SPX; My projection for the SPX hasn't really changed. It appears to be in a final fourth wave. It's come down so far in 3 waves, which means it should retrace to the top. It may come down a little further before it heads up.
___________________________
Original Post (Saturday, Feb 27)
Governments and Our Money—A Really Terrible Cocktail
Well, the G20 concluded and absolutely nothing happened, not that I was expecting anything. You can read about it in zerohedge. The market was likely expecting a lot, but now cycles have taken over, the mood worldwide has turned decidedly sour, and central banks are simply out of ammunition.
It's absolutely scary when governments get their hands on our money, as they've had outright since 1971. Inflation has been rampant right across the world and now, of course we have the largest debt bubble in history on our hands. It will unravel in its own time (over the next 5 years or so), but it will do it in a predictable manner in the major markets … and Elliott Wave manner, with motive waves down for the first leg, then a large B wave, and a final drop to the bottom.
Governments have now destroyed our currencies, are in the midst of currency wars, and have no idea of the damage they are doing to international relations, which will eventually lead to another world war, even though its happened over and over again in history … yawn.
Can we do anything to stop it? Likely not, but we can take steps to get out of the road and ensure that those around us stay safe and sound while our politicians act like "children let loose." I think the opportunity is to use this new resource (the internet) to help educate all those who want to learn the truth and perhaps the truth will win out.
I would also like to have some long term affect on the banksters continually stealing from us.
If you want to know more, this past week I happened across the very best explanation of the international monetary system, its history with gold, and how governments inflating for their own ends have destroyed our future. The world is in one hell of a mess.
It's free, only about 130 pages, an easy read and from the Mises Institute. It's entitled "What Has Government Done to Our Money?" I'll add the link to the appropriate spot in the forum.
Global Cooling
If you missed my interview on FXStreet with Dale Pinkert, it's here (and in the forum). He ended up calling it "Global Cooling," although I had no idea we were headed in that direction.
The Gap
If you were with me in November of last year when we were watching the NYSE and GDOW trying the reach a 62% retrace level, you may remember my comments about all the major indices having to eventually reach their targets before they turn down en masse. Here we are again.
We're so close to a turn down, but there are still some stragglers. The Nasdaq has not quite tested the previous 4th wave high. Neither has GDOW. IWM is just shy of the 38% retrace level (cents away), but yet we're not going to turn until they get there. So stand by. It won't be much longer.
For over a week now, I've been advocating we're headed for a fourth wave top in the US indices and that the SP500 is about to drop 300 points. This is still my position. The count continues to support it. In fact, the entire market (currencies, gold, etc.) is supporting it. I look at a lot of charts when I do my work and, as I stated in a comment Friday (and have been saying since last fall), the markets are all moving as one. That being the case, it takes them longer to turn (because 'the whole world' has to turn) and head in the opposite direction at the same time. This is what I believe we're witnessing now.
Full moons always elevate the psyche and this week, we certainly saw that in the blog. Let's just keep our eye on the ball. EW analysis works. I've never seen it fail.
Summary
Here are the indices that are at the top of what appears to be wave 4: NQ, ES, YM, SP500, IWM, NDX, Nasdaq Comp, RUA, DOW, SPY, NYSE, GDOW, DIA … to name a few. Currencies appear to be at inflection points.
Stocks at the top of retraces: FB, AMZN, NFLX (wave 4), IBM, BLK
AAPL is in wave 4 of 3 with a long way down yet to go. So is GS (good!) There seem to be a lot of stocks in a third or 4th of the third at the moment.
Timing of the turn: I note that we have had a major turn at the beginning of every month since September of last year. Wave 4 came down in two weeks and it's rallied to this point for the past two weeks. The time factors should be similar. We've completed 5 waves up in the most recent wave. 5 waves denotes a wave end and a trend change.
My Availability
With that in mind, I will answer blog queries if they ask reasonable questions and don't make me guess what asset you're talking about, or suggest that I go and do some work looking up old information. I'm here to help understand the market, and more than that, have a dialogue about the larger implications of the meltdown we're in (on the world, and you) in general. That's what the forum is for, in particular.
I'm more than willing to give of my time and knowledge in understanding Elliott Waves and how cycles affect all aspects of our lives, but quite frankly, I get tired of the comments suggesting I have no idea what I'm talking about. Save them.
I will likely be available less frequently during market hours, as my book is getting further behind and I must get it finished. Distractions must be put on the shelf for the moment. I will answer what I can after hours.
That you Wouter for stepping in and attempting to bring back some sanity while I reviewed some charts.
The video this weekend focuses on the tiny gap that still exists between our target in some indices and where we left off Friday. I'll also post a couple of pertinent charts below.
Here's a video overview of the market as at Saturaday, February 27:
| | |
| --- | --- |
| | Make sure you zoom the video to full size with frame expander (arrows) in the bottom right hand corner and also set the quality to as high as your web connection allows. This is an HD quality video so the best viewing is at that level. |
_______________________________
Here are some pertinent charts relating to "the gap."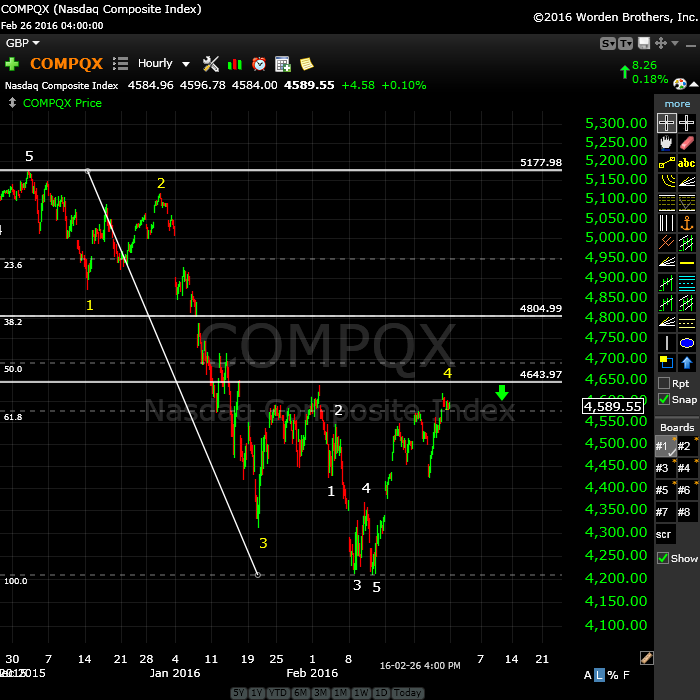 Above is the one hour chart of the Nasdaq. You can see that the 4th wave (yellow) is sitting just below the previous fourth wave high. It's one of the "stragglers" I was talking about. It has the straddle the gap. I expect it to get there sometime early this week. The downside target once it gets there is 3611.
Above is a 2 hour chart of the NDX (largest 100 stocks in the Nasdaq). It has a very clear motive wave down from the top of the market. It shows that we're completing wave 4 and should head into wave 5 down shortly. We need to reach the previous high just above 4300.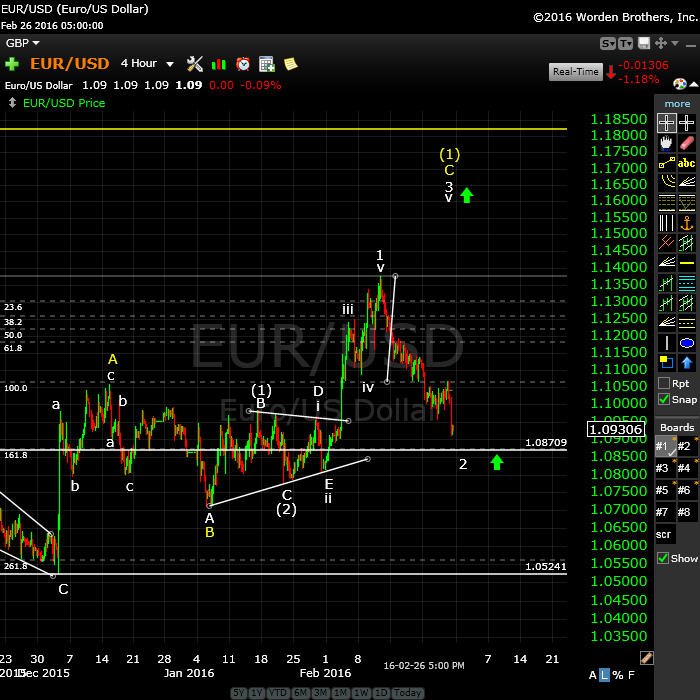 Above is the 4 hour chart of the Nasdaq. The horizontal line at 1.08709 is the 62% retracement level, which would represent wave 2. You can see the existing gap. We need to get to the 62% line at least before turning up into a third wave of the C wave up.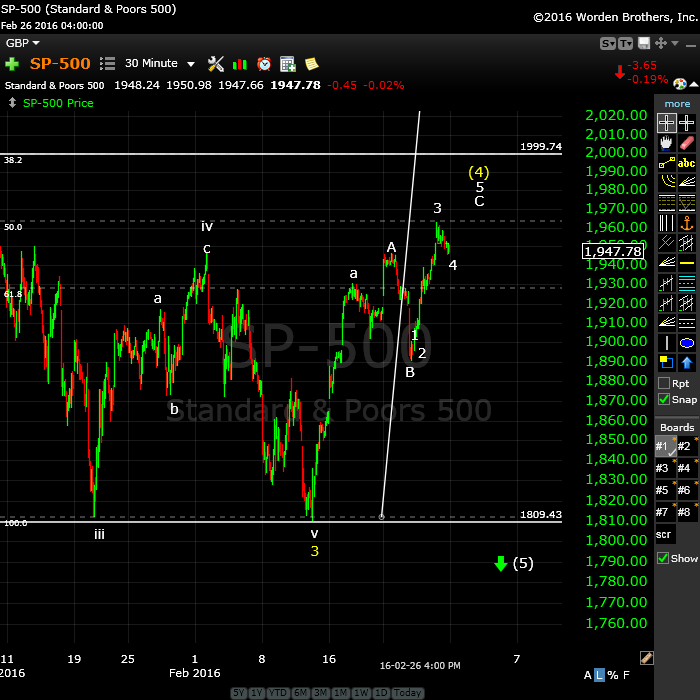 Above I've drilled down to the 30 minute chart of the SP500, so that you can see the wave structure. The final wave up is in five waves (subwaves) and a larger 5th wave up to a new high is needed to finish off this wave. If we measure wave 1 of that C wave, 1.618 right now takes us to a double top with the existing wave 3 high on the chart. The horizontal line at the top of the chart represents the 62% retracement level.
The downside target for wave 5 is 1620.
Good trading.