Update Friday morning, March 11, Before the Open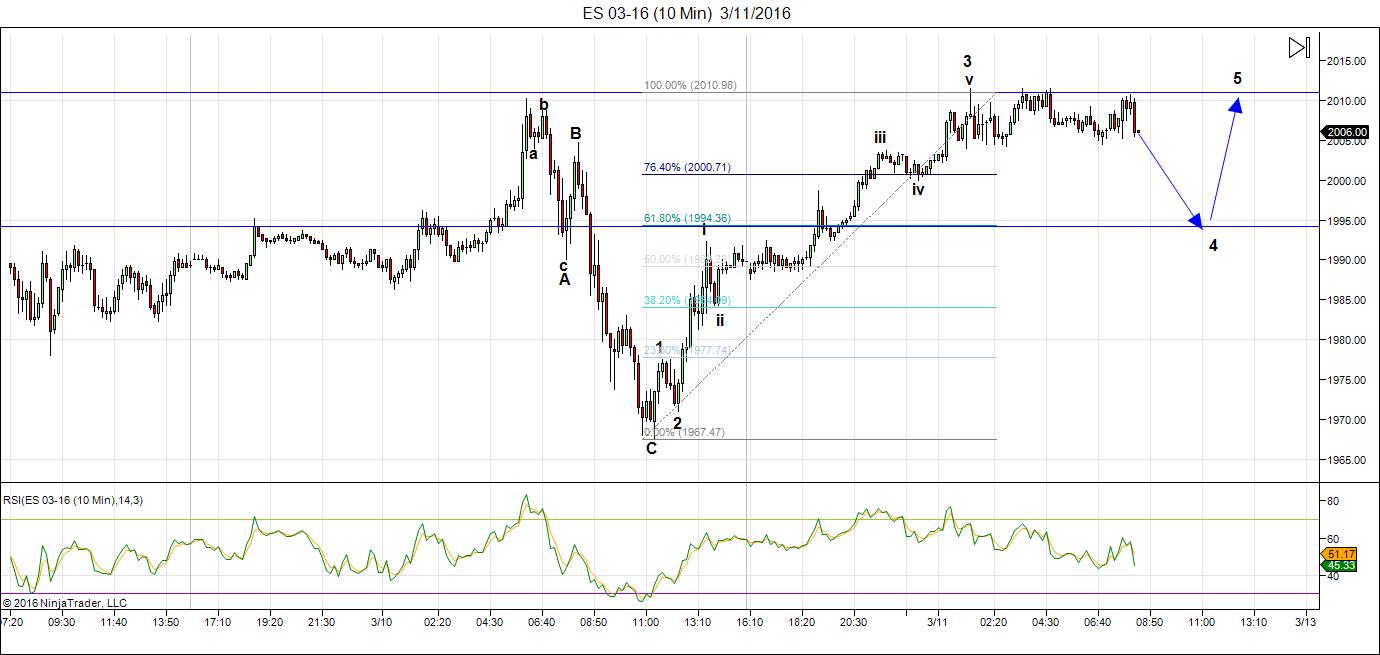 So here we are with a double top (what I've been whining about) in ES. This is the 60 min chart of ES (SPX futures). This now looks like a complete wave up to me, although I think we still need a fourth and fifth. It's hard to say because often a last wave just gets shorter and shorter towards the top. The chart below will show what expect in the case that we're not quite done yet.
Now, all the futures and major indices will need to top this morning before we head down. If you're looking for a preferred entry point, lower on the page is an explanation of what that looks like. We could head down today or Monday.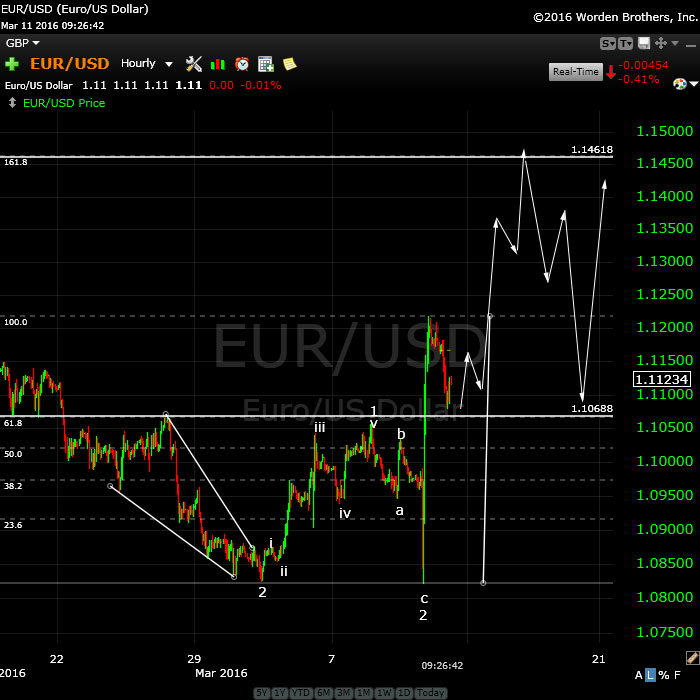 EURUSD is poised to head up. As I mentioned yesterday, it had not finished the current first wave up. It has now retraced 38%, so it's heading into a fifth wave (of a typical first wave) This should send equities down, but only a little ways (fourth wave), then EURUSD should do a second wave (while equities do a small fifth?). Finally EURUSD will turn up into the third of the third (the "nowhere to hide" wave, cause it will shoot straight up—and by extension, equities straight down.
This chart was put together quite quickly, so I haven't had time to properly label it.
The above explanation supports a fourth and fifth wave (today and Sunday) before the big drop starts on Monday.
__________________________
Update Thursday night, March 10, 3AM EST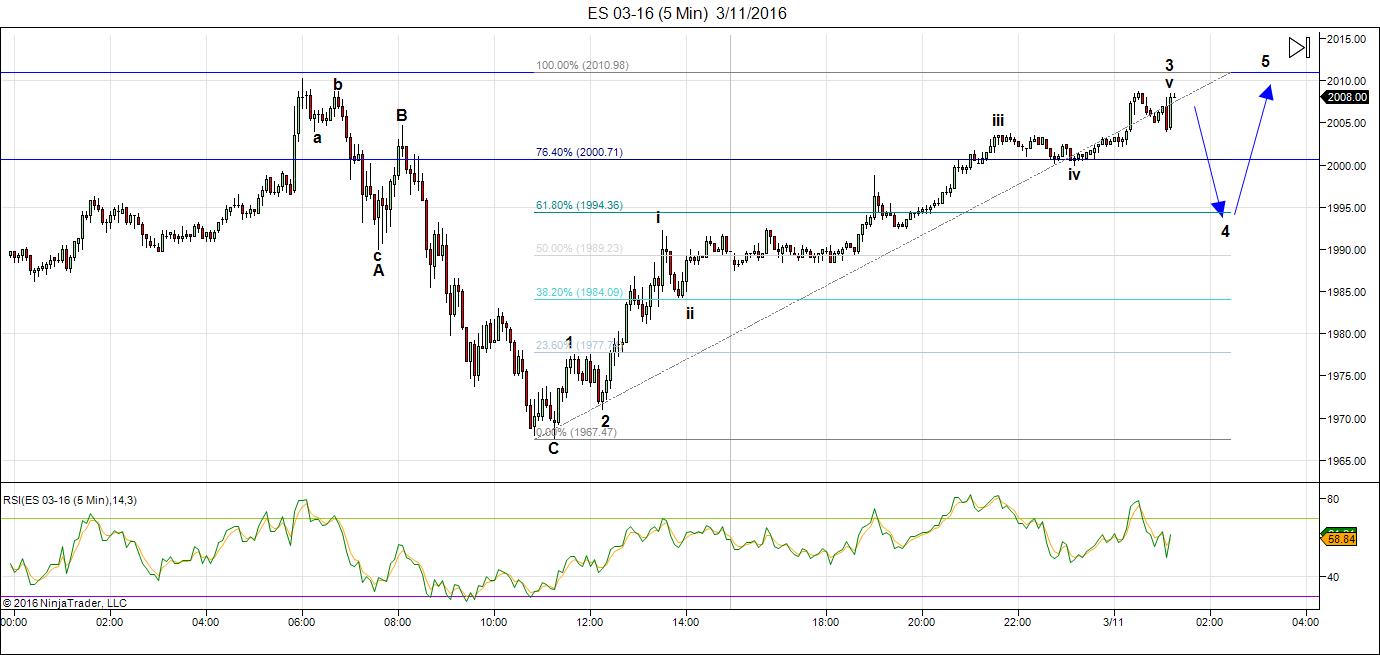 Here's a look tonight at the ES 60 minute chart. The market continues to roll along to my tune. Tonight we appear to have completed the third wave of the 5th up. It's an extended wave and it's projecting a top either Friday or Monday (my preference is Monday). We have a fourth wave down to do and then a final fifth to a top. This is the fifth of the fifth so should mark the end of the advance.
_______________________
Update Thursday, March 10, 3:30 PM EST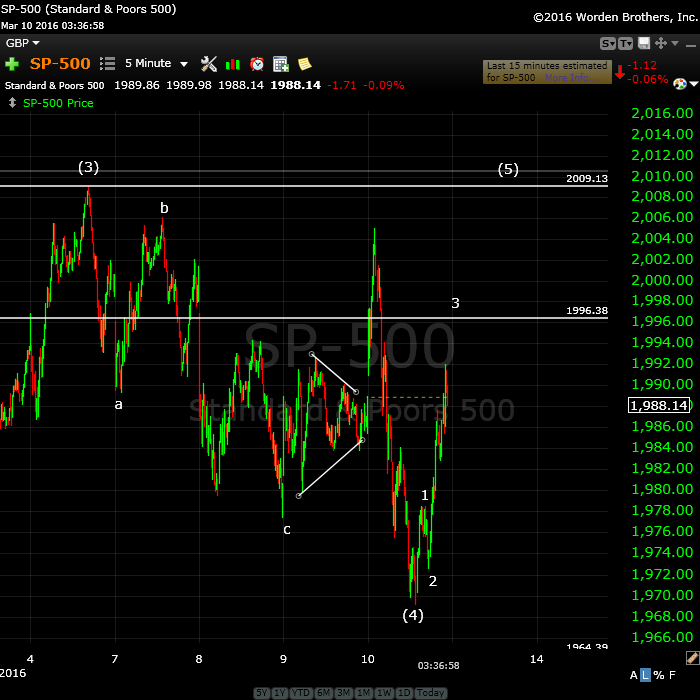 Above is the 5 minute chart of the SP500. As projected, we came down to the wave 4 level and bounced in a very motive set of waves. I put wave 3 to end at about 1996. Then we should see 4 and 5 to a new high. Ending waves are always in 5's.
EURUSD also did exactly as expected last night. However the wave up is a bit short for a first wave, so it may have further to go before it retraces. I would expect the full wave up to go to ~1.12967.  So I need to watch this one to see the next move.
____________________________
Update Thursday, March 10, 11:30am EST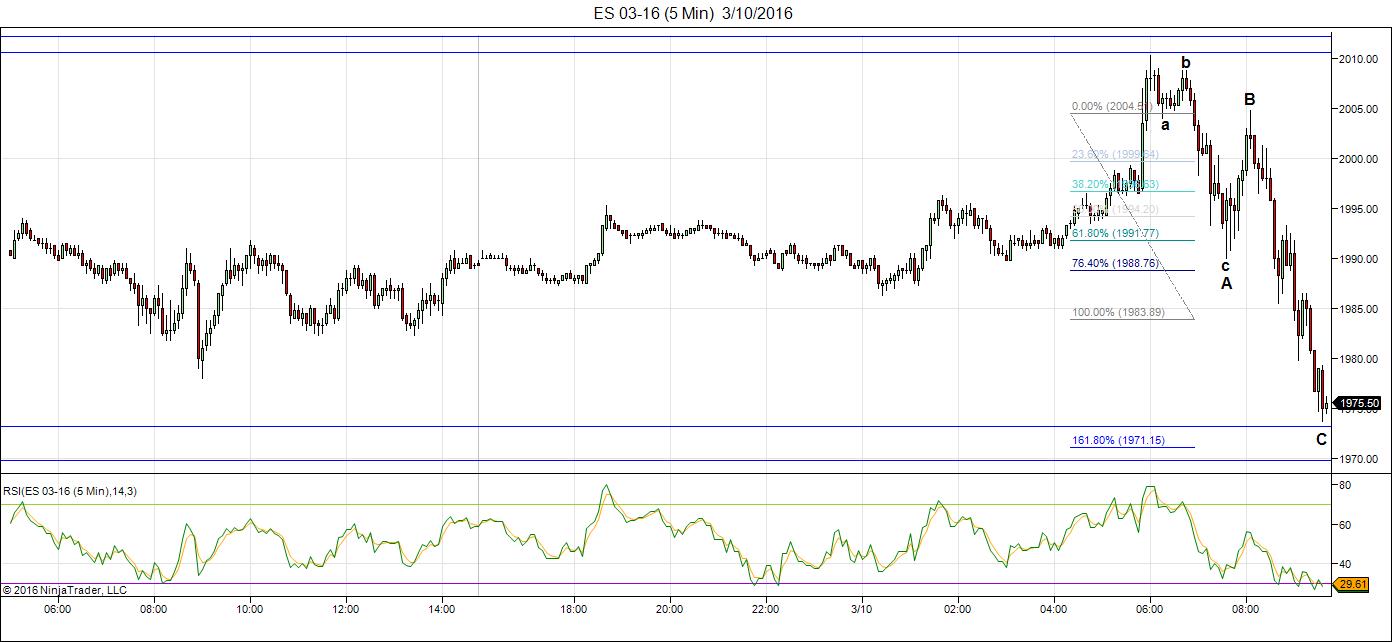 Above is 5 min chart of ES (SPX futures). EW tells me this is a corrective wave (twice!), so I'm going with that until I see something motive. If we keep sliding and do a fourth and fifth wave and then a second up in 3 waves, I'll change my tune, but right now, it's warning me to stay away and that the trend is still up.
Draghi upset the market, but SPX did not make a new high (neither did the Nasdaq, or NQ, and a few more) and all the waves down are in 3 (overlapping waves). That's my story and I'm sticking with it. 🙂
_____________________
Update Thursday, March 10, 8am EST
Well, Draghi gets the honours. We have a new high in futures (NQ still needs to get there). Cash will have to register the new high at the open. but after that, watch for a turnover. EURUSD has done as expected and show also turn up into a third wave rally.
The safest bet is to wait for 5 waves down and then 3 up to about 62% of the drop before an entry.
_______________________
Update Wednesday, March 9, 3PM EST
Here are the two charts I'm watching for a clue as to what's happening.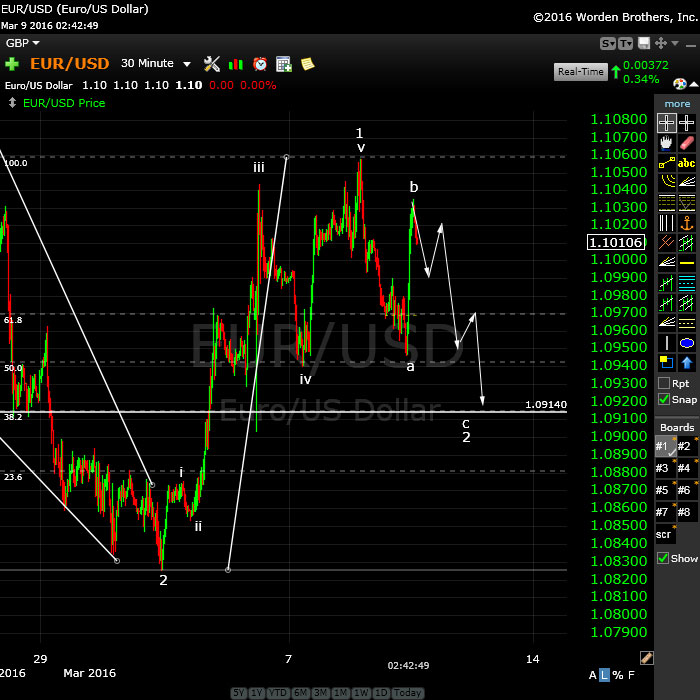 Above is a 30 minute chart of the EURUSD, which moves contra to US equities. I have relabelled the waves, based upon the most recent moves. It appears I was off by one wave. I'm showing a very motive first wave (of a third wave) up. We look to be tracing out a flat (an abc wave in a 3-3-5 configuration. We have the C wave left to go. If it's as long as the a wave, it should stop at about 1.092 or so, which is the 62% retrace line of the first wave up that I mentioned.
The drop in the euro should send equities higher, but not dramatically higher.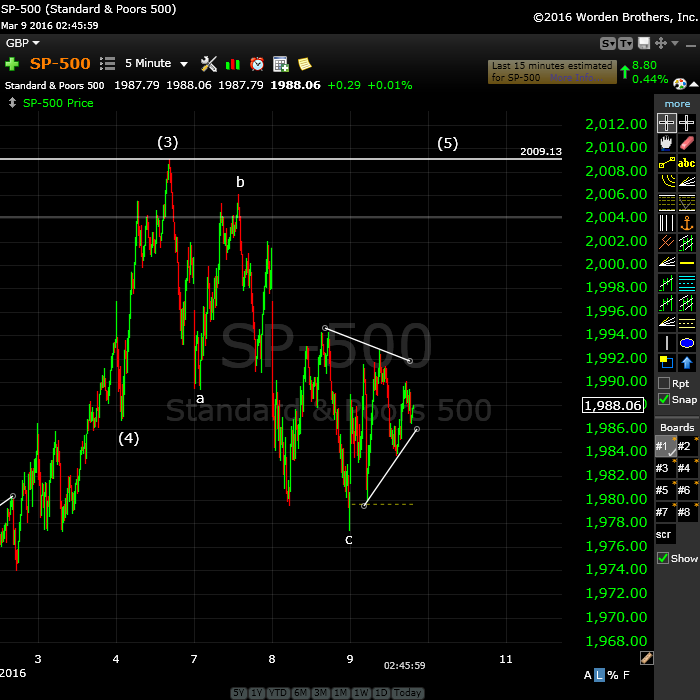 Above is the 5 minute chart of the SP500. We've completed an abc wave down, which appears to be a fourth wave, as it stopped at the 38% retrace level of the previous wave up. We've formed a triangle at a first wave up and we're waiting for a rally to test the previous high.
The ECB meeting is scheduled for tomorrow at 7:45 am EST and that may provide some fireworks. However, I don't have a cycle turn date coming up until Monday/Tuesday 14/15 (early next week).
A bit more patience, I'm afraid.
_________________________
Update Wednesday, March 9, Before the Bell
Futures have been heading back up all night. They're about half-way to the top again. EURUSD has  travelled well past where I thought it would stop to what is shaping up to be an even larger second wave. It's got more to go, which will keep the equities heading up a little longer.
Today is an Andy Pancholi cycle turn date, so let's see what happens. I don't have another equities turn date for another 10 days.
I'm still looking for a double top.
________________________
Update Tuesday, March 8, 10:30 am EST
All the US indices are down in 3 waves, so we have to get them eventually back up to the top so they can turn over into the third wave down. This seems to be a fourth wave. The 1979 SPX area is the 38% retrace area of the previous wave up, so this may prove to be the bottom.
The March 5 cycle marked the top sure enough, but the test of that high apparently remains to be seen.
Obviously it's going to take a couple of days to get back up to the top.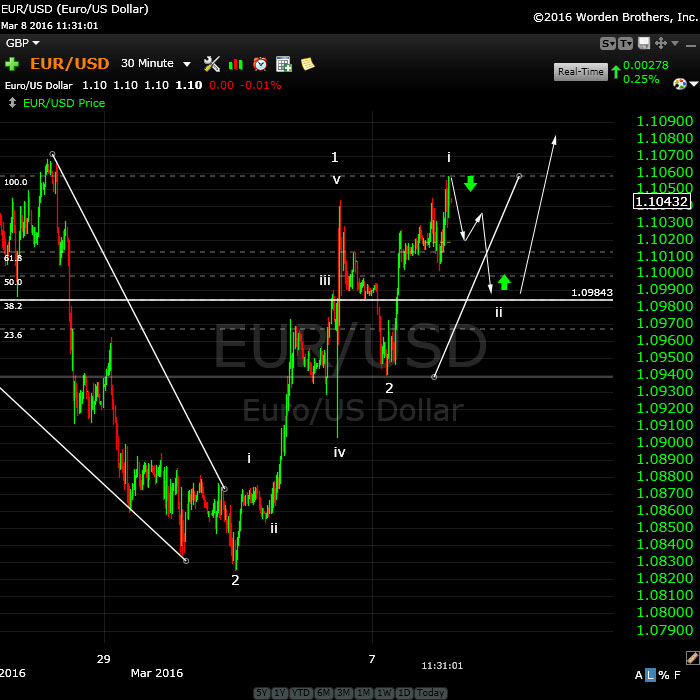 Above is the 30 minute chart of the eurusd. There's a setup here in that the euro is correcting down in a second wave. It should turn up when it reaches 1.0985 or so. It will head into the third of third wave from here.
USDCAD is in the same position. The longer term trend is for the pair is now up, but it's in the process of a 2nd wave correction.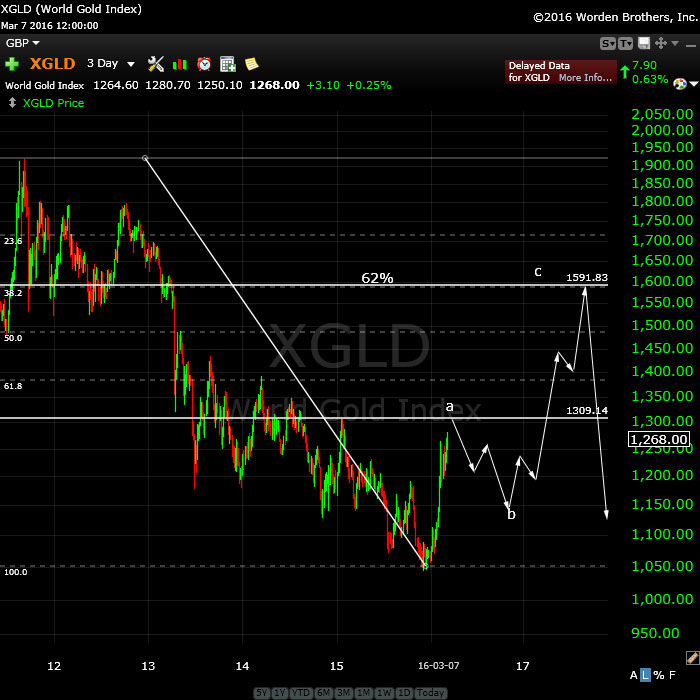 There's a lot of chatter about gold out there, so here's a 3 day chart of XGLD showing the projected path. We're heading up to around 1600, before a final turnover and trajectory lower. However, we need to trace out a B wave at about 1300 before turning back up.
The entire corrective wave is a larger B wave with a larger C wave to eventually bottom out near $750.00.
______________________
Update March 7 Near the close 3:45 PM EST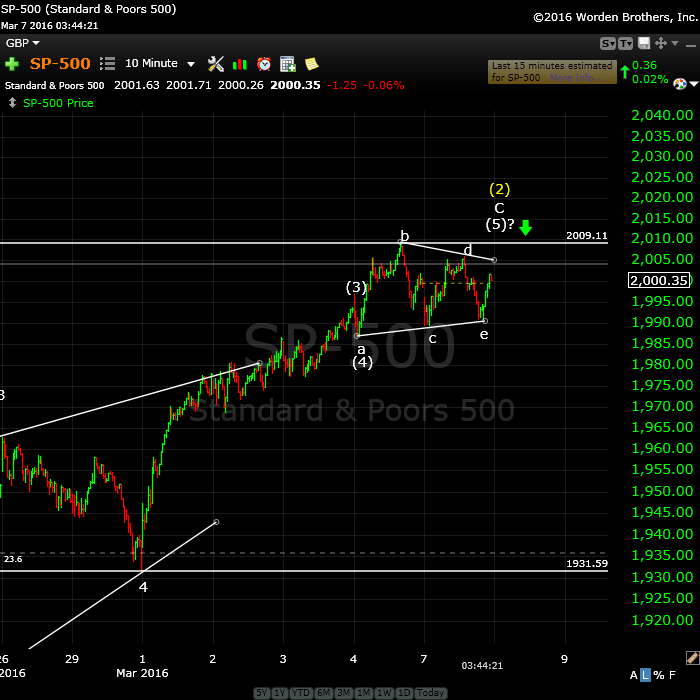 This thing has been relentless, but here's what I'm seeing on the 5 minute SPX chart. The triangle I identified earlier today is playing out. Anything to prolong the agony. The chart above is the update just before today's session close.
A triangle forecasts the end of the sequence. There will be one more wave up and I suspect it will end in a double top, although it could go a bit higher. After that, it's down in BIG wave 3.
_________________________
Original Post: Saturday, March 5, 2016
The Question Has Been Answered
For the past few weeks, the question has been: Is this corrective wave 2, or 4? For the past few days, it's been obvious it's wave 2 for the SPX related indices and wave 4 for the NDX related markets.
I also said that all the indices would have to meet their projected targets. On Friday afternoon, they did that and turned right on "Elliott Wave schedule."
We've been in an ending diagonal (we've know that since March 1) and the fifth wave of that diagonal did the typical "throw-over" (went beyond the upper trendline). In the process, all the major indices formed a small fourth wave triangle, which is an indicator that there's one more actionable wave up (in 3 waves) and a trend change at the top. That's what ultimately took place.
The count says the next major move is DOWN.
However, the market didn't immediately collapse as I'd expected. We dropped in a motive first wave down (on the 1-5 minute charts) and then held waiting for … ? Well, after looking around the market, the obvious culprit (to me) showed itself to be the EURUSD currency pair (in other words, the US dollar, which after all, is controlling everything). As the markets deleverage from the largest debt bubble in history, the current reserve currency is calling the shots.
I've been maintaining since last September that the entire market is moving as one (a theory Bob Prechter forecast years ago and it's come to fruition). I've also been projecting a downturn for the US dollar and a rally to at least the 38% retrace level of the entire EURUSD wave down from June, 2014. That appears to be what's taking place.
On Friday, the EURUSD finished 5 waves up of a first wave and now needs to correct that wave up with a 62% retrace for wave 2. I expect this to happen this Sunday, which will then allow it to turn up into a third wave, while US equities continue down in their third wave.
The market is again moving in a very logical manner, but the combination of everything moving at once complicates the major turns.
In terms of turns, the March 5 turn date was the major March turn date from Andy Pancholi (one of two major turns this month). If you want to find out more about his service (he's in the 95% PLUS percentile for market turns), you can go here. I know Andy personally and he's been doing this for his virtually his entire life. I highly recommend his work. You'll find a chart that shows the accuracy of his forecasts over the past couple of years.
Here's a video overview of the market for Monday, March 7:
Market Report for March 7
| | |
| --- | --- |
| | Make sure you zoom the video to full size with frame expander (arrows) in the bottom right hand corner and also set the quality to as high as your web connection allows. This is an HD quality video so the best viewing is at that level. |
_______________________________
First Wave Down – What to Watch For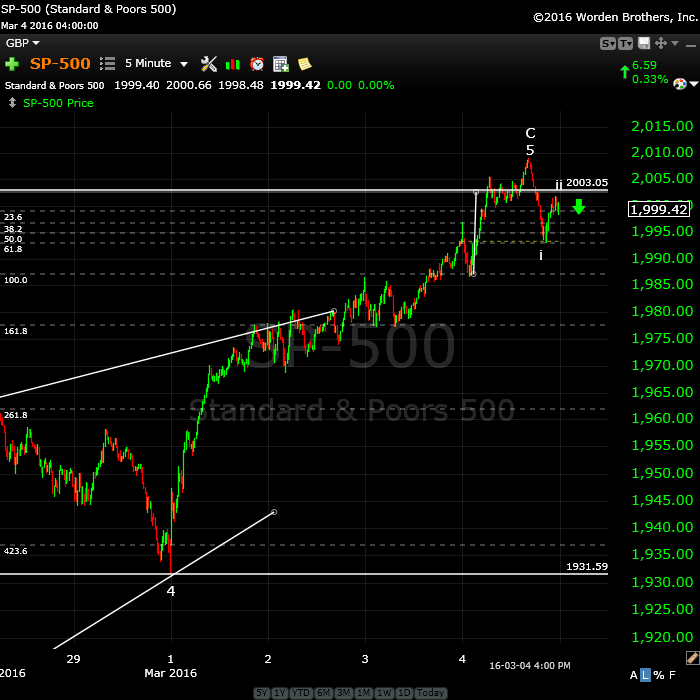 Above is the 5 min chart of the SP500. We turned over on Friday afternoon in a motive wave down. However, it's not a complete first wave down. True, it was in 5 waves, but motive waves are fractal, so the much larger first wave will be in five waves. In this above chart, we haven't quite retraced 62% (the upper horizontal line), but you can pretty much count on that to take place Monday morning. Then we should drop into the larger 3rd wave of the first.
I expect the first wave to at least drop to the previous fourth wave of the ending diagonal (and eventually much further) before a major retrace.
The first wave down will be in 5 waves and when complete will result in another 62% retrace (a larger degree second wave). Either now (at the top of this second wave currently forming) or at the top of the next second wave retrace is the preferred EW entry point. So don't feel you have to rush in. There'll be a much better opportunity at the second wave level than at the top and the risk is substantially reduced.
______________________________
The Road Ahead
Above is a 3 day chart of the SP500 showing the road ahead. This would be the third wave of the first (of the third) down. You can can see the first and second wave marked. We're beginning the third wave down.
___________________________________
Targets
Here are the targets for the major indices as I see them. These targets are for the bottom of the third wave in the SPX related indices and the bottom of a 5th wave for the NDX related group.
ES: 1507
SPX: 1535
DOW: 13,200
SPY: 163.5
IWM: 69.64
NYSE: 7,450
GDOW: 1750
____________________________
Updated Daily Chart for ES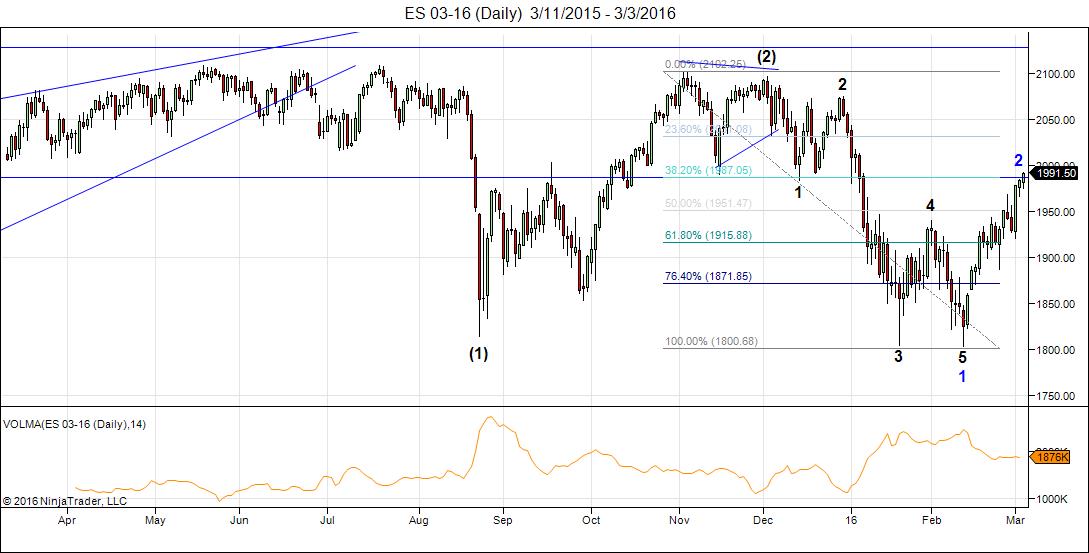 Here's the daily chart of ES (SPX futures) This is one of the best daily chart of all of them because it has a really clear picture of where we are. We've completed a full motive wave down (again the 5th wave is short and overlapping—could be an ending diagonal, but in any case, suggests this is a fourth wave). The large retrace we're at the top of has now retraced a bit more than 62% to 1984.
The next major move is to the downside. The third wave down should drop to about 1507 (at least), followed by a fourth wave retrace of 38% of the entire drop from 2100. From there we'll head down in a 5th wave, which should be about the same length as the third wave. Much more on that later as the waves unfold.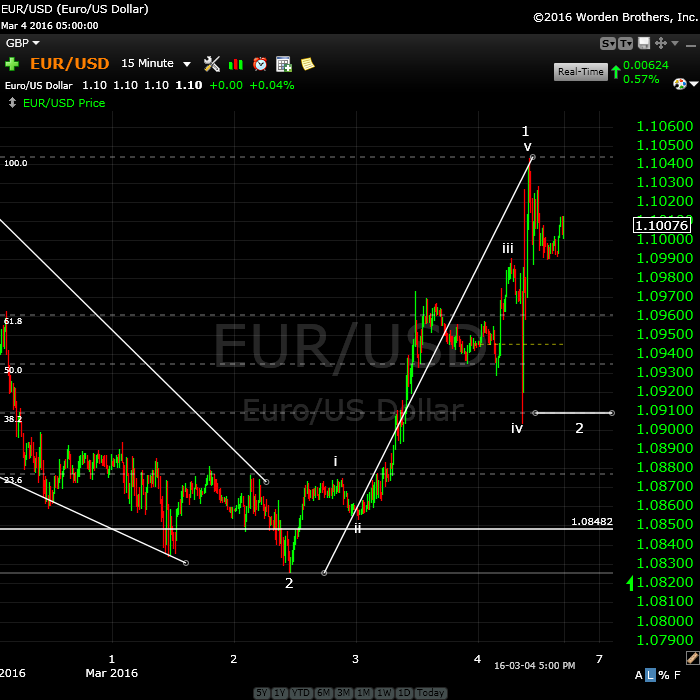 Above is the 15 minute chart of the eurusd. This shows the eurusd having completed the ending diagonal (2nd wave retrace as I'd forecast) and the turn into a motive sequence heading up. Measuring the waves shows that they conform to the traditional motive wave measurements, so I'm projecting a drop now in a second wave to about 1.091 and then a turn up into a very large third wave. The third wave up should be 1.618 X this entire first wave. Projected end: 1.112 minimum.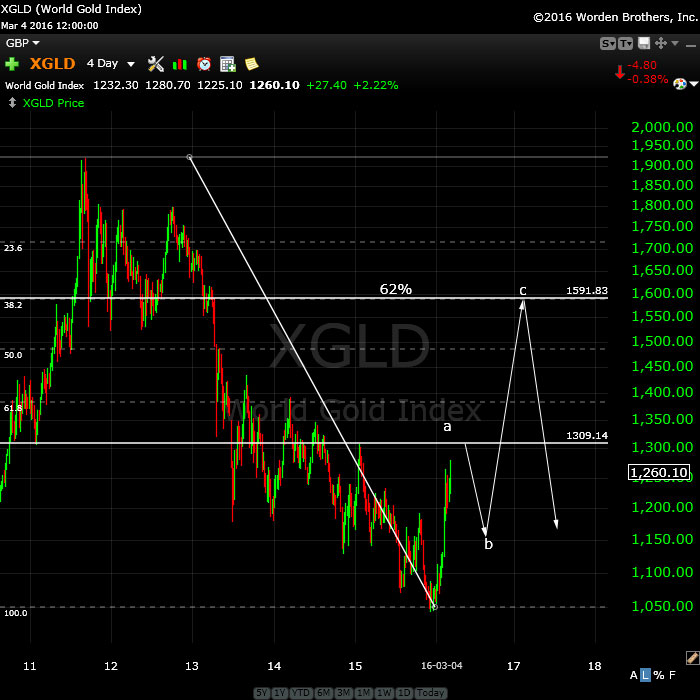 Above is the 4 day chart for XGLD (gold). We're almost at the top of the a wave and expecting a large b wave retrace. We're in a countertrend move and eventually, we'll see lower levels for this key commodity.
_____________
Original Post (Saturday, Feb 27)
Governments and Our Money—A Really Terrible Cocktail
Well, the G20 concluded and absolutely nothing happened, not that I was expecting anything. You can read about it in zerohedge. The market was likely expecting a lot, but now cycles have taken over, the mood worldwide has turned decidedly sour, and central banks are simply out of ammunition.
It's absolutely scary when governments get their hands on our money, as they've had outright since 1971. Inflation has been rampant right across the world and now, of course we have the largest debt bubble in history on our hands. It will unravel in its own time (over the next 5 years or so), but it will do it in a predictable manner in the major markets … and Elliott Wave manner, with motive waves down for the first leg, then a large B wave, and a final drop to the bottom.
Governments have now destroyed our currencies, are in the midst of currency wars, and have no idea of the damage they are doing to international relations, which will eventually lead to another world war, even though its happened over and over again in history … yawn.
Can we do anything to stop it? Likely not, but we can take steps to get out of the road and ensure that those around us stay safe and sound while our politicians act like "children let loose." I think the opportunity is to use this new resource (the internet) to help educate all those who want to learn the truth and perhaps the truth will win out.
I would also like to have some long term affect on the banksters continually stealing from us.
If you want to know more, this past week I happened across the very best explanation of the international monetary system, its history with gold, and how governments inflating for their own ends have destroyed our future. The world is in one hell of a mess.
It's free, only about 130 pages, an easy read and from the Mises Institute. It's entitled "What Has Government Done to Our Money?" I'll add the link to the appropriate spot in the forum.
Global Cooling
If you missed my interview on FXStreet with Dale Pinkert, it's here (and in the forum). He ended up calling it "Global Cooling," although I had no idea we were headed in that direction.