Upcoming Event:
Wednesday, April 19, 2017, 10am EST
Interview on Dale Pinkert's Webinar.
You can join it here.

Dale tells me it will be 20-30 minutes at 10am.
Fourth Wave Combinations
Fourth waves at this high level of trend typically form combination waves. What this means is that more than one Elliott wave corrective pattern traces out before the larger correction is done. The secret to trading it is to figure out each of the patterns before they're complete. This task is make a little easier due to the fact that almost all waves have fibonacci relationships to other waves.
This weekend, I thought it appropriate to spend a little time on combination waves.

Above is a chart showing combinations and the patterns that make them out. The two combination patterns above are each referred to as "triple threes." That's because corrective waves form a 3 wave pattern overall and there are three corrective patterns in each of the two examples above.
Let's look at the structure of these Elliott wave patterns that make up a combination. A flat is 3 waves (3-3-5), a zigzag is 3 waves (5-3-5), and a triangle (3-3-3-3-3) is counted in three waves, even thought there are 5 waves (each wave in three subwaves). I know, all very complicated. But as you study Elliott waves and see these patterns over and over again, they begin to make more sense the more you see them play out.
There are also "double threes," which only contain two patterns.
The waves depicted above are horizontal in direction, but in reality, they would either slope up or down, depending in whether we're in a bull or bear market.
Recent history example: In the large third wave up (on the daily chart below) ending March 3, it looks like we have a "triple three." Within that combination pattern (corrective), we've had three zigzags in a row. One of those zigzags may have contained a running triangle, but overall, there are three corrective patterns. I find that odd for a third wave, but then this is an odd cycle degree fifth wave we're in: It's corrective, not motive (fifth waves of a major sequence are generally not corrective).
This entire 5th wave up (from ~1810 on Feb. 11, 2016) is a zigzag (a correction), and we're in the fourth wave of the second 5 wave pattern.
Fourth waves are always corrective. In small degree, there may be only one pattern that plays out. At this high degree, you can pretty well count on at least two patterns (a "double three").
We've completed one pattern, an expanded flat (there are three types of flats). Flats are are 3-3-5 combination. The next pattern could be a zigzag, another flat, or a triangle. If it's a contracting triangle, it will be the final pattern (regular triangles are always the final pattern in a combination, if they're there at all.
Have not had a losing week RW 2
The Market This Week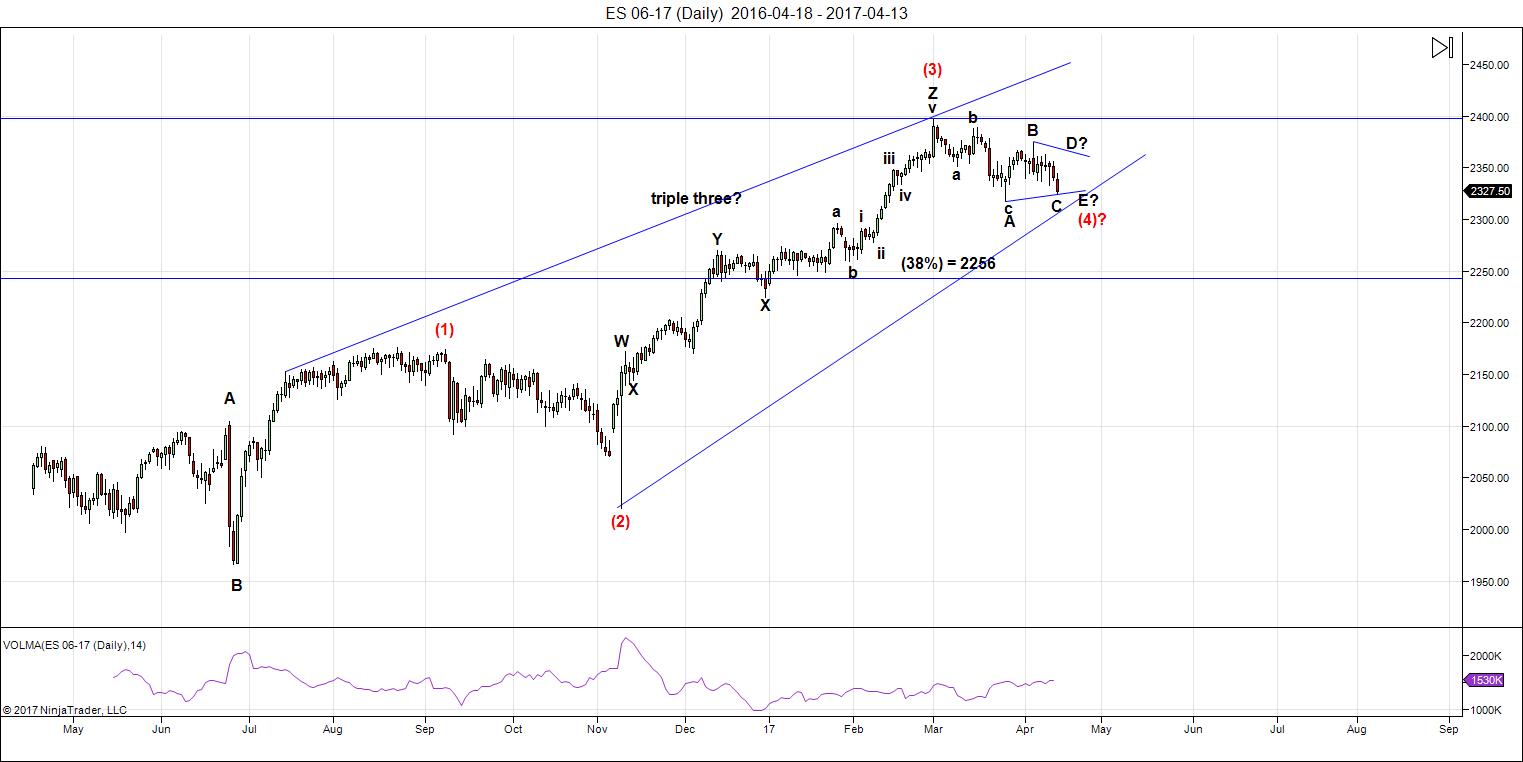 Above is the daily chart of ES (click to enlarge).
We appear to be in the second pattern of an ABC 4th wave correction. The second pattern now in play seems to be tracing out a triangle. A triangle is always a final pattern in a combination sequence. If this is the case, I don't expect a wave below the previous low of about 2316.
The wave down on Thursday of last week appears to be an ending diagonal, which predicts a strong upturn when complete.
After completing the larger fourth wave, we'll have one more wave to go, which could be an ending diagonal as a fifth wave. The long awaited bear market is getting closer.
_____________________________
Sign up for:
 The Chart Show
Thursday, April 20 at 2:00 pm EST (US market time)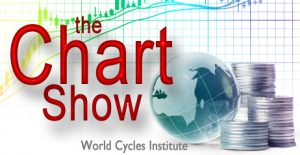 The Chart Show is a one hour webinar in which Peter Temple provides the Elliott Wave analysis in real time for the US market, gold, silver, oil, major USD currency pairs, and more. You won't find a more accurate or comprehensive market prediction anywhere for this price.
Get caught up on the market from an Elliott Wave perspective. You'll also get Andy Pancholi cycle turn dates for the balance of the current month. There'll be a Q&A session during and at the end of the webinar and the possibility (depending on time) of taking requests.
All registrants will receive the video playback of the webinar, so even if you miss it, you'll be sent the full video replay within about an hour of its conclusion. For more information and to sign up, click here.