Changes to the Free Blog
Last week, I ran a bit of an experiment in the free blog area. I shared the prediction specifics for ES, complete with entry and exit points. I alerted this group to the potential for a rise to either the 2266 or 2276 area with a subsequent CAUTION alert when it became clear the higher target was in play. I also posted the "Timing the Top" video, predicting the ultimate top.
The response I got was less than desirable (from my standpoint). As it takes me an average of five hours to create a blog post here, I've decided posting this level of detail, along with extensively research articles is not a good use of my time, not in this venue, at least.
The free blog area seems to be an area for people to communicate about the market, and that what I post here is of much less interest. That's fine; it "is what it is" and far be it for me to mess with the interests of an audience.
Time is primarily the issue. My time spent here reduces my writing time, analysis, work on my EW course, and of course the book that I've been attempting to finish.
The other issue is trading. These are difficult markets, illustrated by the fact that so many hedge funds are going under or simply ceasing operations. I've learned to stay away from markets with no clear direction or at times when my concentration is not at its best.
However, after returning to trading three weeks ago, my account is up 42% using EW analysis (price cycles). I expect it to reach 100% by the end of wave four in the US indices. I trade with confidence in markets that EW analysis tells me will be lucrative. I try to stay out of the others.
I've attempted over the past year and half or more to help show the benefits of Elliott wave analysis here, but feel it's being, for the most part, ignored, perhaps because it's not understood well, or not communicated in full but, on the other hand, the tools to learn are nearby.
A good deal of what goes on in the free blog area of this site is what I refer to as "market noise." Many years ago, when I started trading, I followed news and other events, thinking that it would enhance my trading. However, as I've said many times, the direction of the market is not based on news; it's based on the mood of "the herd," and that herd is comprised of traders and investors worldwide.
As a result, the market will only turn when the worldwide mood has shifted to the negative side. It happens in five waves, and it's a process. Every trend happens in five waves, market-related, or not. Humans worldwide do not change their mood in a single day; the waves reflect that slow turn in the perception of market participants.
There will be no turn in this market until the balance of the mood of the market participants has turned more than fifty percent to the negative side. My little Mensa mind simply cannot fathom any other way the market will turn; it's simply illogical that it will turn on a dime. And hence, the proven concept of five waves in any trend will not be broken. This time is not different. Thinking otherwise is "herd thinking"; it's not contrarian thinking. And as professional traders know, contrarian thinking is what you need to have to beat the market.
About fifty years ago, when I was eighteen, I went through a battery of tests to measure personality traits, intelligence, and a host of other psychological factors. (My English, rather conservative father thought I was "nuts" because I had no interest in being a doctor or lawyer, and quit the University of Toronto after a year. I'd also spent half a year in hospital with Crohn's disease, but that's a much longer story for another time … lol).
I learned through those tests that my ability to mentally manipulate three dimensional objects in space (spatial awareness) was "off the charts." A subset of this ability is pattern recognition, moreover the ability to see similarities in multiple patterns.
It's considered such as important ability that this ability is a good part of the Mensa exam, and of course, I searched all those questions out and completed them first when I took the exam much more recently. It's also the core of Elliott wave analysis—the foundation of this principle is pattern recognition and probability.
Learning about that ability early on has served me well. I ended up with a degree in television in 1974—a wiser choice than manipulating three dimensional human organs in space …
In my career as a professional television writer/producer/director, I excelled because I could imagine the entire sequence in my mind before I got down to the creating it. I could tell my cinematographer or videographer (as the medium changed) where to put the camera for the shot I wanted, and direct talent and lighting to get the ultimate effect I desired.
And yes, I dream in colour—major motion pictures that are truly engrossing—but thankfully, only when I'm really, really tired. (!)
However, after 35 years of commercial and corporate television, and building a couple of million dollar plus companies, it was time for another challenge.
I found trading and cycles (and the deeper work I do now) and have dedicated my life to helping others understand how the world works in that regard; how humans take advantage of fellow humans at varying degrees during the ups and downs of those cycles. It's like clockwork, and similar events pop up at specific degrees of each repeating cycle.
My experience (over 20 thousand or so hours in the market) has proven to me that "price cycles" work much more effectively than "time cycles." Used together, they're highly predictive. I use time cycles to support my price analysis.
My key trading principles tend to be these:
Trade what you see, not what you think.
Know when to be out of the market (usually more often than in)
Have an exit point
Take a level of risk based on probability (and volatility)
Limit external "noise"
As a result, for the most part, I stay away from fundamentals, or trying to guess causes of market moves; I try not to mix news with technical analysis. In my world, there is little correlation.
I don't look at other people's charts (or counts). I have no interest in discussions about what might happen "here" due to something happening "over there." Staying as objective as possible has the key to successful analysis. It's the times that I allow outside influences to affect my thinking about an Elliott wave count that I get into trouble.
I've also learned that I see pattern correlations that others don't see, and that often my ability to communicate in limited time and space here is not an effective means of getting across my message.
So, I'm moving on from what to me has been a frustrating challenge. I will instead leave this blog to be what it has become.
I'm moving back to creating more video and will post these and other article on the main landing page of the site. Some will focus on the market, but most will cover topics that relate to what's going on in the world and the role of cycles in the the events that are unfolding.
I'm not trying to be anti-social. I'm just trying to explain my philosophy and how it affects my decision to limit my exposure to what I consider "market noise." It's a key principle I follow that has made me a much better trader and analyst.
At the same time, I'm committed to making your experience here the best I can, keeping any personal attacks away from the site, and providing insight into what I feel is one of the most powerful tools discovered. I will continue to answer questions, but will only visit after hours on a daily basis.
I'll continue to post charts, but will move towards past "wins" and lessons from them rather than predictive charts (with long explanations as to the expected market movement).
This weekend, however, I'm taking a "break."
The Market This Week
Above is the daily chart of ES (click to enlarge).
We're at the top of the B wave of an ABC 4th wave correction. The C wave down will most likely be 1.618 times the length of the A wave down.
After completing the larger fourth wave, we'll have one more wave to go, which could be an ending diagonal as a fifth wave. The long awaited bear market is getting closer.
_____________________________
Sign up for:
 The Chart Show
Thursday, April 13 at 2:00 pm EST (US market time)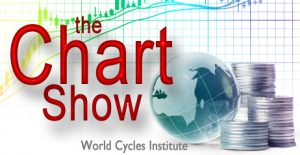 The Chart Show is a one hour webinar in which Peter Temple provides the Elliott Wave analysis in real time for the US market, gold, silver, oil, major USD currency pairs, and more. You won't find a more accurate or comprehensive market prediction anywhere for this price.
Get caught up on the market from an Elliott Wave perspective. You'll also get Andy Pancholi cycle turn dates for the balance of the current month. There'll be a Q&A session during and at the end of the webinar and the possibility (depending on time) of taking requests.
All registrants will receive the video playback of the webinar, so even if you miss it, you'll be sent the full video replay within about an hour of its conclusion. For more information and to sign up, click here.