All the Same Market
Gradually over the past year or so (since I first mentioned it), the USD currency pairs, the US dollar, the US indices, bonds, and gold have become more and more closely aligned. With the potential top in place in oil, all assets with any relationship to the reserve currency are now moving towards a final top. You can even look at the DAX and see the same phenomenon taking shape. We have a few more weeks left in this market and then the bear market begins in earnest.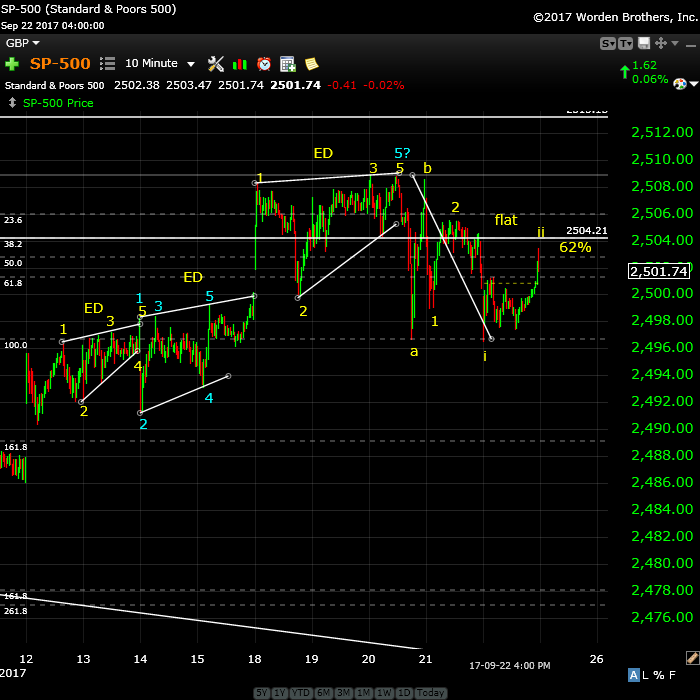 Ending diagonals are appearing all over the place. They're considered relatively rare, but in this market, they're certainly not. We have them unfolding in both ES and NQ (emini-futures) as well as their cash counterparts. It's becoming more probable a top is in place, from an Elliott Wave perspective, with all these ending diagonals showing up. They are very weak fifth waves.
We had three ending diagonals in a row—a triple three of ending diagonals (an historic first, as far as I can make out) on a 10 minute chart of the SP500. That more than suggests a top is in place for the third wave of the ending diagonal.
From the top so far, we appear to be setting up a flat to the downside. This is a 3-3-5 configuration, the two three-wavers now complete. This would mean that the C wave down is up next and it should trace out in 5 waves to the downside.
Following is a full description of the larger ending diagonal, more than half-way to completion in NQ/NDX/SPX/ES.
Ending Diagonals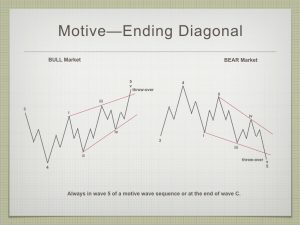 Ending diagonals are notoriously difficult to trade. There are a number of reasons for this. The biggest is that all the waves are in threes and the upper and lower boundaries don't get defined until the 3th wave (upper in a bull market) and 4th waves (lower). So, you don't actually know you're in one until the fourth wave of the ending diagonal is in place.
The sub-waves will be in three waves (zigzags), which makes analysis difficult, volume gets lower as the ending diagonal traces out, and the final wave will likely complete a throw-over (exceeds the upper trendline in a bull market).
Rules (these are "hard" rules; they cannot be broken):
A diagonal triangle always subdivides into five waves.
An ending diagonal always appears as wave 5 of an impulse or wave C of a zigzag or flat.
Waves 1, 2,3, 4 and 5 of an ending diagonal always subdivide into zigzags.
Wave 2 never goes beyond the start of wave 1.
Wave 3 always goes beyond the end of wave 1.
Wave 4 never moves beyond the start of wave 3.
Wave 4 always ends within the price territory of wave 1.
Going forward in time, a line connecting the ends of waves 2 and 4 converges with a line connecting the ends of waves 1 and 3.
In the contracting variety, wave 3 is always shorter than wave 1, wave 4 is always shorter than wave 2, and wave 5 is always shorter than wave 3.
_______________________________
A Word of Caution (the Coles notes version)
We're starting to get close to a major market top. We're seeing some volatility in terms of large swings in currencies, gold, and oil particularly.
There could be quite a bit of volatility at the top. Nobody's seen a 500 year top, so we don't have a lot to go on.
Volume is light, which means that almost everyone is "in" on the long side and smugly enjoying their profits, believing this market is going to continue on for a whole lot longer. Of course, a lot more are "out." It's amazing how many hedge funds have folded as they simply haven't been able to make any money (and are unsure of where the market is going). In any event, that takes a lot of money out of the market.
We have a lot of financial "cracks" developing. Amazon just set themselves up for a gigantic short by over-leveraging and buy out Whole Foods. Toys "R" Us looks like it's finally going down for the final count. I expect Elon Musk to crash and burn: After all, none of these electric cars have sold in great quantities. They're mostly government subsidized (certainly in Musk's case) so it's only a matter of time before it all falls to dust.
We've had many retail bankruptcies recently and this foreshadows a much greater problem. Insurance companies are getting quite scared, as there's a lot of fraud out there, not to mention Houston, Florida, and Equifax. Who's next? It's going to be a wild ride over the next few years.
It's going to get a lot worse before it gets better. Start getting prepared for a decades-long "winter."
_________________________________
Get an upper hand … JC 2
Get an upper hand in trading …

Seeing all the different currency pairs and the wave structures and hearing you explain why this has to do that on a nightly bases gives one a upper hand when trading. Elliott Wave applies to all stock and indices and can be applied to any candlestick chart.

If someone ask what you want for Christmas – Tell them a membership to Peter's "Traders Gold!"—JC
The Market This Week
Here's the latest daily chart of ES (emini futures)
Above is the daily chart of ES (click to enlarge, as with any of my charts).
This past week, the third wave of the ending diagonal in ES appears to have topped and that puts us in the fourth wave. There are at least a couple of options for the wave down, but we could be setting up a flat, which would mean five waves down is the next move. We arguably have 5 waves down in ES already, which could be part of a small flat (which may continue to a larger one), or we may end up creating a different pattern. The overall pattern in wave E should be a zigzag.
There is a lower probability chance that the second wave that traced out on Friday could test the previous high at around 25089, but I believe the higher probability move is down from around 2501.50.
NQ (Nasdaq futures) turned down on September 1, so it's been heading down for three weeks now, and has further to go.
Volume: Note that volume now expands with selling, but drops considerably when the market heads back up. This is yet another signal of the larger, impending top. Volume should increase during this fourth wave down. It will drop off suddenly towards the final fifth wave top.
Summary: The final wave five (an ending diagonal) in ES, NQ, and SPX is in progress. Look for wave E to head down to the 2445 area before a final fifth of fifth wave up to a new high to complete the 500 year bull market). 
______________________________________
Sign up for: 

The Chart Show
Wednesday, October 4 at 1:00 pm EST (US market time)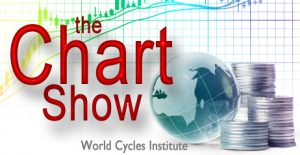 The Chart Show is a one hour webinar in which Peter Temple provides the Elliott Wave analysis in real time for the US market, gold, silver, oil, major USD currency pairs, and more. You won't find a more accurate or comprehensive market prediction anywhere for this price.
Get caught up on the market from an Elliott Wave perspective. You'll also get Andy Pancholi cycle turn dates for the SP500 for the balance of the current month. There'll be a Q&A session during and at the end of the webinar and the possibility (depending on time) of taking requests.
All registrants will receive the video playback of the webinar, so even if you miss it, you'll be sent the full video replay within about an hour of its conclusion. For more information and to sign up, click here.