Contracting Triangles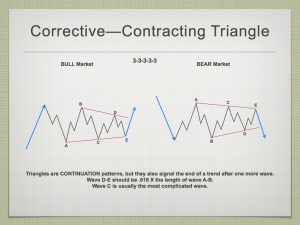 My focus this weekend is on contracting triangles, one of three types of Elliott wave corrective patterns (flats, zigzags, and triangles). This is timely because of the pattern in oil. We've been in a contracting triangle since early 2015.
Contracting triangles are the most common type of triangle. When they're in the fourth wave position, they predict an end to the entire trend with one more wave (fifth wave).
Rules (these are "hard" rules; they cannot be broken):
A triangle always subdivides into five waves.
At least four waves among waves A, B, C, D, and E each subdivide into a zigzag or zigzag combination.
Wave C never moves beyond the end of wave B, wave D never moves beyond the end of wave C, and wave E never moves beyond the end of wave D (The result is that going forward in time, a line connecting the ends of waves B and D converges with a line connecting the ends of waves A and C).
A triangle never has more than one complex subwave, in which case it is always a zigzag combination.
Guidelines (guidelines can be broken but it's rare that they are):
Usually, wave C subdivides into a zigzag combination that is longer lasting and contains deeper percentage retracements than each of the other snbwaves.
Sometimes, wave D subdivides into a zigzag combination that is longer lasting and contains deeper percentage retracements than each of the other subwaves. (C and D won't both be complex waves).
Sometimes one of the waves. usually wave C, D, or E, subdivides into a contracting triangle. Often the effect is as if the entire triangle consisted of nine zigzags.
About 60 percent of the time, wave B does not end beyond the start of wave A. When it does, the triangle is called a running triangle.
Barrier Triangles: Sometimes. either waves A and C, or B and D, will end at almost exactly the same level. When the flat line is on the top, it is called an ascending triangle; when it is on the bottom, it is called a descending triangle.
When wave 5 follows a triangle, it is typically either a brief, rapid movement, or an exceptionally long extension.
Case in Point: Oil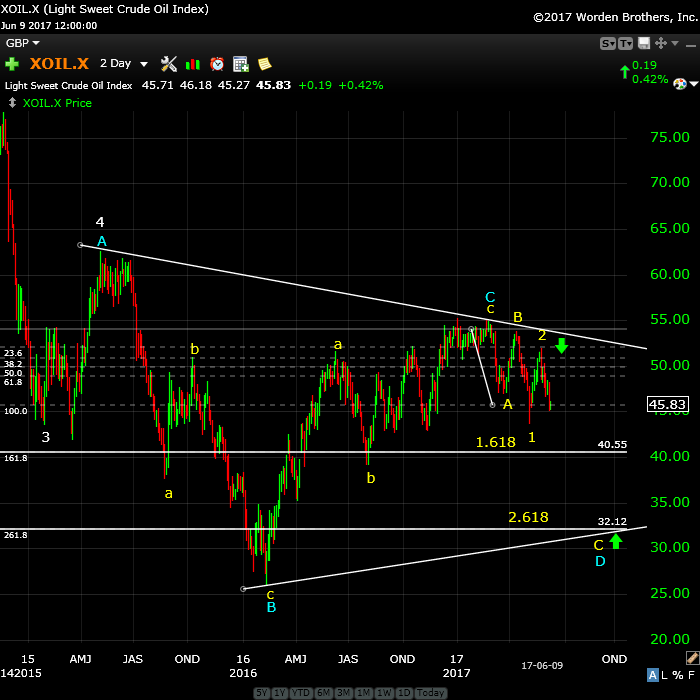 Above is a two day chart of West Texas Intermediate Oil. I called this pattern as a triangle way back in early 2016. It continues to play out as such and has a long way to go. We're currently in a wave headed down to the $32 area. Once that target is met, we'll see one final wave up to slightly above $50 before we slide down below $25.
From a fundamentals perspective, there is no demand for oil and at the same time, the international market is flooded with oil. There are lots of "fun and games" going on to prop it up, but we're far enough into this depression that there won't be a resolution to the upside for a very long time.
In the shorter term, we've completed a yellow A wave down, a B wave up, and are now headed down to the target of about $32, which is also a C wave fibonacci length of 2.618 X the yellow A wave.
In contracting triangles, the length of the D wave (from C to D) should be a fibonacci .618 X the length of the A-B wave length. That length also targets to the $32.00 area.
EW analysis allowed me to call the top of the blue C wave, and targets for blue waves C and E.
It became apparent in late 2015 that we were forming a triangle. That's because the wave down from early 2015 was obviously in three waves. Once we reached the bottom of blue B and then risen above the previous wave yellow b low, it was obvious the previous wave was a three and was going to remain so.
The only patterns that start with a wave containing only 3 subwaves in a fourth wave position are triangles and flats. However, the first wave of a flat would not be as extreme as that of a triangle, so it's easily discounted in this case.
The Market This Week
Here's the latest daily chart of ES (emini futures)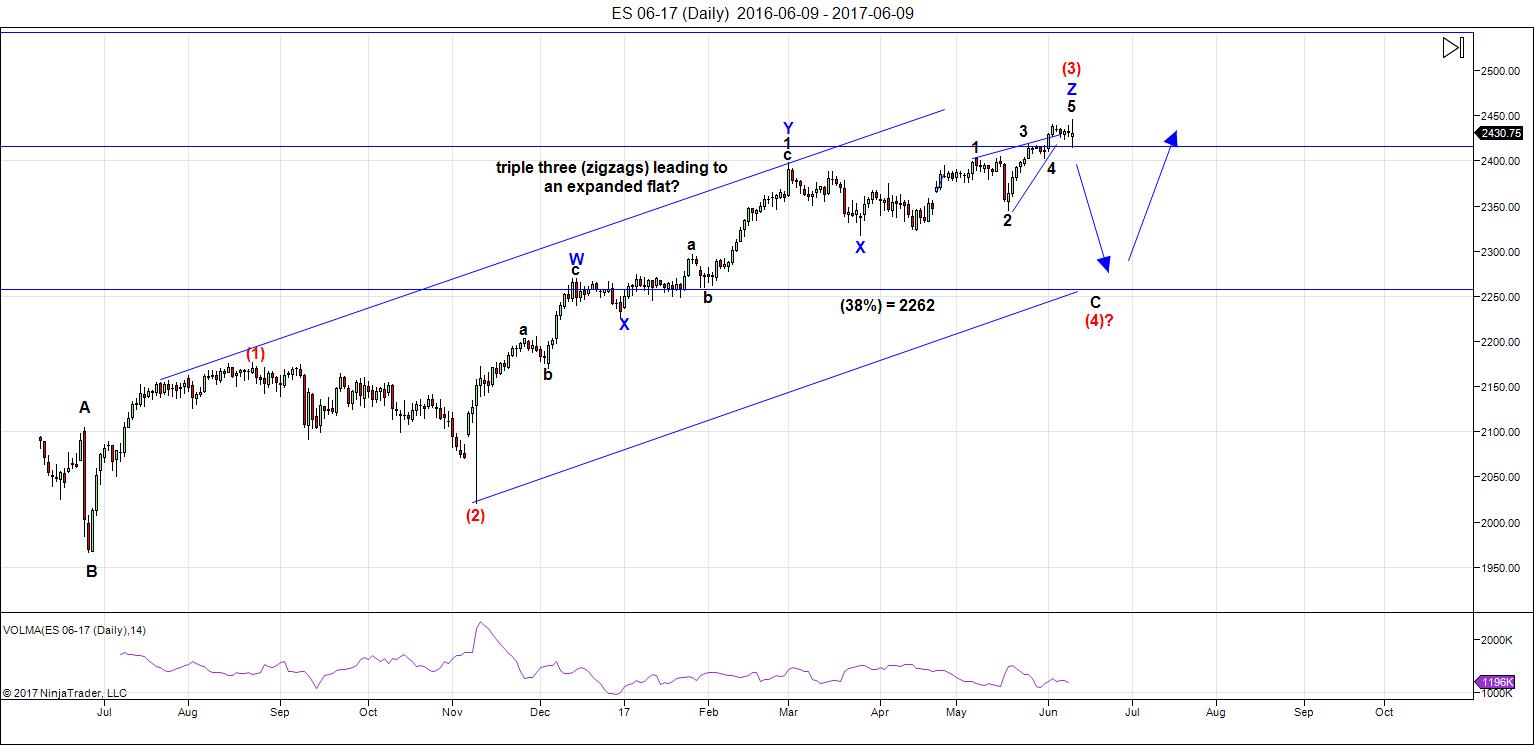 Above is the daily chart of ES (click to enlarge, as with any of my charts). The count has not changed appreciably. What appears to be a third zigzag of the third wave (you can only have three patterns within a corrective wave—this third pattern starts at blue X on the chart) continued slightly higher as predicted last week and continued to build a potential very large expanded flat at the top of the circle red third wave. The very top of this last wave formed what looks like an ending diagonal, and we dropped in dramatic fashion on Friday.
Five waves down to a previous fourth of one lesser degree confirms a change in trend. We don't quite have that yet. The Nasdaq, which should lead the market is further along in the trend change process, but also does not have five waves down confirmed.
Summary: We've completed the third wave in ES at the top of a possible expanded flat (and and ending diagonal). We could have one more test of the top on the NYSE side of the market. I believe the Nasdaq side of the US market has likely seen the top; however, we still need technical confirmation.
After completing the larger fourth wave, we'll have one more wave to go, which could be an ending diagonal as a fifth wave. The long awaited bear market is getting closer.
______________________________________
Sign up for: 

The Chart Show
Wednesday, June 21 at 1:00 pm EST (US market time)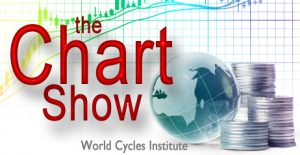 The Chart Show is a one hour webinar in which Peter Temple provides the Elliott Wave analysis in real time for the US market, gold, silver, oil, major USD currency pairs, and more. You won't find a more accurate or comprehensive market prediction anywhere for this price.
Get caught up on the market from an Elliott Wave perspective. You'll also get Andy Pancholi cycle turn dates for the balance of the current month. There'll be a Q&A session during and at the end of the webinar and the possibility (depending on time) of taking requests.
All registrants will receive the video playback of the webinar, so even if you miss it, you'll be sent the full video replay within about an hour of its conclusion. For more information and to sign up, click here. NOTE: the weekday and time have changed - to Wednesdays.