Wave 1 up of the ending diagonal has been a very long parade. As Zerohedge noted on August 18, "options-traders-have-never-been-more-bullish."
As I stated here last week, "I'm expecting some volatility." We may get an political/financial event early in the week. Look for a bearish rain cloud to form early in the week.
On a larger scale, I see the sentiment tide turning. Today Zerohedge reports that the FED has mounted a new Facebook page, but the comments are perhaps not what they expected. The perception of their usefulness in terms of supporting the economy is obviously changing. The pendulum swings and it's getting close to swinging it the other direction, but we're not quite there yet.
One of the luminaries whose work I'm researching in depth is Dr. Raymond Wheeler, in his description of the psychological traits of society at the turn from a warm dry climate to a cold climate (the first part of which, will be wet—hence the floods across the world that he predicted starting about the year 2000).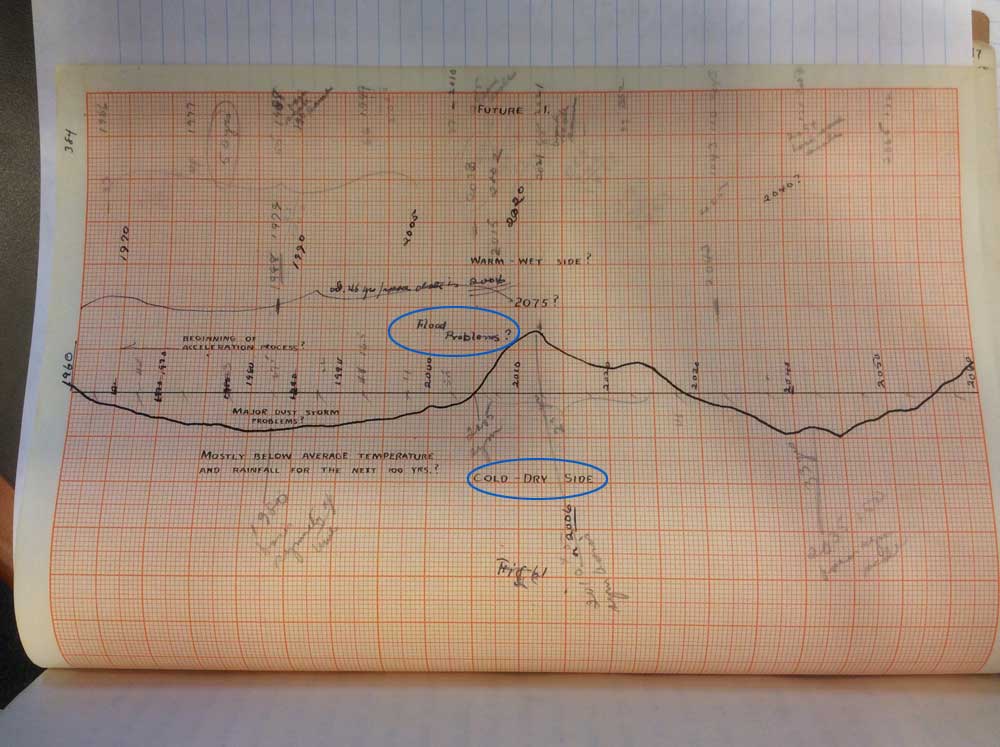 Above is a chart of Dr. Wheeler's that I discovered in his original writings at Baruch College in New York a couple of months ago (the blue circles are my overlays). Before he died in 1962, Dr. Wheeler plotted out the weather past the year 2000 and projected major floods around the year 2010. We're having major flooding around the world right now, and it's likely to continue (I have a couple of dozen historical charts of his that go back to the year 600 BC which show the cycles quite clearly).
Being primarily a psychologist, he was most interested in how society changed at peaks and valleys of climate change. We're currently moving from a warm dry-climate to a cold-wet climate (initially) and then a cold-dry extended period.
As we move from warm-dry to colder temperatures, we experience extreme climate and a period of flooding, but more importantly, perhaps, are the influences on how we think.
Last week, I listed a few "Traits of warm-dry moving to colder climate." Let's flesh a few of them out with some examples:
Decadence (and a general frustration with it as climate turns colder). A great example of this is the Zerohedge article today on Hillary Clinton flying 20 miles in her private jet to a Rothschild (the world's bankster-family) fund-raiser. This likely wouldn't have been reported until recently.
Cultural and economic collapse. The major economic collapse is still to come, of course, but since 2008, there has been a distinct cultural and economic change around the world. People are feeling it, but the stock market hasn't shown it yet. However, the real estate market certainly has and even the last of the remaining real estate bubbles (Vancouver) are starting to roll over.
Rise of the masses against the establishment. You can see this through the following that Donald Trump has amassed. I think you'll see an ebb and flow of support for him as the market continues to gyrate up and down over the next couple of months.
Migrations. The Syrian migration is the obvious one here, but there have been major migrations every 500 years.
Persecution of minorities (usually sanctioned by governments). You can see this is the very obvious (now) killing of the black population by the police in the US. It's been going on for years and years, of course, but is now about to erupt in the opposite direction (think Dallas). Dallas was also the city where Kennedy was shot at another turning point in history. 1963 was a change in tone that ended up ushering in the recession that bottomed in 1974. It turned much colder and dryer during that brief period.
Poor leaders. I'll point again here to the entire Republican slate and the choice that exists between the nominees (Clinton and Trump). We can see this in Canada with the current Prime Minister, who is more interested in "selfies" that actually governing the county. He is the least prepared to lead the country of any previous Canadian Prime Minister in history.
Race riots and civil wars. We have the beginnings of an uprising in the US. This should be the tip of the iceberg. There's the Ukranian civil war in progress, and of course, Turkey is upside down at the moment.
Less concern for human life, individualism. There continue to be mass murders around the world, whether attributed to terrorism, or not.
Sabotage, fraud, scams. I've written about the climate and ozone scams. More and more financial fraud is coming to light. Back to Zerohedge for the latest for the trillions of funds unaccounted for within the Defence Department. No real surprise here!
Low birth rates. The low birth rate around the world has left the front pages, but it was front and center a couple of years ago. Birth rates always dive at the top of a warm-dry phase as we transition into a colder climate. They surge again in a warm-wet climate.
Epidemics (start to show up as we turn colder). We have the Zika virus which is not quite out of control, but getting there. Ebola has been put to rest for the moment, but I'm expecting it to raise its ugly head as climate continues colder.
Natural cycles always win out in the end.
Subscribing to Comments
You're now able to subscribe to comments on individual posts. That triggers an email that will be sent to you instantly whenever there's a reply to that comment. You'll be able to subscribe to any replies that follow individual comments you make and you can subscribe to all comments on a post, so that you don't miss an important comment during the week. You can also subscribe to all comments without making any comments yourself. Here's the option just under the submit button:

You'll also be able to unsubscribe at any time or change your subscription options. Remember, it's per post. I do a new post each weekend, so if you want to subscribe to all comments, each week, you'll need to re-subscribe each week to the new post. You should really need to worry about unsubscribing to old ones, as once a new post is live, you wouldn't expect to get replies to old posts (as they're not as readily available – although it could happen).
That's not a worry, as you can change your overall subscriptions at any time. There's a link in the email you receive to let you do that.
The Turn is Upon Us
The major turn in the markets is a couple of months away in my estimation. We should continue to chug up and down in an ending diagonal before we get to the final top. The chart below is a rough estimation of how that might look.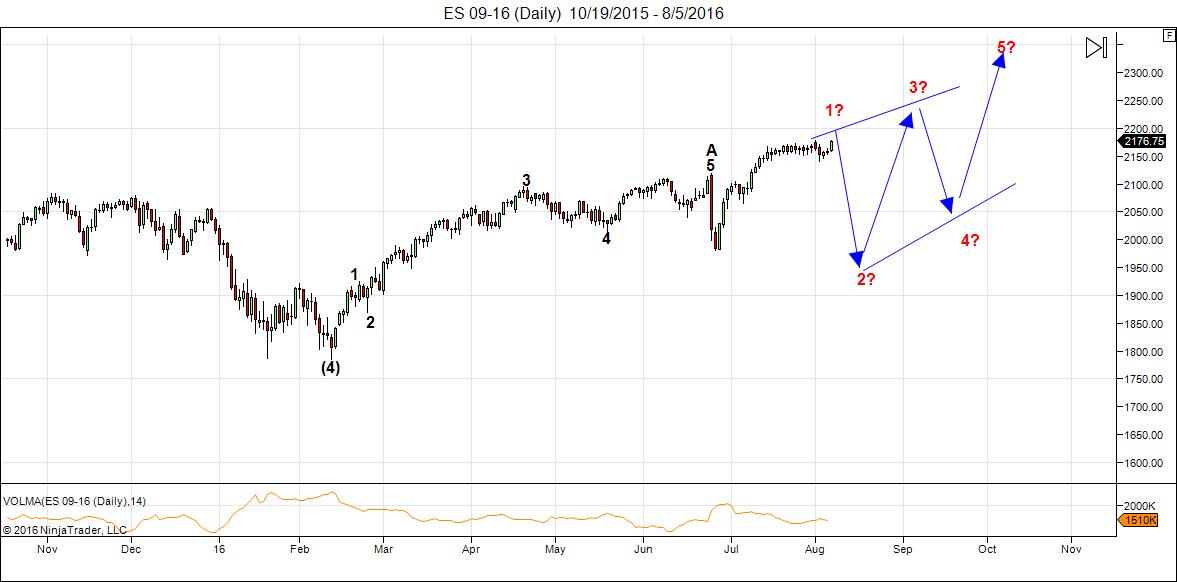 Above is the daily chart of ES (SPX emini futures). We either at the top or close to the top of the first wave of the ending diagonal. The next major move is to the downside. We still have our work cut out for us in terms of reaching a final high.