Down — Almost Right Across the Board
All the assets for which I do video report on a daily basis are setting up for a turn early in the week. It's been a long haul and once again, it underlines the difference between trading success and losing consistently: Sitting on your hands.
Or, if that's too tough, phone a few friends and get them to help you form a locked ring of hands. It might not be a lot of fun past about a minute (depends on who your friends are!), but you won't lose any money!
The point is that way too many people over-trade. You want to wait for set-ups. Whenever I've lost money, it's because either:
I've had a winning streak and became invincible in my smallish mind, or
I've jumped into a trade that "looked simple and lucrative" without doing my proper homework, or
I've listened to someone else, rather than me.
But the most common reason is simply over-trading. So, have a plan; better to have a system, and follow it religiously
_________________________
The SP500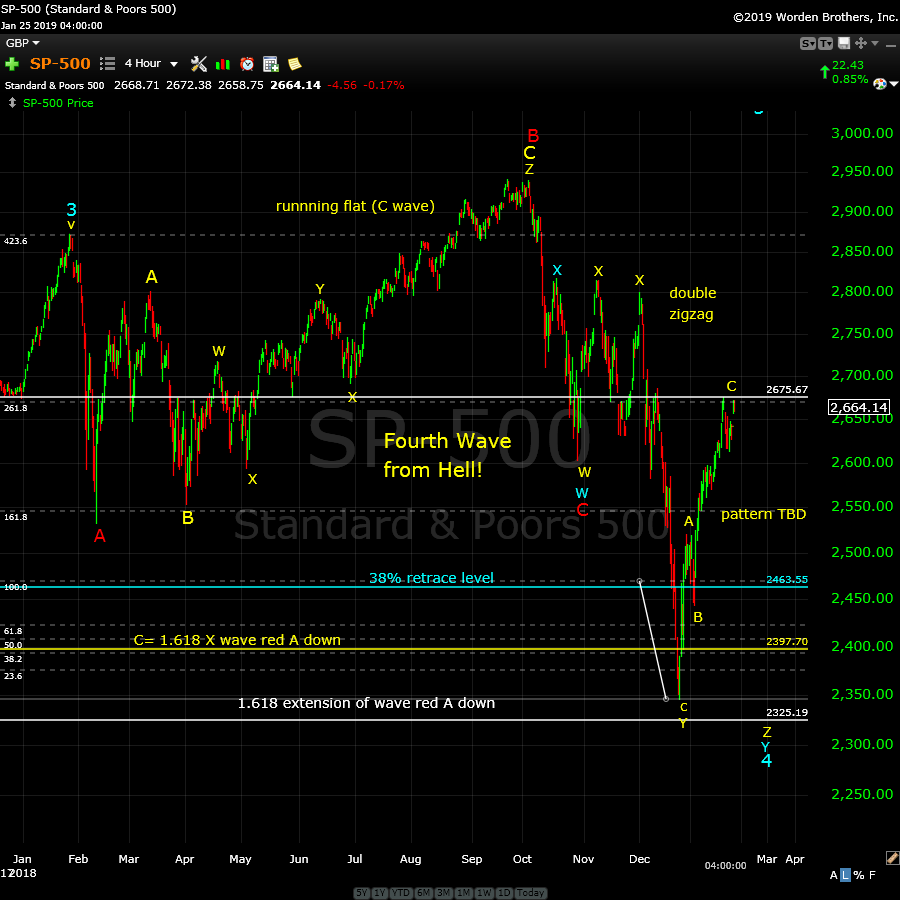 Above is the four hour chart of the SP500. It would be difficult to interpret this any other way than a great big corrective wave up and a great big drop to come (although there some professed Elliott-wavers out there that have either way more imagination than I have, are on medication I'd like information on, or have no idea what they're doing). All the US indices are in obvious corrective waves to the upside.
Open interest (the put/call ratio) is at about .27 (under .50 is bullish) and so the most of the dummies out there think we're going up. The herd is almost always wrong, in life, trading, and Las Vegas.
This particular wave down will be the parade I've been waiting for. Almost all assets classes are going to participant, along with a host of international indices. It may end being a bit of a "show."
So, watch for turns in oil, the US dollar, USD currency pairs, and US equities, to name a few.
Now, let's not get "all jacked up" about a crash. The waves down are corrective … all of them … from January 29, 2018 until now. That means we have another wave up to a new high. It's a fifth wave, and every wave pattern since the beginning of the stock market, across any index you care to speculate on, has had one at the top of a bubble (or any other top, for that matter).
Know the Past — See the Future.
_______________________
Elliott Wave Basics
Here is a page dedicated to a relatively basic description of the Elliott Wave Principle. You'll also find a link to the book by Bob Prechter and A. J. Frost.
____________________________
Registration for Commenting
Want to comment? You need to be logged in to comment. You can register here.
If you register, it protects your information. It also allows you to comment without filling in your information each time. Once you're registered, simply go to the home page and click on the login link top right in order to log yourself in. Usually, you'll be logged in for several days before needing to be logged in again.
______________________________
Problem receiving blog comment emails? Try whitelisting the address. More info.
______________________________
Get an upper hand … JC 2
Get an upper hand in trading …

Seeing all the different currency pairs and the wave structures and hearing you explain why this has to do that on a nightly bases gives one a upper hand when trading. Elliott Wave applies to all stock and indices and can be applied to any candlestick chart.

If someone ask what you want for Christmas – Tell them a membership to Peter's "Traders Gold!"—JC
US Market Snapshot (based on end-of-week wave structure)
Here's the latest daily chart of ES (emini futures)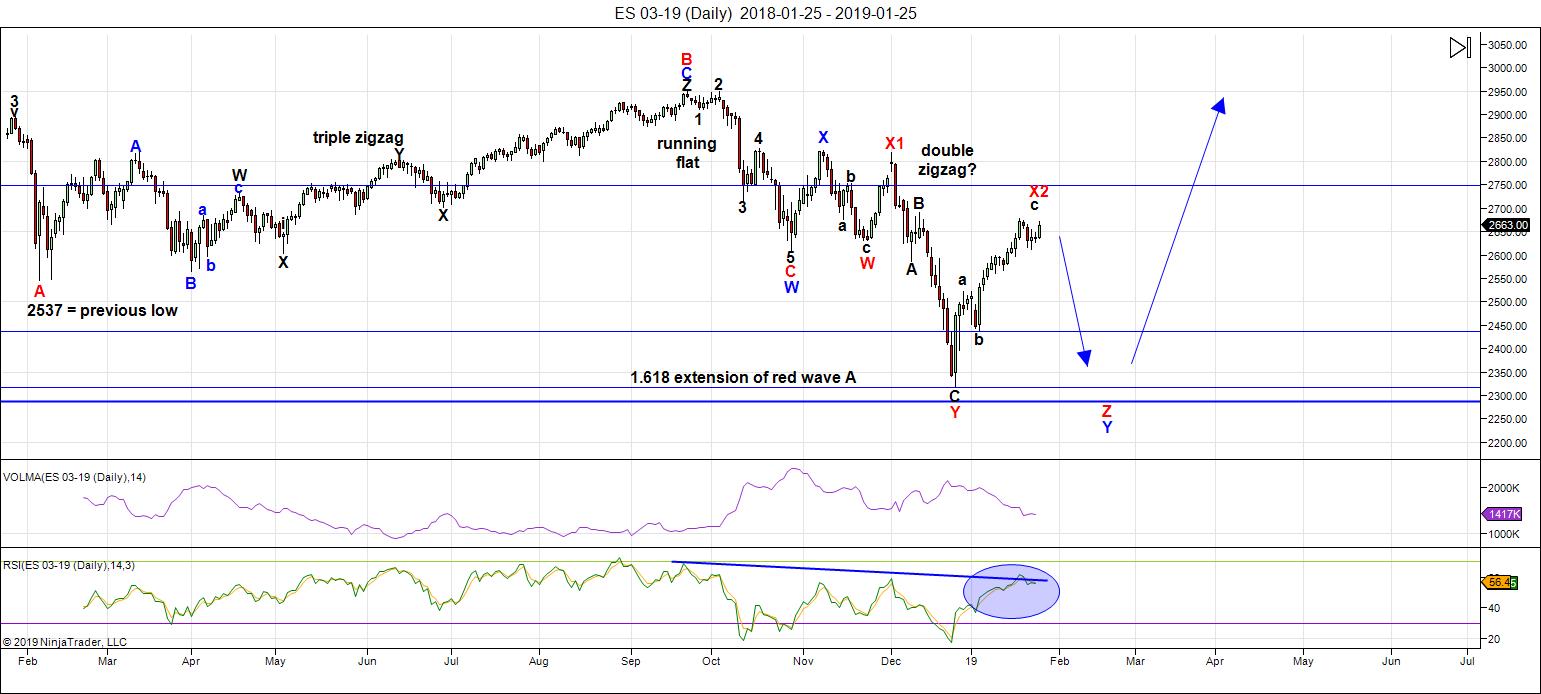 Above is the daily chart of ES (click to enlarge, as with any of my charts).
The current huge countertrend rally has lasted five weeks, but now we're all but done.
I've been expecting a double top, but how it was going to happen, and when, has been the question. Over the past couple of days, those questions have been answered, for the most part. I'm looking for a top of this monster rally early in the week ... finally.
I have fibonacci ratios at our current top in the NYSE and SP500. ES has been difficult to pin a top to, because the measurements aren't working out, but that's likely because the length of the wave up in futures is different than that in cash: They have different starting levels at the very bottom.
The final pattern to the downside is still up in the air. I would expect a zigzag to the downside, but with such a large rise, and with only two patterns determined so far in this large fourth wave, there are other possibilities. However, with along currency pairs, the US Dollar, and Oil all expected to turn at the same time.
The downside target at the moment is the previous low at approx. 2318. We could drop lower, but this level is a fibonacci level which is a common stopping point for a fourth wave, and I have nothing to support a further drop (doesn't mean it can't happen).
Summary: My preference is for a dramatic drop in a zigzag (5-3-5) pattern to complete a triple zigzag with a wave at least to the previous low that could start as early as Monday. The culmination of this drop should mark the bottom of large fourth wave in progress since January 29, 2018 - almost a full year of Hell.
___________________________
Trader's Gold Subscribers get a comprehensive view of the market, including hourly (and even smaller timeframes, when appropriate) on a daily basis. They also receive updates through the comments area. I provide only the daily timeframe for the free blog, as a "snapshot" of where the market currently trades and the next move on a weekly basis.
______________________________________
Sign up for: The Chart Show
Next Date: 

Wednesday,February 6 at 5:00 pm EST (US market time)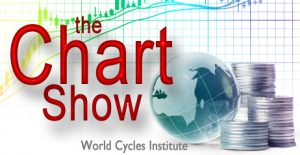 The Chart Show is a one hour webinar in which Peter Temple provides the Elliott Wave analysis in real time for the US market, gold, silver, oil, major USD currency pairs, and more. You won't find a more accurate or comprehensive market prediction anywhere for this price.
Get caught up on the market from an Elliott Wave perspective. You'll also get Andy Pancholi cycle turn dates for the SP500 for the balance of the current month. There'll be a Q&A session during and at the end of the webinar and the possibility (depending on time) of taking requests.
"I think you are the only Elliot Wave technician on the planet who knows what he's doing."
m.d. (professional trader)
All registrants will receive the video playback of the webinar, so even if you miss it, you'll be sent the full video replay within about an hour of its conclusion.