I recently had an issue crop with a subscriber in which they were unable to receive notices of new comments from the blog.
If you're not aware, there's a signup button at the bottom of the blog that looks like this: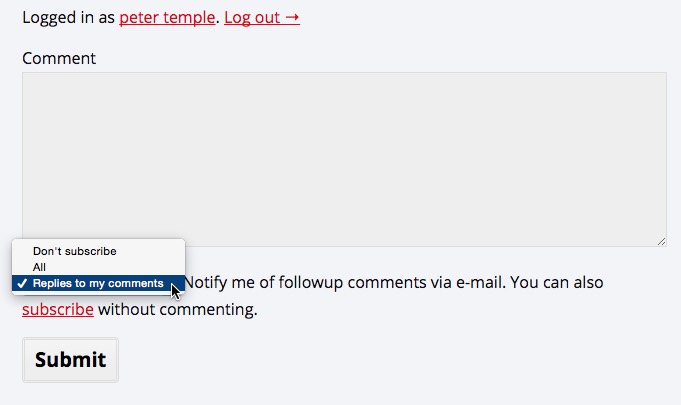 This is a link to a WordPress plugin that's part of my site capabilities. If you sign up for to receive emails when new comments are posted, it will send you an email with the comment text as soon as it's posted. The address it comes from is the same as my normal email address: peter@worldcyclesinstitute.com. You can either sign up to receive all emails, or emails just replies to any comments you yourself make.
You need to sign up each weekend to receive notices of any comments made on that post during the coming week.
The recent issue is that my subscriber was able to receive emails from me, but not from the plugin. It was odd, because it was the same email address that it was coming from. The solution was to whitelist my email address (peter@worldcyclesinstitute.com) in the appropriate place in his email server. He has a hotmail account.
There are other email servers that seem to have a problem with my address: aol.com addresses, along with any microsoft-related email accounts. Hotmail is one of these. Others are:
att.net
bellsouth.net
flash.net
nvbell.net
pacbell.net
prodigy.net
sbcglobal.net
snet.net
swbell.net
wans.net
You can google "how to whitelist an att address" (or other email provider on the list) and you'll be able to find info on how to whitelist my email address, which hopefully will fix the problem).