"At the extremes, the herd is always wrong. One should not under estimate its capacity for stupidity."
The Secret Life of Real Estate, Phil Anderson,  p 329
I attended a meeting this weekend — an association meeting with my speaking peers. These are professional speakers (and those who would like to be). I have often referred to these people as "salespeople on steroids."
One senior member of the group mentioned to me that he had just made a major stock market investment. I reminded him of what I've been saying for the past couple of years about the market topping and he said something like, "Well, if that takes place, a lot of people are going to lose a lot of money."
I was thinking, "…. yes," but didn't bother saying anything. What do you say to someone who decides to buy high … and I would guess, eventually sell low? Hence my posting of one of my favourite lines at the top of this post. It's amazing to me how some people have no concept of money and its value. But there you have it.
"Nobody" will have seen this coming.
This chart below appeared in a post on zerohedge, which you can find here.
The chart of options strength signals, of course, that the top is near. The expectation of a higher market is now at all time highs. But, we're not quite done. It should reach even crazier levels as we reach the ultimate peak. So, it's not time quite yet to go long the VIX.
Herding Cats
During my 40 of so years as a television producer, I built a company with a team of creative types to support me in my work. There was an expression that I liked that usually pertained to IT people, but which also was a good descriptor of what it was like getting my staff into a meeting on time: It was like herding cats.
The market this past week reminded of that phrase, because there are times when it appears to make no sense  … until I spend the time to review all the sub waves and determine wave counts sometimes right down to the one minute chart level.
I went into my analysis this weekend thinking that the US indices were completely out-of-sync with gold, the US Dollar, and other USD currency pairs. However, after a few hours of working through the subwaves on virtually everything, it's become obvious to me that they're not. What caused me some concern was the fourth wave we traced out in the US indices and futures. It was shorter than I expected and threw my thinking right out of whack (for Friday, at least).
I came back to one of my favourite rules about the market: The market does the most predictable thing in the most unpredictable way. And sure enough, that's what my analysis has told me once again. We are going to end together, as I've been predicting for the past two years. The dollar is in charge (and it will signal the final trend change). All assets may not change direction the same day, but they don't look to me like they turn that far apart.
This  again reiterates the importance of considering all asset classes in the analysis of the ups and downs of this market. It makes my analysis here the "free blog" open to attack for the fact that you're not privy to the extensive analysis I do each weekend across all major asset classes. If you don't pay attention to the bigger picture, you can very quickly get lost in the very difficult structure of the US indices.
However, the entire market is moving as one. There can be no other conclusion than one that spells economic catastrophe is imminent.
_______________________
Couldn't be happier … KK 2
Couldn't be happier …

The analysis and insight you provide is simply amazing!  I've been trading the futures and equity markets for well over thirty years and usually average around 5% monthly.  Since joining your Traders Gold Service two months ago, that number has better than doubled.  I couldn't be happier.—KK
The Market This Week
Here's the latest daily chart of ES (emini futures)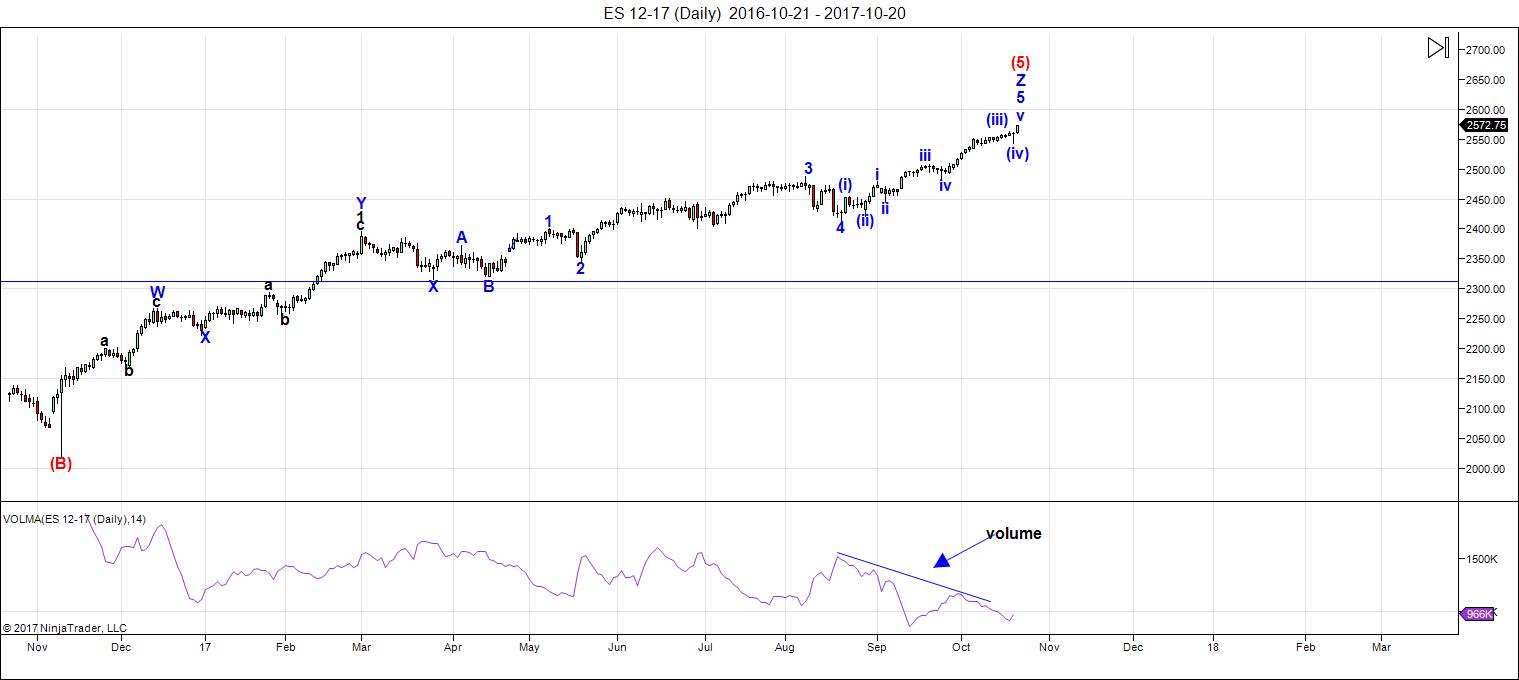 Above is the daily chart of ES (click to enlarge, as with any of my charts).
I have a full count on NQ/NDX but this week, ES faked us out with a very small fourth wave. We need a larger one to complete the wave count.
I spent many hours this weekend going through all the waves of all the assets I cover. That's because the US market appeared on Friday to be out-of-sync with the US dollar (something I didn't expect to happen). However, further reflection and analysis leads me to believe that's not the case. We're still on track for a final top ... it's imminent, but still likely a few weeks away ... we may move into November and there's no saying what the speed of the final fifth wave unfolding will be.
In any event, we're into the very final stages of this monster blow-off wave in the US indices. However, with the smallish fourth wave at the end of this week, the wave structure has an unfinished look to it. This supports a final fourth and fifth wave to parallel what's happening with the US dollar. Everything should top at the same time (as I've fairly vocal about since I began this site). This still appears to be the case. The market is "playing games" due to the difficultly of following the EW movement requirements across assets of different sized waves. It always amazes me how the market figures this all out without breaking any EW rules!
On a short term basis, I'm expecting a slightly larger fourth wave drop early this week (it may be another quick one and could be deeper than I expect—surprises are often to the downside in topping markets). My preliminary target is still 2530. The fourth wave we experienced this week was not large enough, and is now labelled as the fourth of the third of the fifth. The larger direction is still up. We still have the fifth wave of the fifth to go and that will play out across all asset classes, including gold.
Volume: Note that for some time now, volume has been expanding with selling, and drops considerably when the market heads back up. This is yet another signal of the larger, impending top. I've been predicting for quite some time here that it will drop off suddenly towards the top of the final fifth wave top. This it has indeed done.
Summary: The count is full for NQ, not quite full yet for ES. We're waiting for a valid fourth wave and then a final fifth wave up to a new high, to coincide with the currencies (most importantly, the US dollar).
___________________________
Trader's Gold Subscribers get a comprehensive view of the market, including hourly (and even smaller timeframes, when appropriate) on a daily basis. They also receive updates through the comments area. I provide only the daily timeframe for the free blog, as a "snapshot" of where the market currently trades and the next move on a weekly basis.
______________________________________
Sign up for: 

The Chart Show
Wednesday, November 1 at 1:00 pm EST (US market time)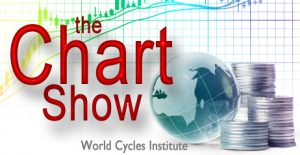 The Chart Show is a one hour webinar in which Peter Temple provides the Elliott Wave analysis in real time for the US market, gold, silver, oil, major USD currency pairs, and more. You won't find a more accurate or comprehensive market prediction anywhere for this price.
Get caught up on the market from an Elliott Wave perspective. You'll also get Andy Pancholi cycle turn dates for the SP500 for the balance of the current month. There'll be a Q&A session during and at the end of the webinar and the possibility (depending on time) of taking requests.
All registrants will receive the video playback of the webinar, so even if you miss it, you'll be sent the full video replay within about an hour of its conclusion. For more information and to sign up, click here.