Overview of Where We Are
I've spent a lot of time thinking about all the assets I cover and how they're all moving to a synchronized turn. Here are my thoughts.
Last week, it looked like currency pairs were going to turn early. They seemed to be topping with everything else. In other words, it seemed like EURUSD would not make its 38% retrace target at 1.24. However, with Friday's  spike to new highs, that may not in fact, be the case.
The US dollar also had not bottomed, which seemed a bit odd. On Friday, however, it dropped to a new low and is flirting with a double bottom. I have for a very long time called for this to happen and said that the US market would top at the same time. Well, here we are …
In any event, I've seen this show before, where currencies shoot up to get to a pre-determined target at the last minute. That seems to be what's happening. So a BIG CAUTION is in order here in terms of the US indices.
This is a 500 year top. The US indices are at a top. However, I'd be really surprised if they go easily; if we don't get a double top. I'll be looking very intently at the first wave down from here in the US market to see whether it's corrective or impulsive.
There will be tons of time to react; after all, this bear market will last years. So, while I expect the US market to start down this week, I would not be at all surprised to see a test of the current highs before heading down in earnest.
Most everything is at an inflection point, or very close to a turn. Tuesday will be critical, I think, but patience is warranted still. This week should finally see a turn, but all our ducks need to be in order.
______________________________
Oops!  Tesla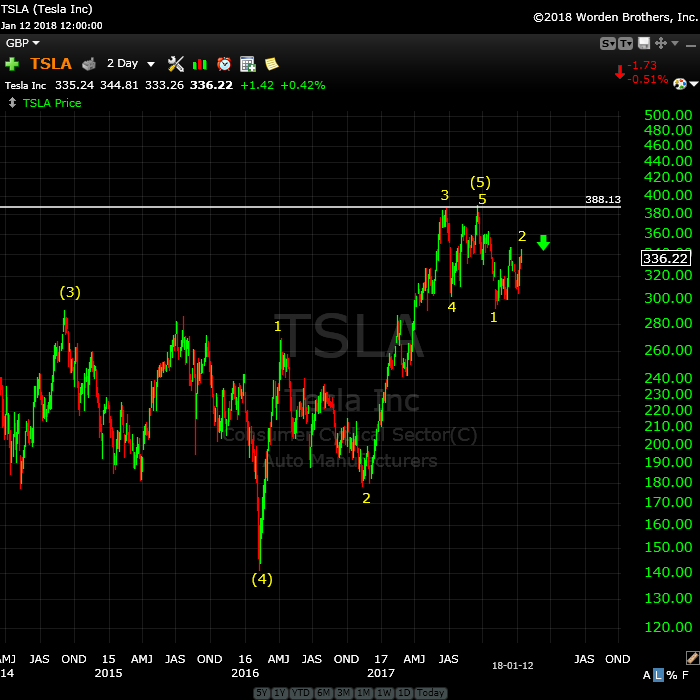 Above is the 2 day chart of Tesla.
Time to think about bidding "adieu" to Elon. Things have not been going well lately, and they're about to get a whole lost worse.
Last week, I suggested we'd head up in a "double-pronged" second wave, which is exactly what we've done. We're getting ready for a turn down into a third wave.
__________________________
And then there's APPL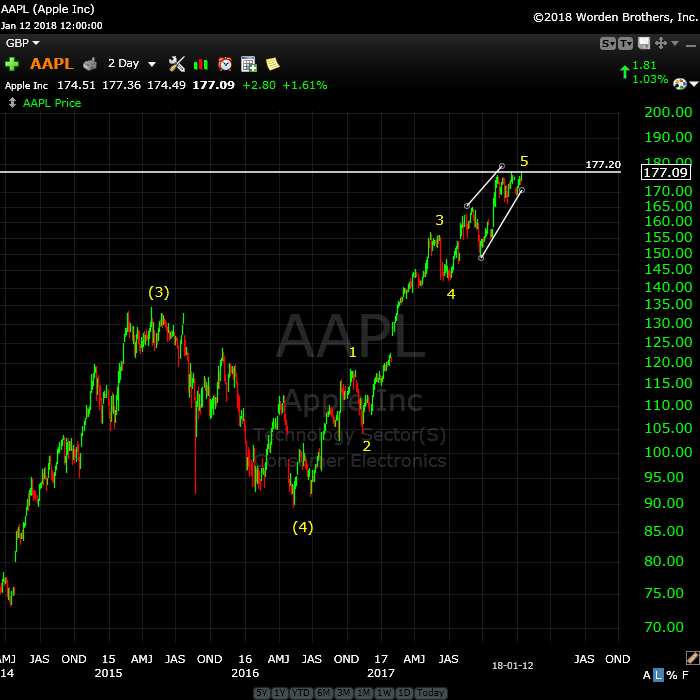 Above is the 2 day chart of Apple (AAPL). I've been expecting a double top here and a possible turn down from that level. We may get a small spike about this level, but the count is full. Also take a look at NFLX and FB, which are finishing ending diagonals.
Looking for a turn in AAPL.
__________________________
Changes to the Free Blog
I'm still on the fence as to the direction I'm going to take on this. In the meantime, this weekend, I'm fiddling with the website plugin that lets you sign up for emails every time a comment is logged. You may or may not see odd things happening as we try to nail this bug.
This past week, I had the developer of the underlying framework do a complete review of the site, which has led to quite a few changes "under the hood," most of which you won't notice. If something seems odd, first just empty your browser's cache, which may alleviate the issue.
One thing that you might notice is that the site is very much faster in loading. Pages load much faster than they did before and overall, is just "snappier." A lot of work went into it, so I hope you see the results.
______________________________
Problem receiving blog comment emails? Try whitelisting the address. More info.
______________________________
Tops in your field DZ 2
Tops in your field …

You are tops in your field.  Tried to follow Elliot Wave international for years.  They were always behind the market.  After discovering you, I perceive that you are an expert in reading the waves, which puts you way ahead of the rest of your peers. And you can read the Waves like you are reading tomorrow's financial section.  I pray you stay healthy.  —DZ
The Market This Week
Here's the latest daily chart of ES (emini futures)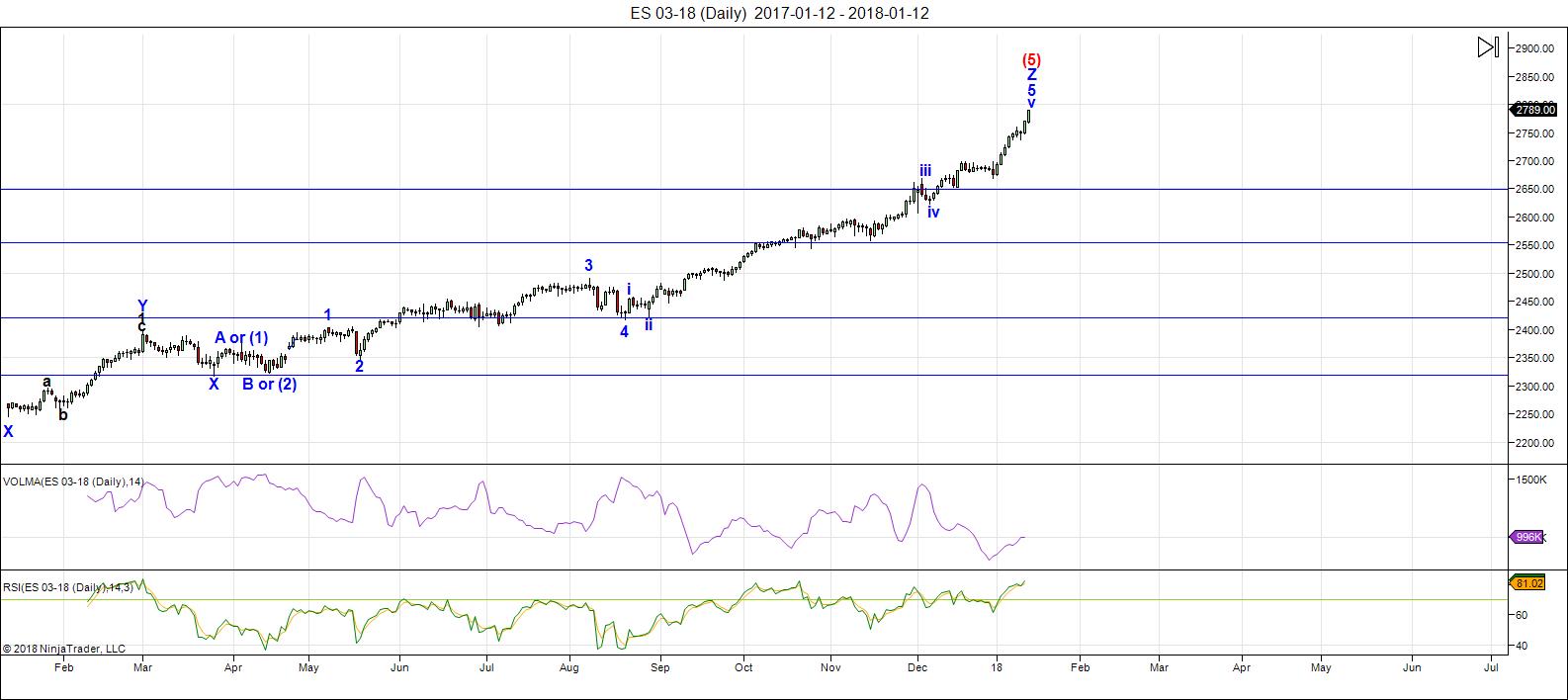 Above is the daily chart of ES (click to enlarge, as with any of my charts).
There have been no material changes to my prognosis. We are at the high. I expect this final wave to turn down this week. But, we may end up with a double top, so the first turn might not be the final one.
On Friday, ES completed an ending diagonal (5 min chart). Ending diagonals can have double tops, so best to wait for the first wave down and then the second wave up to the 62% level before going short.
If the final pattern is truly an ED, ES, should not rise about 2790. However, with currencies and others not quite at targets, the US indices warrant a fair amount of caution.
Volume: It's dismal. Its the purple line, the top indicator at the bottom of the chart.
Summary: The count is full for the US market in general, so we're looking for a turn this week, once everything lines up. This is a major turn and will require all US indices, related currency pairs and of course, the US dollar, to turn at the same time. Be cautious and watch for the turn, which will change the trend and end the 500 year bull market.
___________________________
Trader's Gold Subscribers get a comprehensive view of the market, including hourly (and even smaller timeframes, when appropriate) on a daily basis. They also receive updates through the comments area. I provide only the daily timeframe for the free blog, as a "snapshot" of where the market currently trades and the next move on a weekly basis.
______________________________________
Sign up for: The Chart Show
Next Date:

Thursday, January 25 at 1:00 pm EST (US market time)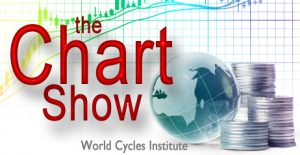 The Chart Show is a one hour webinar in which Peter Temple provides the Elliott Wave analysis in real time for the US market, gold, silver, oil, major USD currency pairs, and more. You won't find a more accurate or comprehensive market prediction anywhere for this price.
Get caught up on the market from an Elliott Wave perspective. You'll also get Andy Pancholi cycle turn dates for the SP500 for the balance of the current month. There'll be a Q&A session during and at the end of the webinar and the possibility (depending on time) of taking requests.
All registrants will receive the video playback of the webinar, so even if you miss it, you'll be sent the full video replay within about an hour of its conclusion. For more information and to sign up, click here.