Looking for the Trigger
Look no further than the US Dollar.
I've been maintaining for the last couple of years that once the US Dollar found its low (it's in a large fourth wave—a corrective wave), that it would mark the top of the US market.
As per my graphic above, it seems like this bull market will never end, but we're extremely close and it could fall over any time.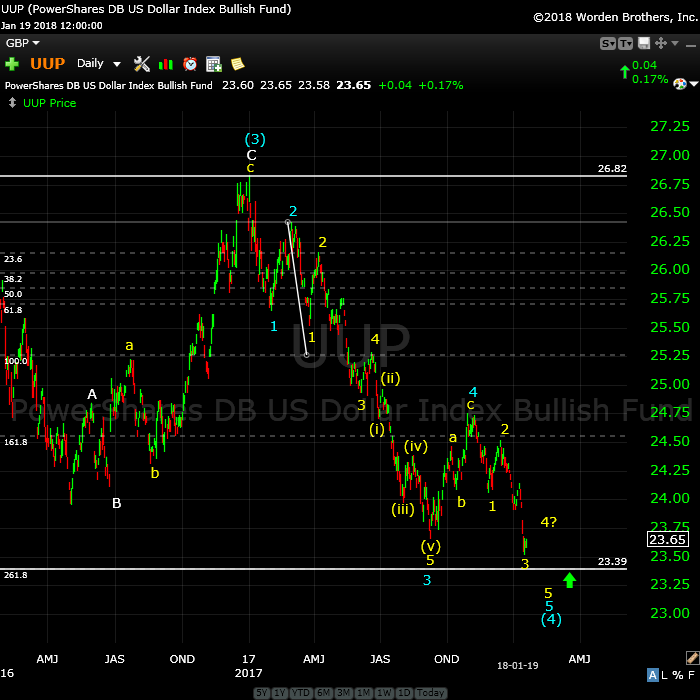 Above is the daily chart of UUP (US Dollar ETF). UUP is representative of the structure of DXY (the US index) and will provide an excellent predictor of the impending top in currency pairs and the US indices.
On Friday, the US Dollar began to trace out what looks like a small fourth wave. I'm looking for a bit more upside on this before it drops to my target of 23.40, or so. This target represents a measurement of the length of blue wave one near the top of the chart and extending it 2.618 times that length. It's a likely stopping point for this blue wave (4).
The turn up will eventually lead to a new high. The dollar will turn with the euro, which is at a new high, and very close to my long term target.
Now, with the US dollar at the obvious end of a fifth wave of a corrective fourth wave (blue circle 4 on the chart), for those who think there's another wave 4 and 5 to go, where is it they expect the dollar to go? You only get 5 waves before a trend change. The counts are all in the fifth waves.
The movement of the dollar strongly influences the movement of just about everything else, so it's important to pay attention to what it's doing on a large scale.
___________________________
DAX is now virtually at a new high (a potential double top). AAPL is at the top of a small ending diagonal, at the top of a fifth wave. EURUSD and GBPUSD are extremely close to my long-term targets, the 38%, 4th wave retrace level. AUDUSD and USDCAD appear to have turned (with first waves arguably already in place). Oil is topping, or has topped already. Gold and silver are heading down with USDJPY. The VIX has also foreshadowing trouble on the horizon. We're all set—we just need the trigger.
Note that TSLA (yes, Mr. Musk's baby, below) is sitting right at the 62% retrace level (352.60) after a corrective 3 waves up. Look for a turn down here, as I've been predicting. This highly speculative house of cards is foreshadowing our upcoming major bear market.
In summary, everything is at an inflection point, or very close to a turn, but a little more patience is warranted.
Bitcoin: here's my take.
All The Same Market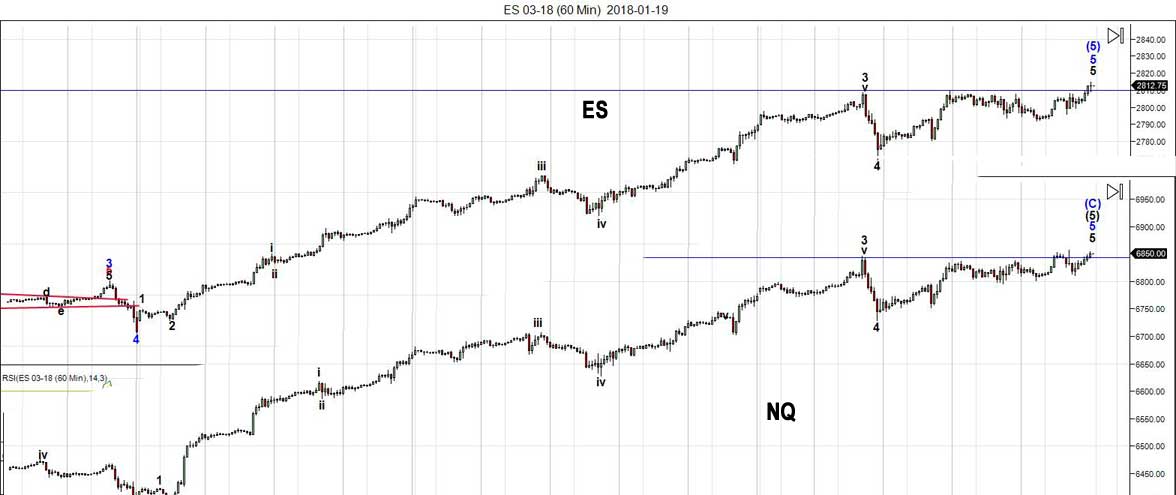 Above is the hourly chart of NQ (Nasdaq emini futures) superimposed over the same timeframe chart of ES (SP500 emini futures). For over a year, I've been talking about all assets classes moving more and more as one as we strive to reach the final high.
Here's an example of how tightly aligned the two major exchanges that constitute the US equities market actually are. This is the first time I've seen the Nasdaq and SP500 move in absolute lock-step. We're seeing the final stages of this rally, as all assets move to a final high.
To a lesser degree, you can find the same phenomenon across all major asset classes. There's a very small gap now between their ultimate targets and present positions … right across the board.
The vigil continues.
______________________________
Tesla at the Target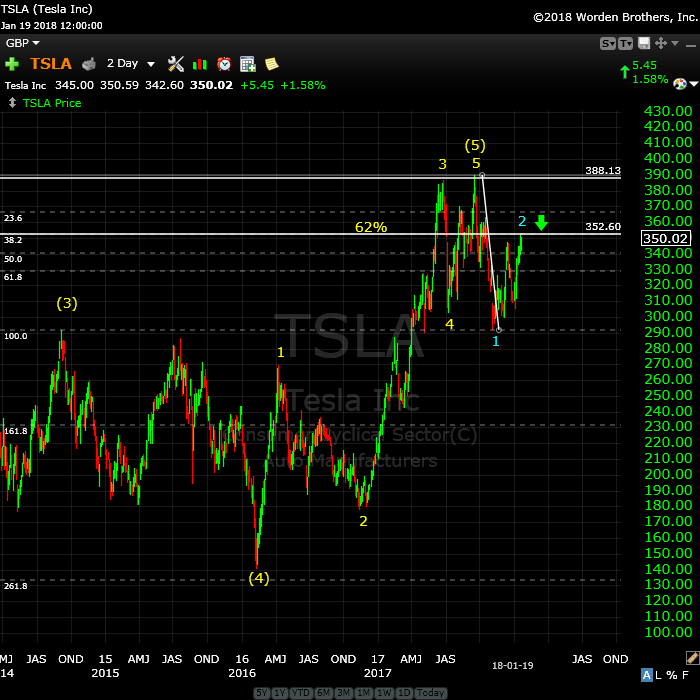 Above is the 2 day chart of Tesla.
Tesla sits at the 62% retrace target as we wait for the turn. Blue wave 2 is corrective and we've completed a double top. The next move should be down.
Last week, I suggested we'd head up in a "double-pronged" second wave, which is exactly what we've done. We're getting ready for a turn down into a third wave.
__________________________
Changes to the Free Blog
This weekend, I rebuilt the site, replacing all the WordPress core files in an attempt to quash the free blog. After spending almost all night at it, it doesn't seem to have had an affect. I will therefore move forward to requiring all commenters to log in, starting sometime early this week (it will take some time to get this up).
This will provide much more control over transient bloggers and protect all names and email addresses. It will also mean that once you're logged in, you can comment at will, without having to include your name and email each time. I should have this in place in the early part of this week.
Registration for Commenting
Want to comment? You need to be logged in to comment. You can register here.
If you register, it protects your information. It also allows you to comment without filling in your information each time. Once you're registered, simply go to the home page and click on the login link top right in order to log yourself in. Usually, you'll be logged in for several days before needing to be logged in again.
______________________________
Problem receiving blog comment emails? Try whitelisting the address. More info.
______________________________
A true expert in Elliott Wave FL 2
A true expert in Elliott Wave …

You are a true expert in EW analysis. What you provide is not available anywhere and is priceless. Subscription on your services is the best thing I have ever done. Many thanks for your effort to make me a better investor. I now have more trust in my investment decisions. I hope you will continue the excellent work! —FL
The Market This Week
Here's the latest daily chart of ES (emini futures)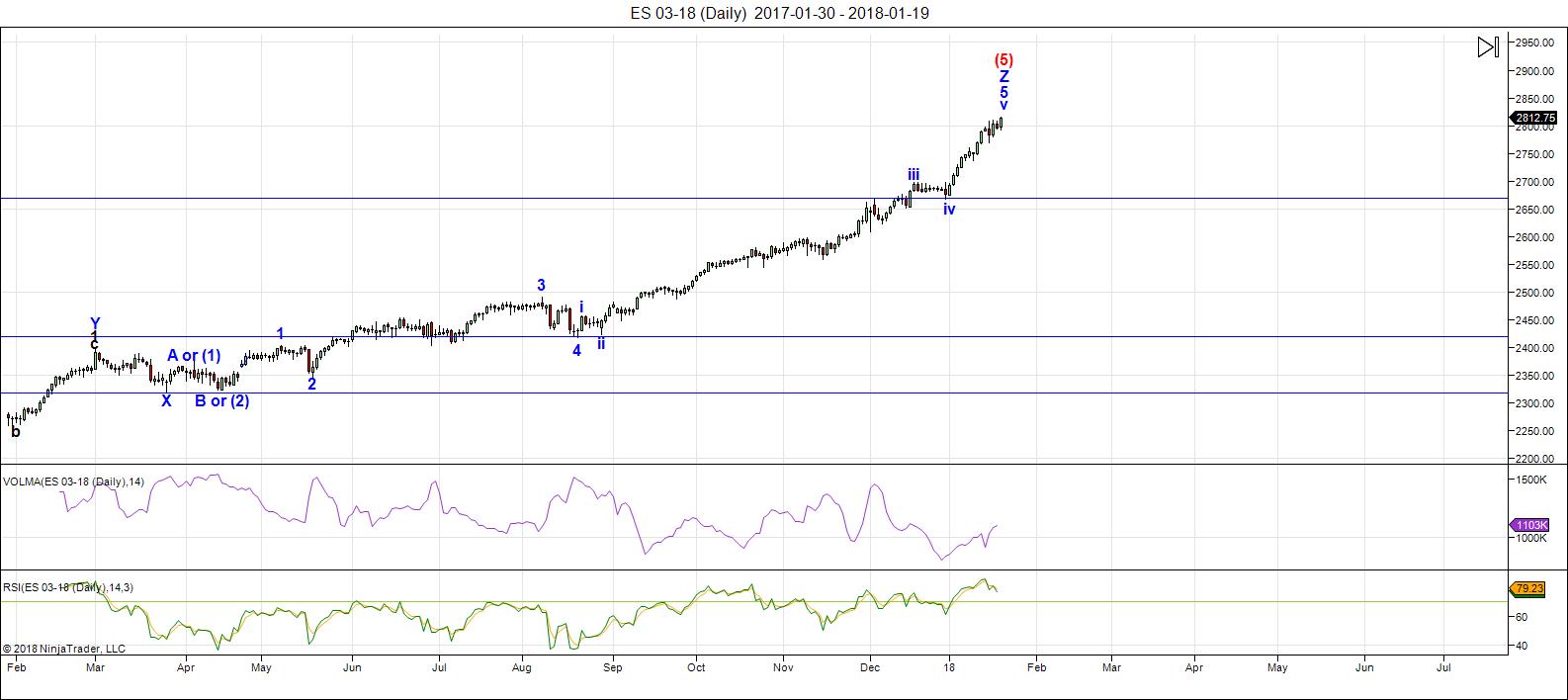 Above is the daily chart of ES (click to enlarge, as with any of my charts).
There have been no material changes to my prognosis. We are at the high. I expect this final wave to turn down imminently. But, we may end up with a double top, so the first turn might not be the final one.
Another frustrating week as the US Dollar tries to find its bottom. As a result, virtually everything has inched a little bit higher in yet another subwave of the 5th wave.
Bearish financial advisors dropped to 12.7% this past week, the lowest level in 31 years. In other words, the bulk of them have given up and decided to go long—a perfect scenario for a turn. "Everybody's in!"
We're ultimately looking for an impulsive wave down in the US indices (and a double top beforehand would be a very nice predictor). Again, we may get a double top so the first move down will be important to watch for clues as to whether it's permanent, or not.
There will be tons of time to react; after all, this bear market will last years. So, while I expect the US market to start down this week, I would not be at all surprised to see a test of the final highs before heading down in earnest.
Volume: It's dismal. Its the purple line, the top indicator at the bottom of the chart.
Summary: The count is full for the US market in general, except for small subwaves that form the balance of a motive set of waves in SPX and some other major US indices. We're watching for a turn, which will change the trend and end the 500 year bull market.
___________________________
Trader's Gold Subscribers get a comprehensive view of the market, including hourly (and even smaller timeframes, when appropriate) on a daily basis. They also receive updates through the comments area. I provide only the daily timeframe for the free blog, as a "snapshot" of where the market currently trades and the next move on a weekly basis.
______________________________________
Sign up for: The Chart Show
Next Date:

Thursday, February 1 at 1:00 pm EST (US market time)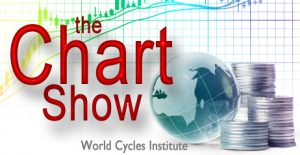 The Chart Show is a one hour webinar in which Peter Temple provides the Elliott Wave analysis in real time for the US market, gold, silver, oil, major USD currency pairs, and more. You won't find a more accurate or comprehensive market prediction anywhere for this price.
Get caught up on the market from an Elliott Wave perspective. You'll also get Andy Pancholi cycle turn dates for the SP500 for the balance of the current month. There'll be a Q&A session during and at the end of the webinar and the possibility (depending on time) of taking requests.
All registrants will receive the video playback of the webinar, so even if you miss it, you'll be sent the full video replay within about an hour of its conclusion. For more information and to sign up, click here.