Way Too Much Bull!
To be successful in trading, one of your hats has to be a "Contrarian Hat." When everyone else (the herd) is in a trade and positive it's going to continue, it's time for you to look for a trend change. When the movement of an asset (eg – the US Dollar) starts to produce major mainstream news stories, you know a trend change is imminent.
The US Dollar has been all over the media this past week; the trend is all but over.
The herd registers extreme sentiment in one direction near the end of a trend. In other words, extreme mass sentiment of this nature is usually due to "everyone" being fully invested in the current trend. Volume starts to dry up, because there are few others left out there who aren't already committed (both financially and psychologically). We're seeing historical off-the-charts extremes.
Daily Sentiment Index (percentage bulls)
Here's a reading of this week's sentiment (trade-futures.com), along with the level of bullish sentiment:
Gold: 91%
Euro: 90%
Crude Oil: 96%
Nasdaq: 97%
SP500: 96%
US Dollar: 8% (in other words, heavily bearish)
The last few days of this week, we've seen a negative NYSE advance/decline ratio even as US equities rose to extreme new highs. The FANGs (Facebook, Amazon, Netflix, and Google/Alphabet) are the major stocks behind what's left of this rally—market breadth is very low. Along with the sentiment reading his suggests a turn is imminent.
Also note that the VIX levels have been abnormally high in the final stages of this rally. This non-confirmation is typical of the final stages of a trend. The VIXX has also turned up very recently, also telegraphing a change in trend is likely nearby.
Prepare for a Turn
Let's look at an update of the US Dollar.
I've been maintaining for the last couple of years that once the US Dollar found its low (it's in a large fourth wave—a corrective wave), that it would mark the top of the US market.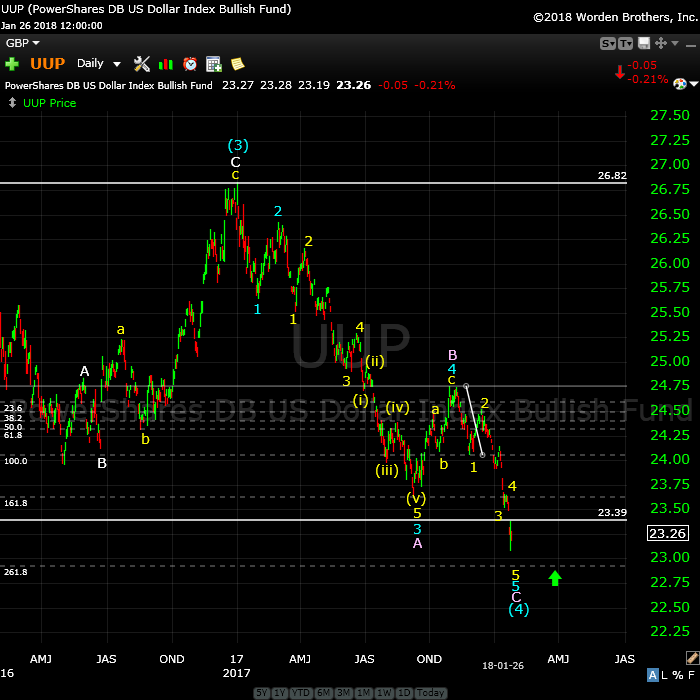 Above is the daily chart of UUP (US Dollar ETF). UUP is representative of the structure of DXY (the US index) and will provide an excellent predictor of the impending top in currency pairs and the US indices.
Last weekend, I wrote here that I was expecting a small yellow wave 4 and then a new low in a wave 5. We now have that pattern in place, but it doesn't look quite complete yet, although very close. I'm expecting one more smaller degree fourth wave now (up) and a final fifth wave to conclude this trend, culminating in a turn up and leading eventually to a new high above 26.82 for UPP and a similar new high for the US Dollar.
The dotted fibonacci line at about 23.00 could be the final target for a turn.
The movement of the dollar strongly influences the movement of just about everything else, so it's important to pay attention to what it's doing on a large scale.
___________________________
DAX has potentially topped and tracing out an impulsive sequence to the downside. Some USD currency pairs appear to have changed trend, while others are working on a turn. Oil is looking "toppy." Gold and silver are heading down with USDJPY. The VIX has also foreshadowing trouble on the horizon. Even the VIXX is showing signs of a trend change. We're almost all set—we just need the trigger for the US indices. The trigger is the turn of the US Dollar.
In summary, everything is at an inflection point, or very close to a turn, but a little more patience is warranted. This is a trend change internationally; the US market is only one of a huge array of big players. The world turns …
Calling a Top
There was a period in August 2016 where the US market looked like it was heading for a top. I never did call a top, however. You can't call a top until you have a first impulsive wave down to a previous 4th wave, a second wave up to at least 62% of the drop and then a new low after that. We haven't had that sequence, so I haven't called a top. You'll know when I call a top … lol.
Once the SP500 went to a new high in 2016 (just that one index), it was clear we weren't going to top at that point, and I proclaimed that we were going to continue heading up. It was an immediate call because EW is very clear at certain points. Once one index provides a technical breach of a key level, its buddies will follow.
This wave up from 2009 is a B wave, a corrective wave. It's not supposed to be possible, based on Prechter's book, which flies in the face of what Elliott believed. I wrote about this in my blog a few weeks ago. I'm one of the only ones that believes we're in a corrective B wave, which is notoriously hard to predict, because there are few to no rules. They end after 5 waves, but will appear to be in 3 waves. The subwaves are often all over the place and fibonacci ratios are often not hit (contrary to what happens in impulsive waves).
EW is price cycles; it has an extremely weak timing element.
So, due to the weak timing cycle, you have to follow EW until you see the final fifth of fifth of fifth (these levels due to the fractal nature of the market). So, while Bob Prechter (EW's iconic promoter) has called a top several times, I won't until I see the pattern I've outlined above. It might be late for some, but it will be a "firm" call.
This weekend, we have the US indices finishing the fifth etc wave. Several major stocks have already topped and are in the midst of tracing out the pattern I described above. DAX has topped unofficially, along with TSLA, and AAPL and others.
However, I won't "call" a top in the US market until I've seen the above pattern, because it's unsafe to short until that pattern has unfolded.
People say I've called a top. I have not. I've been saying we're topping, but I also say topping is a process. The US indices are part of a much larger picture. They are one asset class of a worldwide topping process. I expect the US indices to top this week. The signs are all over the place, but the key is the US Dollar.
______________________________
The Tesla Train is Leaving the Station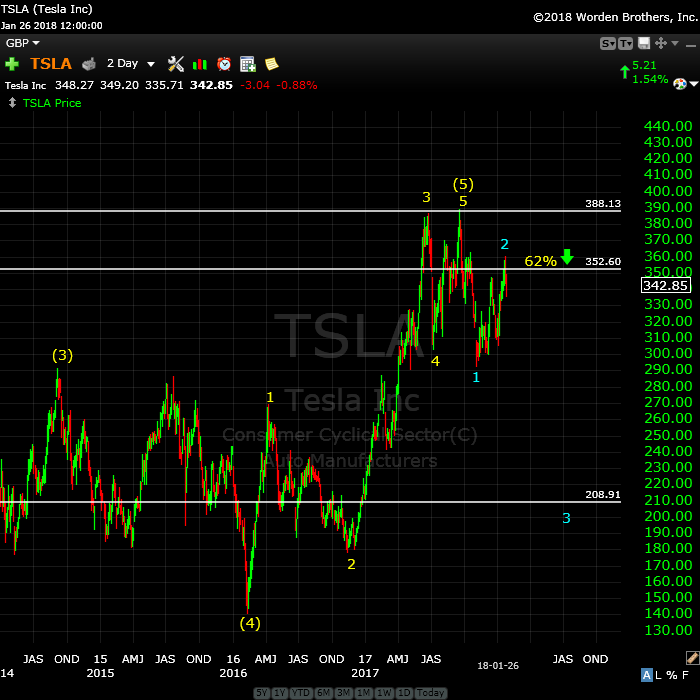 Above is the 2 day chart of Tesla, showing my prediction playing out. The top is not officially in here; we need a new low below ~290.00.
Last week, I suggested we'd head up in a "double-pronged" second wave, which is exactly what we've done. We've now potentially turned down into a third wave with a target in the 209 area. After hitting that target, we'll require fourth wave bounce and then a final fifth wave drop to a new low near the 130 area.
There are potential variations to this pattern, but the ultiamate goal for a first wave down should be below 140.00.
Less Expensive iPhones on the Way?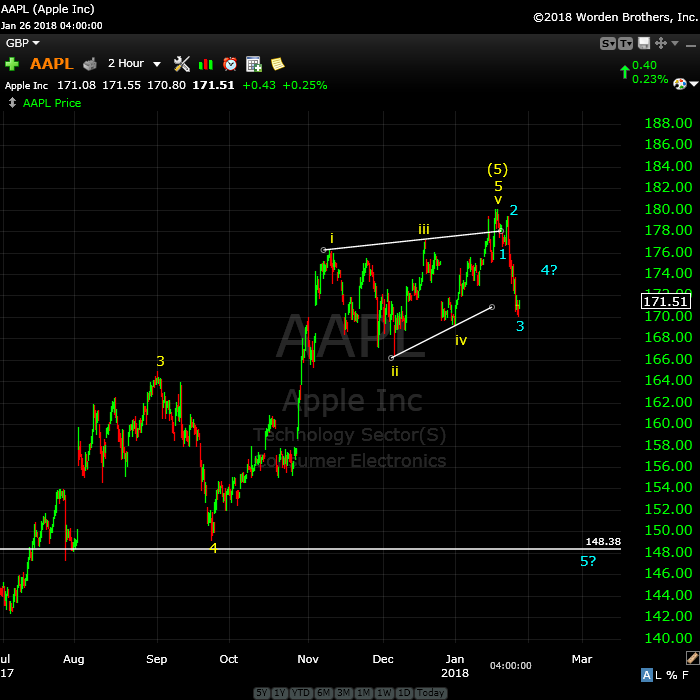 Above is the 2 hour chart of AAPL. Two weeks ago, I predicted a small rise to a final high, which is what happened. It was followed by a turn down.
Now we have what appears to be three waves down in place. Note that the third wave as shown is a fibonacci length of 1.618 X the first wave. I'm expecting a fourth wave bounce and then a large 5th wave down to the 148.00 area.
Ending diagonals always revert back to the start of the ending diagonal, which is the previous 4th wave area (~148.00).
On Deck: Facebook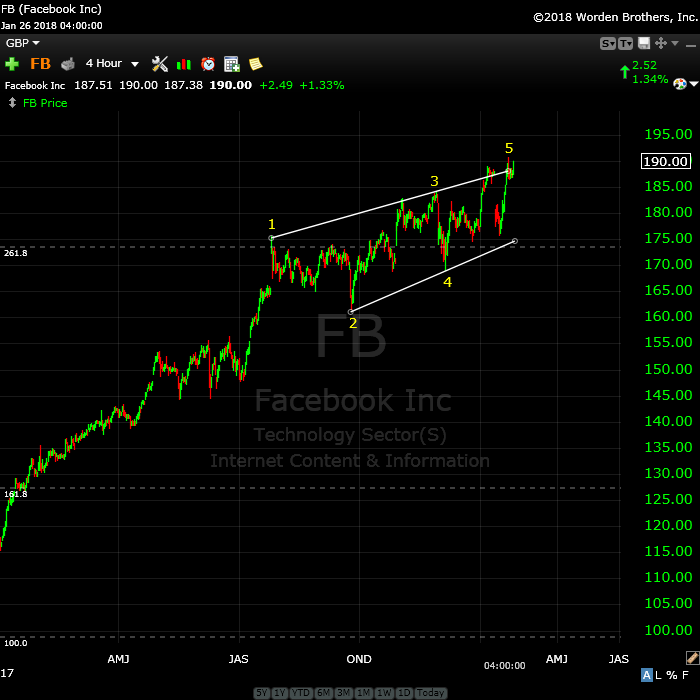 Above is the 4 hour chart of Facebook (one of the FANG stocks). This shows the final pattern I described last weekend, which is an ending diagonal. Ending diagonals gained that name because they form at the end of a trend. You can short a pattern like this when it drops below the lower trendline.
There will be a lot fewer people posting "look at me!" stories in the coming years … somewhat of an understatement, I think. But again, the key to shorting these "whales" is to wait for a complete first and second wave scenario to play out.
__________________________
Changes to the Free Blog
On Friday of this past week, I removed the ability of "transients" to leave a comment without registering. It also means that the information of commenters won't show up in the fields at the bottom of the blog … because the fields are no longer there!
After several weeks of exhaustive sleuthing and some fair expense, Bluehost (the hosting service I use for this site) finally admitted that there's a bug on their server. I've had two well-know WordPress development companies go right through my site and both came back with a caching problem diagnosis, and that it was not an issue with the site itself.
However, I have to wait (usually up to 72 hours) for them to hunt it down and fix it. Hopefully, that will end the frustrating issue with posting comments. I don't actually know that to be the case, but we've about run out of options. And these developers I'm working with know WordPress inside out.
Registration for Commenting
Want to comment? You need to be logged in to comment. You can register here.
If you register, it protects your information. It also allows you to comment without filling in your information each time. Once you're registered, simply go to the home page and click on the login link top right in order to log yourself in. Usually, you'll be logged in for several days before needing to be logged in again.
______________________________
Problem receiving blog comment emails? Try whitelisting the address. More info.
______________________________
Get an upper hand … JC 2
Get an upper hand in trading …

Seeing all the different currency pairs and the wave structures and hearing you explain why this has to do that on a nightly bases gives one a upper hand when trading. Elliott Wave applies to all stock and indices and can be applied to any candlestick chart.

If someone ask what you want for Christmas – Tell them a membership to Peter's "Traders Gold!"—JC
The Market This Week
Here's the latest daily chart of ES (emini futures)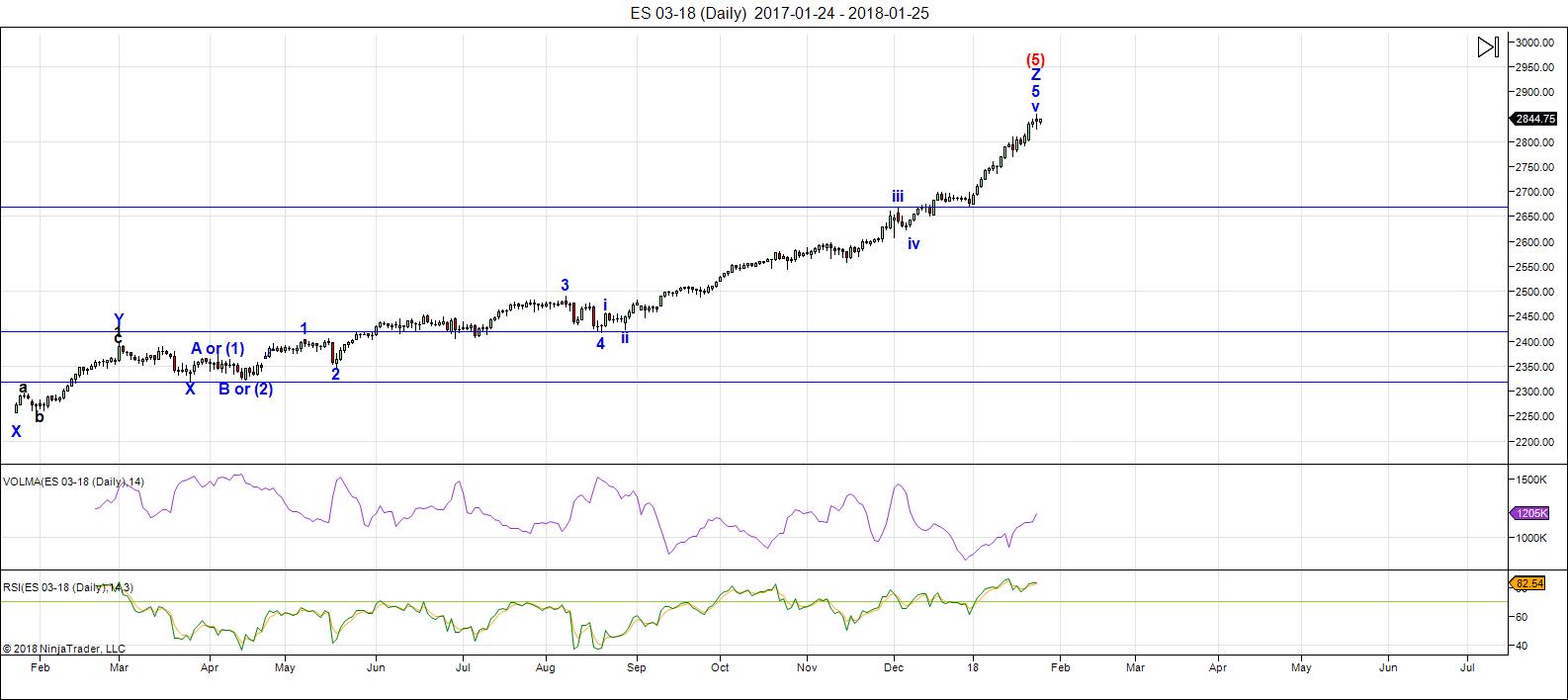 Above is the daily chart of ES (click to enlarge, as with any of my charts).
There have been no material changes to my prognosis. We are at the high. I expect this final wave to turn down imminently. 
Another frustrating week as the US Dollar tries to find its bottom. As a result, the US indices have inched a little bit higher in yet another extended subwave of the 5th wave. The underlying technical indicators however, don't support an extended rise.
Volume: It's risen slightly. Bullish sentiment is EXTREME.
Summary: The count is full for the US market in general, except for small subwaves that form the balance of a motive set of waves in SPX and some other major US indices. We're watching for a turn, which will change the trend and end the 500 year bull market.
___________________________
Trader's Gold Subscribers get a comprehensive view of the market, including hourly (and even smaller timeframes, when appropriate) on a daily basis. They also receive updates through the comments area. I provide only the daily timeframe for the free blog, as a "snapshot" of where the market currently trades and the next move on a weekly basis.
______________________________________
Sign up for: The Chart Show
Next Date:

Thursday, February 8 at 1:00 pm EST (US market time)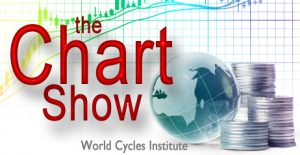 The Chart Show is a one hour webinar in which Peter Temple provides the Elliott Wave analysis in real time for the US market, gold, silver, oil, major USD currency pairs, and more. You won't find a more accurate or comprehensive market prediction anywhere for this price.
Get caught up on the market from an Elliott Wave perspective. You'll also get Andy Pancholi cycle turn dates for the SP500 for the balance of the current month. There'll be a Q&A session during and at the end of the webinar and the possibility (depending on time) of taking requests.
All registrants will receive the video playback of the webinar, so even if you miss it, you'll be sent the full video replay within about an hour of its conclusion. For more information and to sign up, click here.