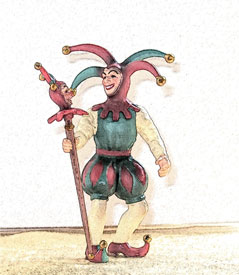 Pundits — A Good Laugh!
I found myself chuckling this past week as there were so many predictions of a turn down in conjunction with the Fed announcement this past Wednesday, which didn't have a chance in Hell of happening: Events don't affect the market in a lasting technical manner.
We were still expecting a new high (the previous wave down was in three waves, so it had to completely retrace). But, some people never give up holding on to inherent biases that are mostly a result of propaganda.
It's akin to the problem that economists have. We still think they're gods when it comes to predicting the economy. However, they're ALWAYS wrong. That's because they've never been taught about cycles. They seem to think that things move in a straight line.
However, there are no natural straight lines in nature. NONE. The Universe is an electrical entity influenced by spinning globes and electromagnetic waves (in the form of sine waves). There is no straight line anywhere to be found … anywhere in the Universe.
On top of that fact, is this (apparently) little known phenomenon: The market moves in pre-determined patterns and these patterns always play out to their predictable ends.
But … pundits have to make a living! They've certainly created a platform for themselves by constantly drilling in the lie that somehow every word of any politician affects the ups and downs of the market. Never going to happen.
There are lots of lots of laughable predictions this weekend about the future of tech, the market, the economy, hyperinflation, and the future in general … none of which make a whole lot of sense if you understand the past, cycles, or how the international banking system works (or doesn't … haha … as the case may be).
Take it from Lee Iacocca, who was the guy who turned Chrysler around in the 1980s by creating the minivan …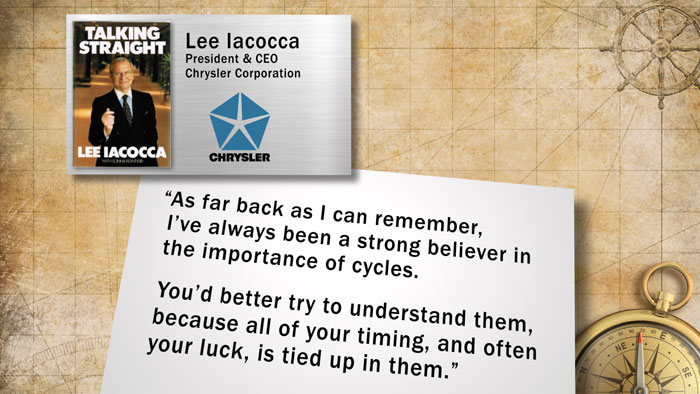 But, back to the pundits …
This weekend, the press is promoting gold as being in a bull market. Not a chance. That's your first indicator that it's going to implode — as soon as the pundits hit the airwaves and all agree on the direction. You don't need Elliott wave or anything else to figure that one out!
The fact is that  … This weekend, with the solstice, EVERYTHING is set up for a MAJOR turn. I'd expect to see that turn in the first part of the coming week.
It's been a lucrative time for the Trader's Gold folks, with wave structure clearer than it has been for a long time. After all, as I've been predicting for over three long years, we finally have virtually all asset classes moving in tandem … and that extends to major international indices, like TSE and DAX.
Fourth waves are the worst of all the patterns. In the NYSE, we've been in the largest one I've ever seen since the end of January, 2018 – a year and a half!
Generally, I recommend NOT trading them because they're so unpredictable. This one has been that, and more.
But this fourth wave was SO LARGE, that you pretty much have to trade it — after all, we've been in it for so long …
We've had the largest non-confirmation I've ever seen, with SPX, the DOW, and Russell 3000 rising into that rare boarding top pattern I outlined a few weeks ago, while the NYSE has roamed about as a clear fourth wave. This means that, while the mother exchange (NYSE) shows a fourth wave, these sub-indices are actually at the top of a third wave. That's the largest non-confirmation I've even seen, something that only happens near market tops.
The immense size of the first wave confirms that the waves up in the NYSE are corrective, and have been since 2009. We have a B wave in progress, as I've been saying for years. There is no other possible explanation for the current wave structure.
The US indices will all get back in sync with this next move to a new low. The NYSE will complete a C wave down of the fourth wave, while the sub-indices will start and finish their fourth wave as the C wave of a regular flat (most likely).
You don't want to miss the coming turn and the NYSE group is apparently going to make it a little easier for us. I see an ending diagonal that's about to trace out the final wave up this weekend.
The wave down will bring to an end the ugly fourth wave we've been in, what I've been dubbing, "The Fourth Wave from Hell." At the bottom around the September timeframe, I'll do a summary of the entire experience, likely entitled, "I told you so … "
It's going to be a summer to remember.
___________________________
Elliott Wave Basics
Here is a page dedicated to a relatively basic description of the Elliott Wave Principle. You'll also find a link to the book by Bob Prechter and A. J. Frost.
____________________________
Registration for Commenting
Want to comment? You need to be logged in to comment. You can register here.
If you register, it protects your information. It also allows you to comment without filling in your information each time. Once you're registered, simply go to the home page and click on the login link top right in order to log yourself in. Usually, you'll be logged in for several days before needing to be logged in again.
______________________________
Problem receiving blog comment emails? Try whitelisting the address. More info.
______________________________
US Market Snapshot (based on end-of-week wave structure)
This chart is posted to provide a prediction of future market direction. DO NOT trade based upon the information presented here (certainly NOT from a daily chart).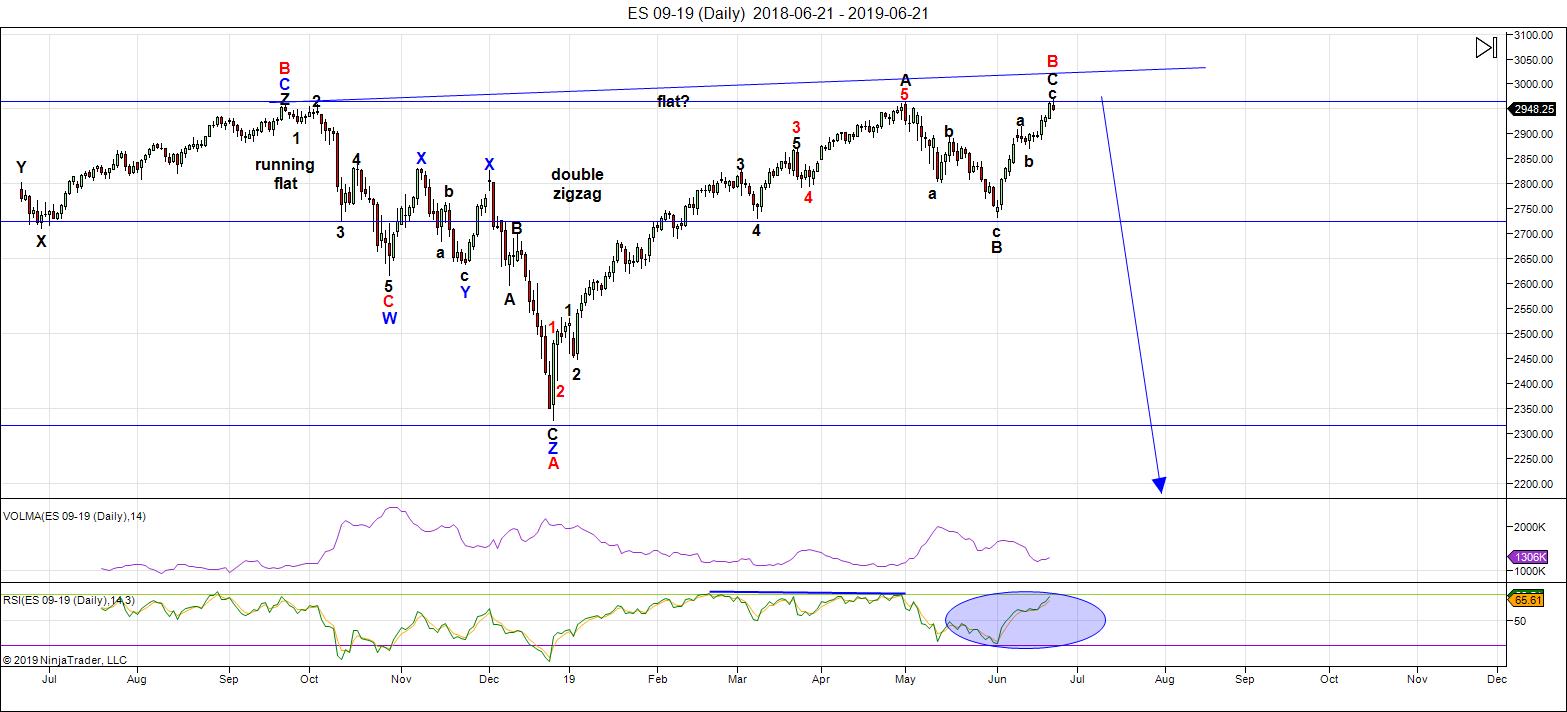 Above is the daily chart of ES (click to enlarge, as with any of my charts).
All the assets I cover have continued to perform as predicted. Across the board, they're now sitting at the targets I've been predicting for weeks now (gold, silver, oil, USD, USD currency pairs, US indices). All these asset classes are now moving as one (as I've been saying for the past three years that they eventually would do). This turn will affect all of them.
Trader's Gold subscribers have done well over the past few weeks, with setups across the board. The opportunities are increasing, as virtually everything is aligned.
The broadening top we're completing is not an Elliott wave pattern; they're so rare, that experience in trading them is minimal. The sub-waves up in emini futures (on hourly charts) have been the most difficult waves to predict due to the fact that they don't display the usual expected ending-wave pattern. In ES, they're clearly corrective (zigzags), while those in NQ appear to have traced out a motive set of waves. NQ is still searching for a new high.
ES has traced out an ending diagonal. Expect a turn earlier in the week than later. It appears the equinox of this weekend (with all the energy it unleashes) is having the final word.
The opportunities setting up this weekend extend to international exchanges like TSX and DAX. The coming drop will be a world-wide phenomenon across all most all sectors. It will last throughout the summer months and most likely culminate in a low and final round of QE.
As I've said since the low on Dec. 26, the waves up are corrective in the NYSE-related indices, and as a result, will completely retrace. Expect an imminent top and a major move to a new low under 2100.
Summary: Expect an imminent top to complete this large, corrective "B wave" up from the Dec. 26 low. The overall pattern is a record-breaking broadening top (not an EW pattern).
I'm looking for a dramatic drop in a 4th wave to a new low. ES will eventually target the previous fourth wave area somewhere under 2100.
Once we've completed the fourth wave down, we'll have a long climb to a final new high in a fifth wave of this 500 year cycle top.
___________________________
Trader's Gold Subscribers get a comprehensive view of the market, including hourly (and even smaller timeframes, when appropriate) on a daily basis. They also receive updates through the comments area. I provide only the daily timeframe for the free blog, as a "snapshot" of where the market currently trades and the next move on a weekly basis.
I do a nightly video on the US indices, USD Index (and related currency pairs), gold, silver, and oil).
______________________________________
Sign up for: The Chart Show
Next Date: 

Wednesday, June 26 at 5:00 pm EST (US market time)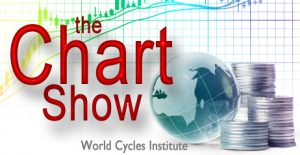 The Chart Show is a one hour webinar in which Peter Temple provides the Elliott Wave analysis in real time for the US market, gold, silver, oil, major USD currency pairs, and more. You won't find a more accurate or comprehensive market prediction anywhere for this price.
Get caught up on the market from an Elliott Wave perspective. There'll be a Q&A session during and at the end of the webinar and the possibility (depending on time) of taking requests.
"I think you are the only Elliot Wave technician on the planet who knows what he's doing."
m.d. (professional trader)
All registrants will receive the video playback of the webinar, so even if you miss it, you'll be sent the full video replay within about an hour of its conclusion.