The Megaphone Pattern
Broadening tops are not an Elliott Wave pattern. The question I've been attempting to research this weekend is if we are going to have a wave up in three waves, or five waves.
My conclusion (because I've found examples of both), is that we're likely to get an ABC wave up in the SP500. However, there may be a "corrective" fourth wave in ES while NQ completes a normal fourth wave.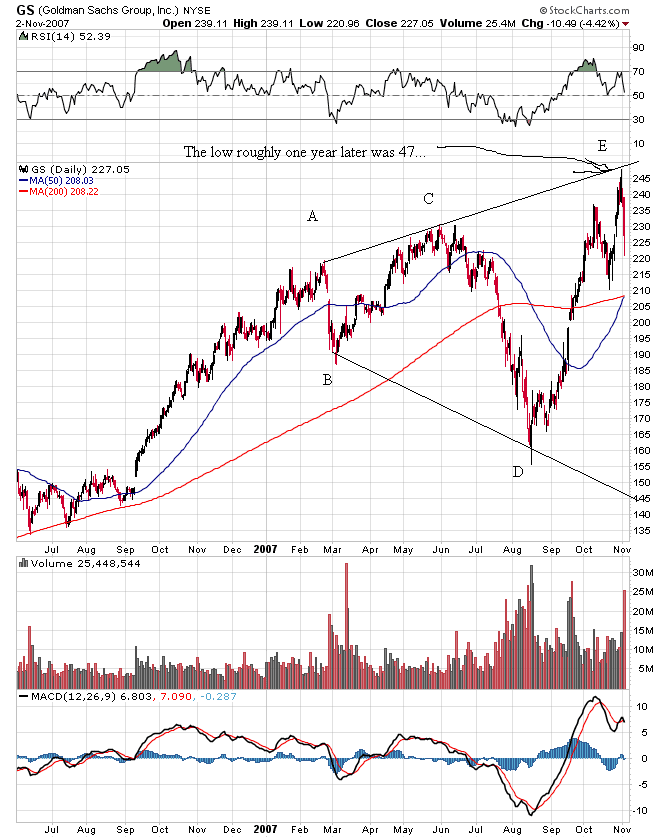 I don't know for sure,  but these charts may come in handy for you as you contemplate how to trade this extraordinary rally … the last one of these we'll see for a while.
Broadening tops are extremely bearish and I expect this wave down after the top is one that will hit the headlines all over the world. Stay tuned.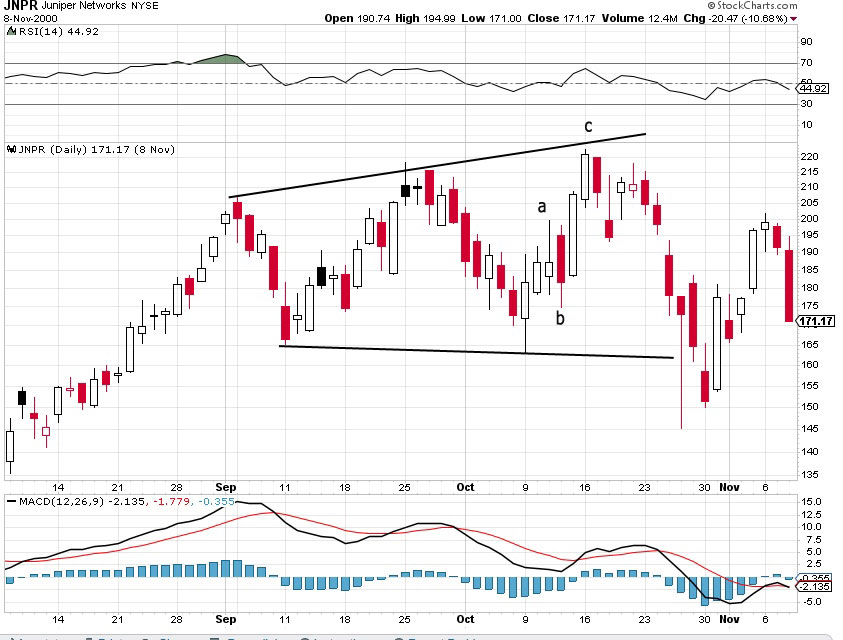 The broadening top here shows three waves up in the final wave, while the first example above shows five. We'll have to see what happens.
_______________________________
Technical Challenges at Cycle Tops
One of the central themes of any cycle top, but particularly the 500 year cycle top, is the explosion of complexity within society.
You see it everywhere; it's becoming extraordinarily obvious. Governments are so huge that nobody is in control; there are vast amounts of taxpayer money spent with no oversight. Teslas are exploding left and right, and of course, we've had a couple of 737 Maxes fall out of the air. That plane may never fly again.
You also see out-of-control complexity all across the internet, something I have to deal with everyday; it's getting to the point where most of my time is just dealing with technology. It starts with the fact that web applications change every day, with little to no explanation. I have to learn new screens every week, because buttons move, or pages get re-designed, or pages just aren't there anymore. But, it's gets much worse.
The week before last was with Apple's icloud technology. There's hardly any understandable information out there on how this system works, but it's like One Drive in Windows. It's a file sharing and backup system.
This system stopped updating some of my applications (specifically my calendar) but I was forced to ignore it for almost two weeks. I was simply too busy to do the research on how to get around the problem of a full drive without just blindly paying more money to Apple to increase the size.
The issue was that my calendar had lost some of the dates for meetings I'd scheduled into July. I don't knowing use the technology (it's on by default) and so I was not going to pay more money for something I don't use.
I contacted Apple, and after the first "techy" hung up on me, the second higher-end expert (I got upgraded to him during the call) ended up losing ALL my dates and leaving me with blank screens before quietly hanging up on me. It became obvious that his Apple representative had no training on how to work with a customer, as he didn't explain anything he was doing (I had shared my computer with him online); he just did it.
After he left, it took me a couple of hours to figure out how to get most of it back.
Next came trying to fix two WordPress websites that members of my favourite professional speaking organization had almost destroyed. After spending an entire night (yes, around the clock) trying to fix it (I fixed most of it), I've turned it over to the developer of one of the plugins to try to finish the final "fix." That one's in the works.
There isn't the knowledge out there amongst the general public to be able to use any of this technology properly. People are destroying website due to lack of knowledge (and apparently no desire to learn).
And now this week, where I find that NVidia, a company that provides display drivers for Apple computers is having some kind of war with Apple. On May 15, their drivers got updated on Macs (without anyone really being aware) and now my cursor doesn't show up in the live webinars I do on Wednesdays. 
It took me 12 hours on Saturday to finally get to what the real problem is, because this information is out there, but it's incredibly difficult to find. At the point I discovered the display problem, I'd spend eight hours testing just about everything else.
So, I still have to come up with an alternative to this for Wednesday, which may mean rolling back to another computer with an earlier system on it. One way or the other, I'll figure it out (without wasting my time with "tech advisors" — a complete waste of time).
That's why this blog post is down to the wire this weekend.
This technology "stuff" just doesn't end. The next task for me is to find out why, when I make a currency trade, the chart for that currency goes blank. That's on Windows. It isn't just Apple that's having problems; it seems to be right across the board.
So, I'm starting to think about how to simplify things going forward, because I think we're seeing just the start of these kinds of issues. Just keeping my website ticking along is a full time job and is robbing me of my ability to do just about anything else.
More to come …
__________________________________
NYSE Update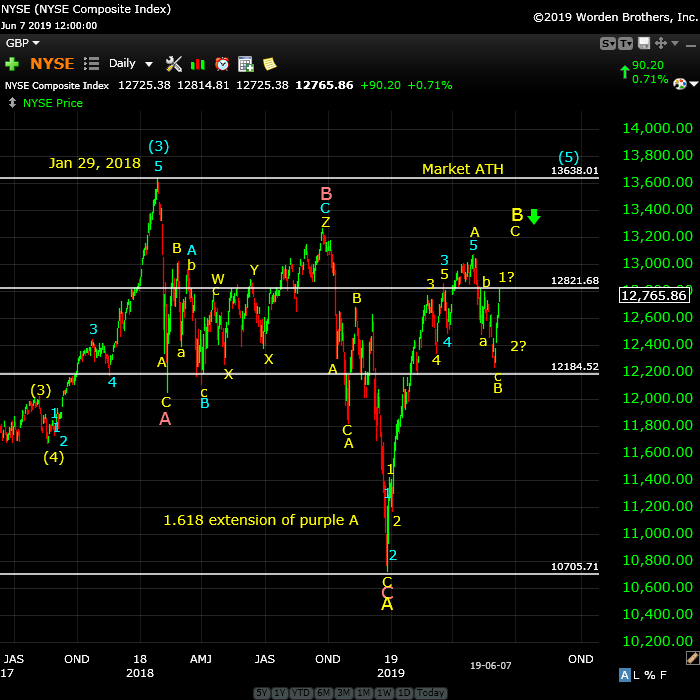 Above is the daily chart of the NYSE showing the large ABC fourth wave that we've been in since the top of blue circle 3 on January 29, 2018.
The most recent wave up from Dec. 26, 2019 is corrective but I've numbered it in five waves (they don't follow the impulsive wave rules, so they're corrective). I've re-labelled the first portion of this A wave up as a 1-2,1-2 pattern, resulting in a 3-4, 3-4 pattern at the top of the yellow A wave (slightly above 13,200).
This weekend, we have a B wave down complete (the white line at 12,184.52 is the 38% retrace level), and we've begun the predicted bounce. Normally, I would expect 5 waves up in this subwave, but I'm not sure we'll get it, with the corrective wave that's possible in SPX. A top will result in a very deep wave down to a new low below 10,700.
Possible timing: I'm now expecting a high somewhere in June now (the market is moving quickly now), with perhaps our big drop beginning then and lasting through early September (my dates here are speculative).
As I often say,
"Trade what you see, not what you think."
___________________________
Elliott Wave Basics
Here is a page dedicated to a relatively basic description of the Elliott Wave Principle. You'll also find a link to the book by Bob Prechter and A. J. Frost.
____________________________
Registration for Commenting
Want to comment? You need to be logged in to comment. You can register here.
If you register, it protects your information. It also allows you to comment without filling in your information each time. Once you're registered, simply go to the home page and click on the login link top right in order to log yourself in. Usually, you'll be logged in for several days before needing to be logged in again.
______________________________
Problem receiving blog comment emails? Try whitelisting the address. More info.
______________________________
Couldn't be happier … KK 2
Couldn't be happier …

The analysis and insight you provide is simply amazing!  I've been trading the futures and equity markets for well over thirty years and usually average around 5% monthly.  Since joining your Traders Gold Service two months ago, that number has better than doubled.  I couldn't be happier.—KK
US Market Snapshot (based on end-of-week wave structure)
This chart is posted to provide a prediction of future market direction. DO NOT trade based upon the information presented here (certainly NOT from a daily chart).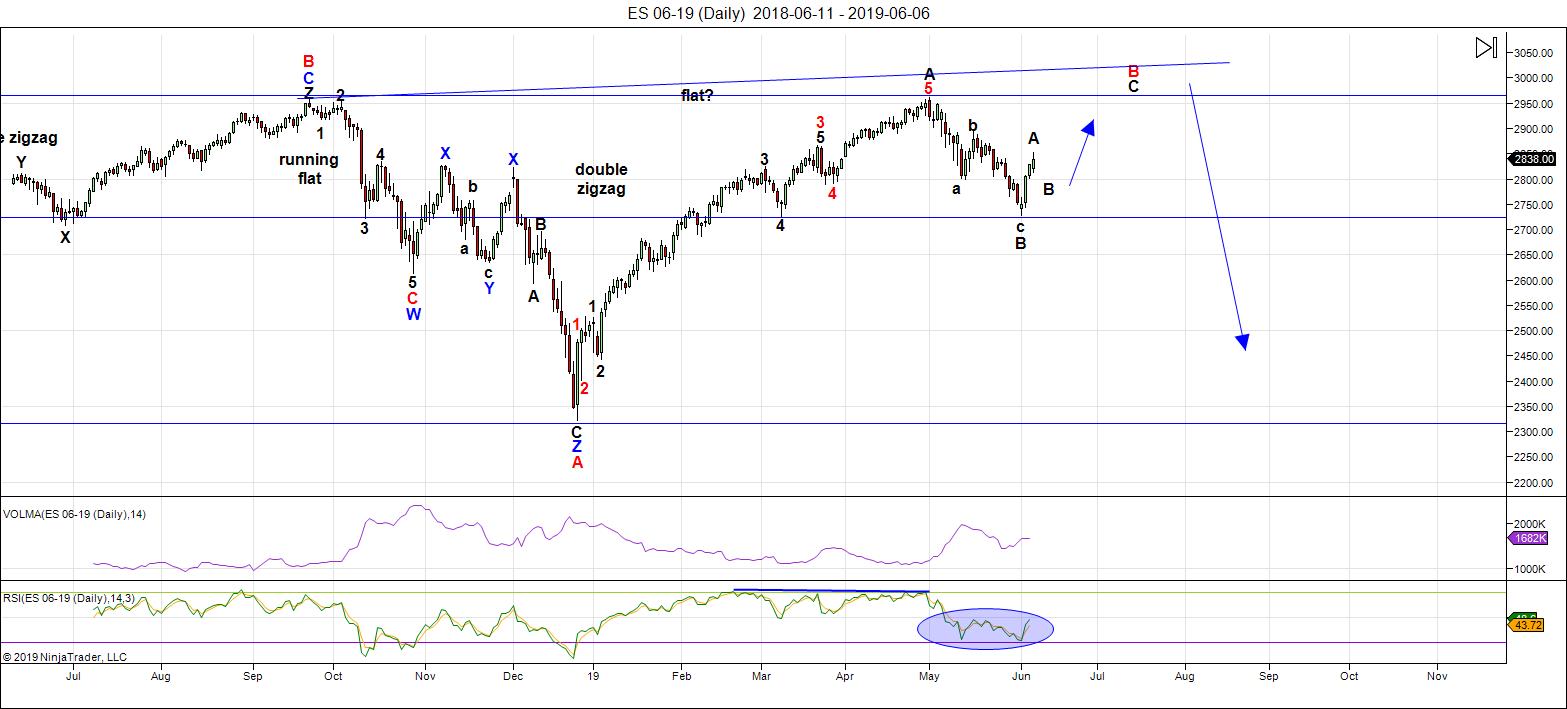 Above is the daily chart of ES (click to enlarge, as with any of my charts).
As predicted last weekend, we bottomed and rallied strongly the remainder of the week. While I expect weakness this weekend, more rally will follow.
It's important to remember that we appear to be in a broadening top and so the expectation is for a corrective wave to a new high, but not above the upper trendline. Then down, down, down in possibly the C wave of an expanded flat (there are other possible patterns, but this seems the most probable at the present time.
As I've been saying for some time, after we reach the final high, we'll see a turn to the downside with a major move to a new low under 2100.
It's impossible to successfully analyze this market without taking into account the movement of a number of related asset classes. The market has gradually been aligning across these asset classes and now virtually everything si moving more or less in "lock-step." When you trace out a major top, all major indices have to top at the same time. This 500 year topping process will include many international exchanges.
Summary: Expect the bounce to continue to a new high to complete this large, corrective "B wave" up from the Dec. 26 low. That will result in a very large ABC corrective wave, which must fully retrace to a new low.
Once we reach the high, I'm looking for a dramatic drop in a 4th wave to a new low. The culmination of this drop should mark the bottom of a large fourth wave in progress in the NYSE since January 29, 2018 - a year and a half of Hell. ES will eventually target the previous fourth wave area somewhere under 2100.
Once we've completed the fourth wave down, we'll have a long climb to a final new high in a fifth wave.
___________________________
Trader's Gold Subscribers get a comprehensive view of the market, including hourly (and even smaller timeframes, when appropriate) on a daily basis. They also receive updates through the comments area. I provide only the daily timeframe for the free blog, as a "snapshot" of where the market currently trades and the next move on a weekly basis.
______________________________________
Sign up for: The Chart Show
Next Date: 

Wednesday, June 19 at 5:00 pm EST (US market time)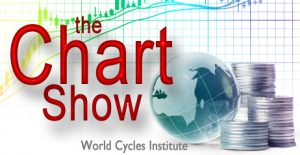 The Chart Show is a one hour webinar in which Peter Temple provides the Elliott Wave analysis in real time for the US market, gold, silver, oil, major USD currency pairs, and more. You won't find a more accurate or comprehensive market prediction anywhere for this price.
Get caught up on the market from an Elliott Wave perspective. There'll be a Q&A session during and at the end of the webinar and the possibility (depending on time) of taking requests.
"I think you are the only Elliot Wave technician on the planet who knows what he's doing."
m.d. (professional trader)
All registrants will receive the video playback of the webinar, so even if you miss it, you'll be sent the full video replay within about an hour of its conclusion.