The Bulls' Last Stand
My predicted drop to a new low hasn't panned out quite yet … but it will! This week's slow-moving rally continues to illustrate the Hopium Effect in action, but is showing that it's waning.
It reminds me of Custer's Last Stand. The Battle of the Little Bighorn in 1876 was a revolution of sorts. The Lakota and other Plains Indians (or native Americans, as we more properly refer to them now) rose up against US forces and defeated them. That ferocious battle has been ennobled as "Custer's Last Stand" – but in truth, Custer and his men never stood a fighting chance. So it is with the current rally.
What's interesting is that this happened during a major depression, called the Long Depression, which had begun a few years earlier. 1876 is considered the bottom of that depression. The depression of 1873 followed a period of over-expansion and high inflation, which is typical and we see the same things happening today. The depression brought a decade or so of deflation.
The Long Depression was a worldwide price and economic recession, beginning in 1873 and running either through the spring of 1879, or 1896, depending on the metrics used. … The episode was labeled the "Great Depression" at the time, and it held that designation until the Great Depression of the 1930s.
The point is that revolutions and civil wars always accompany cold and dry periods (which was reflective of the climate of that era). We're seeing the same types of unrest (in their early stages) play out on the world stage. Don't look for a major international war (they should start to dissipate) but look for civil wars and revolutions to ensue in countries around the world over the decades to come.
The American Civil War began in 1861, which was also a very cold, dry period. It lasted until 1865, when we saw a revival in rainfall internationally for the latter half of that decade. Rainfall revives the economy. It's turning cold and dry now, but on a much larger scale, worldwide. On a smaller scale (and closer to home), we've seen virtually no snow at all this winter in Western Canada. Farmers will soon be raising the alarm.
I wouldn't expect the civil war that's erupting in France to decline. In fact, I'd expect it to smoulder during the coming fifth wave up to a new high, only to erupt on a larger scale when we turn back down again later this year. Then is will spread to countries around the world.
In any event, the current bullish streak we've seen in the past week is the "market's last stand." The larger direction is down and I'm expecting that to become obvious once again as early as Monday (although it may have a little more Hopium still left in its system).
On another note, Zerohedge has an article on the similarities between the top of the cycle degree third wave (in John F. Kennedy's era) and the current topping pattern. They should look much the same: They're both major tops of major waves.  Near the end of the 60's we topped the third wave and went into a multi-year, fourth wave recession (the 1970s).
Now we have the final wave top in progress. In both cases the patterns are the same — a deep fourth wave and a final fifth wave to a terminal high.
On several different scales, history rhymes.
_____________________________
The International Last Stand
Here are indices around the world that are all in the same position — much of the world is ready for a turn to the downside. All the patterns are the same — an ABC corrective rally that will fully retrace by Elliott Wave rules (in other words, it's in three waves).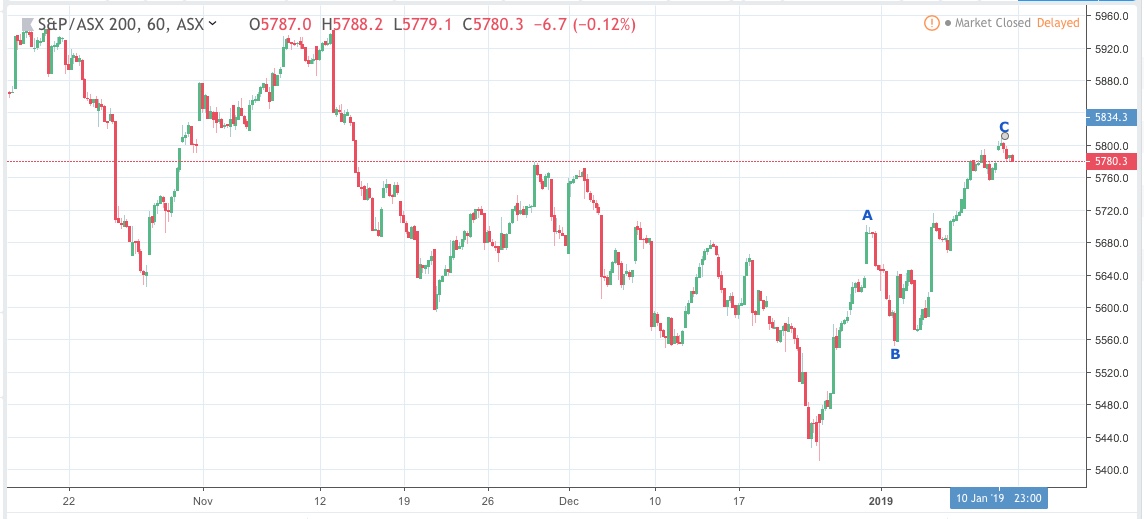 Above is the 60 minute chart of the ASX 200 (Australia's stock exchange).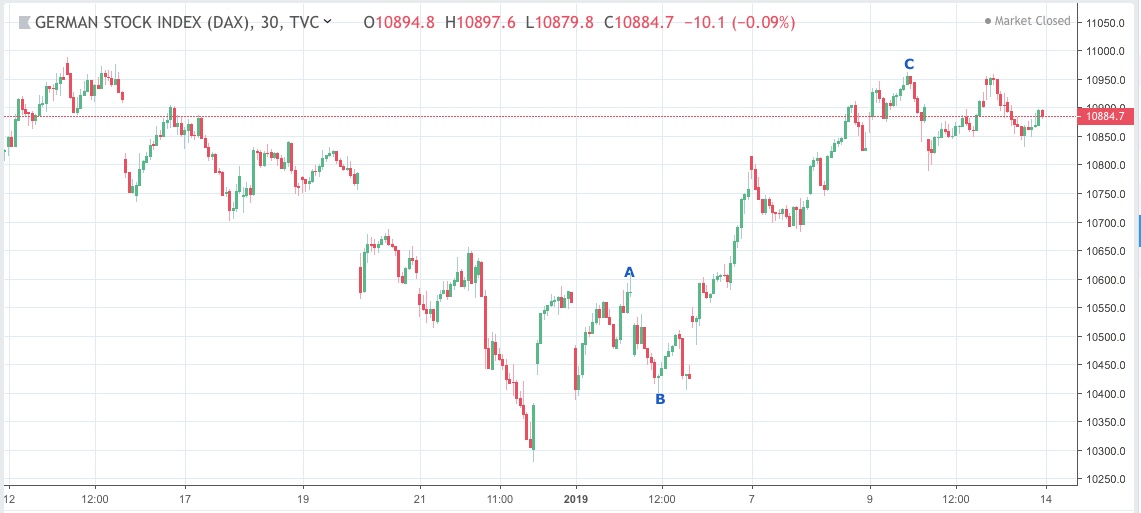 Above is the 30 minute chart of the DAX (Germany's stock exchange).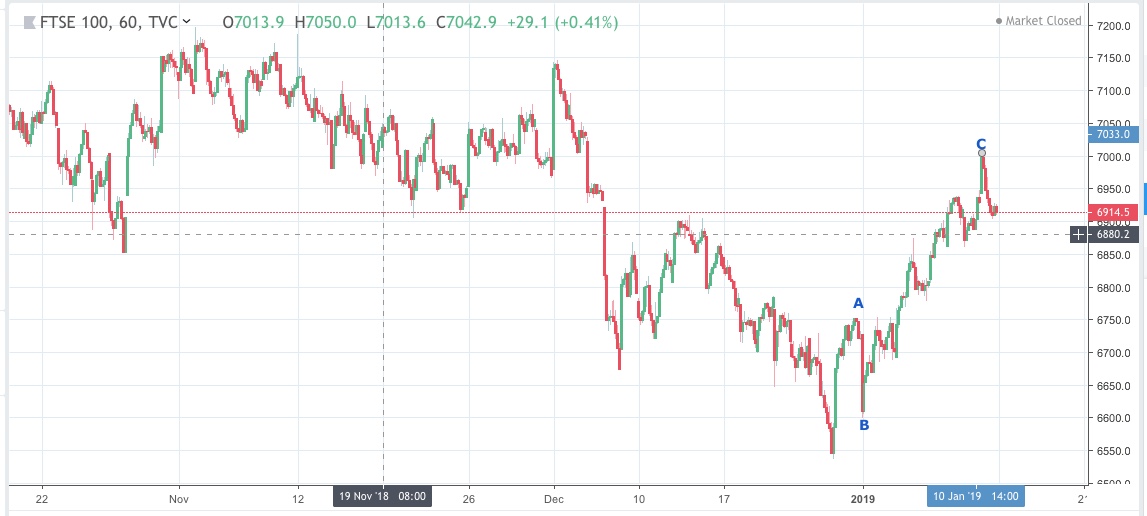 Above is the 60 minute chart of the FTSE 100 (The top 100 companies in the London stock exchange).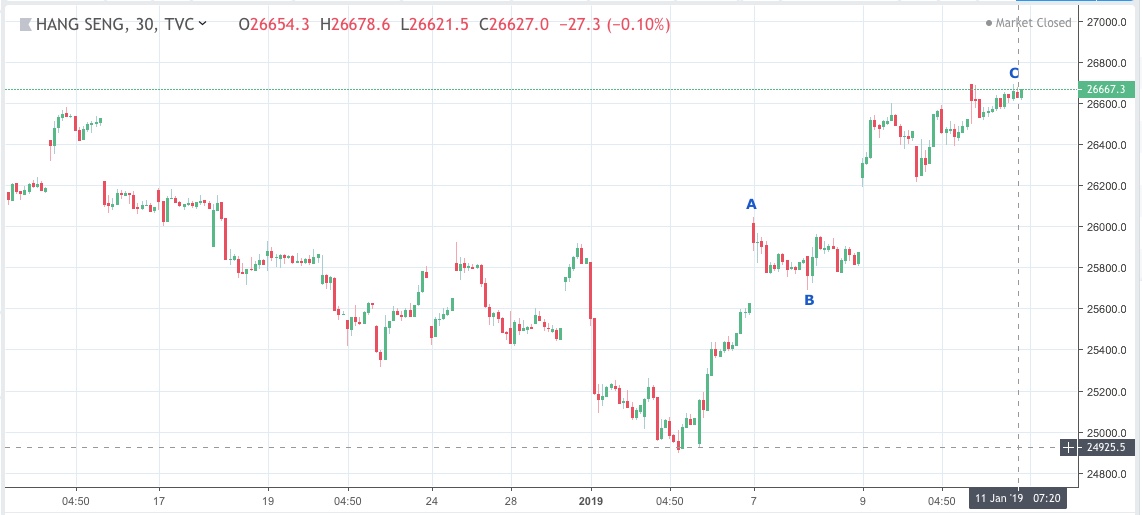 Above is the 30 minute chart of the Hang Seng (Hong Kong's stock exchange).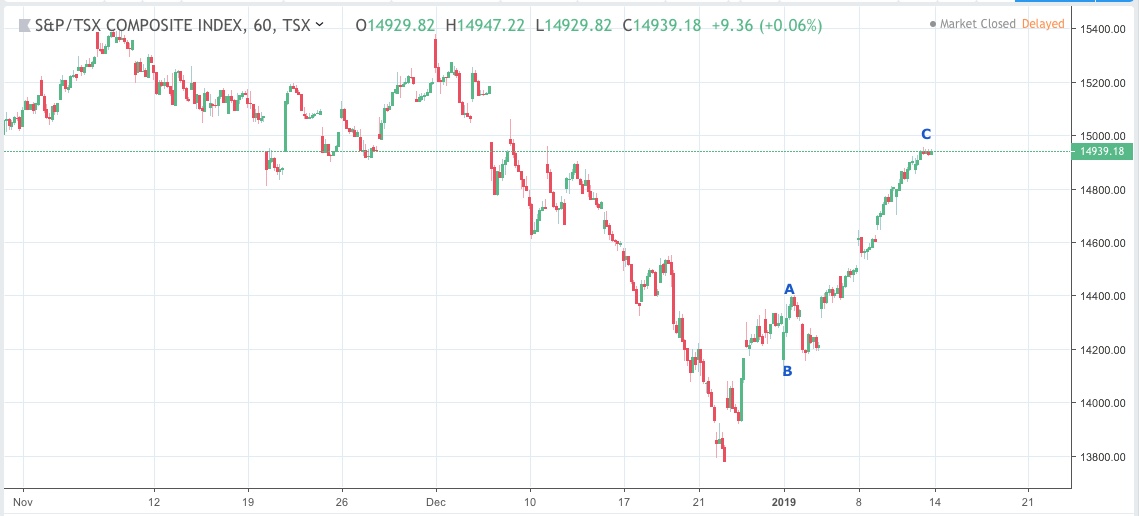 Above is the 60 minute chart of the TSX (Toronto's stock exchange).
We wait, but it won't by much longer.
___________________________________
Elliott Wave Basics
There are two types of Elliott wave patterns:
Motive (or impulsive waves) which are "trend" waves.
Corrective waves, which are "counter trend" waves.
Motive (impulsive) waves contain five distinct waves that move the market forward in a trend. Countertrend waves are in 3 waves and simply correct the trend.
All these patterns move at what we call multiple degrees of trend (in other words, the market is fractal, meaning there are smaller series of waves that move in the same patterns within the larger patterns). The keys to analyzing Elliott waves is being able to recognize the patterns and the "degree" of trend (or countertrend) that you're working within.
Impulsive (motive) waves move in very distinct and reliable patterns of five waves. Subwaves of motive waves measure out to specific lengths (fibonacci ratios) very accurately. Motive waves are the easiest waves to trade. You find them in a trending market.
Waves 1, 3, and 5 of a motive wave pattern each contain 5 impulsive subwaves. Waves 2 and 4 are countertrend waves and move in 3 waves.
Countertrend waves move in 3 waves and always retrace to their start eventually. Countertrend (corrective waves) are typically in patterns — for example, a triangle, flat, or zigzag. Waves within those patterns can be difficult to predict, but the patterns themselves are very predictable.
Trend waves move in 5 waves and partially retrace. The difference in these waves is not covered in "The Elliott Wave Principle" book. There are two types:
Simple 5 wavers are found in zigzags, flats, and other nondescript corrective patterns. They have 5 waves, and sometimes the third wave has a recognizable 5 wave pattern, but most of the time, they don't.
Impulsive waves require each of waves 1, 3, and 5 to have recognizable 5 wave patterns in their subwaves
Fibonacci ratios run all through the market. They determine the lengths of waves and provide entry and exit points. These measurements are really accurate in trending markets, but more difficult to identify in corrective markets (we've been in a corrective market in all the asset classes I cover since 2009).
To use Elliott wave analysis accurately, you must be able to recognize the difference between a trend wave (motive) and a countertrend wave (corrective). There's very much more to proper Elliott wave analysis, but this gives you the basics.
____________________________
Registration for Commenting
Want to comment? You need to be logged in to comment. You can register here.
If you register, it protects your information. It also allows you to comment without filling in your information each time. Once you're registered, simply go to the home page and click on the login link top right in order to log yourself in. Usually, you'll be logged in for several days before needing to be logged in again.
______________________________
Problem receiving blog comment emails? Try whitelisting the address. More info.
______________________________
Tops in your field DZ 2
Tops in your field …

You are tops in your field.  Tried to follow Elliot Wave international for years.  They were always behind the market.  After discovering you, I perceive that you are an expert in reading the waves, which puts you way ahead of the rest of your peers. And you can read the Waves like you are reading tomorrow's financial section.  I pray you stay healthy.  —DZ
US Market Snapshot (based on end-of-week wave structure)
Here's the latest daily chart of ES (emini futures)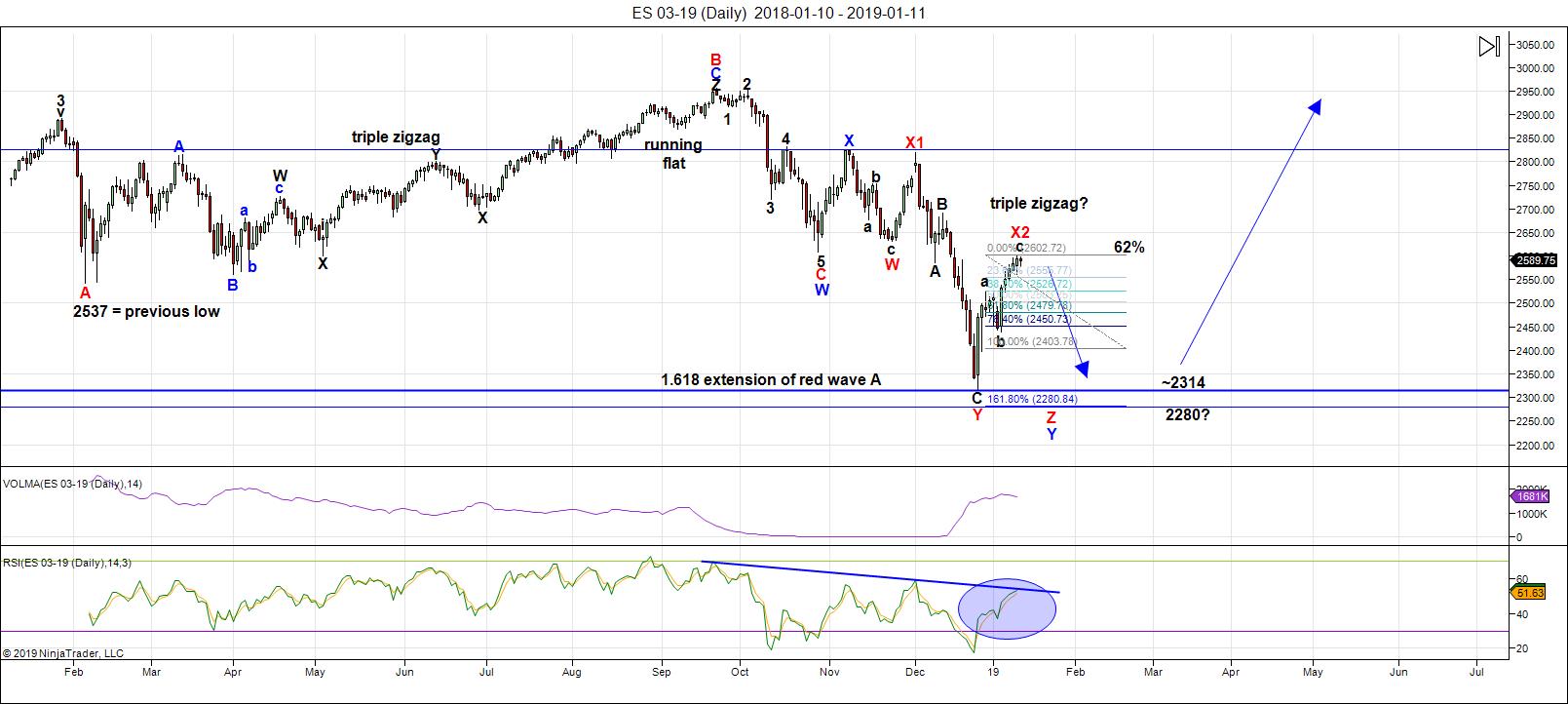 Above is the daily chart of ES (click to enlarge, as with any of my charts).
Last week, the current rally achieved a level that told me the current pattern (the way I'd labelled it) is incorrect. Elliott Wave is very good at telling you when you're wrong. In this case, the change is relatively subtle and doesn't affect the eventual outcome; rather it confirms it.
The short story is that I've come to the conclusion that we've only had two patterns down from January 29, 2018: a running flat and a triple zigzag (not yet complete).
Instead of having completed a regular flat in between these two patterns, I now believe we began and rare triple zigzag where I had previously labelled a flat (the patterns are exactly the same). So, if I delete the regular flat in the current chart (above) and make the entire pattern down from about 2810 a triple zigzag, it all works from an Elliott wave perspective.
The top of the wave we're in has risen to the 62% retrace level of the previous zigzag from red X1 down. This wave down is also 2.618 X the length of the first zigzag (down from blue X at 2810, or so). Blue X marks the start of the triple zigzag pattern to the downside.
Now, if the third zigzag down starting from where we are today ends up being 1.618 X the first zigzag (which would be a typical length of the fifth wave — in this case, you could count the three zigzags as part of a 5 wave combination), this targets a bottom in ES of 2280.
However, it makes more sense to me that we would target the previous low only, which was an earlier target based upon a very reliable measurement. In that case, we may still have a continued rise of about 25 points. This is speculative on my part, as we have a series of two ending diagonals in a row that have formed at the top. In other words, we're ready to come down now.
So ... we watch and wait. Part of the issue is that many indices are in the same position internationally; it's not just the US indices we're waiting for. When the market is good and ready, we're going to turn down ... and I expect it to be very soon.
Summary: Look for a dramatic drop in a zigzag (5-3-5) pattern to complete a triple zigzag with a wave at least to the previous low that could start as early as Monday. We could also rise as much as another 20-25 points before we see that turn. The culmination of this drop should mark the bottom of large fourth wave in progress since January 29, 2018 - almost a full year of Hell.
___________________________
Trader's Gold Subscribers get a comprehensive view of the market, including hourly (and even smaller timeframes, when appropriate) on a daily basis. They also receive updates through the comments area. I provide only the daily timeframe for the free blog, as a "snapshot" of where the market currently trades and the next move on a weekly basis.
______________________________________
Sign up for: The Chart Show
Next Date: 

Wednesday, January 16 at 5:00 pm EST (US market time)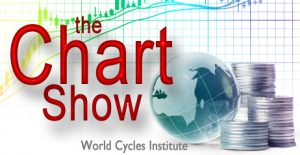 The Chart Show is a one hour webinar in which Peter Temple provides the Elliott Wave analysis in real time for the US market, gold, silver, oil, major USD currency pairs, and more. You won't find a more accurate or comprehensive market prediction anywhere for this price.
Get caught up on the market from an Elliott Wave perspective. You'll also get Andy Pancholi cycle turn dates for the SP500 for the balance of the current month. There'll be a Q&A session during and at the end of the webinar and the possibility (depending on time) of taking requests.
"I think you are the only Elliot Wave technician on the planet who knows what he's doing."
m.d. (professional trader)
All registrants will receive the video playback of the webinar, so even if you miss it, you'll be sent the full video replay within about an hour of its conclusion.