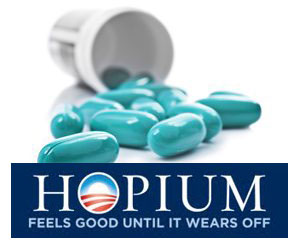 What Really Happened on Friday?
If you read reports in the main stream media or read comments by pundits, you'd think on Friday that the economy turned around on a dime and that everything is wonderful.
Ummmm, no it's not.
We had a double whammy on Friday:
A labor report that identified an increase of 312,000 jobs in December, with a 3.2% wage hike
Federal Reserve Chairman Powell said in a discussion that he will be more considerate in terms of rate hikes, a much more dovish stance than previously
What's particularly odd, of course, is that the Fed doesn't control interest rates — the market does. But the charade goes on …
But what's even stranger is that you'd think the market went through the roof!
Ummm, no it didn't.
I had a target of the upside of 2531 for ES/SP500. Even though we had that double whammy, with a labor report that reportedly "went through the roof," ES only rose an additional ten points above my target. The "Hopium Effect" seems to waning … that's a fairly anemic response, in my humble opinion.
And, it appears the US indices are "done" with this extremely "corrective," dwindling rise. A partial lunar eclipse is scheduled for Sunday/Monday (finally, something neither Donald, nor the Fed controls … lol) and I expect a turn … I'll let you figure out the direction.
_____________________________
Politics and the Economy
Throughout the past hundred or so years (and I suspect throughout history), politicians have taken credit for the economy. They have virtually no effect on it, but they'll take credit for it, like President Trump is taking credit for the stock market rally. And when it turns around on him, look out! We always vote leaders out when the economy turns down.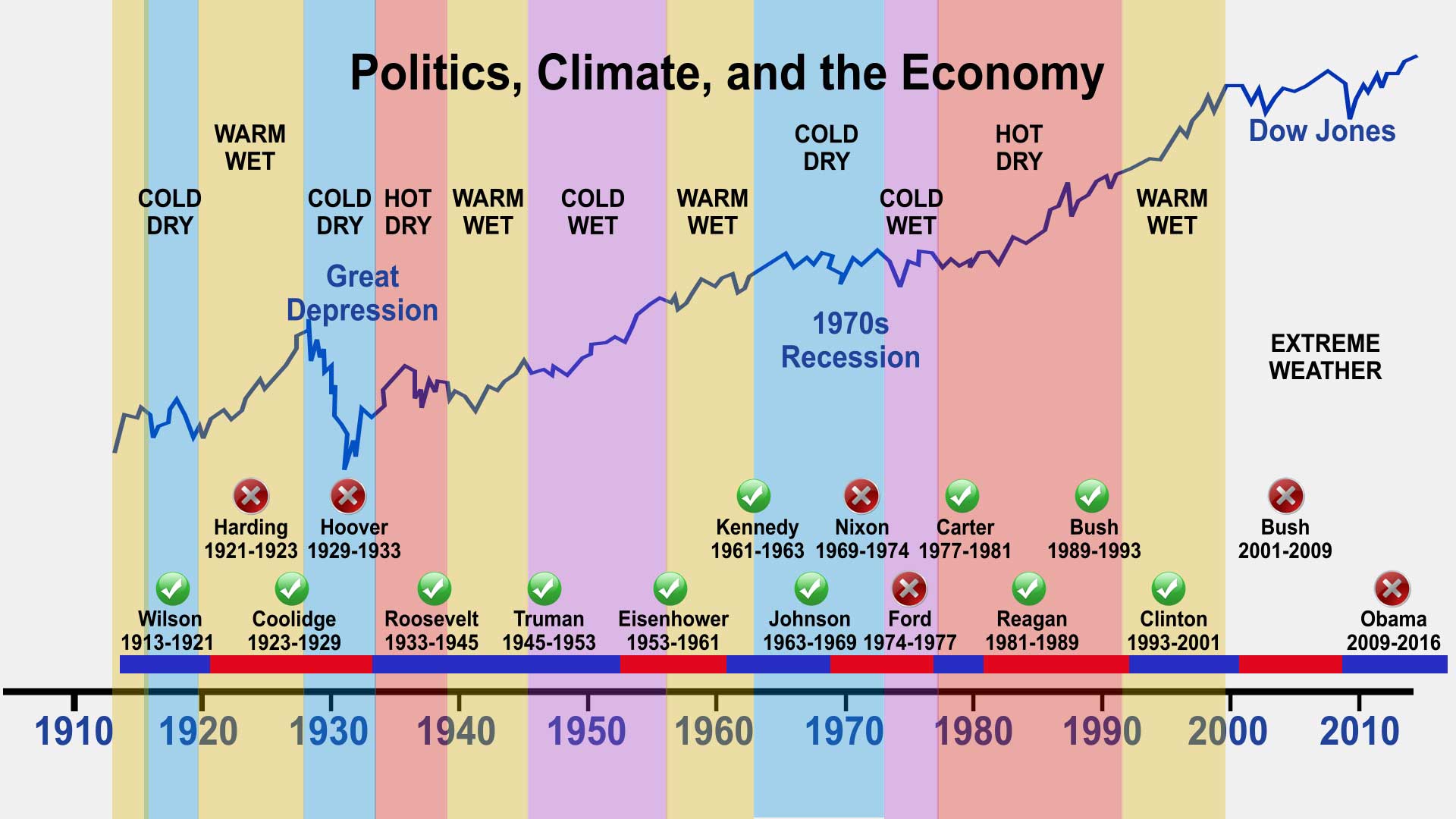 Above is a chart of the US Presidents from 1913 through 2016. You can see the politicians who were liked and are considered "good leaders" by historians (green circles and check marks). The there are those we dislike (red circles and x's) and threw out of office because "they destroyed the economy." Well, of course, they didn't, but if I were a politician, I'd be very careful about when I ran for office.
The chart above shows the impact of the stock market (the DOW is the blue line). There's an underlying parallel with the climate. You can also see this on the chart. At some point soon, I'll put together a video on this topic. However, I do have one on how the economy parallels the ups and downs of the DOW. You can find it here.
Interest Rates Before the Great Depression

The above  chart comes from New World Economics and tracks the US interest rate during the 1920s, leading up to the Great Depression.
What's important in the chart above is the fact that the Federal Reserve does not raise rates "on their own." In fact, when Alan Greenspan was asked on CNBC, "Did you keep the interest rates too low for too long in 2002-2003?" blurted, "We didn't raise rates. The market did."
You can see on the chart above that the green Treasury Bond (10yr+) yield began to rise going into 1928. The Federal Reserve was bound to follow (purple line) and, sure enough, it did.
Treasury Rates and the Economy
The U.S. Treasury sells bonds at auction. It sets a fixed face value and interest rate for each bond. If there is a lot of demand for Treasurys, they will go to the highest bidder at a price above the face value. That decreases the yield or the total return on investment. That's because the bidder has to pay more to receive the posted interest rate.
If there isn't a lot of demand, the bidders will pay less than the face value. That increases the yield. The bidder pays less to receive the stated interest rate. That is why yields always move in the opposite direction of Treasury prices.
Traditionally …
When there's not much demand, then bond prices drop. Yields increase to compensate. That makes it more expensive to buy a home because mortgage interest rates rise. Buyers have to pay more for their mortgage, so they are forced to buy a less expensive home. That makes builders lower home prices. Since home construction is a component of gross domestic product, then lower home prices slow economic growth.
Rising Treasury rates then, are deflationary. As rates rise in the market we're currently in, at some point, the market is going to head south. What will that point be? That's the big question. I don't know the date, but through Elliott waves, I'll be able to tell you the market price point.
Low yields on Treasurys mean lower rates on mortgages. Homebuyers can afford a larger home. The increased demand stimulates the real estate market. That boosts the economy. Lower rates also allow homeowners to afford a second mortgage. They'll use that money for home improvements, or to purchase more consumer products. Both stimulate the economy.
The Times They Are A-Changin'
However, the path forward is likely going to leave both investors and the Federal Reserve scratching their heads; it's not what you'd expect.
Credit is starting to dry up (deflationary). There's less demand for loans, and mortgage defaults are rising.  The real estate market is imploding worldwide (the top of the 18.5 real estate cycle) and that will continue into a deep deflationary cycle.
If you understand how money is created in the economy, you know that imploding mortgages destroy money; it disappears altogether in our ponzi-scheme of a banking system. That's deflationary on a grand scale (or it will be once the enormity of the situation starts to manifest itself). This will accompany a flight to safety to treasuries, which will reduce interest rates.
Right now, the Fed is on the wrong side of the market. But, 10 year rates appear to be only tracing out a fourth wave. Look for a lot of volatility going forward … and a very confused Federal Reserve, which will probably be on the wrong side of the market for the next few months, at least.
Longer term, we're going to see spiralling deflation, but rates will head lower, due to a flight to safety and reduced credit. This is what has happened in depressions throughout history. But it's not what the pundits are expecting, that's for sure!
TNX (ten year treasury yields)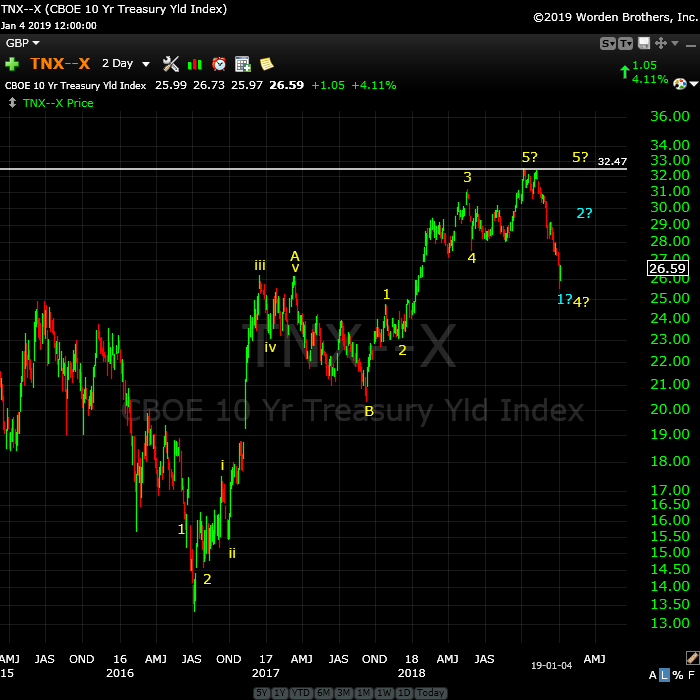 Above is the two day chart of TNX (US ten year treasury yields). I've been predicting a drop in interest rates for some time, but I doubt this is a continuing trend … yet.
Although we've turned down from a rate of 3.25% to 2.25%, the wave down looks corrective. I expect it's a fourth wave and that we're going to see a complete retrace, but the next high (if we indeed get there) will likely be the last for a very long time.
The top in this chart is actually not a technical double top, even though it looks like it here. That means the wave down has a "three count" and will retrace to a new high, even if that's only for a double top. Rates are going to turn down, but it looks like we're going to have some volatility, perhaps with a rise in treasury rates as the US indices turn around and trace out a fifth wave to a new high.
But, make no mistake about it, the waves up from summer, 2016 are corrective and must eventually fully retrace. That means we're heading down below 1.3% … but it will take some time to get there.
Because the Federal Reserve really doesn't understand the economy (they look at current data, which, by the time it gets out, is very old news). Economists have absolutely no predictive powers (generally, that is — there are the exceptions: Some smart economists actually "get it.").
So, look for a lot of volatility, the Fed under attack all the way along, and the blame to be laid directly on their shoulders (and the President, because he's decided to "own" the economy, even though he will have nothing to do with its demise).
"May you live in interesting times" — a purported Chinese curse, although the source has never been found.
____________________________
Elliott Wave Basics
There are two types of Elliott wave patterns:
Motive (or impulsive waves) which are "trend" waves.
Corrective waves, which are "counter trend" waves.
Motive (impulsive) waves contain five distinct waves that move the market forward in a trend. Countertrend waves are in 3 waves and simply correct the trend.
All these patterns move at what we call multiple degrees of trend (in other words, the market is fractal, meaning there are smaller series of waves that move in the same patterns within the larger patterns). The keys to analyzing Elliott waves is being able to recognize the patterns and the "degree" of trend (or countertrend) that you're working within.
Impulsive (motive) waves move in very distinct and reliable patterns of five waves. Subwaves of motive waves measure out to specific lengths (fibonacci ratios) very accurately. Motive waves are the easiest waves to trade. You find them in a trending market.
Waves 1, 3, and 5 of a motive wave pattern each contain 5 impulsive subwaves. Waves 2 and 4 are countertrend waves and move in 3 waves.
Countertrend waves move in 3 waves and always retrace to their start eventually. Countertrend (corrective waves) are typically in patterns — for example, a triangle, flat, or zigzag. Waves within those patterns can be difficult to predict, but the patterns themselves are very predictable.
Trend waves move in 5 waves and partially retrace. The difference in these waves is not covered in "The Elliott Wave Principle" book. There are two types:
Simple 5 wavers are found in zigzags, flats, and other nondescript corrective patterns. They have 5 waves, and sometimes the third wave has a recognizable 5 wave pattern, but most of the time, they don't.
Impulsive waves require each of waves 1, 3, and 5 to have recognizable 5 wave patterns in their subwaves
Fibonacci ratios run all through the market. They determine the lengths of waves and provide entry and exit points. These measurements are really accurate in trending markets, but more difficult to identify in corrective markets (we've been in a corrective market in all the asset classes I cover since 2009).
To use Elliott wave analysis accurately, you must be able to recognize the difference between a trend wave (motive) and a countertrend wave (corrective). There's very much more to proper Elliott wave analysis, but this gives you the basics.
____________________________
Registration for Commenting
Want to comment? You need to be logged in to comment. You can register here.
If you register, it protects your information. It also allows you to comment without filling in your information each time. Once you're registered, simply go to the home page and click on the login link top right in order to log yourself in. Usually, you'll be logged in for several days before needing to be logged in again.
______________________________
Problem receiving blog comment emails? Try whitelisting the address. More info.
______________________________
A true expert in Elliott Wave FL 2
A true expert in Elliott Wave …

You are a true expert in EW analysis. What you provide is not available anywhere and is priceless. Subscription on your services is the best thing I have ever done. Many thanks for your effort to make me a better investor. I now have more trust in my investment decisions. I hope you will continue the excellent work! —FL
US Market Snapshot (based on end-of-week wave structure)
Here's the latest daily chart of ES (emini futures)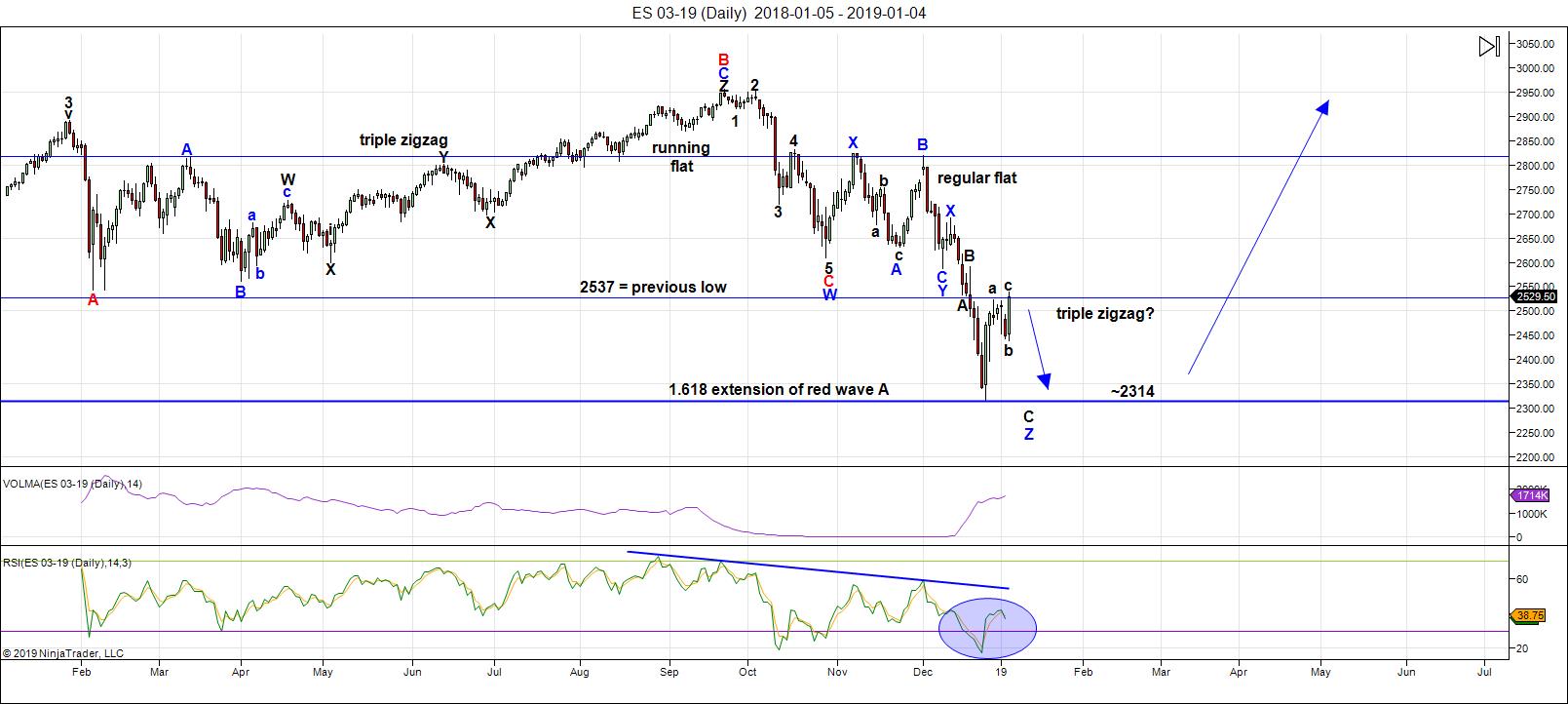 Above is the daily chart of ES (click to enlarge, as with any of my charts).
It was another short week this week, but we got our money's worth in volatility. Bottoms are always volatile, as the market gets ready for a trend change. It's often a war between bulls and bears and this past week has been no exception.
However, the bears should take charge again on Monday with the partial lunar eclipse of the moon. It's only visible in Asia and actually happens overnight Sunday into Monday.
On Friday, we expected a rally due to the three waves down from the previous two days, but the combination of the labor report and Fed Chairman Jerome Powell speaking sent the market up beyond expectations. However, the current high should mark the end of this Hopium-produced somewhat euphoric rise. The greater trend is down until we see one more zigzag and a new low.
What was interesting to me is that my target of 2531 for the rally was exceeded by only ten points or so. It was a big deal in the press, but not really much of a rally in real terms.
So down we should go finally and end this really ugly fourth wave that has now persisted for an entire year!
A confirmed bottom will lead to a turn to the upside in a 5th and final wave to a new all-time-high.
Summary: Look for a dramatic drop in a zigzag (5-3-5) pattern to complete a triple zigzag with a wave at least to the previous low starting as early as Monday. The culmination of this drop should mark the bottom of large fourth wave in progress since January 29, 2018 - almost a full year of Hell.
___________________________
Trader's Gold Subscribers get a comprehensive view of the market, including hourly (and even smaller timeframes, when appropriate) on a daily basis. They also receive updates through the comments area. I provide only the daily timeframe for the free blog, as a "snapshot" of where the market currently trades and the next move on a weekly basis.
______________________________________
Sign up for: The Chart Show
Next Date: 

Wednesday, January 9 at 5:00 pm EST (US market time)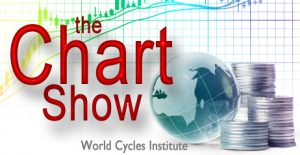 The Chart Show is a one hour webinar in which Peter Temple provides the Elliott Wave analysis in real time for the US market, gold, silver, oil, major USD currency pairs, and more. You won't find a more accurate or comprehensive market prediction anywhere for this price.
Get caught up on the market from an Elliott Wave perspective. You'll also get Andy Pancholi cycle turn dates for the SP500 for the balance of the current month. There'll be a Q&A session during and at the end of the webinar and the possibility (depending on time) of taking requests.
"I think you are the only Elliot Wave technician on the planet who knows what he's doing."
m.d. (professional trader)
All registrants will receive the video playback of the webinar, so even if you miss it, you'll be sent the full video replay within about an hour of its conclusion.