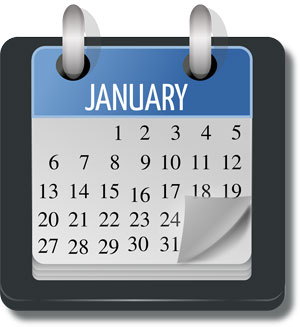 The January Effect
from TradingSim "The month of January in the stock market has strong significance in predicting the trend of the stock market for the rest of the calendar year. This phenomena occurs between the last trading day in December of the previous year and the fifth trading day of the new year in January. The January Effect is a result of tax-loss selling which causes investors to sell their losing positions at the end of December. The January Effect is predicated on the idea that these stocks, which have been sold off to realize the tax losses, will be at a discount to their market value. Bargain hunters step in and load up on these laggards and this creates buying pressure in the market."
Statistics from the first five Trading days in January
"When the S&P500 has a net positive gain in the first five trading days of the year, there is about an 86% chance that the stock market will rise for the year, it has worked in 31 out of the last 36 years (as of 2006). The five exceptions to this rule were in 1966, 1973, 1990, 1994, and 2002. Four out of these five years were war related, while 1994 was a flat market. As history suggests, the markets average nearly 14% gains when the January Effect is triggered.
On the flip side of the coin, when the first five days of January are lower, there is no statistical bias of the market, up or down. It is anyone's game at that point. Not a very reliable indication."
My Take
I'm expecting a very negative period in the first five days of January … VERY negative. Then we should get a large fifth wave to a new all-time high, which might carry us through March. But after that, we'll revert back to the type of market we'll get a small taste of next week … times ten! It's going to be a year for the record books!
This week, we should see the culmination of the fourth wave that's gone mostly sideways to down for eleven months  – good riddance! It should be a dramatic drop to at least the current low across major stocks and the US indices, with similar spike (but to a new high) is the US Dollar. It will be a dramatic end to what I like to think of as "The Fourth Wave from Hell!"
An Update on the NYSE (New York Stock Exchange)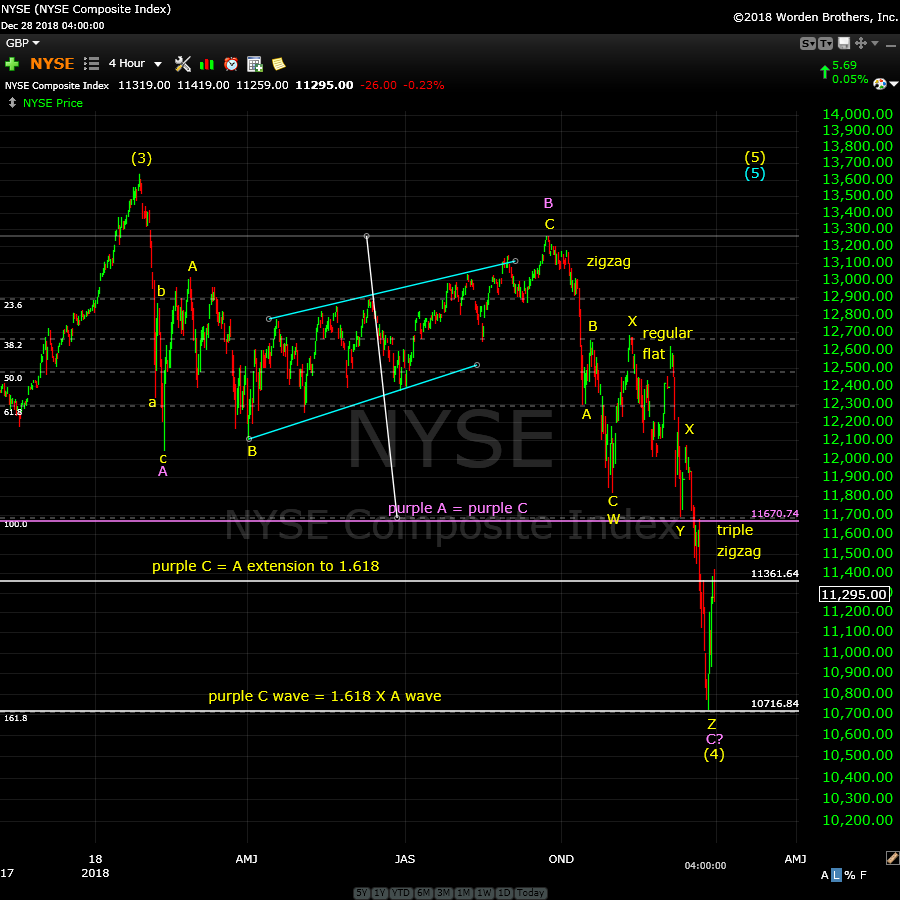 Above is the 4 hour chart of the NYSE (New York Stock Exchange). You can click to enlarge, as with all of my charts. I always look to it for a clear big-picture-look. It usually provides one, devoid of the animal spirits of indices like the SP500.
Last week, I posted this same chart, expecting a drop to my target of 10,716. Well, there you have it — the power of fibonacci. You can see the same phenomenon in the SP500, where we hit my target of about 2330.
This week's large bounce is corrective, which means we're heading right back down to that target. We may simply bounce into a fifth and final wave up after creating a double bottom. That's my preference: We'll see what Mr. Market thinks.
In any event, they all have one more wave up to a new all-time high once we complete this fourth wave.
I've labelled the sub-patterns of the combination pattern that's played out in the normal WXYZ manner, which simply delineates the different sub-patterns. We have first of all, an ABC rally to the area slightly below 13,300. Then I count a zigzag down, then a regular flat, and now a triple zigzag to finish things off. Triple zigzags are fairly rare patterns, but this entire fourth wave down from January 29 has been anything but ordinary!
The triple zigzag is not complete, but may bottom around the January 6 eclipse. Then expect a trend change to a very large fifth wave to a new high. We're very likely to see this trend change across all asset classes internationally.
An Update on the US Dollar Index
Above is the daily chart of the US Dollar Index. I usually use the chart of UUP (for ease of access) to do my dollar index analysis, but there is a rather large non-confirmation between UUP and the Dollar Index. UPP seems to have completed a first wave down already, while the US dollar still has to top out of an ending diagonal.
This week, the ending diagonal widened slightly and changed the internal count; I'm still expecting one more wave to a new high, which should coincide with a fourth wave bottom in the US indices.
The wave up is corrective (and there are a couple of ways to count it). I've chosen what seem the most likely, a zigzag pattern. In any event, the pattern is corrective. There are additional clues, which are denoted by the asterisks, which identify 3-wave patters within the larger wave.
The bottom line is that I'm expecting a complete retrace of the dollar right back down to the 89.50 area. I expect this wave will trace out as the US indices finish up the fifth wave to a new high and end the 500 year rally.
It's all falling into place rather well, even though I've certainly had my share of detractors, along the way.
____________________________
Elliott Wave Basics
There are two types of Elliott wave patterns:
Motive (or impulsive waves) which are "trend" waves.
Corrective waves, which are "counter trend" waves.
Motive (impulsive) waves contain five distinct waves that move the market forward in a trend. Countertrend waves are in 3 waves and simply correct the trend.
All these patterns move at what we call multiple degrees of trend (in other words, the market is fractal, meaning there are smaller series of waves that move in the same patterns within the larger patterns). The keys to analyzing Elliott waves is being able to recognize the patterns and the "degree" of trend (or countertrend) that you're working within.
Impulsive (motive) waves move in very distinct and reliable patterns of five waves. Subwaves of motive waves measure out to specific lengths (fibonacci ratios) very accurately. Motive waves are the easiest waves to trade. You find them in a trending market.
Waves 1, 3, and 5 of a motive wave pattern each contain 5 impulsive subwaves. Waves 2 and 4 are countertrend waves and move in 3 waves.
Countertrend waves move in 3 waves and always retrace to their start eventually. Countertrend (corrective waves) are typically in patterns — for example, a triangle, flat, or zigzag. Waves within those patterns can be difficult to predict, but the patterns themselves are very predictable.
Trend waves move in 5 waves and partially retrace. The difference in these waves is not covered in "The Elliott Wave Principle" book. There are two types:
Simple 5 wavers are found in zigzags, flats, and other nondescript corrective patterns. They have 5 waves, and sometimes the third wave has a recognizable 5 wave pattern, but most of the time, they don't.
Impulsive waves require each of waves 1, 3, and 5 to have recognizable 5 wave patterns in their subwaves
Fibonacci ratios run all through the market. They determine the lengths of waves and provide entry and exit points. These measurements are really accurate in trending markets, but more difficult to identify in corrective markets (we've been in a corrective market in all the asset classes I cover since 2009).
To use Elliott wave analysis accurately, you must be able to recognize the difference between a trend wave (motive) and a countertrend wave (corrective). There's very much more to proper Elliott wave analysis, but this gives you the basics.
____________________________
Registration for Commenting
Want to comment? You need to be logged in to comment. You can register here.
If you register, it protects your information. It also allows you to comment without filling in your information each time. Once you're registered, simply go to the home page and click on the login link top right in order to log yourself in. Usually, you'll be logged in for several days before needing to be logged in again.
______________________________
Problem receiving blog comment emails? Try whitelisting the address. More info.
______________________________
Tops in your field DZ 2
Tops in your field …

You are tops in your field.  Tried to follow Elliot Wave international for years.  They were always behind the market.  After discovering you, I perceive that you are an expert in reading the waves, which puts you way ahead of the rest of your peers. And you can read the Waves like you are reading tomorrow's financial section.  I pray you stay healthy.  —DZ
US Market Snapshot (based on end-of-week wave structure)
Here's the latest daily chart of ES (emini futures)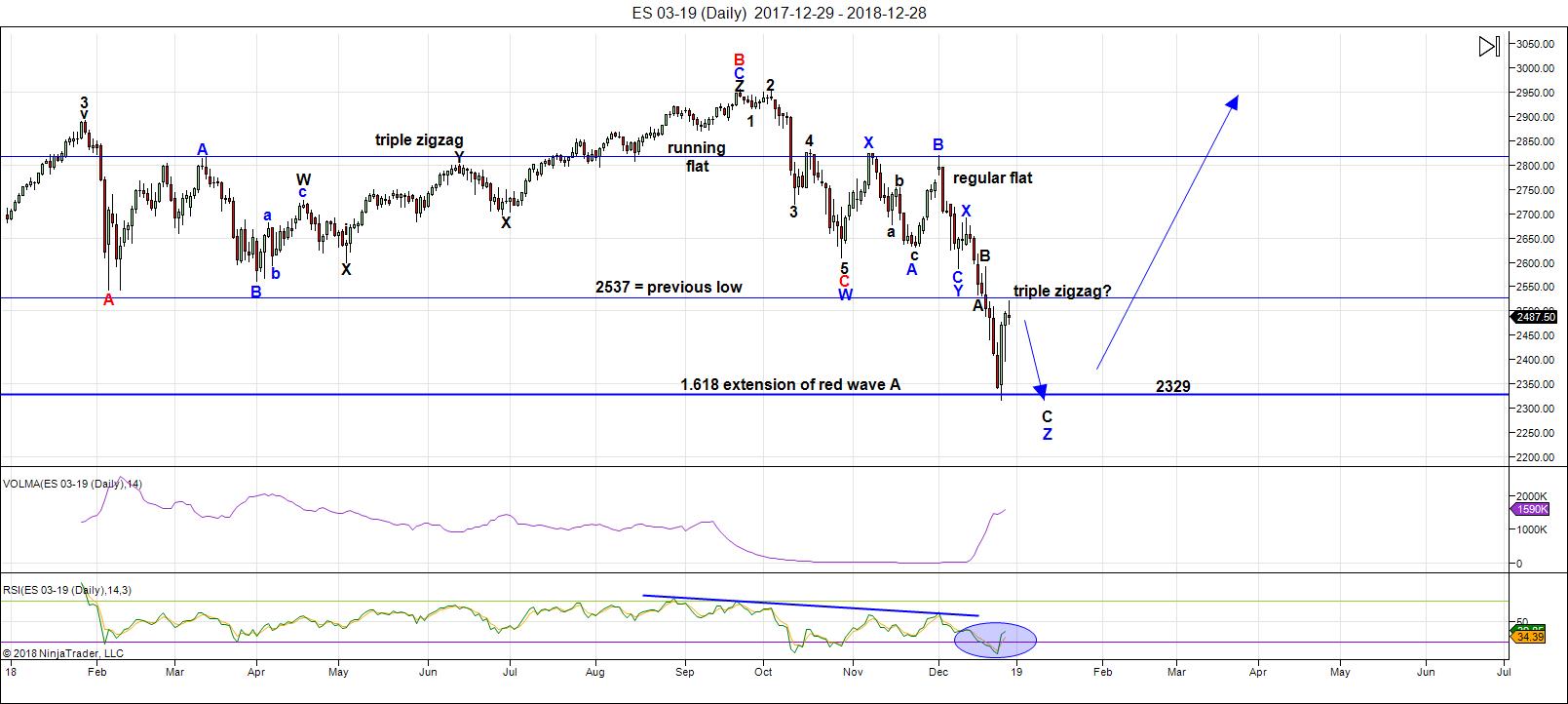 Above is the daily chart of ES (click to enlarge, as with any of my charts).
This was quite the week! We had an unexpected large rally, apparently a result of some $64 billion in pension funds being placed in the market during a time of very low volume. It changed the immediate count, but not the larger prognosis.
We had been expecting a rally and another wave to the downside as part of a possible ending diagonal. However, the resulting corrections, along with the extended drop before them made an ending diagonal impossible.
The waves down have been less than clear ever since about 2700 in the SP500/ES combination. Because of overlaps, a zigzag pattern was a lesser probability until the middle of this past week. Now, the quite rare triple zigzag pattern is the most probable wave structure following after the regular flat pattern.
We completed two zigzags (5-3-5. 5-3-5) after the regular flat and hit my target of 2330 (the potential bottom of wave four). After this week's corrective rally, we're looking for a third zigzag down to a new low. We may drop below the previous low, or may end up with a double bottom; I have no way of knowing at the moment what the target will be.
A confirmed bottom will lead to a turn to the upside in a 5th and final wave to a new all-time-high.
At the end of the day on Friday, we were sitting at the top of an ending diagonal in ES and NQ, with a final high still in the cards. I expect a resolution early in the week (either Monday or Wednesday — Tuesday is a market holiday). Look for a fourth wave bottom perhaps in conjunction with the January 6 eclipse.
Summary: Look for a dramatic drop in a zigzag (5-3-5) pattern to complete a triple zigzag with a wave at least to the previous low starting as early as Monday. The culmination of this drop should mark the bottom of large fourth wave in progress since January 29, 2018 - almost a full year of Hell.
Once we bottom in this large fourth wave, we'll be looking for one more final wave up to a new high. That fifth wave up to a new high will be the end of the 500 year bull market.
___________________________
Trader's Gold Subscribers get a comprehensive view of the market, including hourly (and even smaller timeframes, when appropriate) on a daily basis. They also receive updates through the comments area. I provide only the daily timeframe for the free blog, as a "snapshot" of where the market currently trades and the next move on a weekly basis.
______________________________________
Sign up for: The Chart Show
Next Date: 

Wednesday, January 9 at 5:00 pm EST (US market time)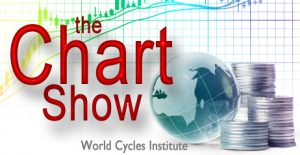 The Chart Show is a one hour webinar in which Peter Temple provides the Elliott Wave analysis in real time for the US market, gold, silver, oil, major USD currency pairs, and more. You won't find a more accurate or comprehensive market prediction anywhere for this price.
Get caught up on the market from an Elliott Wave perspective. You'll also get Andy Pancholi cycle turn dates for the SP500 for the balance of the current month. There'll be a Q&A session during and at the end of the webinar and the possibility (depending on time) of taking requests.
"I think you are the only Elliot Wave technician on the planet who knows what he's doing."
m.d. (professional trader)
All registrants will receive the video playback of the webinar, so even if you miss it, you'll be sent the full video replay within about an hour of its conclusion.