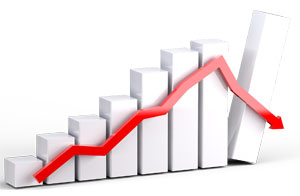 It Won't Be a Quiet Holiday!
Volatility will continue through the holidays, as we're tracing out large ending diagonals as the final pattern to the downside in the major the US indices. You can never be certain that we have an ending diagonal until the fourth wave is in place, so we need to have some CAUTION here until we get a fourth wave up in place and a turn down. But the truth is, I have no other options left in the EW Christmas stocking.
So, a fourth wave bounce is in store. Then, bombs away … because I expect a drop in three waves to a final bottom around the 2330 area, which will complete the year-long corrective fourth wave — an unusual Christmas present from Santa!
One more wave up after that to a new high and the end of the 500 year cycle, as I've been saying for several years now.
An Update on the NYSE (New York Stock Exchange)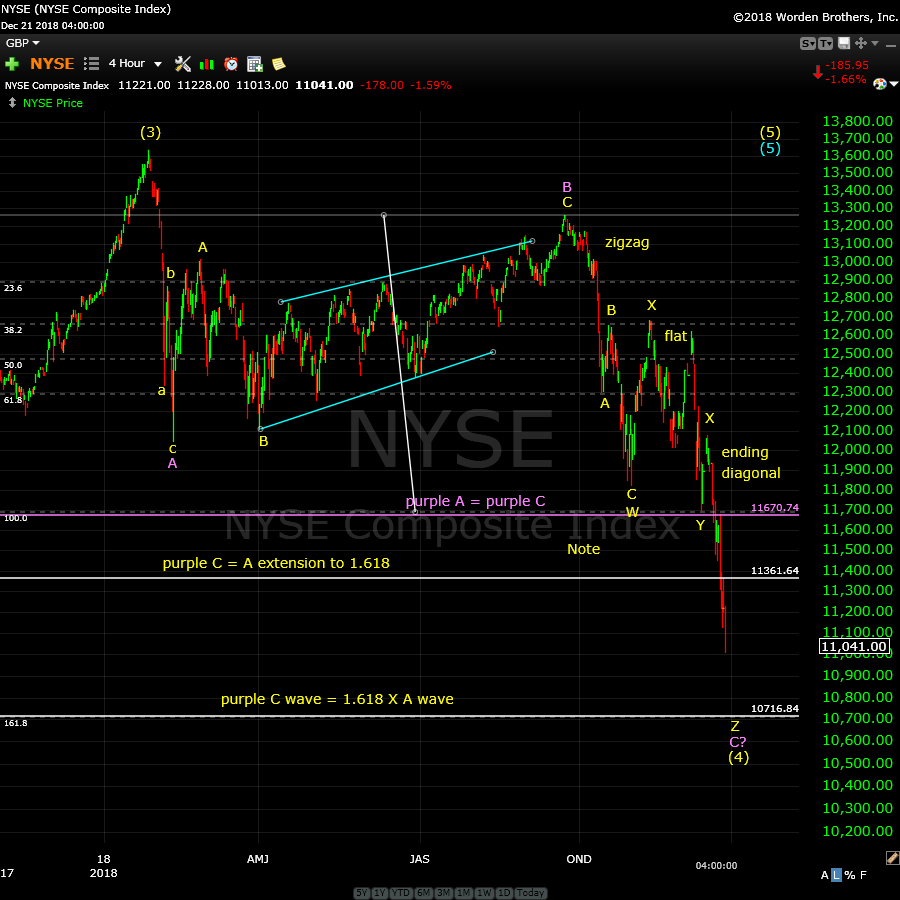 Above is the 4 hour chart of the NYSE (New York Stock Exchange). You can click to enlarge, as with all of my charts. I always look to it for a clear big picture look. It usually provides one, devoid of the animal spirits of traders.
What you're looking at is an ABC correction off the top of the third wave. If you back out the chart to a weekly, you'll see what amounts to an extremely large fourth wave plateau at the top of a rally wave from 2009. That's a corrective formation, which is what I've been saying for a number of years now.
The Nasdaq indices are in impulsive patterns, the NYSE sub-indices (SPX, Russells, OES, etc.) are in corrective patterns, which makes them weaker (much more bearish, if you like). That means we're going to see more downside in them in this fourth wave relative to the Nasdaq.
In any event, they all have one more wave up to a new all-time high once we complete this fourth wave.
The target for the bottom of the fourth wave appears to be ~10,716, which would mean we'd have a C wave down that is 1.618 X the A wave down, a typical fibonacci relationship in an ABC fourth wave.
I've labelled the sub-patterns of the combination pattern that's played out in the normal WXYZ manner, which simply delineates the different sub-patterns. We have first of all, an ABC rally to the area slightly below 13,300. Then I count a zigzag down, then a regular flat, and now an ending diagonal.
The ending diagonal is not complete, but should be before the end of the year. Then expect a trend change to a very large fifth wave to a new high. We're very likely to see this trend change across all asset classes internationally.
An Update on the US Dollar Index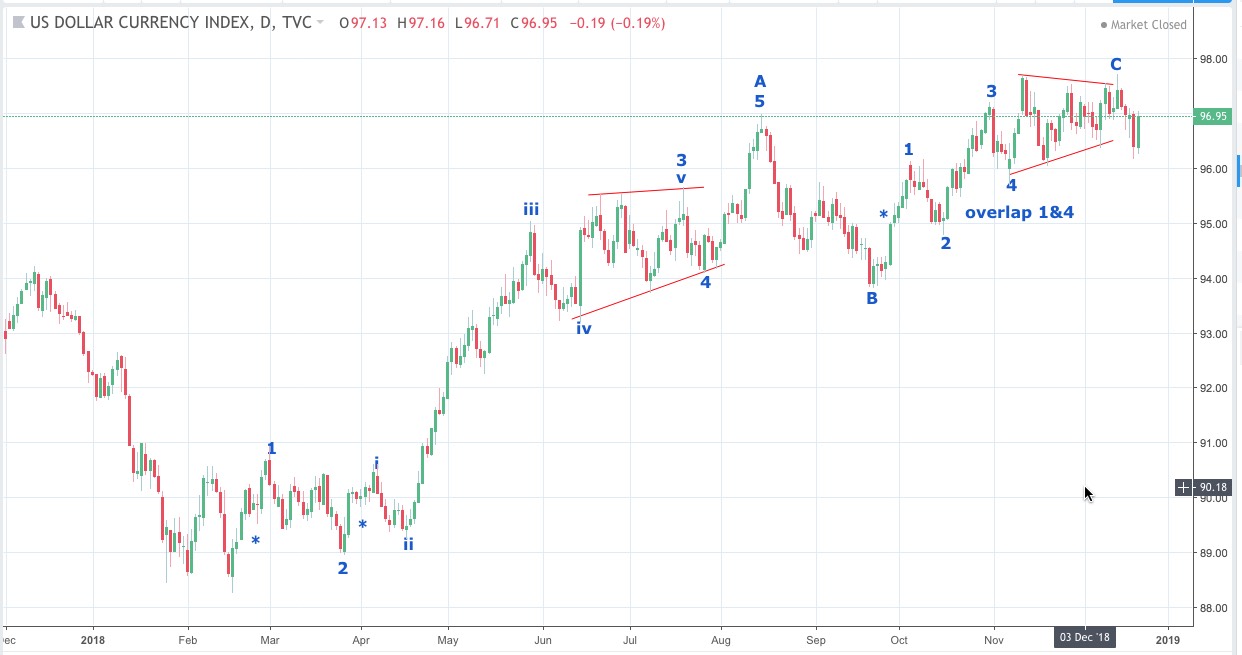 Above is the daily chart of the US Dollar Index. I usually use the chart of UUP (for ease of access) to do my dollar index analysis, but there are subtle differences, so I thought I'd summarize "the real thing" this weekend.
The US dollar index has all but topped. We've recently completed a small ending diagonal and it looks like we're going to test the top one more time during the next couple of weeks.
The wave up is corrective (and there are a couple of ways to count it). I've chosen what seem the most likely, a zigzag pattern. In any event, the pattern is corrective. There are additional clues, which are denoted by the asterisks, which identify 3-wave patters within the larger wave.
The bottom line is that I'm expecting a complete retrace of the dollar right back down to the 89.50 area. I expect this wave will trace out as the US indices finish up the fifth wave to a new high and end the 500 year rally.
It's all falling into place rather well, even though I've certainly had my share of detractors, along the way.
____________________________
It Takes a Village to Make an Idiot
We'll blame it on this cycle top, which tends to make everyone a bit whacko. I get my share of idiotic emails, mostly due to the work of Bob Prechter's group and other EW analysts who haven't done their homework. They've sullied the reputation of Mr. Elliott.
While The Elliott Wave Principle book is a great starting education into EW Theory, it's rife with errors. As a result, the barrier to really terrible analysis is very low. I realize I have an uphill battle.
On Friday, I got a rather ignorant email from someone who's been trying to bait me for a long time. He tried again, but picked the wrong day and the wrong guy. He seems to be harbouring a deep animosity towards Prechter's group, which he hoped to transfer to me.
It had to do with last week's "Caution to the Bears" free blog post. He thought it should have been "Caution to the Bulls." He criticized me for being wrong, and having a similar response to Prechter (he obviously meant his group, cause Bob himself doesn't analyze the market).
My reply:
Firstly, if you're a bull, you shouldn't even be in this market! What's that about? The caution to the bulls was in mid September as the SP500 reached the top of the B wave. It's been down, as I predicted, since then.
Last Friday, we were sitting with a corrective wave to the downside, a wave in three waves. The most basic concept of the Elliott Wave principle is that corrective waves retrace. Waves in 5 waves also retrace, but they retrace partially. The wave we were in was "advanced" in length and so either way (and with the Federal Reserve meeting on Wednesday), I was expecting a retrace, partial at the least.
Therefore, EW methodology requires caution and since the market is extremely bearish, an expected retrace would be a caution to the bears … duh!
The wave eventually traced out a zigzag, which is corrective, but also partially retraces. So, I was right in my call: Caution if you're bearish that week. But, of course the larger direction is down, as it has been since September. So, you could call me wrong on the size of the bounce I cautioned about … but not the structure of the wave that was the basis of the call.
Trade what you see, not what you think.
If you were a member of the Trader's Gold group, you'd know that I was also expecting a drop within hours of the Federal Reserve announcement on Wednesday (and I said we could possibly see one immediately after the announcement, which we got). ES/SP500 had retraced to the minimum level that I'd identified (38%).
Then there was the email this week from someone thinking I would be interested in viewing the work of Glenn Neely of Neowave (who doesn't even practice Elliott Wave – he's developed his own unintelligible (imho) system). The underlying message was obviously that I don't know what I'm talking about.
So, for all the wonderfully idiotic recent emails (there were more) and comments of the pre-Christmas season, here are some thoughts:
The daily chart in the free blog is not for trading – you're crazy if you think so. It's a snapshot of the market and predicts market direction. I'm now titling it, "Snapshot"
The daily chart I provide in the free blog is a tiny example of the work I do daily across several asset classes, lifted from the larger work (you'd get a full sense of what I really do with a $19 investment in the weekly Chart Show)
I don't look at other people's charts or commentary. Doing EW analysis requires that I remain totally objective, and keep the noise to an absolute minimum (also why I don't read many comments in the free blog).
I don't need other people's opinions on the market. I'm happy with my own, thanks.
If you're going to criticize me for my counts, my work, or anything else, you'd better have done your homework and know at least as much as I do. I have no time for baseless opinion, and will react accordingly.
I welcome articles sent to me on all the other aspects of the coming collapse (real estate, climate, pandemics, etc.)
If you don't like my work, I'd suggest you use only your mouse (not your keyboard and email), and go elsewhere. You'll be happier for it (and I'd have less "noise" … lol).
My New Year's hope is for fewer idiotic emails, but I'm not naive. Happy Holidays!
_________________________
Elliott Wave Basics
There are two types of Elliott wave patterns:
Motive (or impulsive waves) which are "trend" waves.
Corrective waves, which are "counter trend" waves.
Motive (impulsive) waves contain five distinct waves that move the market forward in a trend. Countertrend waves are in 3 waves and simply correct the trend.
All these patterns move at what we call multiple degrees of trend (in other words, the market is fractal, meaning there are smaller series of waves that move in the same patterns within the larger patterns). The keys to analyzing Elliott waves is being able to recognize the patterns and the "degree" of trend (or countertrend) that you're working within.
Impulsive (motive) waves move in very distinct and reliable patterns of five waves. Subwaves of motive waves measure out to specific lengths (fibonacci ratios) very accurately. Motive waves are the easiest waves to trade. You find them in a trending market.
Waves 1, 3, and 5 of a motive wave pattern each contain 5 impulsive subwaves. Waves 2 and 4 are countertrend waves and move in 3 waves.
Countertrend waves move in 3 waves and always retrace to their start eventually. Countertrend (corrective waves) are typically in patterns — for example, a triangle, flat, or zigzag. Waves within those patterns can be difficult to predict, but the patterns themselves are very predictable.
Trend waves move in 5 waves and partially retrace. The difference in these waves is not covered in "The Elliott Wave Principle" book. There are two types:
Simple 5 wavers are found in zigzags, flats, and other nondescript corrective patterns. They have 5 waves, and sometimes the third wave has a recognizable 5 wave pattern, but most of the time, they don't.
Impulsive waves require each of waves 1, 3, and 5 to have recognizable 5 wave patterns in their subwaves
Fibonacci ratios run all through the market. They determine the lengths of waves and provide entry and exit points. These measurements are really accurate in trending markets, but more difficult to identify in corrective markets (we've been in a corrective market in all the asset classes I cover since 2009).
To use Elliott wave analysis accurately, you must be able to recognize the difference between a trend wave (motive) and a countertrend wave (corrective). There's very much more to proper Elliott wave analysis, but this gives you the basics.
____________________________
Registration for Commenting
Want to comment? You need to be logged in to comment. You can register here.
If you register, it protects your information. It also allows you to comment without filling in your information each time. Once you're registered, simply go to the home page and click on the login link top right in order to log yourself in. Usually, you'll be logged in for several days before needing to be logged in again.
______________________________
Problem receiving blog comment emails? Try whitelisting the address. More info.
______________________________
Couldn't be happier … KK 2
Couldn't be happier …

The analysis and insight you provide is simply amazing!  I've been trading the futures and equity markets for well over thirty years and usually average around 5% monthly.  Since joining your Traders Gold Service two months ago, that number has better than doubled.  I couldn't be happier.—KK
US Market Snapshot (based on end of week wave structure)
Here's the latest daily chart of ES (emini futures)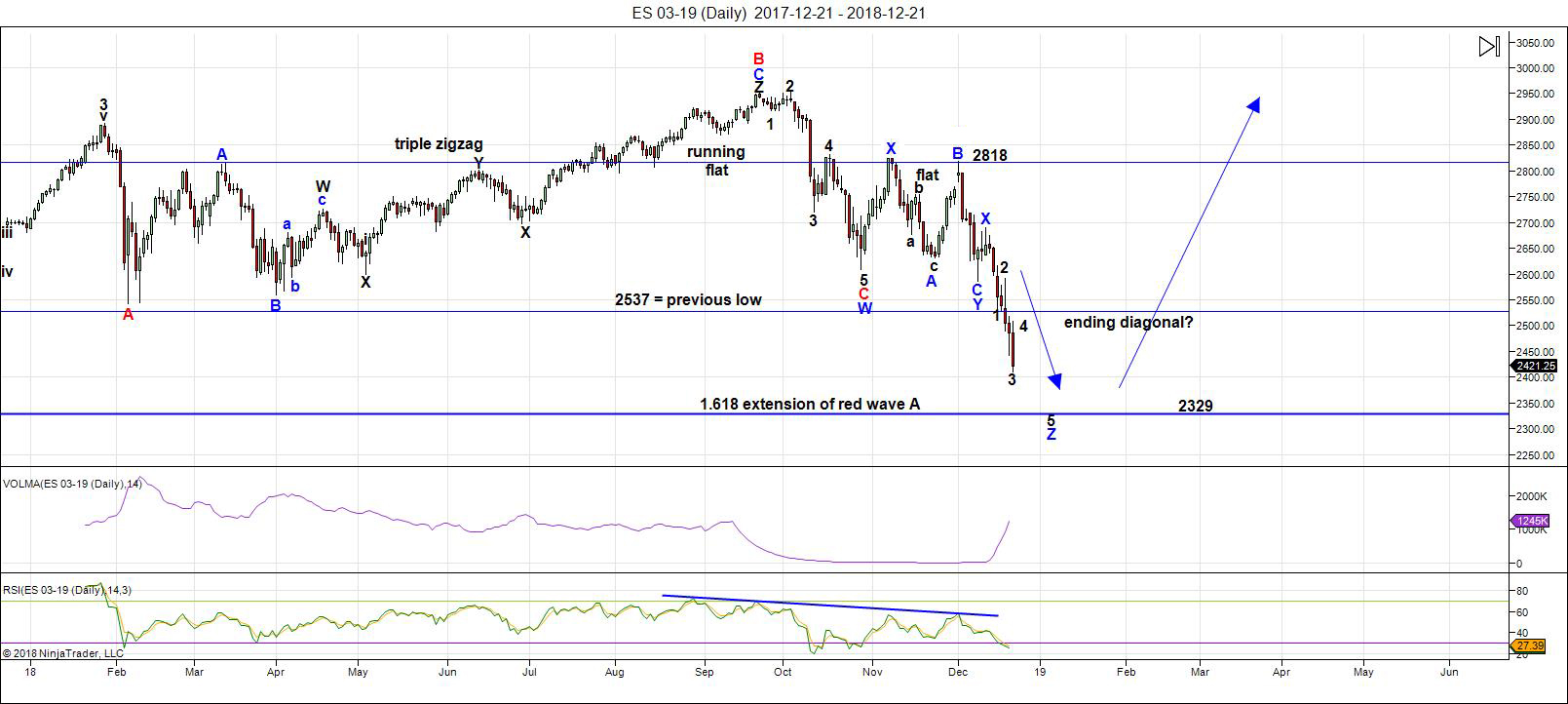 Above is the daily chart of ES (click to enlarge, as with any of my charts).
Last weekend, I called for caution for anyone bearish because we had a corrective wave to the downside which was fairly advanced in length. Corrective waves (3 wavers) fully retrace. If a corrective wave continues to unfold and becomes 5 waves, it only partially retraces. Coupled with the upcoming Federal Reserve meeting and announcement on Wednesday, we were certainly going to have a retrace. We got that retrace on Tuesday and Wednesday.
Before the Wednesday announcement, I warned about a possible dramatic drop right after the announcement, contrary to what usually happens (a subsequent rally for the remainder of the announcement day and a turn the following morning). We got the instant turn down.
That sent us into an ending diagonal as the final pattern of three patterns in the SP500 (a running flat, a regular flat, an ending diagonal). However the final pattern wasn't obvious until Friday afternoon. You can't absolutely determine an ending diagonal until the fourth wave is in place, so I'm even a little early now in my prediction. But, through the process of elimination, at this point, there's no other option.
Ending diagonals have a limited limited fifth wave (limited by the length of the third wave — the fifth cannot be longer than the third).
Over the next week, expect a fourth wave bounce in the ending diagonal to somewhere shy of 2500 and then a sharp turn down the the long-term target, around 2330.
Summary: I'm looking for a comparatively smallish rally this weekend that will lead to a further dramatic drop to end an ending diagonal. The call has long been for a drop below 2400. We're likely to see a bottom of the fourth wave in the 2330 area (somewhat speculative until the ED fourth wave is in place).
Once we bottom in this large fourth wave, we'll be looking for one more final wave up to a new high. That fifth wave up to a new high will be the end of the 500 year bull market.
___________________________
Trader's Gold Subscribers get a comprehensive view of the market, including hourly (and even smaller timeframes, when appropriate) on a daily basis. They also receive updates through the comments area. I provide only the daily timeframe for the free blog, as a "snapshot" of where the market currently trades and the next move on a weekly basis.
______________________________________
Sign up for: The Chart Show
Next Date: 

Wednesday, January 9 at 5:00 pm EST (US market time)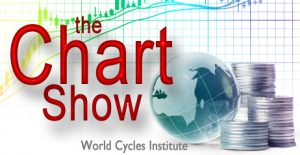 The Chart Show is a one hour webinar in which Peter Temple provides the Elliott Wave analysis in real time for the US market, gold, silver, oil, major USD currency pairs, and more. You won't find a more accurate or comprehensive market prediction anywhere for this price.
Get caught up on the market from an Elliott Wave perspective. You'll also get Andy Pancholi cycle turn dates for the SP500 for the balance of the current month. There'll be a Q&A session during and at the end of the webinar and the possibility (depending on time) of taking requests.
"I think you are the only Elliot Wave technician on the planet who knows what he's doing."
m.d. (professional trader)
All registrants will receive the video playback of the webinar, so even if you miss it, you'll be sent the full video replay within about an hour of its conclusion.