Full Moons
Well, the influence of the full moon on Wednesday didn't do very much to affect the markets. But, it was certainly apparent in the free blog: Animal spirits were out of control and on full display.
I've attempted over the past several years here to promote the idea that the manner in which the market moves is a science: It's a result of the influence of the solar system (primarily) on the human psyche. There can really be no other logical explanation for these patterns that repeat over and over again ad infinitum and adhere to wavelengths that "magically" align with fibonacci ratios.
As a science, because of the repeating patterns (with rules and guidelines that stipulate how these patterns must trace out in charts), EW can be used as a very accurate predictive tool; in fact, the most accurate predictive tool that I've found anywhere so far.
I can only prove this science by providing accurate projections for what's going to happen going forward in the market, and I've done that consistently for over three years with very few errors (and that's over several asset classes that include almost a dozen individual assets).
I've only been able to achieve that level of accuracy by spending several years of research on the movement of the market, disproving along the way some of the rules and guidelines put forward in the Prechter/Frost book, The Elliott Wave Principle. There are a number of issues and omissions in that book that have plagued the implementation of Mr. Elliott's work by others not prepared to do their own research (their own thinking).
That's not to say the book is not a good training ground, but it's only a start. The principle is indeed complicated, but I have never seen it fail. Any errors have been my own.
There is so much misinformation about this science that I don't see the benefit of allowing people to come on this site and add to that confusion by promoting their own version of EW rules and guidelines that are simply not true, either in my work, the work of Prechter/Frost, or the work of Mr. Elliott himself. I have made my views on this matter very clear with a blurb that sits just above the fields in which you must use to comment.
That's the reason one current commenter has been placed on "moderation" (after two warnings). Moderation means that comments must be approved by me before being displayed, which is tedious for me, and something that I only get around to doing sporadically.
On the other hand, I have no issue with someone disputing my count, or work. But, you'd better know what you're talking about, (with at least a strong knowledge of the Elliott Wave Principle). If not, it's simply opinion, which has no value, is a complete waste of time, and has no place here.
The other issue of "the kids" on the free blog fighting amongst themselves, is quite frankly ridiculous and irritating, as it would be in any family.
If you can't control your emotions (critical if you're even contemplating involving yourself in the world of trading), then please don't comment here. Otherwise, you'll force me to ban you, which is, for me, a click of a button. It quickly solves the problem.
There's a lot of information generated within the comments which I find really interesting and worthwhile; I hope you do, too. Therefore, my inclination is to keep it going. I want it to be a learning environment, for cycles (the influence of the Universe) and EW (or any other sciences or methodologies that help to understand the movement of the market and, by extension, the world in which we live).
But if the downside of bickering (and "fake news" about Mr. Elliott and his work) continues, and makes the free blog a shouting match not worthy of paying attention to, then I'll shut it down.
If it does not allow me to reach my objective of extolling Mr. Elliott's work as a science, then I'll shut it down.
I do not want to be the school teacher who makes the entire class stay late because one low-life is chewing gum. But if that's the only solution, so be it. It's up to you to decide, quite frankly. I'm a big supporter of the work of many of the contributors here; I'm nothing special myself, and Mr. Elliott's work in only one approach to the market.
Let's try to keep free speech alive, even though a major trait of a five hundred year cycle top is to shut it down — you can see that happening all over the world as this cycle turn plays out.
What has been will be again, what has been done will be done again; there is nothing new under the sun. Ecclesiastes 1:9
I'm on your side; I want this to work. Don't make me any crazier than I already am … lol.
____________________________
The Problem With Not Everybody Playing Ball (the market, too!)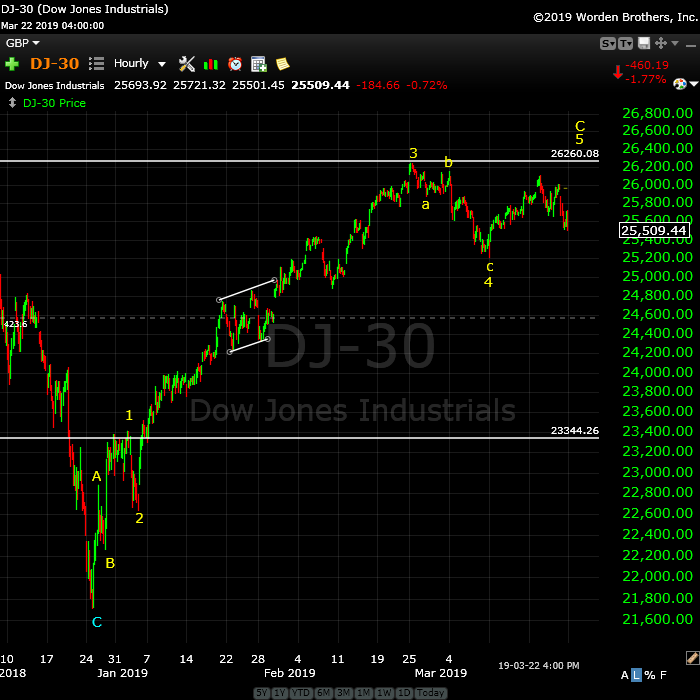 Above is the hourly chart of the DOW. (click to expand)
Above is the one hour chart of the DOW. This chart is now looking a lot like the SP500. it clearly needs a final high, as we have 3 waves down from the top.
There's a similar problem with the market that the free blog has. Once in a while, somebody gets out-of-line. IWM and the DOW are fulfilling that role, at the moment.
As I've shown many times on this site, when you get tops like the current one we have in progress, all the US indices must reach highs properly. You cannot start an important wave down (a corrective pattern in this case) from somewhere in the middle of a wave structure. You also can't start either the C wave of a flat, or a zigzag with a wave in three waves; It must be a five-waver.
As I often say,
"Trade what you see, not what you think."
_____________________________
Elliott Wave Basics
Here is a page dedicated to a relatively basic description of the Elliott Wave Principle. You'll also find a link to the book by Bob Prechter and A. J. Frost.
____________________________
Registration for Commenting
Want to comment? You need to be logged in to comment. You can register here.
If you register, it protects your information. It also allows you to comment without filling in your information each time. Once you're registered, simply go to the home page and click on the login link top right in order to log yourself in. Usually, you'll be logged in for several days before needing to be logged in again.
______________________________
Problem receiving blog comment emails? Try whitelisting the address. More info.
______________________________
A true expert in Elliott Wave FL 2
A true expert in Elliott Wave …

You are a true expert in EW analysis. What you provide is not available anywhere and is priceless. Subscription on your services is the best thing I have ever done. Many thanks for your effort to make me a better investor. I now have more trust in my investment decisions. I hope you will continue the excellent work! —FL
US Market Snapshot (based on end-of-week wave structure)
Here's the latest daily chart of ES (emini futures)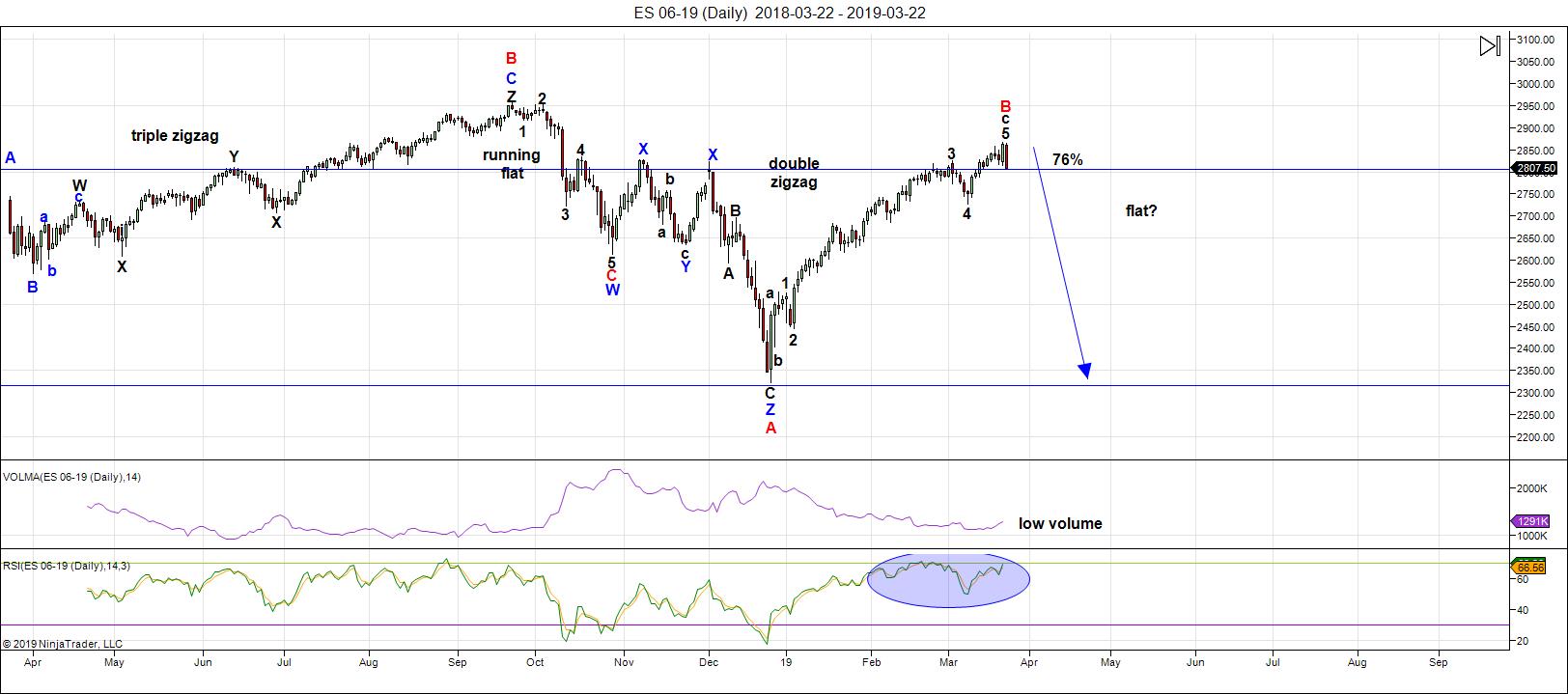 Above is the daily chart of ES (click to enlarge, as with any of my charts).
We're still sitting near the top of a B wave that's risen to about the 76% level of the height of the previous set of waves down from the all-time high at October 3, 2018. Almost all the other assets I cover on a daily basis are hovering near inflection points.
However, the US indices are having a difficult time getting all "the gang" to a new high. IWM and the DOW  both look like new interim hight are required before everything heads down in a dramatic capitulation. The US Dollar Index also has just a bit more work to do before it turns up in earnest.
So, it looks like we have one more high to go in ES - a minimal new high to finish what appears to be an ending expanding diagonal.
The next major move is to the downside.
As I've been saying, the wave up from Dec. 26 is clearly corrective and, as a result, must fully retrace. This is supported by the US Dollar Index, the major USD currency pairs, WTI Oil, along with DAX and other international exchanges.
Summary: My preference is for a dramatic drop in a C wave to a new low that should begin this week. The culmination of this drop should mark the bottom of large fourth wave in progress since January 29, 2018 - over a full year of Hell. It may be a dramatic drop that lasts multiple months, and will target the previous fourth wave area somewhere under 2100.
Once we've completed the fourth wave down, we'll have a long climb to a final new high in a fifth wave.
_____________________
___________________________
Trader's Gold Subscribers get a comprehensive view of the market, including hourly (and even smaller timeframes, when appropriate) on a daily basis. They also receive updates through the comments area. I provide only the daily timeframe for the free blog, as a "snapshot" of where the market currently trades and the next move on a weekly basis.
______________________________________
Sign up for: The Chart Show
Next Date: 

Wednesday, March 27 at 5:00 pm EST (US market time)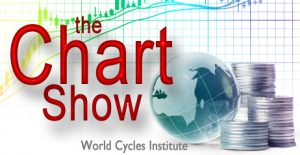 The Chart Show is a one hour webinar in which Peter Temple provides the Elliott Wave analysis in real time for the US market, gold, silver, oil, major USD currency pairs, and more. You won't find a more accurate or comprehensive market prediction anywhere for this price.
Get caught up on the market from an Elliott Wave perspective. There'll be a Q&A session during and at the end of the webinar and the possibility (depending on time) of taking requests.
"I think you are the only Elliot Wave technician on the planet who knows what he's doing."
m.d. (professional trader)
All registrants will receive the video playback of the webinar, so even if you miss it, you'll be sent the full video replay within about an hour of its conclusion.