≡ Menu
List of Cycles
Kitchin Cycle
Juglar Cycle
Kondratief Cycle
Kuznets Cycle
[Content protected for Traders Gold6, Traders Gold3, Traders Gold, Traders Trial members only]
Premium Market Analysis Service

Trader's Gold is a daily premium market analysis subscription service that combines the Elliott Wave Principle with Cycles analysis to provide high probability predictions. For more info.
Cycles Trading
Weekly Webinar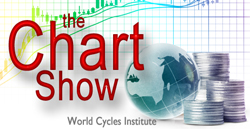 A one hour weekly webinar featuring Elliott Wave analysis of the US stock market indices, major USD currencies, gold, silver, and oil. For more information, click here.
Charting for Traders

I personally believe this is simply the best charting program for avid traders, bar none. You can't beat the price and the support is extraordinary.
For more info, click here.
Alt News
World Forecast
| | |
| --- | --- |
| Climate | COLDER/DRYER |
| US Dollar | UP |
| Stocks | DOWN |
| Economy | DEFLATION |
| Social | UNREST/ANGER |
Recent Posts
Posts by Category
Daily Sunspot Number
Current Moon Phase

Full Moon
The moon is 13 days old
Distance: 59 earth radii
Ecliptic latitude: -4 degrees
Ecliptic longitude: 35 degrees
US and World Debt
The current worldwide credit and debt bubble is the largest in history and just keeps growing.
Login Status
© Copyright World Cycles Institute 2015