Like Herding Cats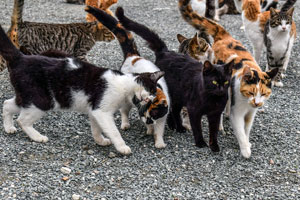 Major tops are difficult things to analyze. They're open to volatility (they're always low volume affairs) and there's usually non-confirmation between indices. In other words, some indices can trace out different patterns than others. However, they all need to eventually top in their own ways.
It's a bit like herding cats, as these different indices may not move together to their targets, but will end up reaching them to finish their respective patterns one way or another.
A case in point for non-confirmations is the situation I'm seeing with the NDX and the SP500: They have different wave structures.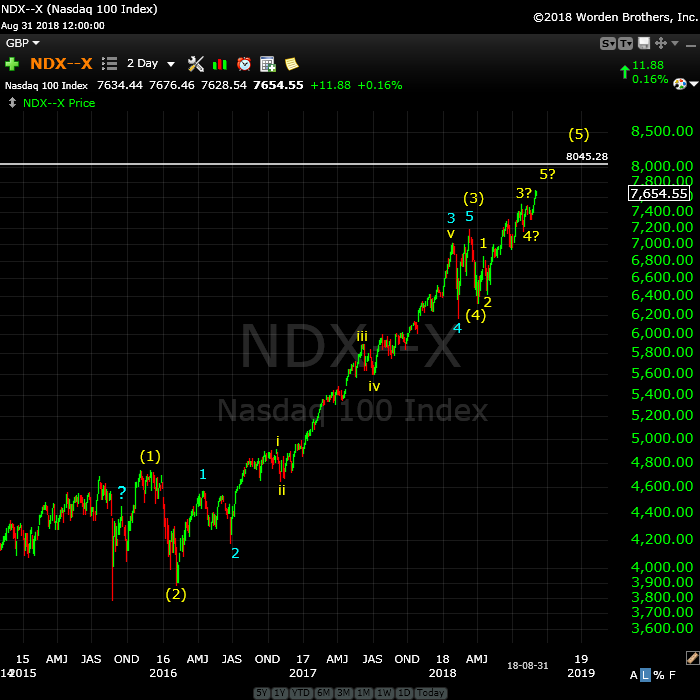 Above is the two day chart of the NDX (Nasdaq 100).
This final wave up (depicted in this chart) looks to be impulsive. This is an almost classic impulsive structure, with one exception: Wave yellow (1) has a three wave move up (identified by the blue question mark). This tells me the wave is in three waves, or we have a 1-2, 1-2 arrangement.
A three wave move would negate the impulsive wave. However, that seems to me to be somewhat unrealistic due to the otherwise textbook look to the wave. The fibonacci measurements also suggest an impulsive wave.
In Elliott Wave, you can't ignore a wave (why many pretenders often have improper counts); every wave has to be counted. So we need to pay attention to the possibility we'll see an additional 4th/5th wave combination at the top end of the entire move (as waves are typically symmetrical, in that they'll have to same number of waves at the bottom as at the top).
What this means is that we may have an additional, small four-five combination still to go at the top end. That's a bit of a wild card.
Otherwise, we're nearing the top of the final fifth wave. My measurements suggest the area of 8045 for a potential top.
In the shorter term, we may be finishing the third wave of the fifth and require a larger fourth wave down and then a fifth wave up to a new high to finish the 500 year rally. There could be a little surprise, as well, based up on that additional small wave that makes up the current yellow (1) wave.
The fourth wave usually drops to the previous fourth wave (of one lesser degree of trend), so this suggests a wave down to the area of 6950 before a final fifth wave up to the ultimate new high.
The SP500 has a different wave pattern, however (the differences are subtle, if you're not highly conversant in the Elliott Wave Principle.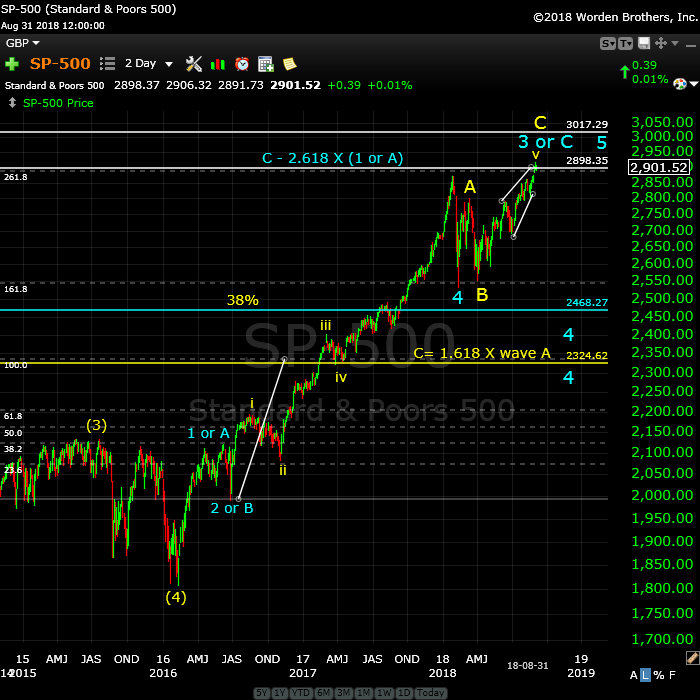 Above is the two day chart of the SP500 (similar to the chart of NDX).
This wave up appears to be a corrective five-waver. The fibonacci measurements also suggest we have a corrective wave here, and, of course, I've labelled the entire wave up from 2009 as corrective (in previous blog posts).
The features that identify this wave up as corrective are:
the measurement of the subwaves. If you measure wave blue "1 or A," you'll find that the  wave up from the bottom of blue "1 or B' is exactly 2.618 X that A wave. That's a typical corrective measurement (while the NDX has measured out differently—for an impulsive pattern that is almost complete).
wave blue "1 or A" appears to be a zigzag, a wave in three waves
wave yellow "i" does not appear to be an impulsive wave
So the SP500 and NDX have completely different patterns playing out at the top. They will likely continue to move somewhat in step with each other but the patterns are expected to be quite different.
Summary
Both indices look like they have one more major wave to the downside and a final wave up to end the trend. However, the wave down for the SP500 looks like it may be much deeper than for the NDX.
While I believe we have a flat setting up in the SP500 (and ES), the NDX looks like it may have a fourth wave of an impulsive pattern to the downside as the next major move. This may limit downside of the SP500 (I don't know), but it could lend creedence to the running flat idea (which is very rare, but must be considered going forward.
In any event, while we're at a potential top, we need to display lots of caution in how these final waves play out. I don't think we're very far from a final high in either price or time. The market will be the ultimate judge and executioner, of course.
______________________________
Elliott Wave Basics
There are two types of Elliott wave patterns:
Motive (or impulsive waves) which are "trend" waves.
Corrective waves, which are "counter trend" waves.
Motive waves contain five distinct waves that move the market forward in a trend. Counter trend waves are in 3 waves and simply correct the trend.
All these patterns move at what we call multiple degrees of trend (in other words, the market is fractal, meaning there are smaller series of waves that move in the same patterns within the larger patterns). The keys to analyzing Elliott waves is being able to recognize the patterns and the "degree" of trend (or countertrend) that you're working within.
Impulsive (motive) waves move in very distinct and reliable patterns of five waves. Subwaves of motive waves measure out to specific lengths (fibonacci ratios) very accurately. Motive waves are the easiest waves to trade. You find them in a trending market.
Waves 1, 3, and 5 of a motive wave pattern each contain 5 impulsive subwaves. Waves 2 and 4 are countertrend waves and move in 3 waves.
Countertrend waves move in 3 waves and always retrace to their start eventually. Counrtertrend (corrective waves) are typically in patterns — for example, a triangle, flat, or zigzag. Waves within those patterns can be difficult to predict, but the patterns themselves are very predictable.
Fibonacci ratios run all through the market. They determine the lengths of waves and provide entry and exit points. These measurements are really accurate in trending markets, but more difficult to identify in corrective markets (we've been in a corrective market in all the asset classes I cover since 2009).
To use Elliott wave analysis accurately, you must be able to recognize the difference between a trend wave (motive) and a countertrend wave (corrective). There's very much more to proper Elliott wave analysis, but this gives you the basics.
____________________________
Registration for Commenting
Want to comment? You need to be logged in to comment. You can register here.
If you register, it protects your information. It also allows you to comment without filling in your information each time. Once you're registered, simply go to the home page and click on the login link top right in order to log yourself in. Usually, you'll be logged in for several days before needing to be logged in again.
______________________________
Problem receiving blog comment emails? Try whitelisting the address. More info.
______________________________
Have not had a losing week RW 2
The Market This Week
Here's the latest daily chart of ES (emini futures)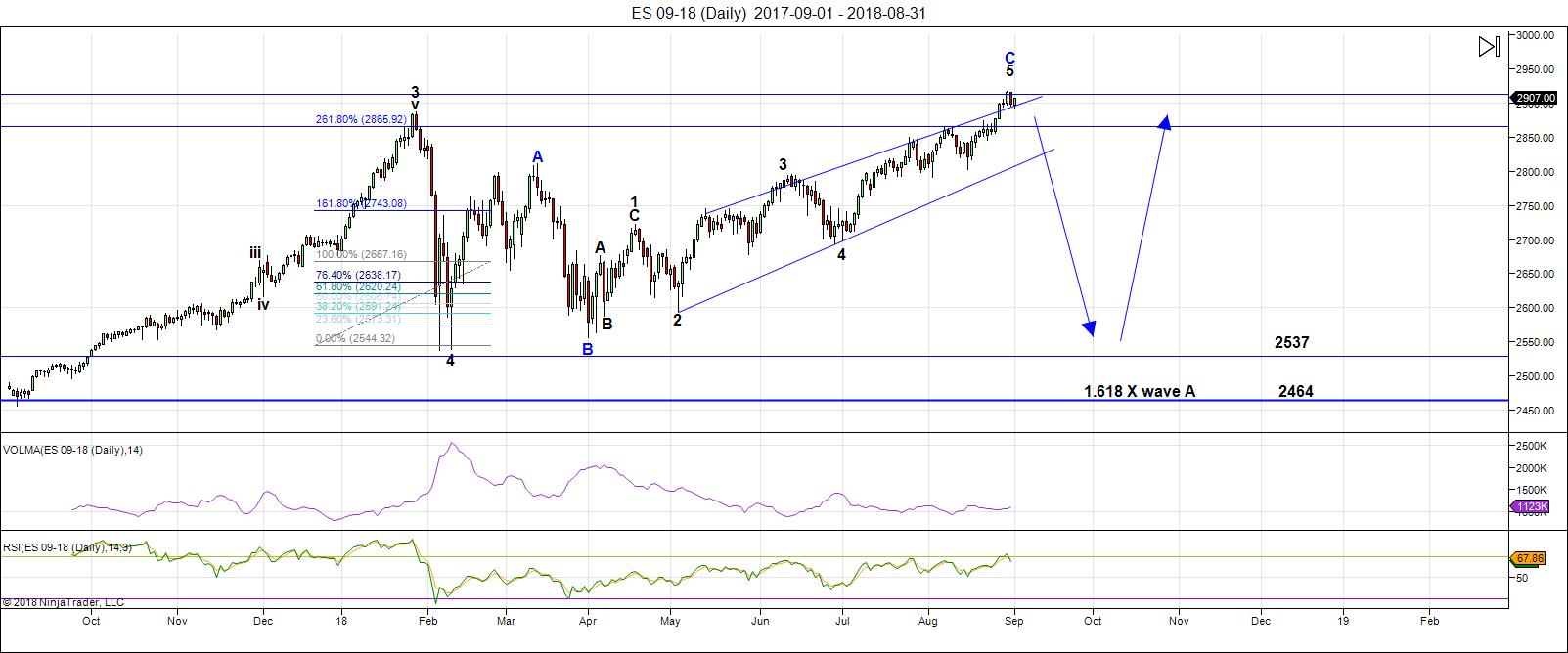 Above is the daily chart of ES (click to enlarge, as with any of my charts).
Small changes from last week. Because if the additional rise, the option of a regular flat has been negated.
My preference is for this unfolding fourth wave pattern is that of a expanded flat. A description of an expanded flat is here. However, technically, it could also be a running flat. At the present time, the B wave (that's the ABC wave up from about 2532) is longer than the A wave (marked as the 4th wave down from January 29, 2018). A regular flat registers as an expanded flat when the B wave is over 105% of the length of the A wave—ie, the B wave would need to reach above 2889, which is has done.
That means that the ES/SPX has multiple possibilities as to a target on the downside. Accuracy (in determining the most probable target) is going to depend upon both counting and measuring the waves to the downside. It's impossible to pick a downside target at this point in the process.
If we select all of wave 4 (on the chart—down from January 29) as the "A wave," then we're looking at an expanded flat. In that case, this outcome is the most probable:
the C wave of a flat is typically 100 - 165% of the length of the A wave (so the target would be from 2532 - approx. 2360) - preliminary targets
There are other options:
a running flat would trace out a C wave that is NOT longer than the A wave (in other words, it would not go to a new low). I regard this option as very low probability because it's extremely rare (I've only ever seen one of them). However, if NDX is tracing out a final impulsive pattern, its fourth wave should not be very deep, which may also restrict the length of the C wave in the SP500.
Summary: We're waiting for a top in a B wave, which will result in a C wave to a new low. My preference is that this structure represents an expanded flat, but there are other options. Once the c wave (down) is complete, expect a final fifth wave to a new high. That fifth wave up to a new high will be the end of the 500 year bull market.
___________________________
Trader's Gold Subscribers get a comprehensive view of the market, including hourly (and even smaller timeframes, when appropriate) on a daily basis. They also receive updates through the comments area. I provide only the daily timeframe for the free blog, as a "snapshot" of where the market currently trades and the next move on a weekly basis.
______________________________________
Sign up for: The Chart Show
Next Date: 

Wednesday, September 12 at 5:00 pm EST (US market time)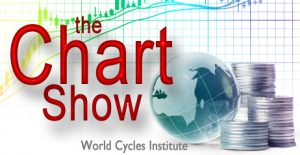 The Chart Show is a one hour webinar in which Peter Temple provides the Elliott Wave analysis in real time for the US market, gold, silver, oil, major USD currency pairs, and more. You won't find a more accurate or comprehensive market prediction anywhere for this price.
Get caught up on the market from an Elliott Wave perspective. You'll also get Andy Pancholi cycle turn dates for the SP500 for the balance of the current month. There'll be a Q&A session during and at the end of the webinar and the possibility (depending on time) of taking requests.
All registrants will receive the video playback of the webinar, so even if you miss it, you'll be sent the full video replay within about an hour of its conclusion.