Wave Four Continues:  A "Great Fall" is Not Far Off
For weeks now, I've been expecting a large fourth wave as part of a motive five wave sequence, because that's what you'd expect to get in a normal market. We would expect an end wave in 5 waves at the very top. However, the market has spoken and we're now not likely to get a large fourth wave.
This action confirms my count as a corrective wave in the SP500. Therefore, we have the tail end of this zigzag up left to go and that should be the end of this rally. Therefore, you'll find the large fourth wave missing from my projection and I've created a Big Picture video to show what I'm seeing across major assets.
Currencies and the US market are all in corrective (countertrend waves) that are nearing an end,
In short, this all points to a major turn down in the next couple of months.
Two weeks ago, the market signalled a downturn. We are in a wave four. However, it's not the very large fourth wave of a 5 wave ending wave. Rather, it appears that we're going to get a much smaller 4th wave, which will be the fourth wave of the final 5 waves of the final zigzag.
This means that the final wave up from here should be the final wave of this huge rally. In that case, I put the top less than two months away. My preference is for a turn in the first part of September, but we could levitate a little bit longer.
The short term path will be continued downside (a C wave of an ABC correction in the US indices) and then a turn into the final wave up … perhaps later this week or next.
The Bigger Picture
I put together a video on the market "Bigger Picture" which shows some of the elements I watch that are all pointing to a major top in the US market being imminent.
| | |
| --- | --- |
| | Make sure you zoom the video to full size with frame expander (arrows) in the bottom right hand corner and also set the quality to as high as your web connection allows. This is an HD quality video so the best viewing is at that level. |
______________________________
Couldn't be happier … KK 2
Couldn't be happier …

The analysis and insight you provide is simply amazing!  I've been trading the futures and equity markets for well over thirty years and usually average around 5% monthly.  Since joining your Traders Gold Service two months ago, that number has better than doubled.  I couldn't be happier.—KK
The Market This Week
Here's the latest daily chart of ES (emini futures)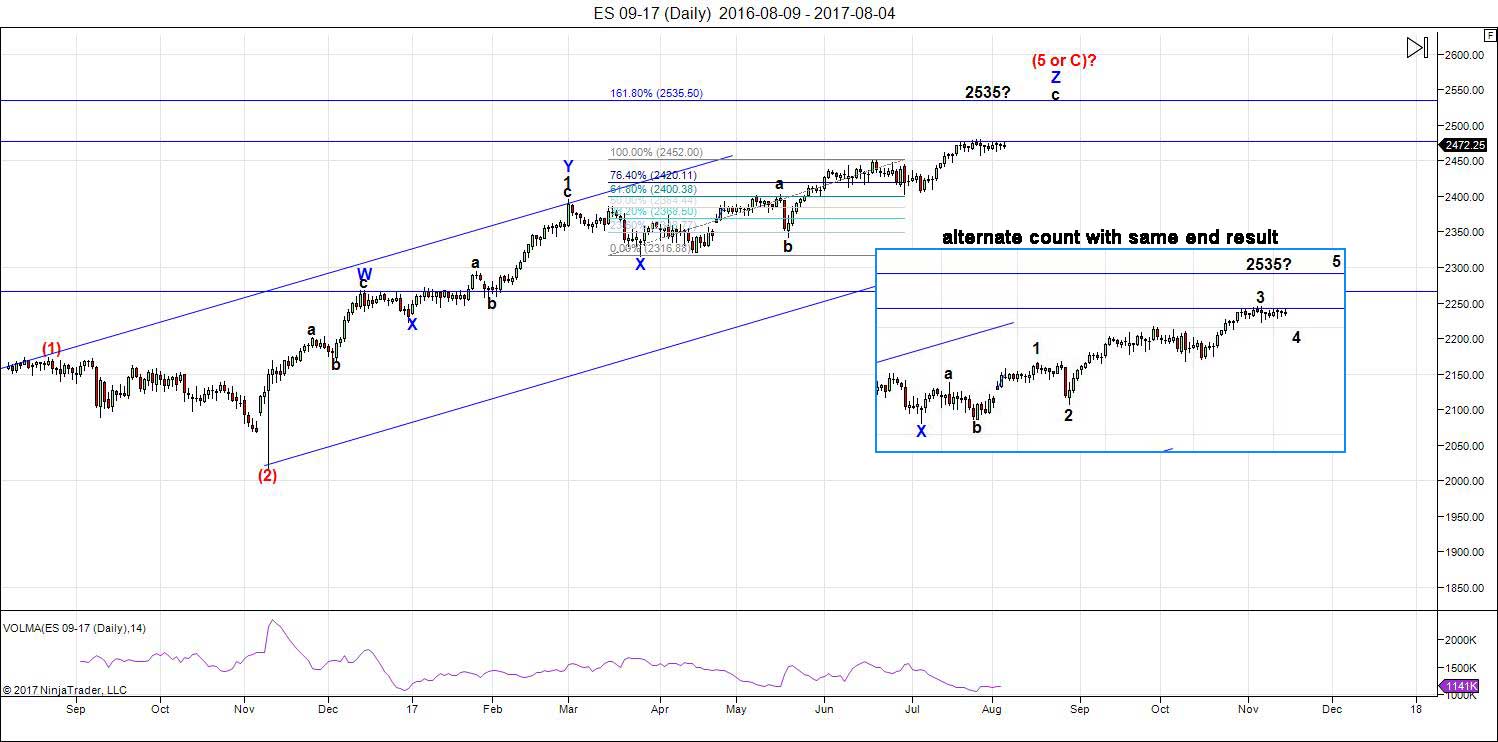 Above is the daily chart of ES (click to enlarge, as with any of my charts). While we still have another leg up to a final high, we're not done with this fourth wave yet.
It has become obvious over the past week that we're not going to get the large 4th wave that been expected for so long. That was a projection based on this pattern somehow morphing into a five-waver, which you'd traditionally expect. We have one in the NQ (Nasdaq), but as I've been saying for a very long time, the SP500 has a different structure, a corrective one. That only requires a three wave structure overall.
There are two ways to count the final wave we're in (the blue Z wave). Interestingly enough, the measurements come out to exactly the same projected top: 2535. For many months, I've had a projected top of 2500-2550. We're close enough now that the measurements can be a bit more accurate (I hope).
The subwaves will end up tracing out five waves, but the larger structure is a triple three (again my contention for months now) and, if that's indeed true, we're in the final fourth/fifth wave combination of the final zigzag.
The USD currency pairs are in countertrend retraces at the moment (small fourth waves), also getting ready for the final wave in their larger countertrend moves.
Summary: The final wave four is in progress. It will be shallow and lead to a final fifth wave up to the market high.
______________________________________
Sign up for: 

The Chart Show
Wednesday, August 16 at 1:00 pm EST (US market time)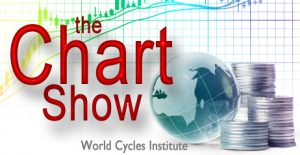 The Chart Show is a one hour webinar in which Peter Temple provides the Elliott Wave analysis in real time for the US market, gold, silver, oil, major USD currency pairs, and more. You won't find a more accurate or comprehensive market prediction anywhere for this price.
Get caught up on the market from an Elliott Wave perspective. You'll also get Andy Pancholi cycle turn dates for the SP500 for the balance of the current month. There'll be a Q&A session during and at the end of the webinar and the possibility (depending on time) of taking requests.
All registrants will receive the video playback of the webinar, so even if you miss it, you'll be sent the full video replay within about an hour of its conclusion. For more information and to sign up, click here.