Four or Three?
Last weekend here, I predicted that we had one more wave up to go before we hit the top of the third wave:
"… the market made it very obvious we're not quite done with this third wave. All boats have risen to a new high, but the market has signalled one more wave up … and this is across most currency pairs and US indices and futures."
We indeed went up one more time to a new high. On Wednesday in the Chart Show, I predicted the turnover would happen within hours after Yellen's announcement, but that it might not happen until the next morning because very often after after a Fed meeting announcement, the market moves in one direction to finish off the day, only to move in the opposite direction the next day.
Sure enough, that's what happened. ES moved down about 25 points on Thursday. I now place us in wave four.
However, with a market at bullish extremes, and an EW expectation that it will take perhaps ten weeks to trace out all of wave four (a projected SPX length of 175 points), it's likely to be a choppy and difficult path down. (That works out to 17.5 points a week).
It won't be much better than the difficult market conditions we've experienced over the past several months. Plus, it's summer. Expect wave four from hell.
Last Weekend: Predicting the Top of Three
Above is the 60 minute chart of ES that I posted in from the Traders Gold subscription area on July 22, 2017 (last weekend).
I predicted (as per the fibonacci tool overlay top right) the if the fifth of the fifth rose to its full allowable length (1.618 X wave 1) that it could reach 2488. It topped on this past Thursday morning at 2481.
I had also predicted a top for NQ at 5990 for the same reason. NQ topped out at 2997 on Thursday morning, as well.
_______________________
A Rare Event: The Market at Extremes
You don't have to have even a medium level understanding of Elliott Wave wave movement to know the market is at extremes. But if you do, you know that we've had some rare extreme movements in key assets, most notably the US Dollar and Euro (which move counter to each other).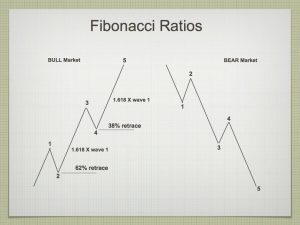 An impulse wave in EW moves in five waves in a very strict manner, with wave lengths that are highly predictable. We have an impulsive wave at an end in the US Dollar (the chart follows below).
On the left is the typical measurements associated with an impulsive wave, with the expected fibonacci lengths of the trending waves (1, 3, and 5) and typical retracement levels of the countertrend wave (2 and 4). Typically the third wave reaches a length of 1.618 X the length of the first wave of the sequence (the Golden Mean).
Quite often, you'll find that the one of the waves (most typically the third wave) extends to double the normal length (2.618 X wave 1). The five wave can also extend to that same relative length. However, it's extremely rare to see both waves extend to 2.618 times the length of the first wave of a sequence.
In the current market, we have that rare phenomenon at play in both the US Dollar and EURUSD. In the USD below, which is the main mover of the market (related currencies all follow it, and the US indices have been reacting to it for months now, to a greater degree as time marches on).
This weekend, the US Dollar is at extremes. Both the third and fifth waves have traced out those extreme fibonacci lengths. A reversal is imminent.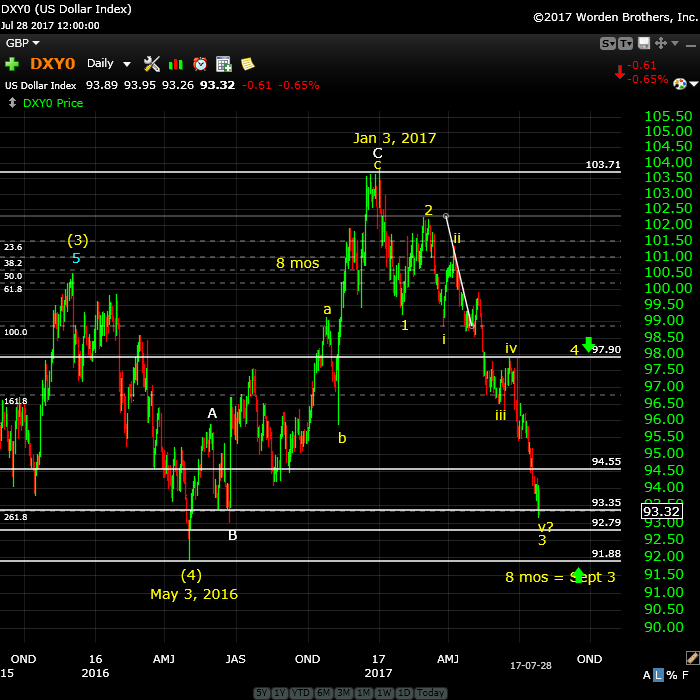 Above is the daily chart of the US Dollar. You can see quite clearly the impulsive wave down to our present level of 93.32. If you concentrate on the subwaves (and were to measure them), you'd find that wave iii is 2.618 times the length of wave i, while wave v currently has exactly the same relationship with wave i.
A turn to the upside is imminent.
Watch the dollar and you'll know where the USD currency pairs and the US indices are going to go.
______________________________
Get an upper hand … JC 2
Get an upper hand in trading …

Seeing all the different currency pairs and the wave structures and hearing you explain why this has to do that on a nightly bases gives one a upper hand when trading. Elliott Wave applies to all stock and indices and can be applied to any candlestick chart.

If someone ask what you want for Christmas – Tell them a membership to Peter's "Traders Gold!"—JC
The Market This Week
Here's the latest daily chart of ES (emini futures)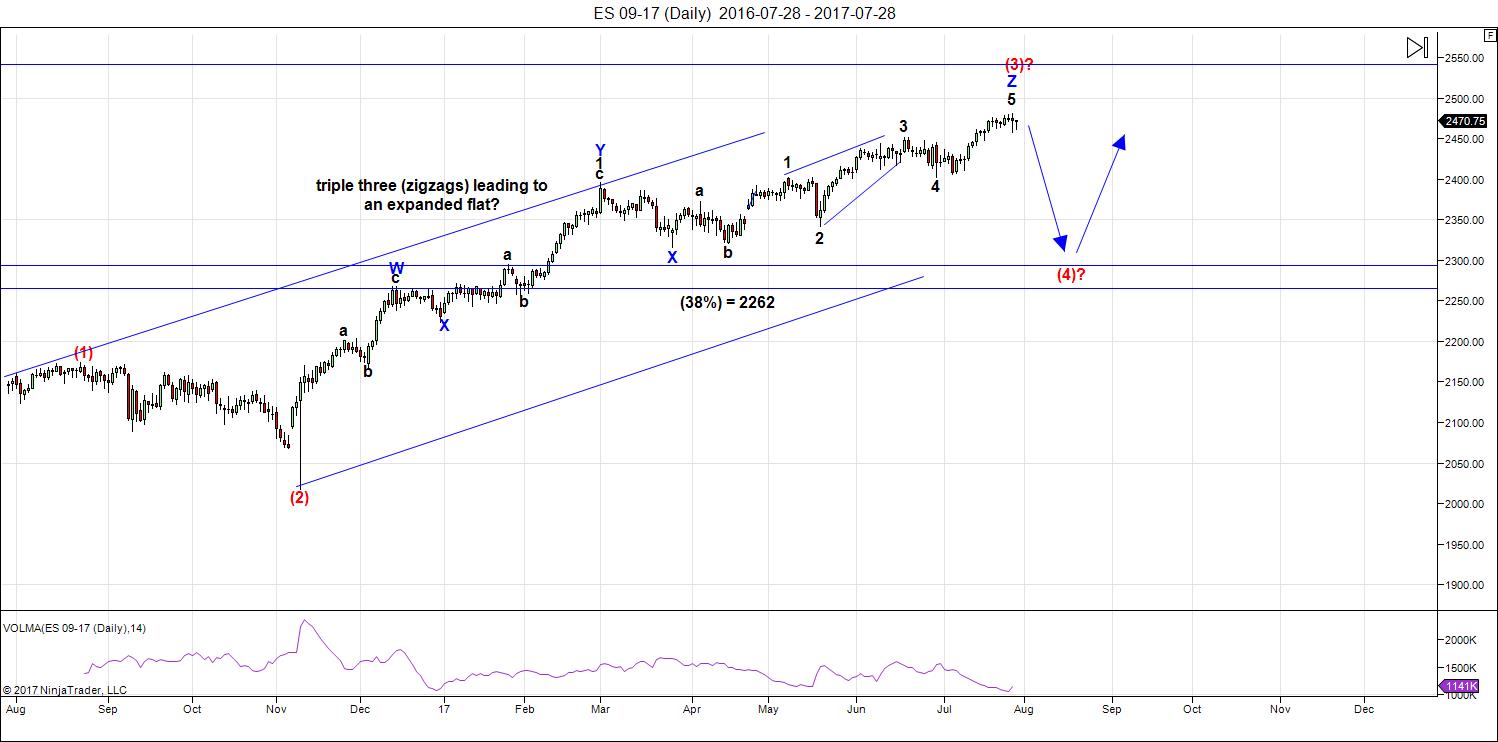 Above is the daily chart of ES (click to enlarge, as with any of my charts). Last weekend, one more wave up to a final top was due and led to a turn down into wave four. I provided targets in my Trader's Gold service for both NQ (5990) and ES (2488).
We exceeded the target for NQ slightly but didn't quite make the target for ES.
I now put us in wave 4, which will take weeks to unfold and drop towards a level of 2295 (which is the 38% retracement level SPX of the waves up from around 1992. That's a preliminary target and will be updated once we get an A wave of the 4th wave in place. On the chart above, I've left the level at 2262 until I have a more precise means of measurement (completion of the A wave).
There is still a possibility that we could see a test of the highs (a double top), but I consider that probability to be very low.
However, the count so far is only three waves down and so we still don't have confirmation of the trend change. We must register 5 waves down for solid confirmation. At the same time, there are several indicators that wave 3 is complete. They are:
the waves up from the bottom of the recent downturn (Friday's market) are in 3's
the larger wave three has a full count to the current top
currency pairs are all at major inflection points and certain ones are extremely extended (USD, AUD, EUR, CAD)
the DOW is at the very top of an ending diagonal with very little room to go higher. It's also at a measured fibonacci target
NQ is leading the charge down, which is a very good sign of a top
bullish sentiment is at an extreme, as I reported last week and ultimately followed by a post in zerohedge, with additional extreme numbers
VIX has gone to a new low and was quickly rejected, which is a typical trend change warning
The large third wave up is an extraordinary wave. It's corrective, just like the entire sequence up from 2009. There are extensions of waves in currencies (USD and EUR, for example, but there are others), that are extremely rare (as described above). We've run out of wave 3 waves in terms of the Elliott wave count and the market should continue down from here.
Summary: Wave four is in progress. Expect a continued drop for several weeks to come.
After completing the larger fourth wave, we'll have one more wave to go, which could be an ending diagonal as a fifth wave. The long awaited bear market is getting closer.
______________________________________
Sign up for: 

The Chart Show
Wednesday, August 9 at 1:00 pm EST (US market time)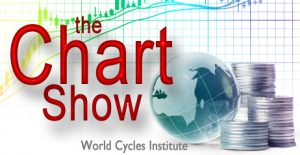 The Chart Show is a one hour webinar in which Peter Temple provides the Elliott Wave analysis in real time for the US market, gold, silver, oil, major USD currency pairs, and more. You won't find a more accurate or comprehensive market prediction anywhere for this price.
Get caught up on the market from an Elliott Wave perspective. You'll also get Andy Pancholi cycle turn dates for the SP500 for the balance of the current month. There'll be a Q&A session during and at the end of the webinar and the possibility (depending on time) of taking requests.
All registrants will receive the video playback of the webinar, so even if you miss it, you'll be sent the full video replay within about an hour of its conclusion. For more information and to sign up, click here.