Sunday, March 6, 2022
SITUATION UPDATE for March 6, 2022 — PDF
Nick Fleming — International Group:
The Shift to All Things Quantum Starts Tomorrow
Earlier today a very encouraging message from a S. American Patriot-for-Freedom made the rounds, from Telegram, to chat, to Whatsapp, and all the usual places. It shared some truths that we have all heard bits and pieces of, that rings more than true today given all that we've heard. A remarkable lot of information it is. 
The gist of which is that starting tomorrow, all banks all over the world are using QFS (QUANTUM FINANCIAL SYSTEM), exclusively. Confirmed by a variety of sources in many positions of authority… No more SWIFT allowed. Period. Drop the mike and depart stage Left. No more discussion allowed. Any banks attempting to transfer money via SWIFT loses their ability to be in the banking/financial industry. The (White Hat) authorities are not fooling around. 
It's all about putting a final nail in the coffin for "Money Laundering" and corrupt bad acts. When the population at large – and the bad actors involved in illegal activity, learn that the QFS is tracking the movement of money for 50 moves (and more), they will break out in more than a sweat. The desperation will have set in, leading to (potentially) desperate acts. Hence all the doom and gloom warning videos and discussions about EMF attacks/power failure/blackouts, whatever the evil Cabal might entertain in retaliation, it's possible, but not probable. 
Quantum Everything started today, and tomorrow, Monday we can see the evidence. Paymasters everywhere are contacting their down-line with reports that money is released. The only wait is for the Quantum to let everything go, according to the approved, verified, GOLDEN accounts, held by tens of thousands of good people – Dreamers, like you and me.  These are people in CMKX, in many platforms that were created to participate in the Glory Days of the Paper-Fiat Money Buy/Sell Ponzi Scheme, proliferating in the 1990's. These are people that joined Private Groups and received SKRs, for government bonds, and for currencies that were subsequently traded on similar platforms. These accounts number in the tens of thousands and Quantum has touched everyone to qualify both the recipient, the source of funds and all of the people participating, in fees, in commissions, all of the people that in any way participated in the earning of this money. What an amazing feat this has been! 
This massive Watershed Event will touch every corner of the world, especially those harmed the most by the evil Cabal Cartels that have been instrumental in this corruption. 
Evidence that this is underway can be found by the announcement made by Iraq's Central Bank, yesterday, stating that Iraq will have a "new currency value" within the next 3 days. The CBI is closed today and tomorrow, so Tuesday it is! 
Evidence that NESARA/GESARA is underway will be on huge display from every direction. Mississippi and Kentucky have both announced NO STATE INCOME TAX. North Carolina has passed a bill to hold a Convention of States and separate from the Federal Union – this following the same Assembly that took place in Abilene, TX late 2021, it's looking like it's about time to finally see an end the tyranny from WEF/WHO/UN and their Evil Ilk. Quantum has been activated and there's no going back!  All Banking Operations must be done 100% with the Quantum System and any banks not certified, meaning if there is no digital certification attached to every transfer – as in other banks such as Wells Fargo, that is already operating 100% in the Quantum System – they lose their license to operate. This is in EVERY COUNTRY IN THE WORLD. The cheaters will not be able to cheat any longer. This Quantum System has been running simultaneously since February 22nd, so everything is already tagged, and recorded. 
Get ready to celebrate!  This is the official start of RV GCR and, NESARA/GESARA, and the best of all, the Fall of the Cabal.
Saturday, March 5, 2022
Into the Storm
This video exposes the Clintons and the treason that went on when Bill was in in office …
Here's an Infowars video that blows upon the Ukraine war and the bio-weapons labs that are being removed.
SITUATION UPDATE for March 5, 2022 — PDF
Friday, March 4, 2022
SITUATION UPDATE for March 4, 2022 — PDF
Thursday, March 3, 2022
SITUATION UPDATE for March 3, 2022 — PDF
Wednesday, March 2, 2022
SITUATION UPDATE for March 2, 2022 — PDF
Brian Cobb is the Chief Law Enforcement Officer for Canada and also Commander of the US Army North (Canada is now part of the United States and, if fact, our provinces will become "states").
Brian is in Windsor, Ontario.
Here's what he posted today on his channel in Telegram (Stand On Guard). This is going to happen all across Canada, the United States, and the world. This is part of why the process is taking so long.
***"ALL CRIMES WERE COMMITTED DURING A TIME OF WAR AND DECLARED STATE OF MARTIAL LAW IN CANADA."
WANTED: — FOR ARREST AND CAPTURE!!! 
The Following Individuals:
 1. ✅ALL Windsor Police CONSTABLES in attendance at 1351 Radcliff Ave, Windsor ON for the UNLAWFUL ARREST of Brian Cobb on Feb 12, 2022.
 2. ✅ALL Windsor Police UPPER MANAGEMENT and ALL MAJOR CRIMES INVESTIGATORS ( DETECTIVES). 
 3. ✅ALL Crown Attorneys (Windsor) as well as ALL Articling Students.  
 4. ✅ALL Judicial Judges/Justices [Your WORSHIPS & YOUR HONOURS] in Criminal, Civil and Family Law Courts in BOTH the Ontario Court of Justice and/or the Superior Court of Justice in Windsor Ontario or Travel Judges attached to Windsor Ontario. 
 5. ✅ALL Windsor Justices of the PEACE.
 6. ✅ALL Criminal DUTY COUNSEL LAWYERS "named in (Windsor)".
 7. ✅Cheryl Hodgkins — FAMILY LAW LAWYER WINDSOR.
 8. ✅Daniel Scott — CRIMINAL LAW LAWYER WINDSOR. 
For the Following OFFENCES:
 1. ✅WRONGFUL Imprisonment 
 2. ✅Vexatious Persecution & Malicious Prosecution.
 3. ✅S.6 Charter Rights
 4. ✅S.7 Charter Rights
 5. ✅S.9 Charter Rights
 6. ✅S.15 Charter Rights
 7. ✅Cruel and Unusual Punishment 
 8. ✅Criminal Conspiracy
 9. ✅Breach of Public Trust
 10. ✅Breach of Duty
 11. ✅Fraud upon the Courts
 12. ✅Torture
 13. ✅Treason 
***Email briancobb13@mac.com to collect your reward.  All Rights to be Processed at Windsor Police Headquarters located at 150 Goyeau St.  
✅All detainees to be Held at —Casino Windsor Hotels — where they will be able to interact with family and loved ones and use the entire facility for family and friends.  They will also be provided money to use the Casinos and Gaming sections.  All ARRESTEE's will be charged as "War Criminals" and are to be tried in "Military Tribunals" set up at the Casino Hotel for broadcast to the WORLD!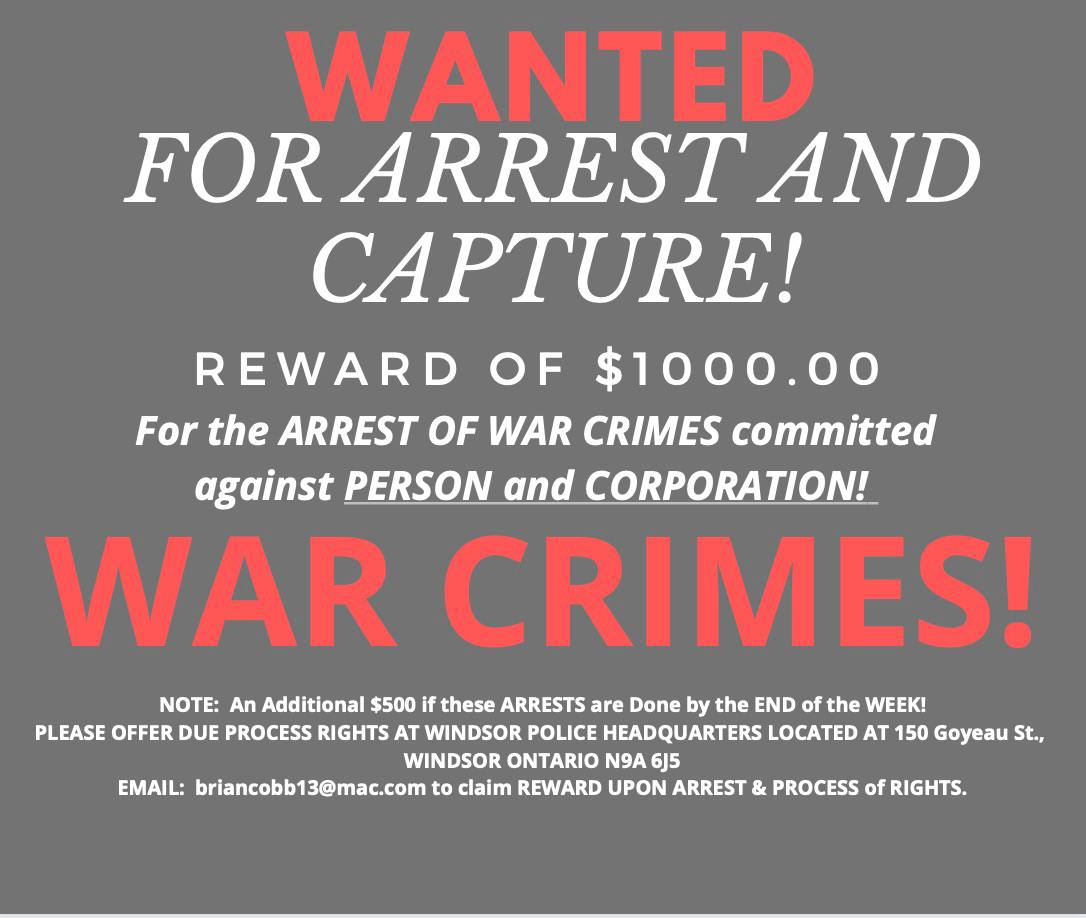 Monday, February 28, 2022
SITUATION UPDATE for March 1, 2022 — PDF
It's KNOW YOUR RIGHTS time!
For the past three days, or so, I've had a thug, representing the Royal Bank of Canada pounding at my door. I had no idea what that was all about at the time, but I guessed it was probably to do with the bank and I loan I haven't paid the interest on for about six months. Oops … too late, thug!
On Monday, February 28, I finally received an email explaining the situation. He required a response the same day, apparently, because he was attempting to beat down my door on Tuesday, March 1. It was at the same time he was beating down my door that I was finishing the response to him by email. It's been "crickets" ever since.
I'll provide his email and my response below. It's vitally important that you understand your rights during Martial Law. You are a sovereign citizen. The military is in charge. There is no civil law, and all governments, lawyers, judges, police, etc. MUST STAND DOWN. The military has the final word, the ultimate power, and it just so happens, they're on our side!
The original email from Corey Roberts:
"Good morning Mr. Temple,
Please be advised that we have been retained by Warren Benson LLP, legal counsel for the Royal Bank of Canada to hand deliver some legal materials to you regarding your accounts with RBC to 2034 21 Ave SW, Calgary, Alberta T2T 0N7. We do need to make arrangements to hand deliver these materials to you. We have a couple options, If you can provide a time/date/location, we can send a driver to meet with you. As a last resort option, if you are still unwilling to meet personally, service by email is acceptable and we can forward the said materials to you that way, if you consent to that in writing, by return email. Please let me know how you would like to proceed.
I can be reached by return email or at the telephone number below. I look forward to your response at your earliest convenience.
Kind Regards,
Corey Roberts
Prime Process Servers Inc.
403.808.1666
croberts@primeprocess.ca
www.primeprocessservers.com
PO Box 90052
RPO Sierra Springs
Airdrie, AB T4B 0A2
Here's my response (you can use any of this in any manner you choose):
Thank you, Corey, for your correspondence.
So, you're fronting our local "clown show." Let's get "on the same page," then, shall we?
I work in the financial services industry as an independent consultant, helping to educate businesspeople and the public on the current transition to the new Quantum Financial System, which is imminent, so I'm fully versed on the current legal situation, the markets, and many of the more important aspects of the tremendous changes we're undergoing worldwide.
Specifically, regarding the Kingdom of Canada:
If you're unaware, or simply attempting to ignore the fact, let you remind you that the Kingdom of Canada, since February 5, 2022, is under martial law. Since you're dealing with legal documents, it's your responsibility to understand the ramifications of our current situation. Under martial law, there is ONLY Military Law. Civil law is suspended and all courts, police, judges, lawyers, and governments MUST STAND DOWN. You are currently operating outside the law and neither the legal firm you represent, nor you, have the authority to operate outside of the legal framework of Military Law.
The legal firm, Warren Benson LLP, must certainly understand their lack of standing under martial law. If not, they are either grossly incompetent or corrupt (there's a lot of that going on; there are arrests going on across the country to alleviate the situation.
I advise you to start asking some hard questions from your superiors, because you are party to fraud, if you continue to proceed in this matter.
In terms of the documents you're in possession of, you're asking me to enter into a fraudulent contract with you, which I will not do. You can forward it to me by email as evidence of the fraud, but that's up to you. I have your email, which is evidence enough, at the present time.
___________________
Here are some additional pieces of information you should be aware of:
CANADA INC (CANADA (CIK 0000230098) went bankrupt in 2017. We're in a republic now. Admiralty Law went with the CORP and will not ever return; we're moving to Common Law, the original "law of the land." You might notice a new fence up around the Parliament Building in Ottawa, similar to the one around the Capital Building in Washington, DC. The Kingdom of Canada now "belongs" to the United States, which is also a republic, but I'll let you do your own research on that fact. The CITY-STATE in Washington, DC is no longer in operation.
RBC went into bankruptcy last year (May, I believe, but I don't have the dates in front of me at the moment). I don't know the current status, but I understand that the deadline for complying with Basel III regulations was February 22, 2022. Any banks that haven't, cease operations.
On February 22, 2022, GESARA also apparently came into law (NESARA was signed into law in 2000, but GESARA has recently been signed off by 209 countries). As part of GESARA, all contracts signed after 1871 are null and void. The bank knows this. They're been read "the riot act" and the top brass has signed NDAs, which are still valid. They're been corrupt for a very long time, so I suppose they have little to lose.
On January 7, 2022, all debt was declared illegal in the Kingdom of Canada. I understand debt will be wiped (settled) worldwide by March 15, 2022.
I don't know where the fraud in this case began, but I have a reasonably good idea.
In a desire to be helpful, below is the royal decree declaring debt illegal in the Kingdom of Canada. Govern yourself accordingly. I understand the military doesn't have much of a sense of humour.
~ In the Kingdom of Canada ~ 
To the Attention of:
1) We The People of the Kingdom of Canada
2) The National Treasury of the Kingdom of Canada
3) The Treasury Department/Ministry of Finance of the Kingdom of Canada
4) Department of National Defense (DND) of the Kingdom of Canada
5) Department of the Kingdom of Canada's Foreign Affairs.
6) Department of Health / Ministry of Health of the Kingdom of Canada
7) Department / Ministry of Immigration and Citizenship of the Kingdom of Canada
January 7, 2022
Re: The Kingdom of Canada – Debt Forgiveness/ Cancelation of all financial obligations for all Canadians (inside and outside Canada), Landed Immigrants Status (in Canada), permanent resident status holders in the Kingdom of Canada. 
I AM Queen Romana Didulo of the Kingdom of Canada, hereby, issue this Royal Decree effective today, January 7, 2022 and retroactive July 1, 1867.   
This Royal Decree, eliminates, in FULL any and all of the following financial obligations by:
Living Canadians (blood flowing in the body) or Non-Living child, woman or man species
Landed Immigrants Status, and
Permanent Resident Status holder in the Kingdom of Canada.
Effective today, all listed financial obligations (balance owing) below must be reset to ZERO balance.
This applies to all Banks, Credit Unions, Mortgage Brokers and Private Lending Companies, ANY type of Registered mortgages or loans/mortgages domiciled as Foreign or Domestic, in Kingdom of Canada.
Please, note the list below is not exhaustive  
Mortgage on primary home/residence
All credit card(s) and interest charges
Property taxes
All student loans (Provincial/Territorial/Federal)
Line of credit
All Taxes owing (Municipal, Province and Federal)
Car Loan balance
medical devises loan
Loans (personal loans and small business loans)
Covid Loans (personal and small business loans)
CERB benefits Repayment
Court Orders personal financial obligation
Credit cards, interests, compounded interests, estate inheritance welcome taxes
all that bear interest on the original balance or cost of the purchased item
property taxes
accumulating interest charges balance owing
Income Tax, Property Tax, Insurance,
NSF charges
Bank fees and credit cards fees.
Canada Revenue Agency (CRA) recorded balance owing
Property taxes.
Utility bills obligations: water, power, telephone, gas (to heat home)
All account charges
Taxes and fees on utility company bills
Car/truck/boat Loans
monthly fee, each transfer fee
-Secured and Unsecured loans of any type
Loans due to financial pressure as result of unlawful shutdown of business/loss of income
Small business
Court of Queen's bench collections
Inheritance tax
Compound interest on mortgages and other loans
Student loans, mortgages, credit cards, medical bills, car loans, boat loans, RV loans, business loans, personal loans, title loans, burial loans, home equity loans, balloon mortgage loans, and all other loans
home equity line of credit
Personal Lines of Credit
Personal Credit Cards
Small Business Lines of Credit/Loans or Credit Cards
Personal RRSP Loans
Personal Taxes owing balances
Small Business Taxes owing Balances
Bankruptcies
Medical Bills
Car/RV/boat payments, credit card debt, and all interest rates.
Operating loans or lines of credit
Reverse mortgage
Utilities i.e..electricity/natural gas bills, all debts listed with credit check companies
All unpaid bills accrued in the last two years
Easy Financial Services Loans
tax debt, all personal bank loans and all penalties
Bankruptcies
Monthly service charges on bank accounts
consumer proposal loan, bank fees, interest on utility bills, line of credit.
Reverse mortgage
Daily transaction fees
CMHA
Debt collections services (third party collectors)
House transfer tax (unless exempt for brand new homes –first sale)
strata fee, taxes, insurance, line of credit, property taxes, all debts mortgage- personal loan- credit line and any and all credit products such as credit cards and any and all other credit products from all banks
Usury
Outstanding utilities
Services (ie. internet, cell phones)
Property Taxes
ALL Medical bills owing
Land Taxes / Mortgage / vehicle debt / Vehicle registration those silly stickers for vehicle / Credit Cards / Line of Credits / Property Taxes / Student Loans / Medical Bills / interest / Home insurance / Vehicle insurance.
Revenue Canada
-Vehicle payment
-Cell phone bill
-Internet bill
-Hydro bill
-Natural gas
Credit Union mortgages.
1st mortgage through bank, 2nd mortgage through private Lender and credit card debt, property taxes on primary home
distribution charges for utilities.
Senior Property Tax Deferral Loans.
all Canada Revenue debt
Payday loans
Consumer Loans
Collateral loan on Primary home
All credit card debts
All loans
INSOLVENCIES AND BANKRUPTCIES
ALL FINANCIAL SERVICE CHARGES
Council Bills
Anything on payment plans
Mortgages, business loans, personal and business credit cards, property taxes, income taxes, personal loans, utility bills, water bills, cell phones bills, internet charges, all rents-both personal housing and business space, unemployment taxes for business owners, personal property taxes for business owners
Medical bills
*Coronavirus Fines/Penalties/Tickets*
Consolidation Loans
CRA Back Taxes
Any and all financial obligation that enslaves or hinders peace and prosperity of children (baby boy, baby girl) woman and man of human species.
Please and thank you.
Peace and Prosperity. Or perish.  
I don't play Politics.  
HRH Majesty Queen Romana Didulo,   
Head of State and Commander-in-Chief,  
Head of Government,  President and Queen of the Kingdom of Canada  
Sincerely,
:Peter-Temple. [my legal name as a registered sovereign citizen]
Speaker, Market Analyst/Advisor, Cycles Expert. Senior Producer
Know the Past. See the Future!
(403) 264-9111 toll free: 1-877-752-2835
CONFIDENTIALITY / PRIVACY NOTICE: This message and any attachments transmitted with it, is for the designated recipient only and may contain privileged or confidential information. If you have received it in error please notify the sender, via return e-mail, immediately and permanently delete the original. Any unauthorized review, disclosure, dissemination, distribution or copying of this e-mail is strictly prohibited. Thank you.
Sunday, February 27, 2022
SITUATION UPDATE for Feb. 27, 2022
PT — Here's what we're expecting in the next 24-48 hours ….
The DEEP STATE NATO UN – US [ DS] ops >WILL< create a FALSE FLAG event along the borders of UKRAINE or Fire upon it's own military ships >>>>> This FALSE FLAG Ops WILL look like RUSSIA FIRED OR ATTACKED NATO , OR U.S TROOPS ALONG THE BORDER or FIRED UPON A SHIP//)…
This STAGED FALSE FLAG deep STATE EVENT> WILL LEAD TO
>>> *ARTICLE 5 *<<<<< FULL STATE OF WAR>>>
ESCALATION TO FULL NUCLEAR ( STANDOFF) WAR
AFRICAN COUNTRIES ALLIANCE WITH RUSSIA, WILL HEAD INTO MILITARY BATTLES, STANDOFF, COUPS WITHIN THEIR NATIONS AND NEIGHBORING COUNTRIES THAT SUPPORT UN ..
MALAYSIA countries are positioning Military and getting ready for CHINA TAIWAN BATTLE TO HEAT UP…
U.S SENDING SHIPS/TROOPS/ MUNITIONS/ ARTILLERY/ AIRCRAFTS TO ASIA IN HEAVY LOADS PAST WEEKS
INDIA FORCES CONTINUING BUILDING UP MILITARY IN THE NORTH REGION, PAKISTAN FORCES GETTING READY TO MOVE BATTALIONS TO INDIA BORDER.. CHINA FORCES READY ALONG BORDER CITIES..
Georgia forces MOVING…
Much of Middle EAST MOVING MAJOR MILITARY ASSETS To borders…..
MILITARY CABLES;;; HOT 🔥🔥🔥🔥🔥🔥🔥🔥🔥🔥🔥🔥🔥🔥
Shallwe play a game? < (Refers to NuclearWAR > Russia _EVENT STANDOFF)
March Madness.
Prepare.
Q
STORM of theCENTURY…
____________________________
Saturday, February 26, 2022
SITUATION UPDATE for Feb 26, 2022
Here's Queen Romana of Canada with a relatively short update on the fake war in Ukraine (recorded earlier today, apparently).
Keep in mind the following:
GESARA came in officially on February 22, 2022. GESARA is international. This means the only law now is military law. There are no valid courts, police have no power, governments no power. All contracts signed since 1871 are invalid now. All debt is illegal; it just hasn't been removed yet, but that's pending. It takes time to roll GESARA financial out to seven billion people worldwide.
Military (martial) Law is the law of the land internationally now, although still needing to be declared country by country. The military have total authority and we have to abide by their wishes. We have a few more days of very dramatic action to come (taking out the dams, blowing up the 34 satanic buildings, removing the remainder of the Deep State, etc.) so things may get intense and people will naturally be scared. The main stream media is still reporting anything they can to beat us down, but the war has been won. White Hats are in control.
I understand the order of removal of Deep State operatives by country is Ukraine, Iran, Turkey, Israel. It should all happen very quickly. I expect to see more declarations of martial law over the weekend and into next week ….
_________________________