The End of a B Wave Era
The Last Waltz was a concert held on November,1976 in San Francisco that resulted in a movie by the same name, produced by Martin Scorsese, released in 1978.
It was the Band's final concert and marked the end of an era – the Golden Age of music of the '60s and '70s. It was at the bottom of a fourth wave (the bullish third wave had topped in the early 70s (the top spike in the solar maximum of the time (1969) coincided with the original Woodstock Festival which I attended in August of that year.
The picture shows the group at their height: Richard Manuel, Garth Hudson, Levon Helm, Robbie Robertson and Rick Danko. The Band was a Canadian-American group and came together under Ronnie Hawkins in Toronto Ontario, in the late '50/early 60s. I saw Hawkins live, but it was not until the early 70s, well after the Band had left him and were extremely popular on their own.
We're in another third/fourth wave combination right now. The NYSE is in a fourth wave, while the SP500 is at the top of the third wave — a major non-confirmation that's a very bearish situation. The Last Waltz reference to the current market is the fact that we're in the final wave of this 5 month long B wave.
This week, I made no bones about the fact that the waves down mid-week were corrective. I had been expecting a turn, but once we got it, NQ had still not made it to a new high. If you were in the Chart Show on Wednesday, you got the entire lowdown.
So … while the waves down looked corrective, NQ sealed the deal, because the structure there was definitely corrective.
We're still waiting for a top and while this is the final wave up (it's a small 5th wave in the SP500), the waves up are all corrective. As well, the corrective structure of the pattern in ES requires a zigzag, so we may not get a new high and turn right way.
I called for a turn late Friday (which we got) and a continuation down over the entirety of next week. I'm also expecting a wave down, very much as depicted here, but was hoping for an earlier resolution to the upside. In either case, this is a good indication of what to expect (it's the timing I'm not sure of). The wave down depicted here is clearly corrective, as it the final one to the top.
The market is moving as one. DAX has retraced 62% and is sitting, waiting for a turn.
Gold and silver are turning up — not sure how they will correlate with the expected high in the US indices.
WTI Oil looks to be in a corrective wave down and if so, would require a new high. If this is the case, it would likely take more than a day or two to get there.
Currency pairs (including the dollar) are in a corrective retrace.
It's the Last Waltz for the B wave in the US indices, folks. I'm expecting a fabulous short opportunity within a week or so at the outside..
_______________________________
Elliott Wave Basics
Here is a page dedicated to a relatively basic description of the Elliott Wave Principle. You'll also find a link to the book by Bob Prechter and A. J. Frost.
____________________________
Registration for Commenting
Want to comment? You need to be logged in to comment. You can register here.
If you register, it protects your information. It also allows you to comment without filling in your information each time. Once you're registered, simply go to the home page and click on the login link top right in order to log yourself in. Usually, you'll be logged in for several days before needing to be logged in again.
______________________________
Problem receiving blog comment emails? Try whitelisting the address. More info.
______________________________
Get an upper hand … JC 2
Get an upper hand in trading …

Seeing all the different currency pairs and the wave structures and hearing you explain why this has to do that on a nightly bases gives one a upper hand when trading. Elliott Wave applies to all stock and indices and can be applied to any candlestick chart.

If someone ask what you want for Christmas – Tell them a membership to Peter's "Traders Gold!"—JC
US Market Snapshot (based on end-of-week wave structure)
This chart is posted to provide a prediction of future market direction. DO NOT trade based upon the information presented here (certainly NOT from a daily chart).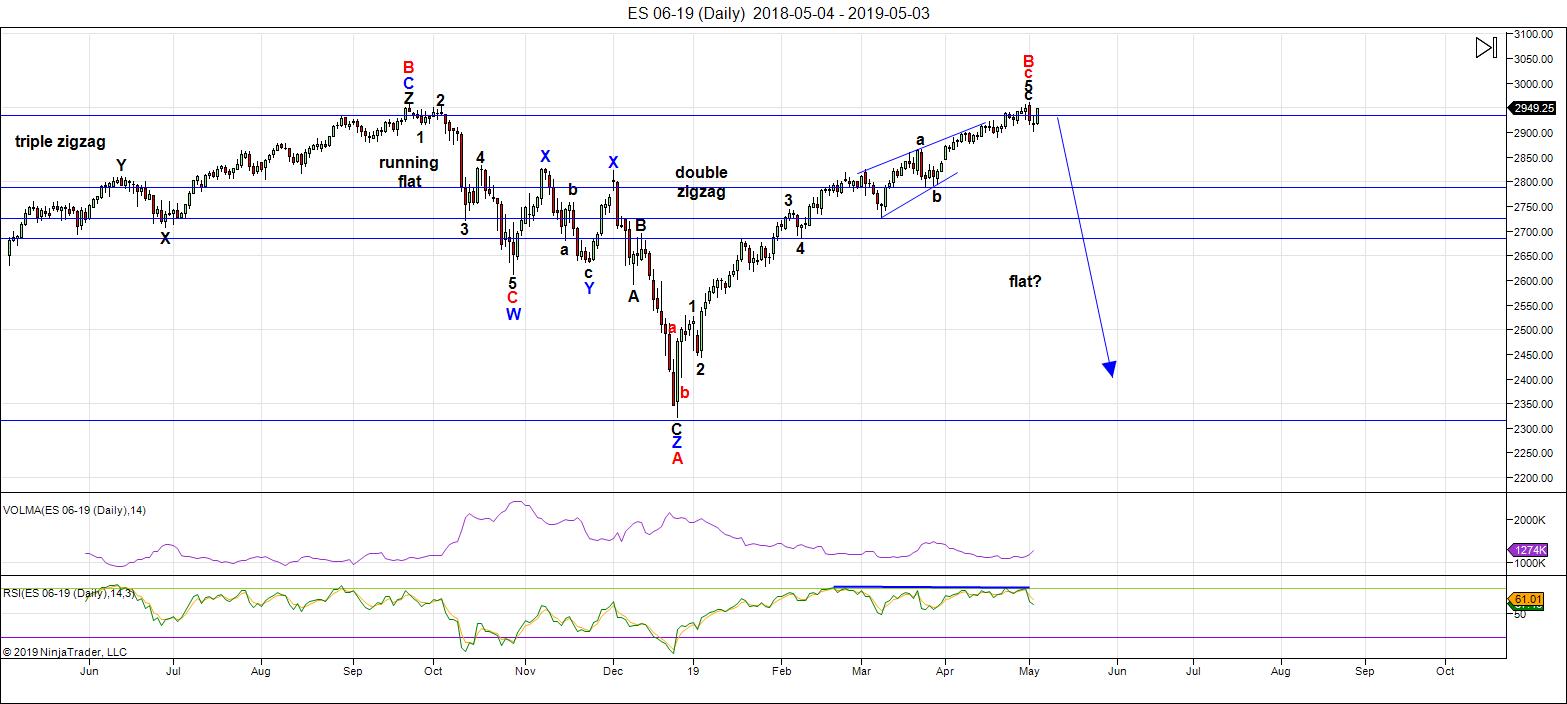 Above is the daily chart of ES (click to enlarge, as with any of my charts).
We've been sitting at the top now for about a month. As my Trader's Gold folks know,  we've been in an expanding triangle for three weeks (this is an ending pattern).
If you were in Wednesday's Chart Show, you know that I called the weakness on Wednesday a corrective wave, which requires another high. Almost all the other assets I cover on a daily basis are hovering near inflection points.
We're at a new high for ES and this technically keeps us at the top of the third wave; however, NYSE is in a fourth wave, so this is a major non-confirmation and is extremely bearish.
As I've been saying over and over like a broken record, all major asset classes are moving as one. That requires them all to reach new B wave highs before they can turn down together. It's been like herding cats and has taken much longer than expected.
IWM (Russell 2000) reached the new high that I have been calling for and sits this weekend at the top of the expanding triangle I identified weeks ago. All these indices are showing signs of exhaustion, with gaps that are being left unfilled.
The next major move is to the downside.
The wave up from Dec. 26 is clearly corrective and, as a result, must fully retrace to the downside. This is supported by the US Dollar Index, the major USD currency pairs, WTI Oil, along with DAX, TSX, and other international exchanges.
Summary: My preference is for a dramatic drop in a 4th wave to a new low. The culmination of this drop should mark the bottom of a large fourth wave in progress in the NYSE since January 29, 2018 - over a full year of Hell. It may be a dramatic drop that is quite fast; in any case, it will target the previous fourth wave area somewhere under 2100.
Once we've completed the fourth wave down, we'll have a long climb to a final new high in a fifth wave.
___________________________
Trader's Gold Subscribers get a comprehensive view of the market, including hourly (and even smaller timeframes, when appropriate) on a daily basis. They also receive updates through the comments area. I provide only the daily timeframe for the free blog, as a "snapshot" of where the market currently trades and the next move on a weekly basis.
______________________________________
Sign up for: The Chart Show
Next Date: 

Wednesday, May 15 at 5:00 pm EST (US market time)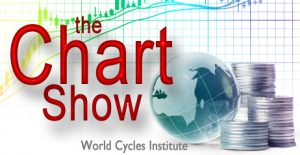 The Chart Show is a one hour webinar in which Peter Temple provides the Elliott Wave analysis in real time for the US market, gold, silver, oil, major USD currency pairs, and more. You won't find a more accurate or comprehensive market prediction anywhere for this price.
Get caught up on the market from an Elliott Wave perspective. There'll be a Q&A session during and at the end of the webinar and the possibility (depending on time) of taking requests.
"I think you are the only Elliot Wave technician on the planet who knows what he's doing."
m.d. (professional trader)
All registrants will receive the video playback of the webinar, so even if you miss it, you'll be sent the full video replay within about an hour of its conclusion.