Multiple Major Turns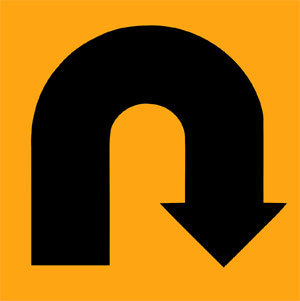 I'm dubbing the impending turn as "The Turn of the Century." It's not the top of the market, but there are turns happening at the same time in the US Dollar (and related currencies), the US indices, and gold and silver.
It looks to me like they're ALL going to change direction during the coming week (perhaps earlier rather than later).
For over two years now, I've been saying that we're going to see all major asset classes gradually align in their movements to end up at a top all at the same time. That's what you're seeing. I refer to it as "All the Same Market," a term that was coined by Robert Prechter quite a few years ago.
It's one of the reasons this market has been so difficult to trade: Every asset class depends on the movements of all the others. In other words, the US Dollar (being the reserve currency) is in control, as everything pretty much relates to it in today's financial world, and all asset classes have been slowly moving into alignment with its movement.
At the same time, all assets have to conform to Elliott wave rules in terms of how they move, which they've done, but it has meant some long periods of waiting (eg- USD currency pairs) as other asset classes move at a faster rate. It's made for some very odd movements and, as a result, a very difficult market to trade.
That's about to change as we trace out the remaining waves to the ultimate top.
Non-Confirmations
There are almost always non-confirmations at the top of a market. In other words, patterns in the various US indices don't match, or different asset classes make major turns at different times.
I would expect nothing less at the top of a 500 year bull market. However, in the past few weeks, I haven't paid a lot of attention to it, because until patterns are fully developed, there isn't much need: It ends up being fairly speculative.
For example, both the SP500 and NYSE morphed out of perfectly good contracting triangles into something that looks like an ending diagonal … BUT. The "but" is there because there are problems with calling some of these patterns ending diagonals. They either don't look quite right or measure improperly. However, some of the patterns have changed over time. However, we're at the end of this B wave up in the US indices and virtually everything is aligned for a turn.
Now that we're in the final 5th of 5th wave up in the so-called "third wave" of these patterns, it's time to focus in more specifically on what we have here, because the length of the next move to the downside will be a result of the pattern we're in.
Now, let's Look at the NYSE …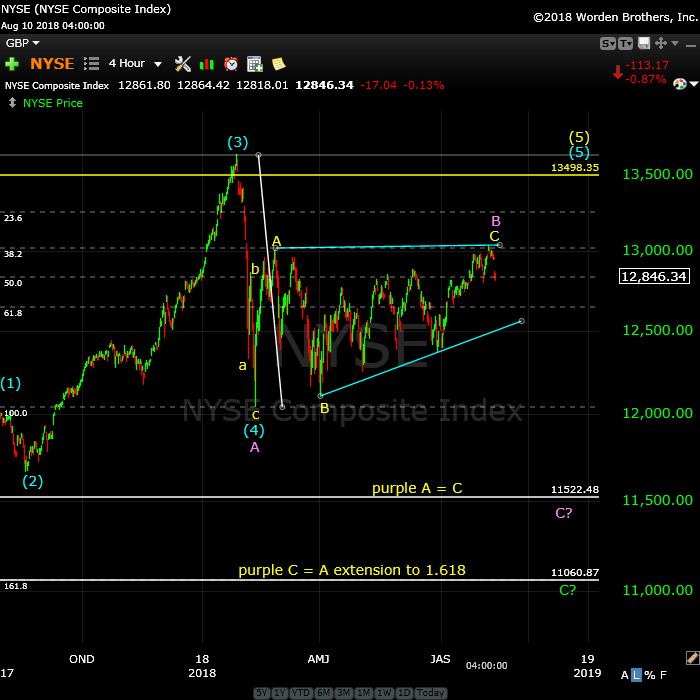 Above is the 4 hour chart of the NYSE. I always go to this chart to ensure I have the right count, because this is the largest market cap exchange in the world, as all the major indices you follow (Russels, OEX, DOW, SP500 and ES) all fall under its umbrella. This chart is my "truth-teller," as it's not directly traded and therefore is devoid of most of the "animal spirits."
We've been following the changing shape of this index as it morphed from a perfect contracting triangle into what looks like it might be an ending diagonal, except that is can't be. Here are the reasons why:
If this pattern is an ending diagonal, with the top of the third wave being the current high (13,039), the fifth wave of an ending diagonal must not be longer than this third). However, doing the measurements, a projected wave five (measured from the highest level of the fourth wave trendline) cannot possibly reach a new high. Therefore, the ending diagonal option is off the table.
That leaves only an ABC pattern, which means we're expecting a C wave down. In that case, there are two most probable targets:
11,552, which would mean the C wave will equal the length of the A wave
11,060, which would mean the C wave will drop to a 1.618 extension of the A wave
The C wave could go lower, but that's less likely. Because we have an A wave that is in three waves, the first option is preferable, imho. This will result in an overall ABC pattern, which requires a new high.
Bottom line: I expect a C wave down before another wave up to a slight new high to end the 500 year rally.
And in my opinion, this prognosis also affects the SP500 (and ES), which have patterns that look like ending diagonals, but for a number of reasons, these patterns are already on shaky ground.
As my Trader's Gold subscribers know, my prognosis for the SP500 and futures have changed slightly. I don't think we have an ending diagonal in ES. I've provided my preferences under the ES chart below.
The overall view of the market has not changed. The only thing that has is my projection to the downside for the next wave, which will likely turn down early this week.
_____________________________
Elliott Wave Basics
There are two types of Elliott wave patterns:
Motive (or impulsive waves) which are "trend" waves.
Corrective waves, which are "counter trend" waves.
Motive waves contain five distinct waves that move the market forward in a trend. Counter trend waves are in 3 waves and simply correct the trend.
All these patterns move at what we call multiple degrees of trend (in other words, the market is fractal, meaning there are smaller series of waves that move in the same patterns within the larger patterns). The keys to analyzing Elliott waves is being able to recognize the patterns and the "degree" of trend (or countertrend) that you're working within.
Impulsive (motive) waves move in very distinct and reliable patterns of five waves. Subwaves of motive waves measure out to specific lengths (fibonacci ratios) very accurately. Motive waves are the easiest waves to trade. You find them in a trending market.
Waves 1, 3, and 5 of a motive wave pattern each contain 5 impulsive subwaves. Waves 2 and 4 are countertrend waves and move in 3 waves.
Countertrend waves move in 3 waves and always retrace to their start eventually. Counrtertrend (corrective waves) are typically in patterns — for example, a triangle, flat, or zigzag. Waves within those patterns can be difficult to predict, but the patterns themselves are very predictable.
Fibonacci ratios run all through the market. They determine the lengths of waves and provide entry and exit points. These measurements are really accurate in trending markets, but more difficult to identify in corrective markets (we've been in a corrective market in all the asset classes I cover since 2009).
To use Elliott wave analysis accurately, you must be able to recognize the difference between a trend wave (motive) and a countertrend wave (corrective). There's very much more to proper Elliott wave analysis, but this gives you the basics.
____________________________
Registration for Commenting
Want to comment? You need to be logged in to comment. You can register here.
If you register, it protects your information. It also allows you to comment without filling in your information each time. Once you're registered, simply go to the home page and click on the login link top right in order to log yourself in. Usually, you'll be logged in for several days before needing to be logged in again.
______________________________
Problem receiving blog comment emails? Try whitelisting the address. More info.
______________________________
Have not had a losing week RW 2
The Market This Week
Here's the latest daily chart of ES (emini futures)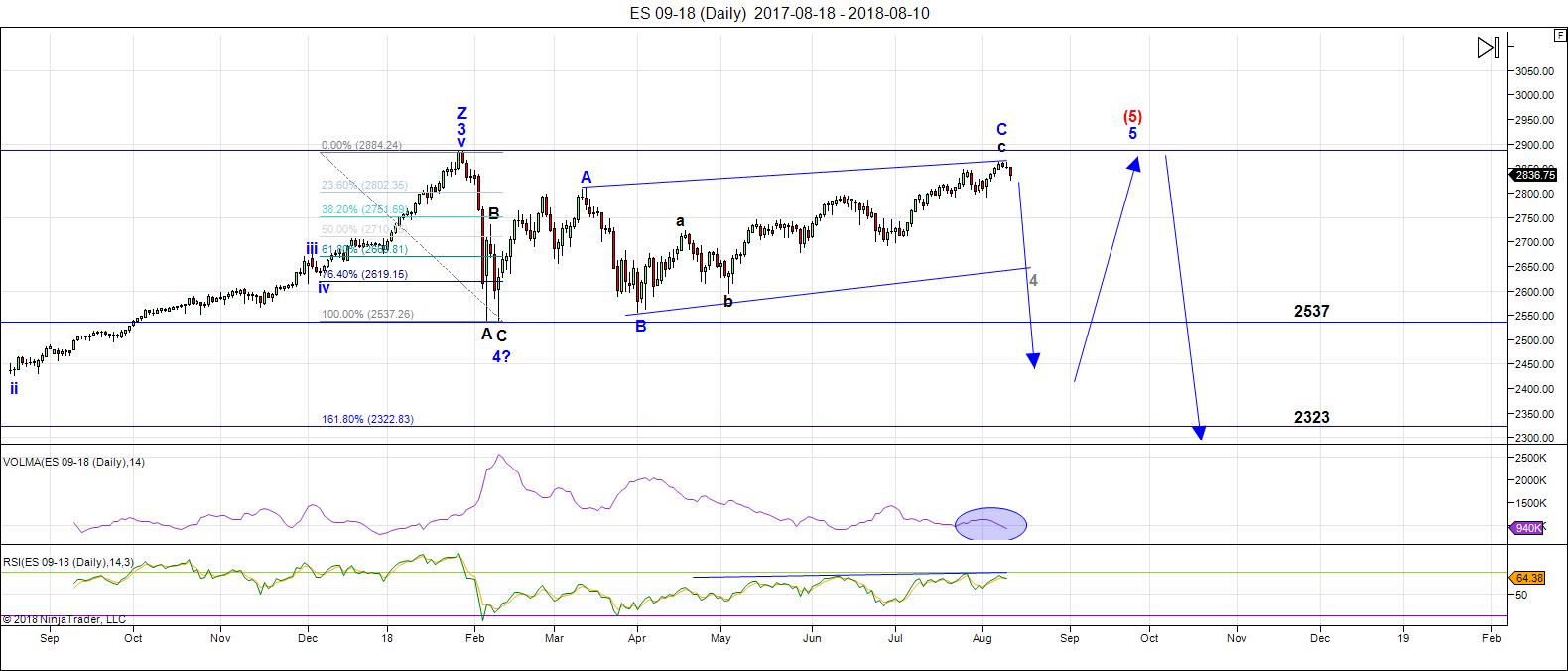 Above is the daily chart of ES (click to enlarge, as with any of my charts).
Although I'm still showing the ending diagonal trendlines, my preference is for this pattern being a regular flat.
This is due partly to the look of the current "third" or "B" wave up that we're currently at the top of. It hasn't quite topped (look for one more wave up at the beginning of the week) but once it does, it should drop to a new low to at least the 2537 area and probably lower.
My preferences (in order of probability) now for the unfolding pattern in the daily ES chart is:
a regular flat (meaning a C wave down in 5 waves to a new low)
a C wave as the end of an ABC fourth wave correction (similar to the projection of the NYSE provided above)
an ending diagonal (this is now a very distant third option), which would lead to a wave down the the 2625 area
We're still waiting for this complex B wave to top. Last weekend, I predicted one more wave up to a final high and that still seems to be the case (after a couple of wave failures). The waves down are corrective. I do not expect a new all time high before we turn down in the expected C wave, as that would change the count and pattern completely.
Summary: We're waiting for a top in a B wave, which will result in a C wave to a new low. Once the c wave (down) is complete, expect a final fifth wave to a new high. That fifth wave up to a new high will be the end of the 500 year bull market.
___________________________
Trader's Gold Subscribers get a comprehensive view of the market, including hourly (and even smaller timeframes, when appropriate) on a daily basis. They also receive updates through the comments area. I provide only the daily timeframe for the free blog, as a "snapshot" of where the market currently trades and the next move on a weekly basis.
______________________________________
Sign up for: The Chart Show
Next Date: 

Wednesday, August 22 at 5:00 pm EST (US market time)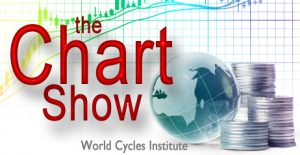 The Chart Show is a one hour webinar in which Peter Temple provides the Elliott Wave analysis in real time for the US market, gold, silver, oil, major USD currency pairs, and more. You won't find a more accurate or comprehensive market prediction anywhere for this price.
Get caught up on the market from an Elliott Wave perspective. You'll also get Andy Pancholi cycle turn dates for the SP500 for the balance of the current month. There'll be a Q&A session during and at the end of the webinar and the possibility (depending on time) of taking requests.
All registrants will receive the video playback of the webinar, so even if you miss it, you'll be sent the full video replay within about an hour of its conclusion.