The Unified Cycle Theory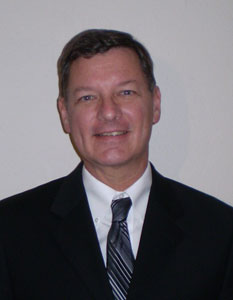 In 2014, I conducted an interview with Steve Puetz, the author of the Unified Cycle Theory (2009) which was a ground-breaking book, following in the footsteps of several years of work I'd completed on cycles. I had just finished researching the work of Dr. Raymond H. Wheeler and was searching for more material that might back up his work in the 1930-50s.
Mr. Puetz has stumbled onto cycles as a market analyst and got more interested after reading the works of Edward R. Dewey, also from the 1930s.
In Steve's book, he painstakingly reviews all the major cycles and discovers the harmonic properties, as well as confirms the work and cycles of Wheeler, who concentrated on climate cycles.
Steve graciously spent about a half hour on Skype with me, giving me some background and an overview of his work. I'm providing a video of the bulk of that interview here.
Stephen J. Puetz interview
| | |
| --- | --- |
| | Make sure you zoom the video to full size with frame expander (arrows) in the bottom right hand corner and also set the quality to as high as your web connection allows. This is a high definition (HD) quality video so the best viewing is at that level. |
_______________________________
Following is an excerpt from page 324 of his book, which describes the 2007 theoretical top and the cycle attributes leading up to it.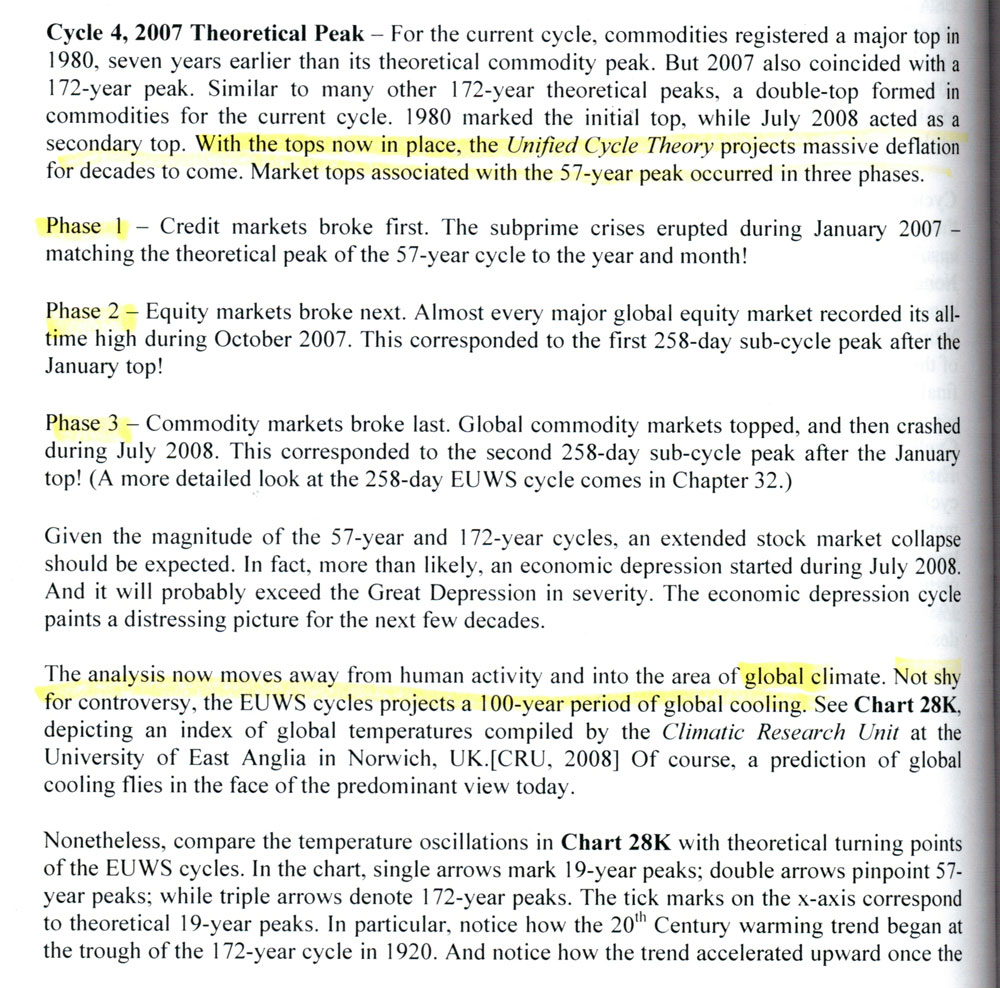 If you're interested in purchasing Steve's book, here's a link to Amazon:
___________________________
Ending Diagonals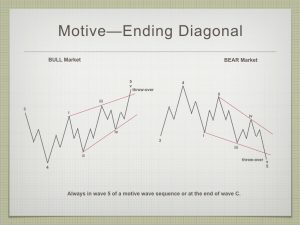 Ending diagonals are notoriously difficult to trade. There are a number of reasons for this. The biggest is that all the waves are in threes and the upper and lower boundaries don't get defined until the 3th wave (upper in a bull market) and 4th waves (lower). So, you don't actually know you're in one until the fourth wave of the ending diagonal is in place.
The sub-waves will be in three waves (zigzags), which makes analysis difficult, volume gets lower as the ending diagonal traces out, and the final wave will likely complete a throw-over (exceeds the upper trendline in a bull market).
Rules (these are "hard" rules; they cannot be broken):
A diagonal triangle always subdivides into five waves.
An ending diagonal always appears as wave 5 of an impulse or wave C of a zigzag or flat.
Waves 1, 2,3, 4 and 5 of an ending diagonal always subdivide into zigzags.
Wave 2 never goes beyond the start of wave 1.
Wave 3 always goes beyond the end of wave 1.
Wave 4 never moves beyond the start of wave 3.
Wave 4 always ends within the price territory of wave 1.
Going forward in time, a line connecting the ends of waves 2 and 4 converges with a line connecting the ends of waves 1 and 3.
In the contracting variety, wave 3 is always shorter than wave 1, wave 4 is always shorter than wave 2, and wave 5 is always shorter than wave 3.
_________________________
Elliott Wave Basics
There are two types of Elliott wave patterns:
Motive (or impulsive waves) which are "trend" waves.
Corrective waves, which are "counter trend" waves.
Motive waves contain five distinct waves that move the market forward in a trend. Counter trend waves are in 3 waves and simply correct the trend.
All these patterns move at what we call multiple degrees of trend (in other words, the market is fractal, meaning there are smaller series of waves that move in the same patterns within the larger patterns). The keys to analyzing Elliott waves is being able to recognize the patterns and the "degree" of trend (or countertrend) that you're working within.
Impulsive (motive) waves move in very distinct and reliable patterns of five waves. Subwaves of motive waves measure out to specific lengths (fibonacci ratios) very accurately. Motive waves are the easiest waves to trade. You find them in a trending market.
Waves 1, 3, and 5 of a motive wave pattern each contain 5 impulsive subwaves. Waves 2 and 4 are countertrend waves and move in 3 waves.
Countertrend waves move in 3 waves and always retrace to their start eventually. Counrtertrend (corrective waves) are typically in patterns — for example, a triangle, flat, or zigzag. Waves within those patterns can be difficult to predict, but the patterns themselves are very predictable.
Fibonacci ratios run all through the market. They determine the lengths of waves and provide entry and exit points. These measurements are really accurate in trending markets, but more difficult to identify in corrective markets (we've been in a corrective market in all the asset classes I cover since 2009).
To use Elliott wave analysis accurately, you must be able to recognize the difference between a trend wave (motive) and a countertrend wave (corrective). There's very much more to proper Elliott wave analysis, but this gives you the basics.
____________________________
Registration for Commenting
Want to comment? You need to be logged in to comment. You can register here.
If you register, it protects your information. It also allows you to comment without filling in your information each time. Once you're registered, simply go to the home page and click on the login link top right in order to log yourself in. Usually, you'll be logged in for several days before needing to be logged in again.
______________________________
Problem receiving blog comment emails? Try whitelisting the address. More info.
______________________________
The Market This Week
Here's the latest daily chart of ES (emini futures)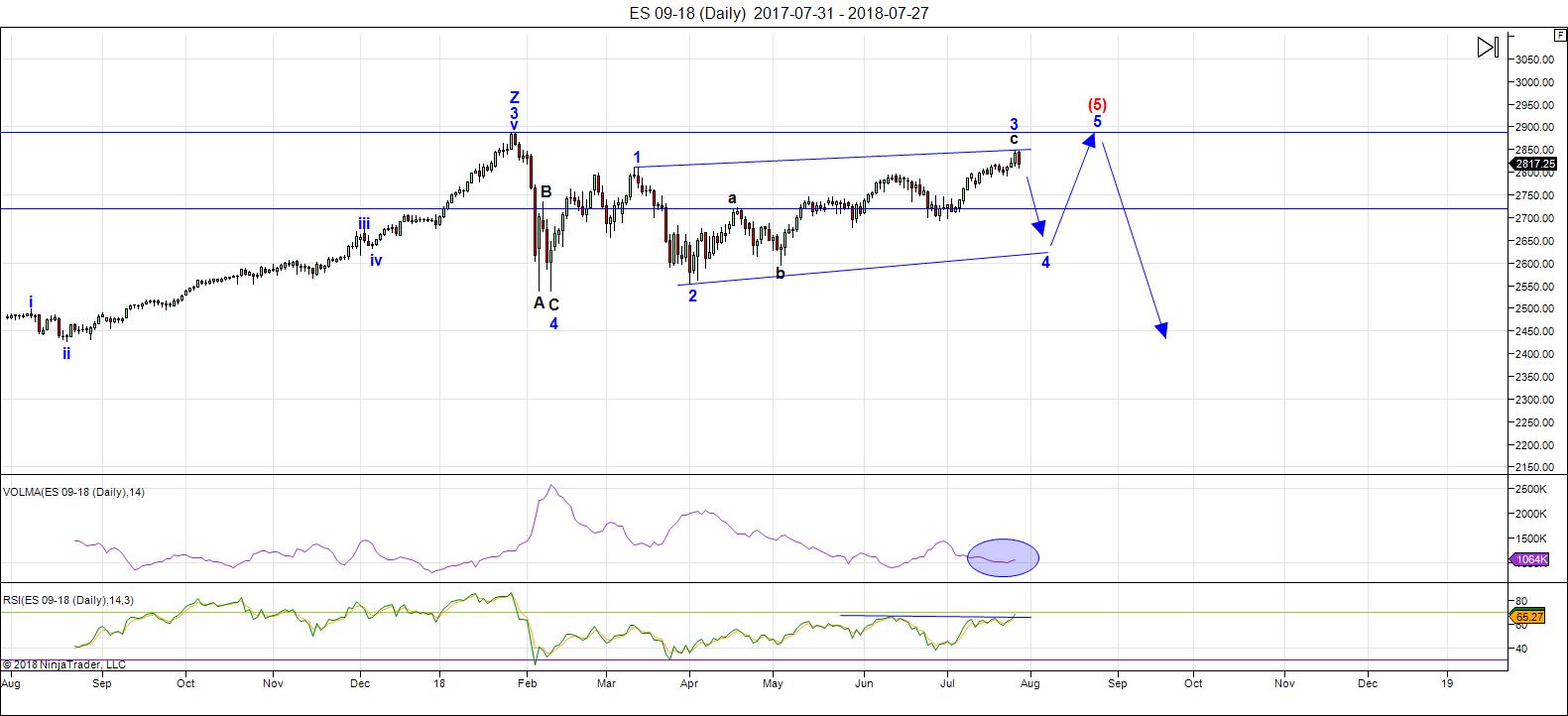 Above is the daily chart of ES (click to enlarge, as with any of my charts).
Nothing has changed in my projection from last weekend, or from the predicted path I presented in the Chart Show on Wednesday of this past week.
We're still waiting for this complex third wave of the ending diagonal to top. Last weekend, I predicted one more wave up to a final high and that still seems to be the case.
It's amazing how often the NYSE comes into play when we have a major turn taking shape. It seems to me that we're waiting for it to spike to a new high so that it either morphs into a barrier triangle, or more likely, an ending diagonal, like almost every other US equities index.
The third wave of the larger ending diagonal, which we've been in now since the beginning of April (18 weeks as of this weekend) is always the most complex and longest wave. Once it's complete, we're about 75% of the way through the ending diagonal. We have one more wave down (a fast one — wave 4) and one more wave up to a final high (these waves can be fast or slow, but they go up in three waves and cannot be longer than the height of the third wave).
The coming wave down (the fourth wave of the ending diagonal) will have a target somewhere near 2600-25 (depending on where the third wave finally tops). Then we'll turn up into the fifth and final high ... but a high that will have a definite maximum target (to be determined once the fourth wave is fully in place).
Summary: We're waiting for the final fifth wave of the larger third wave of an ending diagonal to top. Once it ends and turns down, we'll drop into the fourth wave of the ending diagonal in ES. Once the 4th wave (down) is complete, expect a final fifth wave to a new high. That fifth wave up to a new high will be the end of the 500 year bull market.
___________________________
Trader's Gold Subscribers get a comprehensive view of the market, including hourly (and even smaller timeframes, when appropriate) on a daily basis. They also receive updates through the comments area. I provide only the daily timeframe for the free blog, as a "snapshot" of where the market currently trades and the next move on a weekly basis.
______________________________________
Sign up for: The Chart Show
Next Date: 

Wednesday, August 15 at 5:00 pm EST (US market time)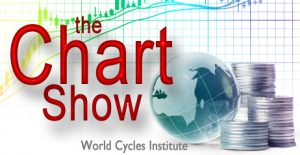 The Chart Show is a one hour webinar in which Peter Temple provides the Elliott Wave analysis in real time for the US market, gold, silver, oil, major USD currency pairs, and more. You won't find a more accurate or comprehensive market prediction anywhere for this price.
Get caught up on the market from an Elliott Wave perspective. You'll also get Andy Pancholi cycle turn dates for the SP500 for the balance of the current month. There'll be a Q&A session during and at the end of the webinar and the possibility (depending on time) of taking requests.
All registrants will receive the video playback of the webinar, so even if you miss it, you'll be sent the full video replay within about an hour of its conclusion.