The Bottom of Four
For the past few weeks, I've been referencing the pattern unfolding in the Nasdaq on a daily chart and making the case that it looks like we have an ending diagonal unfolding. Quite frankly, I don't know what else it could be. This weekend, it looks like the NYSE side of the equation is confirming the ED pattern in the Nasdaq.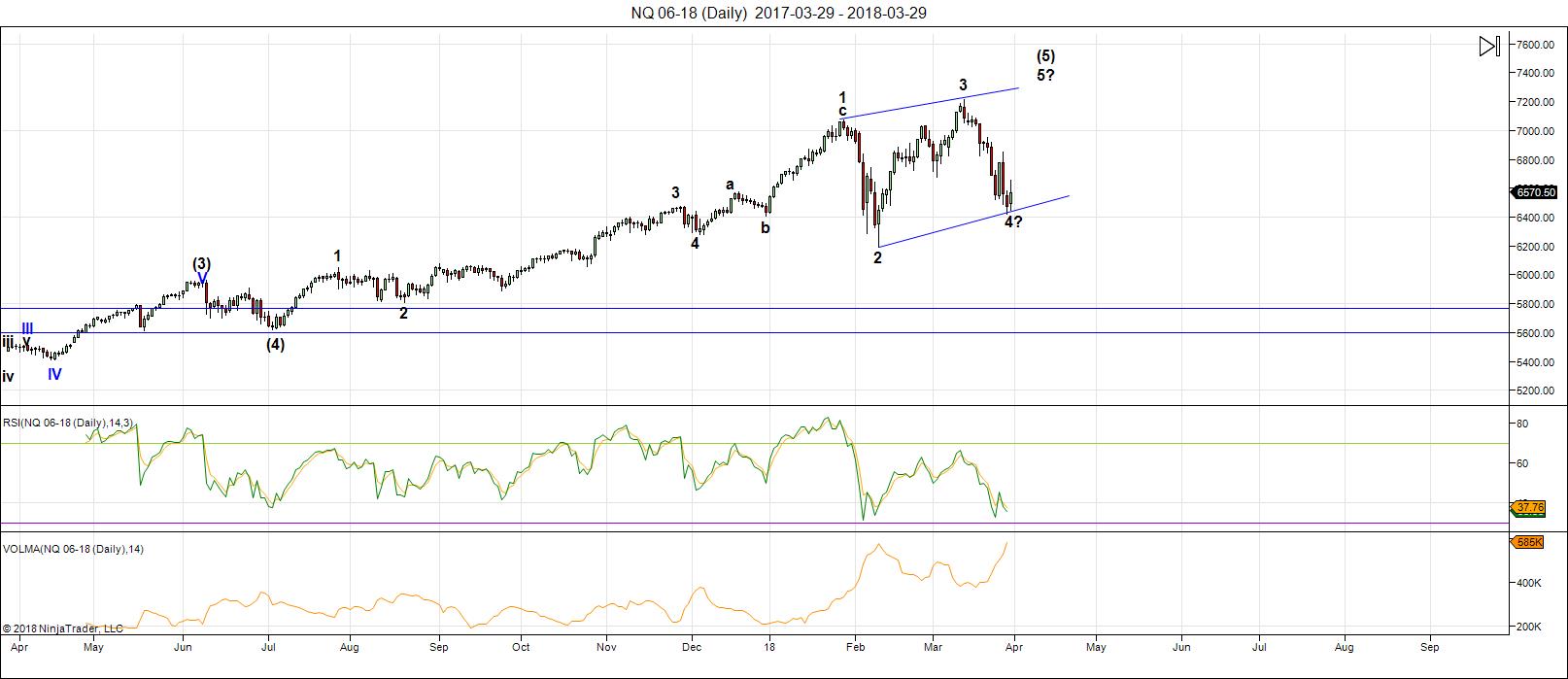 Above is the 60 minute chart of NQ (Nasdaq futures) which is showing what can only be and ending diagonal. In that case, we're looking for one final three-waver up to a final all time high (to end the 500 year bull market).
It won't actually be confirmed until we have a distinct turn up in ES/SPX, perhaps on Monday. For more detail, join my Trader's Gold subscription service, where they get hourly charts and more information about how to specifically take advantage of the move.
So, to summarize, I'm looking for the completion of a small triangle in ES/SPX and the bottom of a small ending diagonal in NQ/Nasdaq before a turn up into a larger D wave of a larger triangle in ES/SPX. The Nasdaq looks like it's about to start the fifth wave up of an ending diagonal.
Elliott Waves at Work — Boom!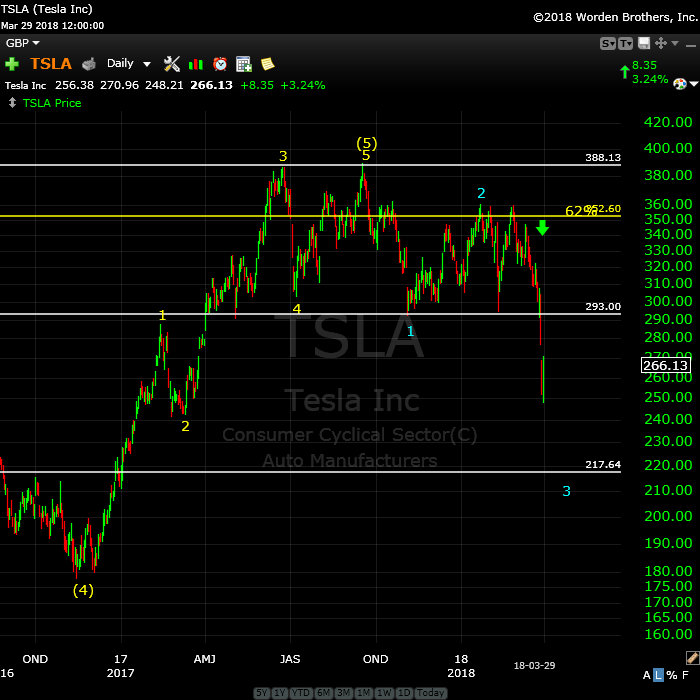 Above is the daily chart of Tesla (TSLA). I've shown this chart before and there's little change, other than the fact that it continues to move lower. This puts Tesla in the third wave to the downside which will drop to at least 217.64. There will be much more downside to follow in a fourth and fifth wave.
I would expect the fifth wave down to reach the previous 4th wave at about 180.00. At that point, there should be a second wave bounce.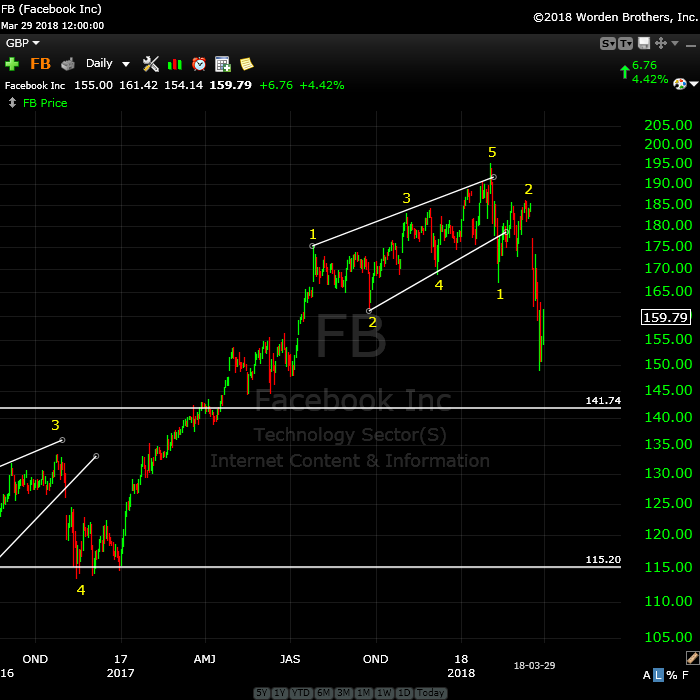 Above is the daily chart of Facebook (FB). Everyone's talking about Facebook.
I've posted this chart a couple of times upon calling the top. Last weekend, I warned that the second wave was ready to keel over into a third wave, which it did. The third wave should reach 141.74.
A fourth and fifth will follow and I expect then to descend to the 115.20 area to complete a first wave down (of 5 waves) before bouncing into a larger degree second wave.
Fairly easy to predict these moves when you know Elliott Wave. My Trader's Gold subscribers are always on track for the big moves, which a video on the market every night. And there's the weekly Chart Show for a snap shot of the market every Wednesday night after the market closes.
____________________________
Registration for Commenting
Want to comment? You need to be logged in to comment. You can register here.
If you register, it protects your information. It also allows you to comment without filling in your information each time. Once you're registered, simply go to the home page and click on the login link top right in order to log yourself in. Usually, you'll be logged in for several days before needing to be logged in again.
______________________________
Problem receiving blog comment emails? Try whitelisting the address. More info.
______________________________
The Market This Week
Here's the latest daily chart of ES (emini futures)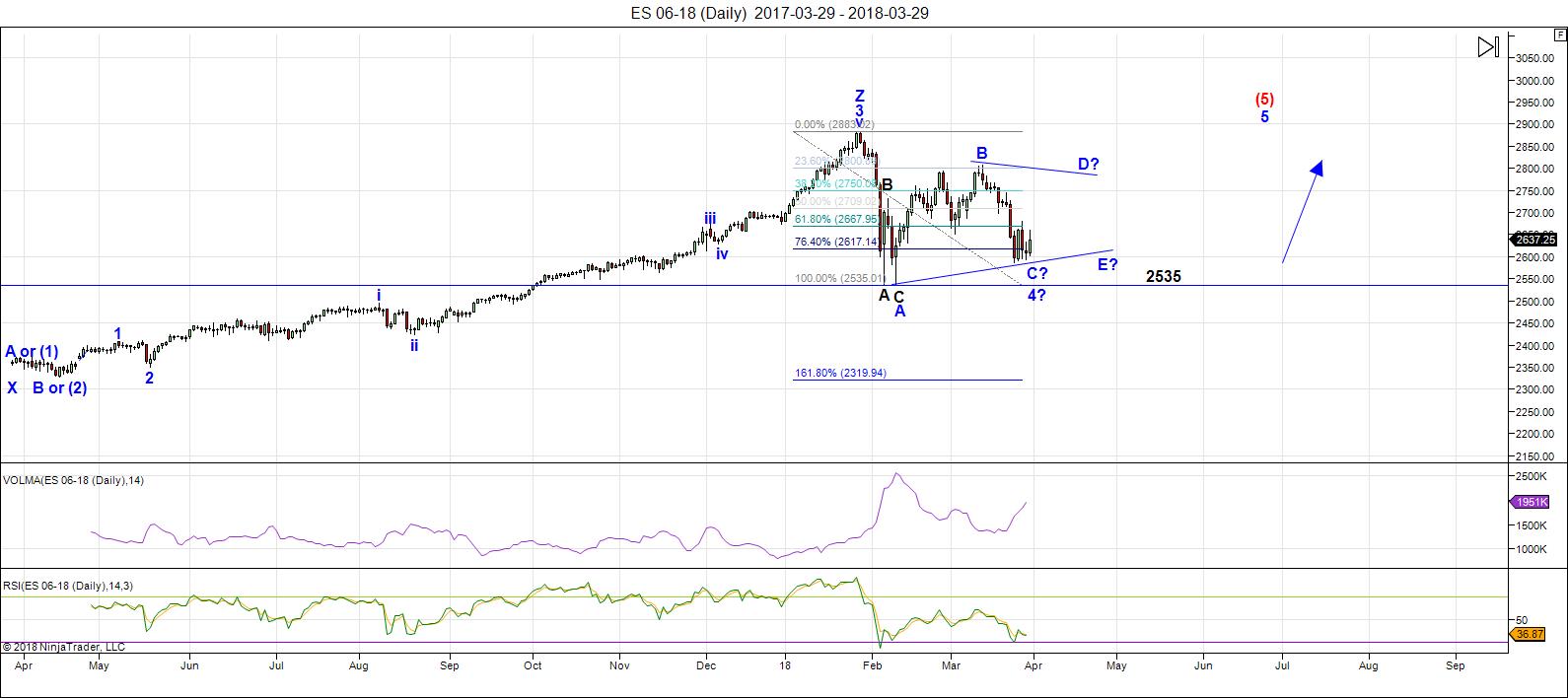 Above is the daily chart of ES (click to enlarge, as with any of my charts).
The last couple of days have changed my view of the road forward for ES/SPX and also, I hope, show the importance of being able to determine the pattern as early as possible.
It's taken the entire week for the C wave pattern down I predicted to reach a bottom. I has thought it might drop to a new low. However, one of the options is a larger triangle pattern for the fourth wave.
A triangle has been in the back on my mind for the past week or so, due to the fact that the Nasdaq went to a new high in three waves. That's NOT a fifth wave pattern. The only option that I can think of that's open to the Nasdaq now is to trace out the remainder of an ending diagonal. But, that would require ES/SPX to bottom right about where it is this weekend.
You only have to look at the RSI on an hourly chart to see that there's a fair amount of divergence in ES, signalling a turn in imminent. More importantly the wave pattern (as of Thursday) is signalling exactly the same thing.
For the past week, we've been tracing out a combination C wave to the downside. You only find them primarily (and possibly exclusively) in fourth waves and they're very difficult to trade.
Combination waves have a maximum of three patterns. We had a double zigzag down and the final pattern revealed itself on Thursday afternoon ... as a triangle. In combinations, triangles are always the final wave. On top of that, this one is a bullish triangle.
With one more wave down, I'd be expecting a turn up into a larger D wave of a very much larger contracting triangle, which should finish off the fourth wave.
After that, we'll have a final wave 5 (the last wave of the triangle) up to a new high. It won't be a huge wave 5. It may not make it too far past the high we have in place now.
Summary:  More sideways to come as ES/SPX traces out a contracting triangle, which in a fourth wave position signals that a trend is about to end after one more wave (in this case, to the upside). That fifth wave up to a new high will be the end of the 500 year bull market.
___________________________
Trader's Gold Subscribers get a comprehensive view of the market, including hourly (and even smaller timeframes, when appropriate) on a daily basis. They also receive updates through the comments area. I provide only the daily timeframe for the free blog, as a "snapshot" of where the market currently trades and the next move on a weekly basis.
______________________________________
Sign up for: The Chart Show
Next Date:

Wednesday, April 11 at 5:00 pm EST (US market time)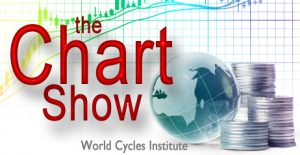 The Chart Show is a one hour webinar in which Peter Temple provides the Elliott Wave analysis in real time for the US market, gold, silver, oil, major USD currency pairs, and more. You won't find a more accurate or comprehensive market prediction anywhere for this price.
Get caught up on the market from an Elliott Wave perspective. You'll also get Andy Pancholi cycle turn dates for the SP500 for the balance of the current month. There'll be a Q&A session during and at the end of the webinar and the possibility (depending on time) of taking requests.
All registrants will receive the video playback of the webinar, so even if you miss it, you'll be sent the full video replay within about an hour of its conclusion. For more information and to sign up, click here.