The Final Fourth
I've been quite vocal in the Trader's Gold subscription service about my disdain for fourth waves. Of all the wave patterns (corrective and otherwise), fourth waves are the least predictable.
That's because fourth wave patterns of this size are typically made up of combination sub-patterns (zigzags, flats, and triangles). You need to be able to decipher the pattern early enough to take advantage of it.
Our current position at the top of a 500 year bull market adds to the complexity of determining the sub-patterns and the structure of their waves, because it's a fight between the bulls and bears and the volatility tends to be very high.
The most probable pattern for the SP500 and ES seemed to have been a flat (which I highlighted here last weekend), although with flats, the B wave needs to retrace 90% of the A wave. We didn't quite get there. We turned early and in an area that was not a fibonacci ratio level, which is highly unusual.
The C wave of a flat comes down in 5 waves. I knew that the next most probable pattern to the downside was a zigzag of some sort and could likely lead to a combination (zigzag, flat, or triangle) but the highest probability was a drop in a manner similar to the C wave of a flat (zigzags are the most common corrective pattern).
Well, it did, but we dropped in a rare triple zigzag combination (REALLY rare!) Double zigzags aren't that common, but triples are one of the rarest of combinations. On top of that, they're notoriously difficult to predict when you're in them. The waves appear relatively flat, which makes identifying the subwaves a real challenge.
My experience with them (which is somewhat limited because, well, they don't show up often) is that you don't really know until you're in a "triple" until you're in the final zigzag. That's partly because flats, single zigzags, and triangles are so much more common.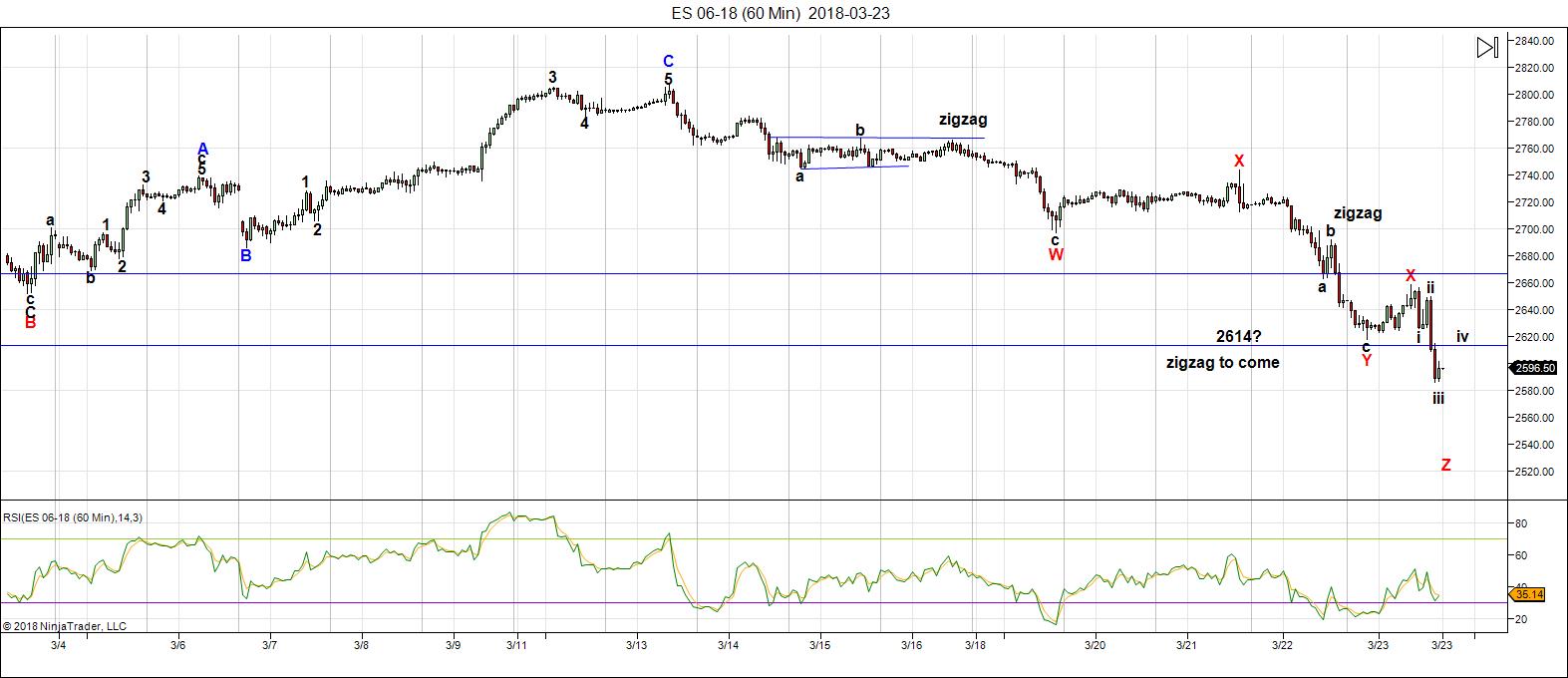 Well, here we are near the bottom of a triple zigzag. We have further to go to the downside this week as we finish up this extraordinary, hard-to-trade fourth wave. The opportunity for a short is there for those so inclined; we need to reach a new fourth wave low.
Zigzags are corrective, so the prognosis, as I've been saying all along is reinforced by the fact that: We have a final 5th wave to go up to a new high. It looks like we might get the turn this week.
On the Nasdaq side, the jury's out. We may have an expanded flat. The other option is an ending diagonal, but it's very early to consider that option, and it looks like the C wave down will drop far enough to negate the potential of the ending diagonal pattern playing out. For the Nasdaq related indices, we'll need to wait for the market to tell us where it's ultimately going.
 Down They Come (as predicted)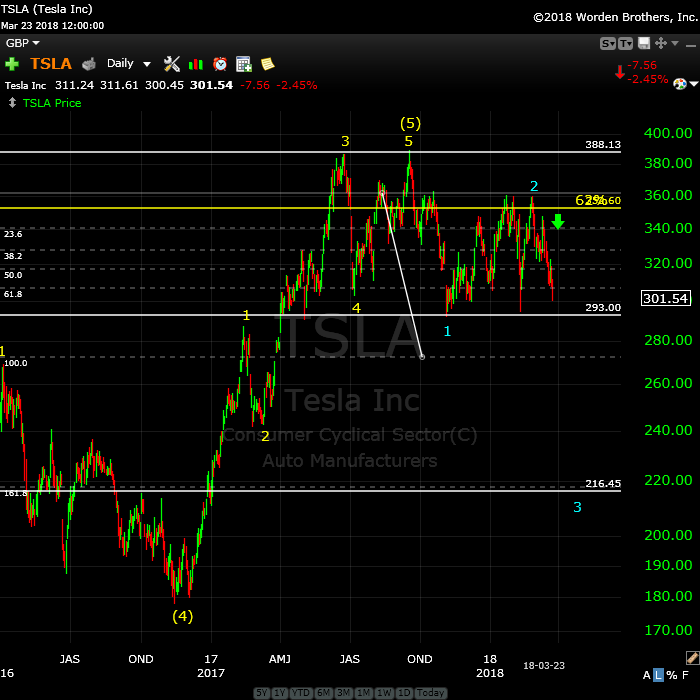 Above is the daily chart of Tesla (TSLA). I've shown this chart before and there's little change, other than the fact that it continues to move lower. This puts Tesla in the third wave to the downside which will drop to at least 216.45. There will be much more downside to follow.
I would expect the fifth wave down to reach the previous 4th wave at about 180.00. At that point, there should be a second wave bounce.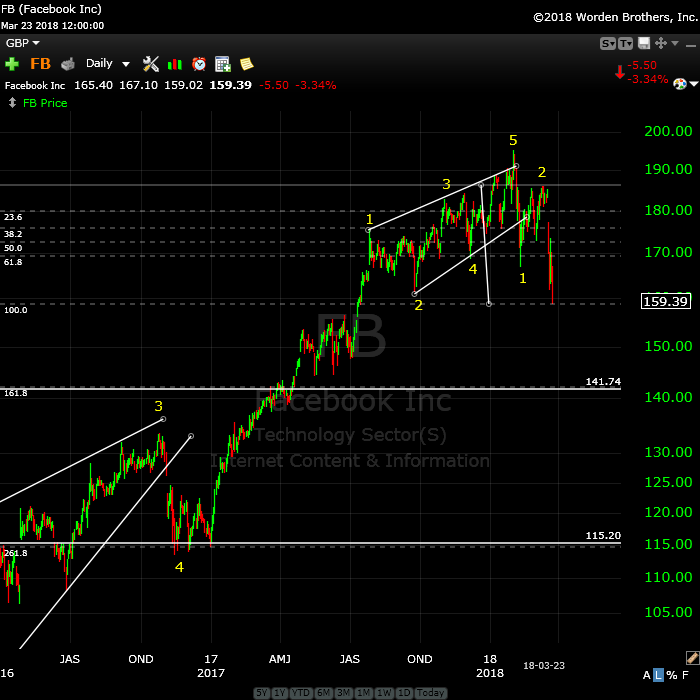 Above is the daily chart of Facebook (FB). Everyone's talking about Facebook.
I've posted this chart a couple of times upon calling the top. Last weekend, I warned that the second wave was ready to keel over into a third wave, which it did. The third wave should reach 141.74.
A fourth and fifth will follow and I expect then to descend to the 115.20 area to complete a first wave down (of 5 waves) before bouncing into a larger degree second wave.
____________________________
Registration for Commenting
Want to comment? You need to be logged in to comment. You can register here.
If you register, it protects your information. It also allows you to comment without filling in your information each time. Once you're registered, simply go to the home page and click on the login link top right in order to log yourself in. Usually, you'll be logged in for several days before needing to be logged in again.
______________________________
Problem receiving blog comment emails? Try whitelisting the address. More info.
______________________________
A true expert in Elliott Wave FL 2
A true expert in Elliott Wave …

You are a true expert in EW analysis. What you provide is not available anywhere and is priceless. Subscription on your services is the best thing I have ever done. Many thanks for your effort to make me a better investor. I now have more trust in my investment decisions. I hope you will continue the excellent work! —FL
The Market This Week
Here's the latest daily chart of ES (emini futures)
Above is the daily chart of ES (click to enlarge, as with any of my charts).
Last weekend, we were looking for the top of the B wave of the fourth wave. We found it, but it didn't turn at a measured objective. It also didn't make the 90% plus level, so technically, it was not a flat, but it came down like a flat and still has more to go.
It will reach a new fourth wave low before turning up in the fifth and final wave to a new all time high. That will be the final top of the market.
The are multiple measured objectives for the turn—the more probable ones are identified on the screen
___________________________
Trader's Gold Subscribers get a comprehensive view of the market, including hourly (and even smaller timeframes, when appropriate) on a daily basis. They also receive updates through the comments area. I provide only the daily timeframe for the free blog, as a "snapshot" of where the market currently trades and the next move on a weekly basis.
______________________________________
Sign up for: The Chart Show
Next Date:

Wednesday, April 4 at 5:00 pm EST (US market time)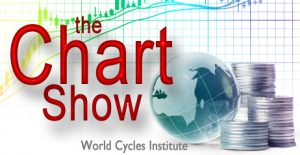 The Chart Show is a one hour webinar in which Peter Temple provides the Elliott Wave analysis in real time for the US market, gold, silver, oil, major USD currency pairs, and more. You won't find a more accurate or comprehensive market prediction anywhere for this price.
Get caught up on the market from an Elliott Wave perspective. You'll also get Andy Pancholi cycle turn dates for the SP500 for the balance of the current month. There'll be a Q&A session during and at the end of the webinar and the possibility (depending on time) of taking requests.
All registrants will receive the video playback of the webinar, so even if you miss it, you'll be sent the full video replay within about an hour of its conclusion. For more information and to sign up, click here.